Pass Your California CDL Test Without Problems!
It takes special training, aptitude, and skill set to safely operate commercial motor vehicles (CMV).
A commercial driver's license (CDL) is mandatory for driving a large vehicle. If you would like to obtain one, you need to pass the CDL test.
DoNotPay can help you prepare for and pass your California CDL test successfully.
Our app also provides information regarding other driving test issues, such as scheduling a DMV driving test appointment, passing the written part of the driving test, or practicing for the DMV test.
What Is a California CDL Test?
The California CDL test consists of two parts—knowledge and skills tests.
If you have not had a CDL before, you will first need to obtain a Commercial Learner's Permit (CLP) and have it for at least 14 days. To apply for a CLP, you should:
Get a standard California driver's license (DL)

Fill out an online

application form

Go to a DMV office
You should submit the following at the DMV office:
Completed

10 Year History Record Check

in case your DL has been issued in another state or jurisdiction during the last ten years

Proof of your Social Security number

Your California driver's license, ID card, or some other acceptable

identity document

Fingerprints
Upon submitting all the required forms and documentation, you will have to pay the application fee.
After that, you proceed with a vision check, get your photo taken, and take the knowledge test. Once all that is completed, you will get your CLP valid for up to 180 days from the date of issue.
How Can You Apply for the California CDL Test?
You can apply for the skills test required to get a CDL 14 days after receiving your CLP. To take the California CDL test, you must:
Schedule your skills test appointment via:

An

online

form

Phone, by calling

1-800-777-0133

Bring the vehicle you intend to operate
California CDL skills test includes a vehicle inspection, a basic control skills test, and a road test. If you fail a part of the CDL skills test, all other sections will be postponed. You can try three times, but you have to pay an additional fee every time you retake the test.
Can I Get the CDL Skills Test Requirement Waived?
Some applicants can get the skills test requirement waived in these cases:
If you have
If you submit

A CDL:

Issued by another state

Valid or not expired for more than two years

With equivalent classification, restrictions, and endorsements to the California CDL

Military driving experience and file both of these completed waiver forms:

A California CLP

Completed CDL training

Passed the skills set test in another state

California DMV will get your skills test results from the state where you took the test.

A completed

Certificate of Driving Skill

:

In case your employer is authorized to issue it

Signed both by you and your employer
If you have passed the skills test in another state, you need to visit a DMV Commercial Driving Test Office to finalize your CDL application.
Why Should You Prepare for the California CDL Test?
Taking the California commercial driving test is not easy. You will be tested in three areas—general knowledge, combination vehicles, and air brakes.
California CDL handbook is over 200 pages long, so it will take time and effort to review and memorize important information.
The CDL general knowledge test has 50 questions, and you have an hour to complete it. You will need a minimum of 40 correct answers, i.e., a score of 80% to pass.
Apart from knowledge and strong focus, you will need to practice. It is crucial to go through adequate California CDL practice tests. DoNotPay can help you get the necessary confidence essential for passing the test with flying colors.
How Can DoNotPay Help You Pass the California CDL Test?
DoNotPay can help you prepare for various government tests, such as a postal exam, U.S. citizenship, or notary test. Take any practice test in our app and feel more confident when faced with the real deal!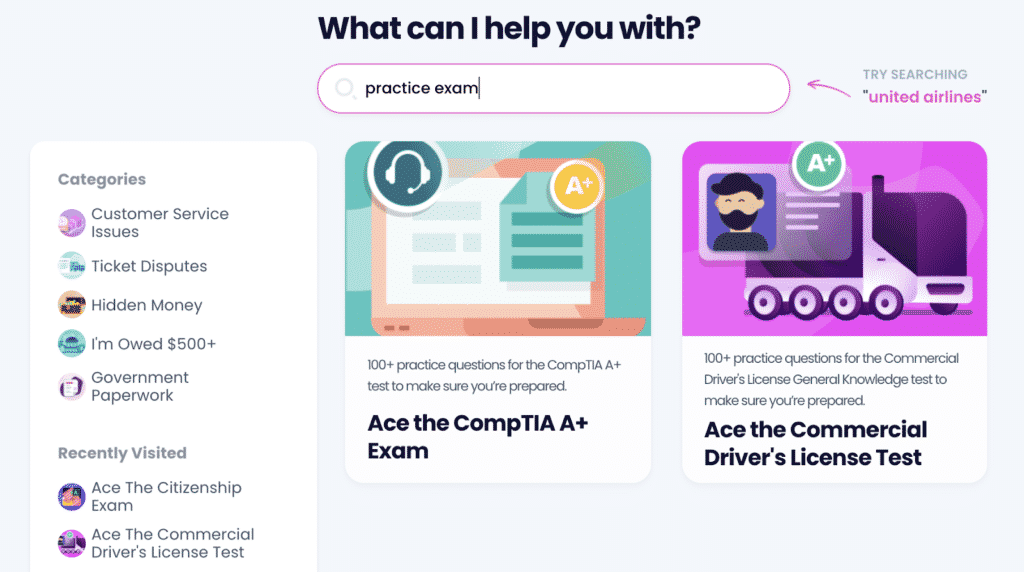 To master the California CDL test, do the following:
Visit DoNotPay in any

Select the practice test by entering

CDL

or

commercial driver's license

Opt for the test you would like to take

Choose if you would like to take a practice test with 10, 20, or 30 questions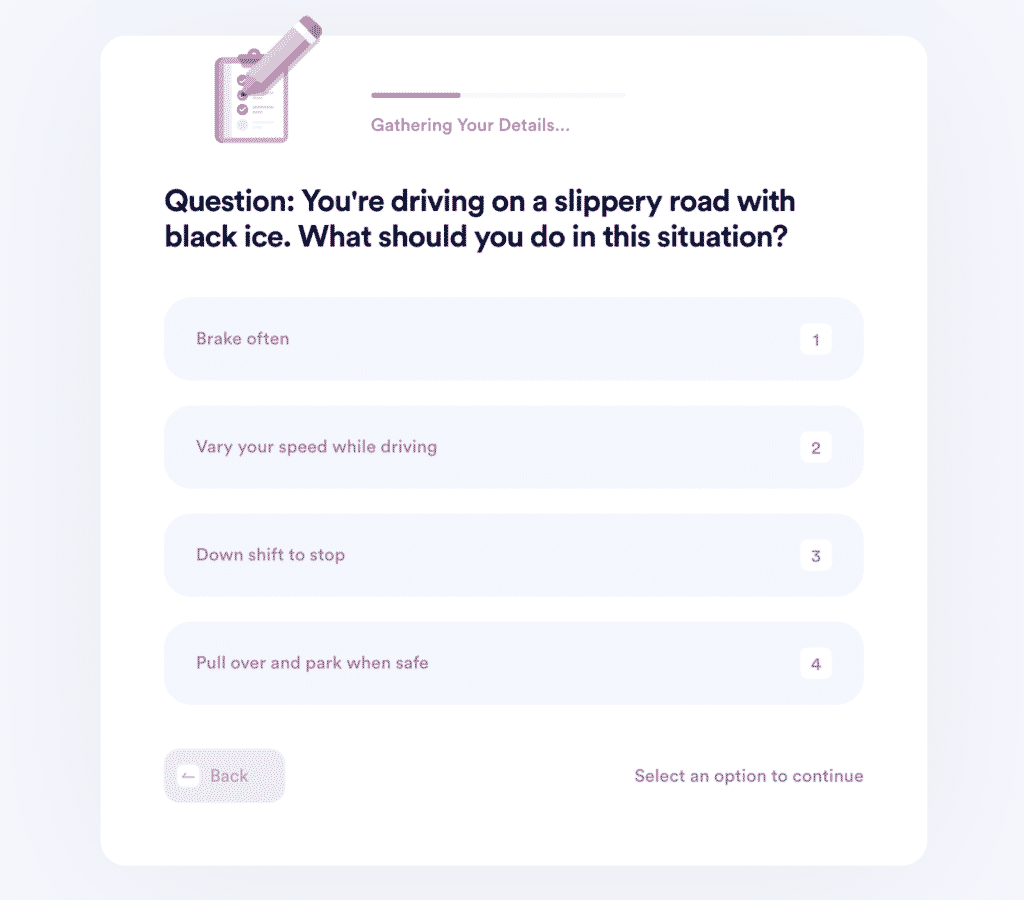 If you make a mistake, you can correct it on the spot, or you can wait to finish the whole test. When you check the total score, you can return to our CA CDL practice test and take it again.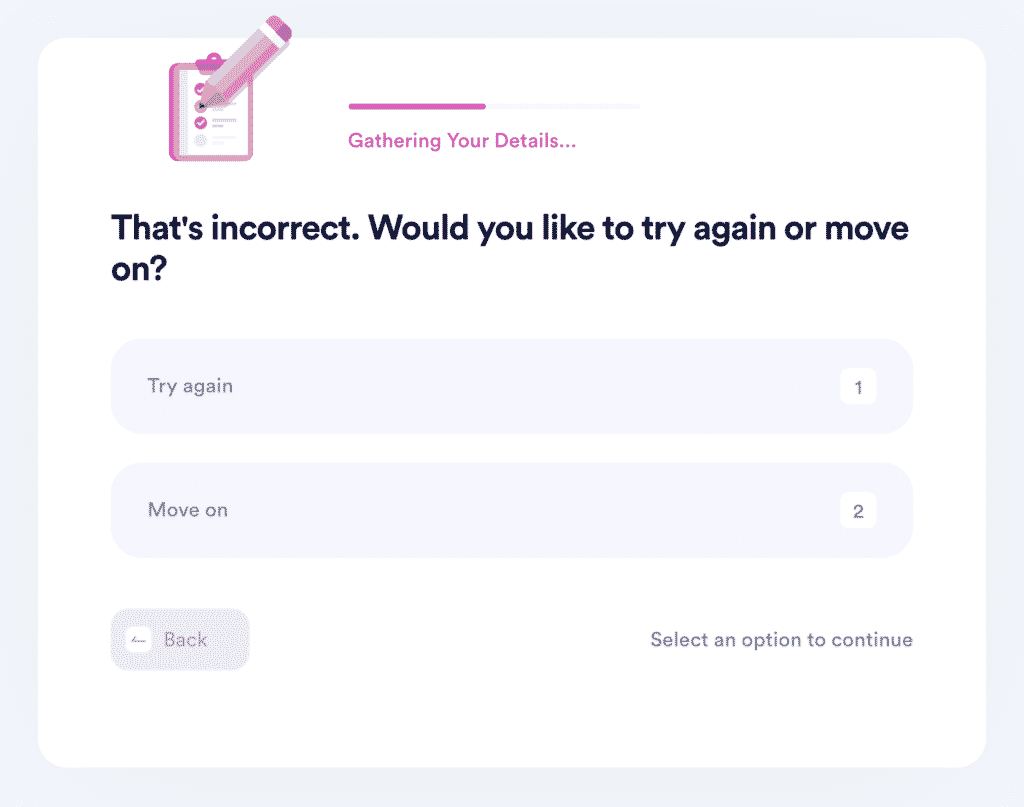 DoNotPay can assist you in preparation for many government exams by providing practical practice tests. Choose what test you would like to practice for—an ASVAB, CCAT, or CompTIA exam. Our app also provides information on ASVAB test scores.
When you start driving a commercial motor vehicle, you might endorse your CDL by taking the HAZMAT test. With a HAZMAT endorsement added to your California CDL, you will be able to haul hazardous materials and substances and earn more money.
Can You Prepare for the California CDL General Knowledge Test by Yourself?
You can prepare for the California CDL test on your own. The first thing is to go through the California CDL handbook and try to get familiar with specific regulations.
Study handbooks, guides, or tutorials are useful, but be careful about what you choose. Make sure to check whether the website offering California CDL tests requires paying a considerable amount of money for certain special plans or subscriptions. You can also take into consideration the users' reviews.
If you are not certain whether the source is reliable, choose DoNotPay as your trustworthy partner.
DoNotPay Helps With Stressful Administrative Problems
DoNotPay can assist you with lots of annoying bureaucratic issues. We are here to provide plenty of useful information on local topics, such as how to get the Caltech or University of California San Diego application fee waived, take the CA HAZMAT test, or claim your home warranty.
Would you like to learn about CDL tests in other states? We supply the specifics and useful practice material for NY, Ohio, Texas, and road CDL tests.
Learn about our useful features by accessing DoNotPay in your and checking out the issues we can assist in:
Disputing traffic tickets

Disputing speeding tickets