CDL School Bus Practice Tests
—From A to Z
If you'd like to find a job operating a school bus, you'll need to obtain an S endorsement on your commercial driver's license. Passing the CDL school bus test can be challenging. DoNotPay's DMV practice tests are a great way to prepare for the school bus written exam.
Everything You Need To Know About the
CDL School Bus Test
The school bus test is one of six CDL endorsement exams created to test the candidates' knowledge on the following topics:
The test consists of 20 questions. You need to answer 16 of them correctly to pass.
Before applying for the S endorsement, you'll need to obtain a commercial driver's license by taking the general knowledge CDL test. Once you cross the CDL test off your driving test checklist, you have to pass the passenger (P) endorsement test. The P code on your license allows you to operate a vehicle for 16 or more people. When you get the passenger endorsement, you can apply for the school bus test.
CDL School Bus Test Requirements
Each state has different laws and regulations regarding the CDL tests, but most rules are the same. To obtain a school bus endorsement, you need to:
Pass a

medical exam

Meet the state's requirements regarding your age, first aid course, and similar

Undergo and pass a background check

Complete the school bus written test

Obtain the commercial learner's permit

Take a required school bus training course

Pass the school bus

road test
What Other CDL Endorsements Are There?
The P and S endorsements aren't the only ones you can obtain. Depending on the job you want to pursue, you can apply to get the following endorsements:
Job Description
Required Endorsement

Driving a vehicle that contains

hazardous materials

H

Operating tank vehicles containing liquids and gasses

N

Driving double and triple trailers

T

Transporting hazardous materials in tank vehicles

X
Should I Prepare for the
School Bus Endorsement Practice Test
?
Even though studying can be dreadful, being well-prepared for any CDL test is super important. Many people fail their school bus written test the first time they take it, which creates unnecessary pressure for the next time. Driving tests can be pricey. If you pass them on the first try, you'll save a lot of money. 
Another reason to study for the test is the confidence you'll get. Preparing for the exam will allow you to relax and concentrate on the questions in front of you. 
What Options Do I Have To Prepare for the
School Bus Driving Test
?
When studying for the CDL school bus test, your first step should be visiting the local DMV office and asking for an official school bus manual. Some states have a PDF version of the handbook, so you might be able to find it online if you don't feel like going to the DMV.
After reading the manual, you can try preparing some flashcards with the most important definitions. The most practical option is to take multiple practice tests and memorize everything effortlessly. 
Benefits of
CDL School Bus Endorsement Practice Tests
Most people prefer studying by responding to sample questions drawn from the official manuals or previous exams. After taking a few prep tests, you'll get familiar with the exam structure, which will help you be less nervous for the real deal. Another benefit of the practice tests is that it makes studying less boring. 
Learn Where To Take the
CDL School Bus Practice Test
If you're interested in taking the CDL school bus practice tests, you can find numerous free options online. Some of the most popular platforms are:
Most states offer a few sample questions on their official DMV website. 
Prepare for the
CDL Bus Driving Test
the Best Way Possible—With DoNotPay
DoNotPay's intuitive design makes it the best choice for taking practice tests. Besides being easy to navigate, our platform also offers a myriad of fantastic features to make your studying more efficient.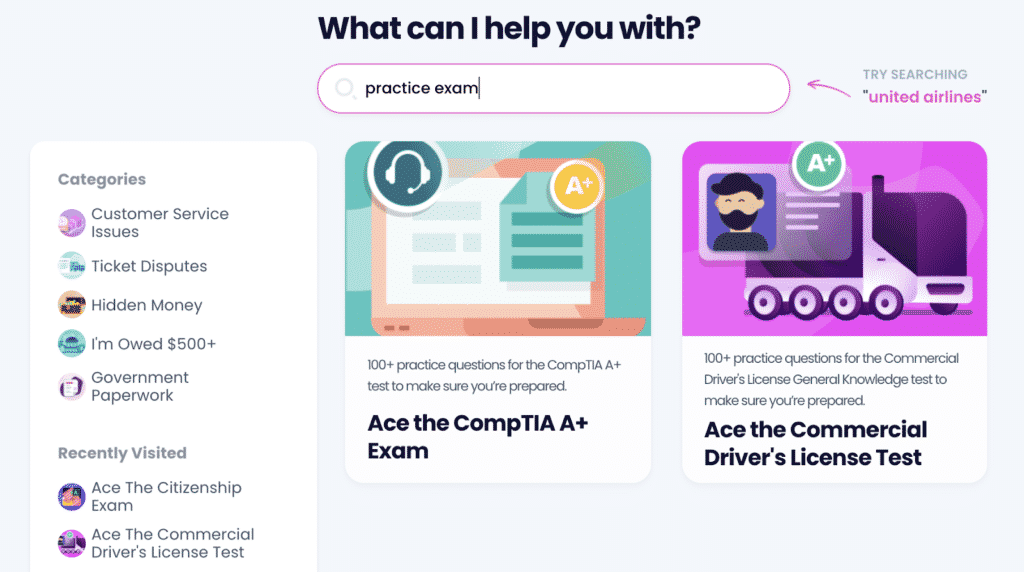 You can prepare for the Oregon, Colorado, Alabama, or any other state's CDL written exam in a few steps:
Open your account in any

web browser

Search for the test you want to prepare for

Pick the number of questions you would like to answer—10, 20, or 30

Take the prep test question by question
You'll know right away if the answer you provided is correct. If you make a mistake, you have the option to correct your response on the spot. You can choose to carry on with the test and retake it once you get the final score.
Once you feel ready to take the test, you can schedule it with your local DMV. DoNotPay can help you set up an appointment in a few clicks in any state, including Florida and Nevada.
What Other Exams Can I Ace Thanks to DoNotPay?
DoNotPay will help you prepare for any government test, including the Armed Services Vocational Aptitude Battery (ASVAB) exam. Obtain the best ASVAB score and get your desired job in the military hassle-free.
Check out all other government exams you can pass with our help:
DoNotPay Can Do Your Paperwork for You! 
Feeling like you're in bureaucratic hell? Our app will draft the paperwork you need and get you out of any hurdle before you know it! 
We can compose most of the documents that you require for any administrative purpose in your jurisdiction, most notably:
More of What We Can Do for You 
Our multifaceted app can call and record the conversation with the customer service of the company that just won't let you go! If you are having trouble canceling an unwanted service via the traditional channels, use DoNotPay to get it over and done with!
We can help you stop the persistent robocalls and robo texts from the nagging company and request a refund for unused services in a matter of minutes.
We'll also lend a helping hand in stopping spam mail—whether it's electronic or paper. Our Spam Collector product unsubscribes you from unwanted emails and cleans up your physical mailbox too!