The Most Reliable Way To Pass Your PA HAZMAT Test
HAZMAT endorsement presents a valuable addition to your CDL driver's license. It will grant you more business opportunities and ensure a higher salary. To obtain the H endorsement, you have to demonstrate your knowledge of hazardous materials by passing a HAZMAT test. HAZMAT tests are challenging, but you will leave a good impression on your employers if you pass the exam on the first try.
DoNotPay will explain the importance of HAZMAT tests and show you the best way to prepare.
What Is a HAZMAT Test?
Commercial truck drivers with a CDL driver's license are eligible for taking a HAZMAT test. The exam assesses your knowledge of hazardous materials, such as gas, explosives, or flammable liquids, and your ability to transport them safely. Passing the test also means that you are fully qualified to handle any dangerous events during the transfer of hazardous materials.
The Pennsylvania HAZMAT test consists of 30 multiple-choice questions regarding information from the Pennsylvania CDL Manual. To pass the exam, you have to answer at least 24 questions correctly.
Considering the responsibility the HAZMAT endorsement carries and the career opportunities it provides, preparing for the test should be of utmost importance.
Why Is It Important To Practice for the PA HAZMAT Test?
A studious approach to preparing for the HAZMAT test offers many advantages. The more you practice, the more confident you will feel during the real exam. The lack of test-related anxiety will allow you to show your real knowledge and ensure you get a passing grade.
There are other factors regarding the HAZMAT exam that can make reapplying a nightmare. The application process is arduous and requires you to pay a fee, go through a background check, and submit a lot of paperwork.
Passing a HAZMAT test in Pennsylvania is not hard, as long as you prepare adequately. Studying from the Pennsylvania CDL Manual, taking a fair amount of practice tests, and getting some tips from experienced drivers should do the trick. DoNotPay will help you avoid complications by providing access to the most reliable practicing material out there!
How Can
PA HAZMAT Practice Test
Help You Pass the Real Exam?
While the Manual is an unavoidable information source, practice tests have their own set of advantages. Taking the practice test can make a difference between passing and failing the real exam.
Here are the reasons practice tests are so valuable:
They put information from the Manual into context

You can use them to follow your progress

They help you retain information by stimulating revision

Practice tests offer an insight into the structure and form of the real exam
The trick is to find the most reliable practice tests and retake them numerous times. Memorizing as many question variations as possible will reduce the element of surprise on the actual test.
How To Take a PA
HAZMAT
Practice Test on Your Own
You can access practice tests by typing in the corresponding keyword in a web browser's search box. The number and variety of options look promising, but don't forget to check every test before making a decision. There are certain telltale signs that can help you distinguish sketchy websites from reliable sources. You should avoid websites that:
Look amateurish

Have overly positive reviews

Advise you to skip the manual

Advertise that they contain the real exam questions

Charge access to certain parts of the learning material
Even with all the precautionary steps, there is still no guarantee that online practice tests are reliable. If you are still having a hard time deciding, it is best to skip them altogether and turn to DoNotPay!
How To Take the
PA CDL HAZMAT Practice Test
With the Help of DoNotPay
DoNotPay allows you to access the most reliable HAZMAT practice material. Here's how it works:
Open DoNotPay in your

Type in

Hazmat Test

Indicate the number of questions

—10, 20, or 30

Start the test
You can retry answering test questions as you go or retake the whole test after you finish. Either way, you will feel prepared enough to schedule the real exam in no time!
Apart from HAZMAT practice tests, our offer includes practice material for: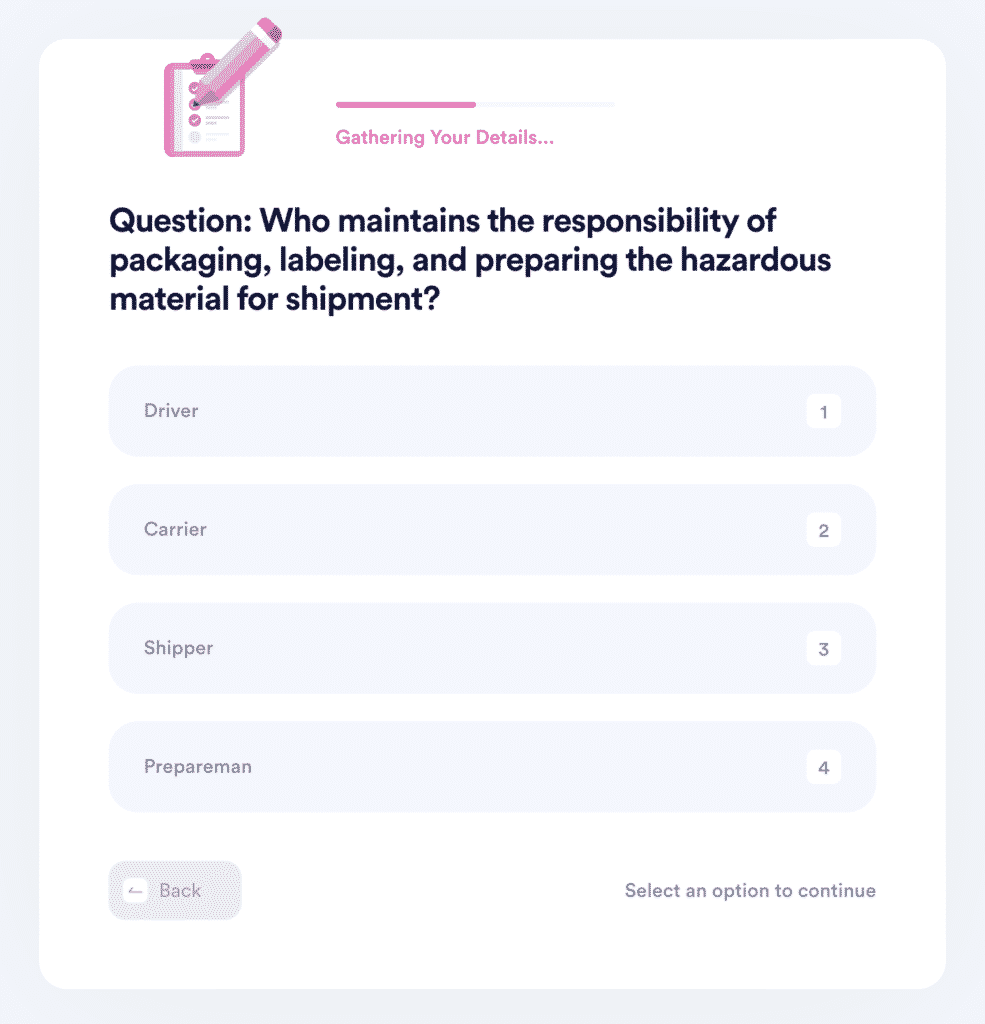 What Makes You Eligible for a Pennsylvania HAZMAT Test?
Having a CDL license is not enough to make you eligible for a HAZMAT test. Check out other eligibility factors that you have to consider before applying:
Eligible
Not Eligible

A U.S. citizen

An immigrant with an appropriate immigration status

A criminal offender

A person deemed mentally unstable or involuntarily committed to a mental institution

An individual posing as a threat to national or transportation security
What Are the Steps of Applying for the PA CDL HAZMAT Test?
Before applying for the PA HAZMAT test, you should get familiar with the process. Here is a list of steps you are required to take to obtain your HAZMAT endorsement in Pennsylvania:
Step
Details

Gathering necessary documents and material

Pennsylvania Commercial Driver's Manual

Paying the application fee

Information about fee prices are available on the

Payments and Fees

page of the official Pennsylvania DMV website

Visiting a Driver's license center

Submit your application and money order to

PennDOT, P.O. Box 68272, Harrisburg, PA 17106-8272

before the visit

Waiting for the Knowledge Test Authorization

You will receive the Knowledge Test Authorisation via mail in the next seven to ten days after the PennDOT processes your

DL-31CD

Taking the HAZMAT test

You have to acquire an 80% score to pass the test

Applying for a Federal Security Threat Assessment

The assessment process consists of:

Receiving your HAZMAT endorsement

You will receive your endorsement once you pass all tests and the FBI sends the approval to PennDOT
DoNotPay Can Help With Many Other Issues!
DoNotPay can give you insight into other test-related information. Whether you want to make a driving test appointment, learn how to pass the written driving test, or find out your ASVAB test scores, you can count on us.
By visiting DoNotPay in your , you will gain access to many more useful features bound to make your life easier.
Find out how we can assist you with:
Avoiding paying traffic tickets

Overturning your speeding citations