The Ins and Outs of the CDL Practice Test for NM
Having a CDL opens various doors for job opportunities across the country. If you wish to get a commercial driver's license in New Mexico, you'll need to pass the CDL test.
We can tell you how to best prepare for this knowledge-check and pass the test without breaking a sweat using DoNotPay!
Important Info Regarding the NM CDL Test
People interested in obtaining a CDL in New Mexico will have to take several steps before being able to get on the road in a heavy vehicle. Take a look at the requirements:
Receive a CDL learner's permit

Pass a skills test
The knowledge test is the first step you need to get through successfully, and you should take it seriously. There will be 50 questions, and you need to answer 80% of them correctly. You'll only have an hour to do so.
New Mexico allows individuals to take the written test twice per week, and there are no limits to the number of tests you can take during a year. This may sound good, but do you want to go through the procedure more than once and postpone getting a well-paid job? Do you want to spend more money on fees than necessary? If all your answers are negative, you should know how to appear at the test location fully prepared.
Why Is It Important To Get Ready for the CDL Test in NM?
It is important to prepare for a test if you want to pass—it's as simple as that. CDL tests are not easy, no matter what country you decide to take them in. If you wish to skip repeating the entire process of getting the commercial driver's license, you should try and pass the test the first time.
When you know you've covered every important topic and retaken practice tests enough times, you will be able to ace the real test!
What's the Best Way To Prepare for the CDL Test in New Mexico?
The first thing you should do is download the New Mexico CDL manual from the MVD website. The next step is not as easy or fun—you'll need to read through the manual. This book contains everything you ought to know about becoming a CDL driver in NM. Try to go through it a few times and write some notes down.
Another way you can prepare for the CDL test is with flashcards. This is a personal preference, and studying with flashcards works better for some people than others.
The study technique that works well with everyone and ensures easy passing of the test are practice tests. By checking your knowledge with these tests, you will learn what to expect from the real test. Find out what the questions look like, perhaps even measure your time while taking the practice test to see if you'll manage to finish everything.
The only problem with practice tests are the free options available on the internet. You cannot count on them for secure information. If you wish to get the updated version of tests for your state, you should turn to DoNotPay!
How To Use DoNotPay's CDL Practice Test for NM
You won't want to risk taking the CDL test in New Mexico more than once, and DoNotPay can help you with this. You will find all the question combinations for the real test in one place. Another great thing about taking DoNotPay's practice CDL test is the option to retake the incorrect questions on the spot. If you'd like to have the feeling of taking the real test, you can also see your mistakes when you finish completing it.
Access our app from your and heed these instructions:
Type in the name of the test

Choose the test you wish to prepare for

Indicate whether you wish to practice with 10, 20, or 30 questions

Start the test completion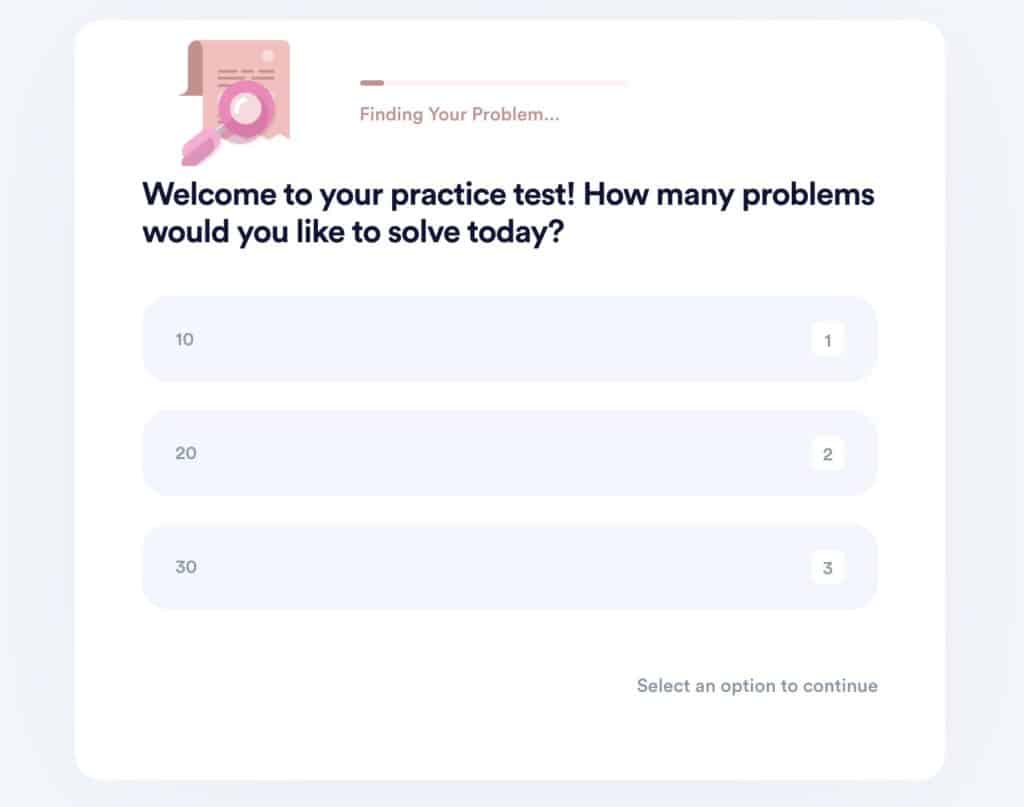 Other Tests You Can Count on DoNotPay To Get Ready For
DoNotPay has various practice tests you can use to obtain a government-license of your choice. Access DoNotPay from your and check how DoNotPay helps:
How To Schedule a CDL Test Appointment in New Mexico
People looking to become drivers of commercial vehicles in New Mexico can make a CDL test appointment online. This is what you'll need to do:
Visit the

In Line Online

website

Click on the

Make Appointment

button

Choose your appointment type

Select the MVD Field Office in your vicinity

Pick the time and date that you want to take the test at

Enter your full name, email, and phone number

Click on

Submit
Don't Let Companies Take Your Hard-Earned Money!
People love to subscribe to all sorts of services—especially if there are free trials involved. The problem is that most of them forget that they signed up for anything in the first place. Companies are aware of this, which is why they auto-renew memberships as soon as the free trials expire.
Don't let them get away with it—use DoNotPay to sign up for free trials and cancel subscriptions right before they renew. If you want to save even more money, use our platform to learn how to handle high bills, parking tickets, college application fees, canceled or delayed flights, or faulty services you should get refunded for.
Use DoNotPay To Stop Illegal Activities and Earn off Scammers!
Our AI-powered platform can assist you in dealing with all sorts of scammers. If you got any of the following, the world's first robot lawyer will help you seek justice:
Do you want to protect yourself and your loved ones from stalking and harassment as well? Use DoNotPay to learn how! If the situation with a stalker escalates, our app is going to help you take them to small claims court by preparing all the paperwork and your court statement.
Don't stop there—check out how you can bypass phone number verification, claim any type of warranty, or pass any government test with flying colors!