CDL Practice Test in VA—The Best Way To Ace the Real CDL Knowledge Test
If you would like to drive commercial motor vehicles in the USA, you need to obtain a commercial driver's license (CDL). To get your CDL, you have to take the CDL test in your state.
In case you reside in Virginia, you should study hard and prepare well. DoNotPay offers VA CDL practice tests that will help you pass the test with a better score.
Not only do we provide help with your VA CDL test, but we offer details regarding various driving-related topics. Our app will help in case you would like to find out how to schedule a DMV driving test appointment, pass the written part of the driving test, or practice for DMV.
What Is the VA CDL Test?
The CDL test consists of two parts—a knowledge and skills test.
Your VA CDL will allow you to drive a commercial motor vehicle (CMV) in Virginia and potentially other states, depending on your qualifications. If you would like to operate trucks, transport hazardous materials, or drive vehicles carrying 16 or more passengers, CDL is mandatory.
How To Obtain a CDL in Virginia?
To get a VA commercial driver's license, you should meet the following requirements:
You must be a Virginia resident

In case you are a CDL holder moving to Virginia, you have to obtain a Virginia CDL within 30 days

You have to be 18 years of age for an intrastate CDL and 21 for an interstate CDL

CDL applicants must have a valid Virginia's driver's license or meet all the requirements necessary to obtain it

You have passed a Virginia-approved

CDL driver education program

Applicants must hold a commercial learner's permit for at least 14 days before applying for a CDL
You should also check the disqualifying criteria for a CDL in Virginia on the DMV official website because the requirements are liable to change.
How To Apply for the VA CDL Test?
If you fulfill the above-mentioned criteria, you can apply for the VA CDL test. Here is what you should do:
Complete a

CDL application form

Visit a

Virginia Department of Motor Vehicles

(DMV) office

Present required documentation

Pay the application fee
Virginia CDL fees vary depending on the duration of your license, but the standard one is $64 and is valid for eight years.
The table shows documents you need to take with you when applying for a VA CDL:
Virginia's licensing requirements
Federal requirements
U.S. Citizens or Legal Permanent Residents
Applicants Domiciled in a Foreign Jurisdiction

Proof of

legal presence

Two proofs of your Virginia residency

A proof of your Social Security number

A document showing your eligibility under federal requirements

Any of the following:

Valid, unexpired U.S. passport or passport card

Consular Report of Birth Abroad issued by the U.S. Department of State

Official birth document issued by a U.S. state, jurisdiction, or territory

Certificate of Birth Abroad

Certification of Report of Birth of a U.S. Citizen

Unexpired permanent resident card

U.S. Certificate of Naturalization

U.S. Certificate of Citizenship

Unexpired:

Foreign passport accompanied by an approved I-94 form documenting the most recent admittance into the U.S.

Employment Authorization Document
You can check what documents you should bring to the DMV on the online interactive document guide.
Apart from showing the above-listed proofs, you have to certify that you are in compliance with the federal and Virginia motor carrier safety regulations. If you do not have to comply with regulations, you need to present proof of that. Check out medical certification requirements for a CDL.
If you have to meet the motor carrier safety regulation, you have to provide a Department of Transportation Medical Examiner's Certificate that has to be completed by an examiner from the National Registry of Medical Examiners.
What Does the CDL Test in VA Include?
The commercial driver's license test includes a vision screening, knowledge tests, and a road skills test.
All CDL applicants have to take the general knowledge exam that assesses their understanding of motor vehicle laws, safe driving techniques, and the operation of commercial vehicles. You will take the CDL knowledge exams on a computer and can choose different languages.
You can prepare for this test by reviewing the Virginia Commercial Driver's Manual. If you fail the knowledge exam, you need to pay $2 to retake it within 15 days. Once you pass the knowledge test, you can take the CDL skills tests.
Apart from these tests, you might need to take the two-part driver's license knowledge exam. To make sure which tests you will have to take, contact the DMV.
Once you obtain a CDL, you might be interested in adding a HAZMAT endorsement to your Virginia CDL. The HAZMAT endorsement allows you to transport hazardous materials and substances and earn more money.
Why Should You Prepare for the CDL Test in VA?
If you would like to operate a commercial vehicle, you will have to familiarize yourself with numerous regulations and safety measures. You need to pass the knowledge test consisting of 50 questions, which will happen if you get at least 40 correct answers.
The CDL general knowledge test can be challenging as you will need to cover a 150-page long VA CDL manual first. To make sure you have memorized everything well, you should practice as much as possible.
In case you fail the knowledge or behind-the-wheel exams three times, you will have to complete the knowledge or in-vehicle part of a driver course before taking the CDL exam.
DoNotPay helps you prepare for your CDL test by providing a convenient practice test.
Can You Prepare for the CDL Test in VA by Yourself?
You can prepare for the VA CDL test on your own by covering the information from the VA CDL manual and finding guidebooks, tutorials, and study books.
Another useful option is a training school offering a CDL course. Classroom and in-vehicle training are useful, but make sure the DMV has approved the school you choose to attend.
Need Help Practicing? Take DoNotPay's CDL Practice Test in VA!
DoNotPay can help you pass multiple government tests, such as a notary, postal exam, or U.S. citizenship test. Pick any practice test to ensure outstanding results in the actual exam!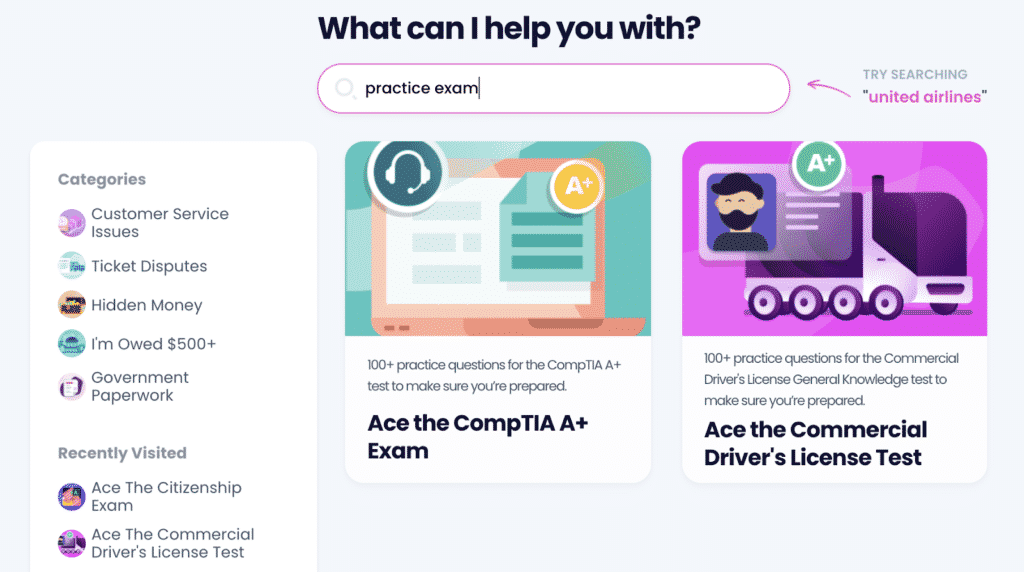 Take these steps to start the commercial driver's license practice test:
Go to DoNotPay in your

Opt for the practice test by typing in

CDL

or

commercial driver's license

Select the test you wish to do

Choose the length of the Virginia CDL practice test—10, 20, or 30 questions

Start practicing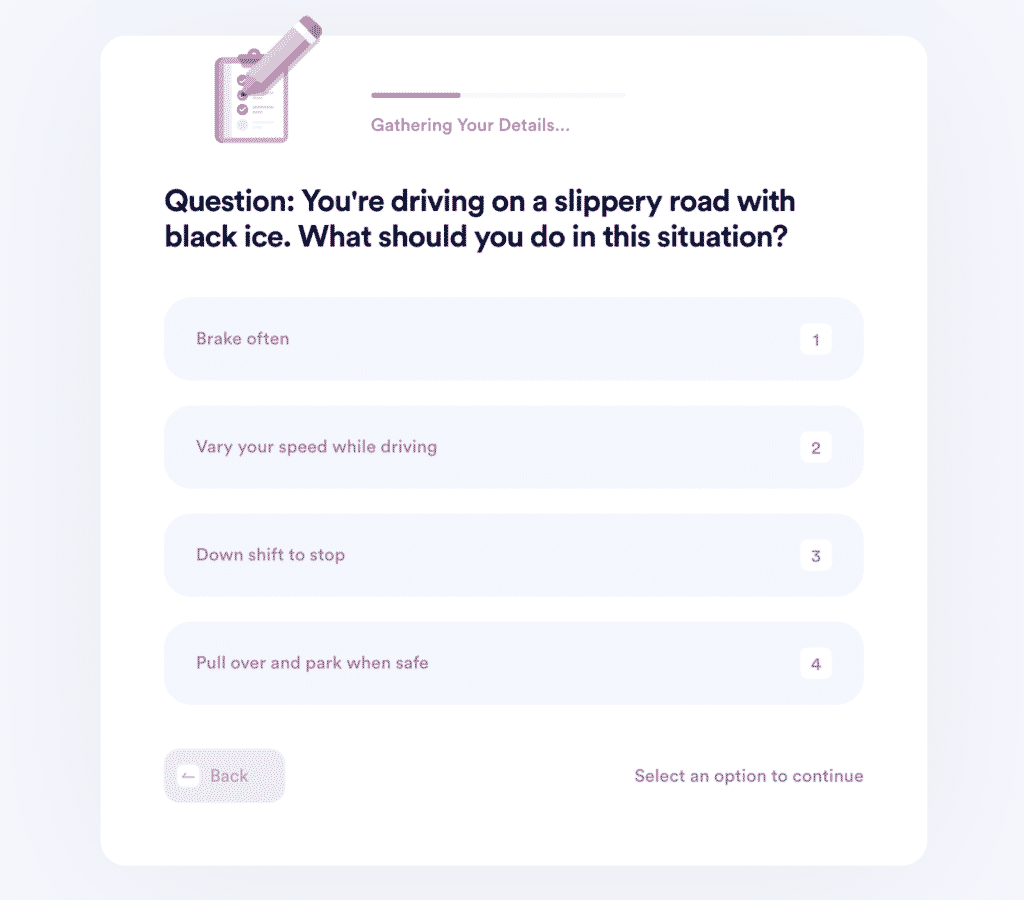 You do not have to worry about mistakes since you can conveniently correct each wrong answer on the spot. Another option is to finish the test, check out your score, and retake the test for additional practice.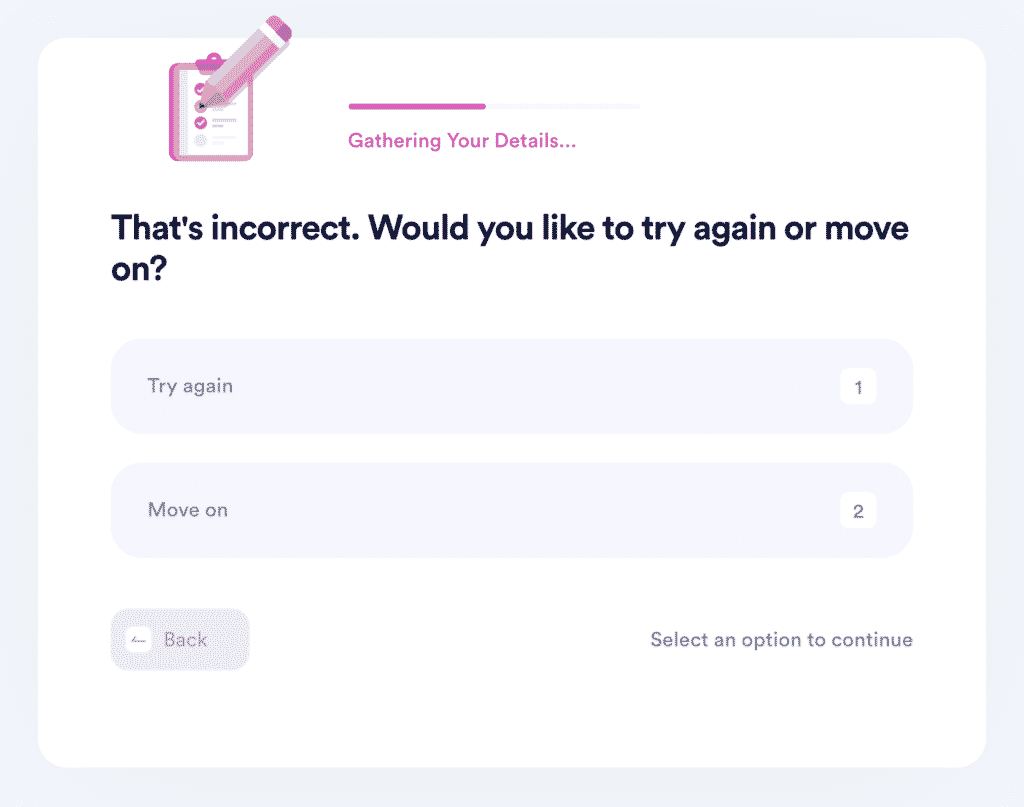 We will provide you with useful practice tests that offer you an opportunity to determine how much you have learned. They are designed to show you what areas you need to work on and how effective your knowledge is.
Our app provides practice material for ASVAB, CCAT, CompTIA tests together information on ASVAB test scores.
DoNotPay Sorts Out Your Problems
DoNotPay can help residents of other U.S. states with CDL-related problems. If you live in New York, California, Ohio, or Texas, check out our practice tests and useful tips to get the licenses you need.
Let DoNotPay help you fight annoying administrative issues!
Our app provides useful details regarding Virginia-related issues, such as how to cancel Dominion Power subscriptions, stand up to harassment, locate your forgotten money, or get your Virginia Tech application fee waived.
You can learn about additional useful features by accessing DoNotPay from your . We can help with:
Disputing traffic tickets

Disputing speeding tickets