How To Ace Your CDL Air Brake Test Hassle-Free
Are you a prospective commercial driver's license carrier who wants to drive a truck equipped with air brakes? Passing the air brake test should be on your checklist if you want to remove the restriction from your CDL.
DoNotPay can help you prepare for the CDL air brake test fast and easy. Take a few DMV practice tests on our platform and pass your written driving exam effortlessly.
Crucial Aspects of the Commercial Driver's Licence Test
Passing the CDL test is an obligatory step for drivers who want to operate a commercial motor vehicle. Most states require the candidates to be at least 21 when applying for the test. The exam you take will depend on the class of the vehicle you want to operate—Class A, B, or C.
Each CDL test consist of three sections:
General CDL test

—obligatory

Endorsement tests—optional

Air brake test—optional
To land better job opportunities, commercial drivers should consider obtaining one or multiple endorsements on their license:
Endorsement
Description

H

Vehicles that transport

hazardous materials

N

Tank motor vehicles that contain liquids and gasses

P

Commercial motor vehicles for 16 and more

passengers

S

School busses (with a P endorsement)

T

Double and triple trailers

X

Tank vehicles that transport hazardous materials
CDL Restrictions Explained
Removing your CDL restrictions is another important step to getting a better-paid job. You can do so by taking and passing the required tests. The following table shows the basic restrictions found in any American state:
Restriction
Description

E

Drivers can't operate a commercial motor vehicle with a manual transmission

L

CDL carriers can't drive a vehicle equipped with air brakes

M

Chauffeurs with an M restriction can only drive:

Class B passenger vehicles

Class C passenger vehicles

N

Drivers can only operate:

School busses

Class C passenger vehicles

O

Commercial drivers with an O restriction can't drive a Class A vehicle with a fifth-wheel connection

V

A V restriction is given to the chauffeurs with:

Vision and hearing impairments

Seizures

Diabetes

Z

Chauffeurs with a Z restriction can't operate a vehicle with a full air brake system
What Is the Air Break Test for CDL?
The air brake CDL test is designed to examine the chauffeurs' knowledge of the air brake system in commercial motor vehicles. It's crucial to know how to operate and maintain the brakes properly to ensure everyone's safety.
The L restriction will be removed from your license if you:
Pass the written test

Complete the

road test

Know how to check if the air brakes work well

Manage to identify all the components of the air brake system
How Many Questions Are on the CDL Air Brake Test?
The CDL air brake test consists of 25 questions that usually cover the following topics:
Use of air brakes

Benefits of the air brake system

Features and properties

Parts of the air brake system

Main differences between traditional and air brakes
You can take the air brake test as part of the CDL exam or pass it separately in the future.
Ways To Prepare for the CDL Air Brakes Test
Preparation is crucial if you want to pass your CDL air brake test on the first try and be ready to accept a job offer. You will feel less nervous when taking the test if you prepare well at home. You can study for the exam in a few ways:
Read an official DMV manual

Prepare some flashcards

Attend online and offline courses

Take practice tests
Not a Big Fan of Studying? Try Taking the Air Brakes Practice Test!
Reading a DMV CDL manual at least once should be your first step, even if you don't like studying. Once you finish reading the handbook, you can take a few CDL air brake practice tests. Your study sessions will be more dynamic and efficient.
Prep tests offer an array of questions mostly drawn from the handbook and previous exams. By responding to a few sample questions, you'll experience the real exam atmosphere. You will receive immediate feedback, which will help you memorize the correct response more easily.
You can find the CDL air brake practice test on one of the following platforms:
DoNotPay—The Most Practical Way to Take the CDL Air Brakes Practice Test
DoNotPay is the most reliable option for individuals who want to prepare for their CDL test in Ohio, Florida, Texas, or any other American state. We provide a user-friendly platform with a comprehensive database of practice tests. To prepare for the CDL or any other government test with DoNotPay, follow these steps:
Access your account from any

Enter the name of the test

Pick the test you want to practice

Choose from 10, 20, or 30 questions for the test length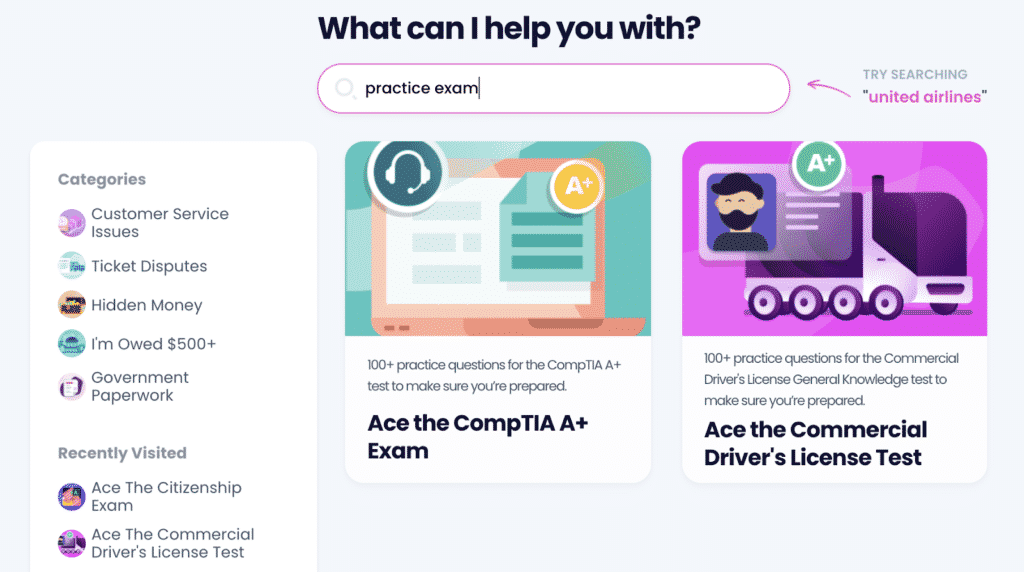 Should your answer to any question be incorrect, you'll have a chance to correct it on the spot. You can retake the entire test if your score isn't satisfactory.
DoNotPay can assist you in scheduling the exam with your local DMV in any state.
Learn About Other Government Tests You Can Practice for With DoNotPay
Taking care of your commercial and non-commercial driving exams is not the only task we can help you with. Thanks to DoNotPay, you can get ready for the Armed Services Vocational Aptitude Battery (ASVAB) exam and achieve an amazing score.
DoNotPay offers practice tests for any government exam, including:
Clear Your Schedule With the Help of DoNotPay
DoNotPay is renowned for making our users' lives infinitely easier. Not only can we root out unwanted subscriptions for you—you don't need to do it manually one by one any longer—but we can unsubscribe you from unwanted email and snail mail lists.
Fire up our app and let it navigate the phone tree instead of you or use it to make a DMV appointment at your earliest convenience. Forget about googling clinical trials near you—DoNotPay can sort them out according to your needs and their individual eligibility criteria.
We can fill out the paperwork that you need to file at your local small claims court to initiate a dispute. You can work around the U.S. penal system and have DoNotPay locate an imprisoned loved one instead of you trying to reach individual prisons attempting to do it yourself.
You don't need to go to great lengths to get in touch with a counselor to sign your college fee waiver either—DoNotPay does it for you and then forwards the necessary documents on your behalf.
DoNotPay Never Ceases To Amaze
Where there's one useful feature, there are nifty features galore!
Use our Virtual Credit Card to sign up for free trials and stop robocalls and spam text messages from reaching your phone. If you feel a free trial unrightfully turned into an expensive paid membership, we can help you request a refund or chargeback for the inconvenience.
We can further assist you in exercising your consumer rights by making a warranty claim in your place and verifying your online accounts with temporary phone numbers.
We can also break down the Freedom of Information Act for you and introduce you to online fax options and property tax reductions.