The OutletPC Return Policy Explained—A Return Doesn't Have To Be a Letdown
After you've invested in your new electronic device only to receive it damaged, being frustrated over it is understandable. In case you ordered a device from OutletPC, and it is not working, or you simply changed your mind regarding the purchase, don't be upset—DoNotPay can resolve this for you in a few minutes.
Before we help you return your unwanted product, check out our guide to the OutletPC return policy.
All About the OutletPC Return Policy
Searching for the OutletPC return policy, you may notice that it cannot be found on the company's official website. The products can be purchased at the Newegg and Newegg Business stores—the official seller.
OutletPC allows both refunds and replacements. Refunds are possible within 30 days, while exchanges are available within 60 days of purchase. If the item you are returning is not defective (i.e., you changed your mind after receiving it), you will be charged a 15% restocking fee.
The company suggests returning an item in the original packaging if possible. You need to make sure to pack:
All the parts that came with the item
Any accessories
Manuals or other documentation
In case something is missing, the company reserves the right to reject your return request, and your refund or exchange could be delayed.
How To Return an OutletPC Product
OutletPC only accepts mail returns. To return a product, you first have to raise a Return Material Authorization (RMA) request on Newegg's website. You need to have an account for that purpose.
Here are the steps you need to follow:
Log in to your account or sign up if you don't have one
Go to My Account
Select the Return an Item option
Click on the type of return—either Refund or Replacement
Tap on the item you want to return
Add any additional details that are needed (e.g., the number of items and any comments related to your return request)
Submit the request
Once approved, you should receive an email with the reference number for your request and further instructions regarding your return. Unfortunately, this is the only possible way to initiate the return request by yourself, and based on user reviews, it is rarely a trouble-free process. A number of customers reported defective replacements and denied return requests they were not notified about.
Too Much Trouble Returning Your OutletPC Item? Let DoNotPay Help You Out!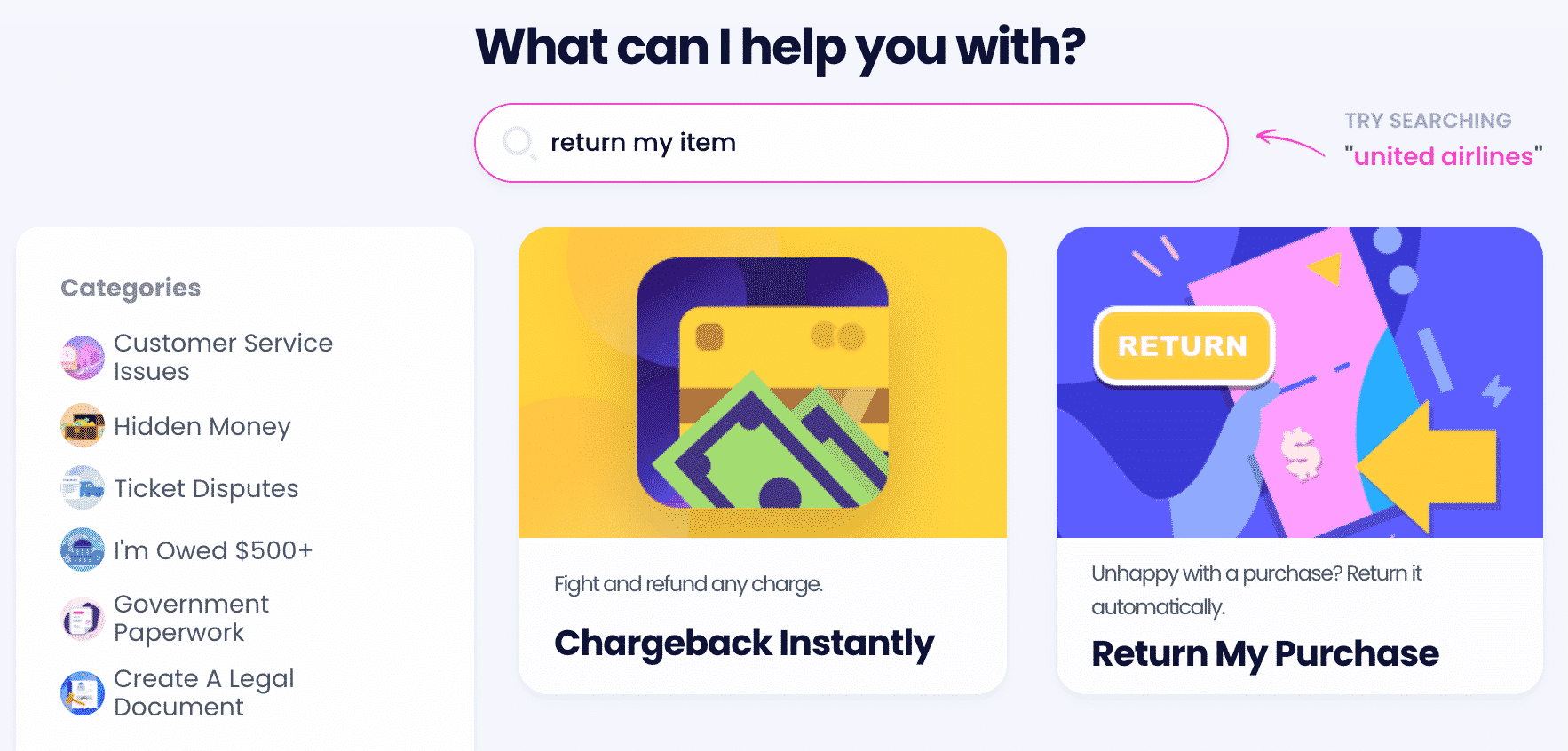 We can save you time during the request submission so you don't need to bother with analyzing the OutletPC return policy. With DoNotPay, you can set a deadline for the seller to address your request. All you need to do is follow a few simple steps:
Find our Return My Purchase product
Answer our chatbot's questions about your purchase experience
Submit the request
How Will DoNotPay Resolve Your Issue?
Our AI-driven app will draw up a custom return request letter and forward it to the seller. Rest assured that your request won't be overlooked because we will include a deadline when the company is expected to respond. This way, you are also safe from any disputes down the line as you'll have your request in writing.
The letter our app drafts for you will also include the following:
Description of your product (e.g., whether it's damaged or faulty)
Type of your return (whether you want a refund or an exchange)
Additional convenience DoNotPay offers is providing a pre-paid return label so that you can ship your unwanted item at no cost.
Return Any Purchase With the Help of DoNotPay
OutletPC is yet another seller you can return an item to with the help of our app. You can find numerous guides to the return policies of other companies in our learning center. Check out some of them in the table below:
Use DoNotPay And Get Your Money Back After Returning Your Item
In case a company doesn't refund you even though you're eligible for it, we can swoop in. We will send a chargeback request and help you get what you deserve. All you should do is the following:
Find the Chargeback Instantly feature
Select Get Protected
Answer our chatbot's questions
Hit Sign and Submit
Having Troubles With OutletPC? Sue It in Small Claims Court With DoNotPay's Help!
Is OutletPC rejecting your return request or being difficult? DoNotPay can help you get justice by guiding you through suing the company in small claims court.
Our app will make it easy for you by:
Drafting a demand letter
Filling out the court forms
Getting the necessary documentation
Filing a complaint
Wasted Your Money on a Non-Returnable Purchase? There Are Other Methods To Earn It!
Don't feel down if the item you got isn't returnable—DoNotPay has many more tricks up its sleeve that will help you earn some money!
From helping you enter sweepstakes, decrease your property taxes, and lower your utility bills to assisting you in earning off email or text spammers and robocalls, waiving your college application fees, submitting a college financial aid appeal letter, and getting a refund from any company or airline, we can do it all!
DoNotPay Is Always at Your Disposal
Our app's mission is to take everyday admin and legal tasks off your plate so you don't have to waste any of your precious time. If you want to appeal your parking tickets, draw up a legal document, get any agreement notarized, get a tourist visa, keep a sex offender at bay, mail anything without waiting in line, or get in touch with a loved one in prison, DoNotPay will resolve any of these with ease.
Too busy to track your memberships? You don't need to worry about canceling your free trial on time before it turns into a paid subscription if you use our virtual credit card.
With DoNotPay, you can tackle any otherwise annoying chore stress-free.