What's the Deal With the HEB Return Policy?
Are you looking to return an unwanted HEB product but are unsure whether it's eligible for a refund? Take a look at our rundown of the HEB return policy and find out the best way to get your money back.
The HEB return policy is filled with loopholes and can be hard to interpret. If you sign up for DoNotPay, we'll make sure the entire process is transparent and streamlined. Why bother going back and forth with customer service when you can initiate a return with a few clicks?
The Full Rundown of the HEB Return Policy
Unsatisfied customers have a 90-day window to start a return. The HEB return policy includes most appliances and electronic items in the 90-day rule, but a few exemptions exist. Before you put in your return request, here's what you should keep in mind:
You need to pack the item using the original box—HEB won't process the return otherwise
Seasonal items such as swimming pool accessories, outdoor equipment, and holiday merchandise have a 30-day return window
If you remove a home entertainment product (video games, movies, computer software, music) from the original container, you can't exchange it for a different item. You can either get a refund or replace it with the same product
If you purchased a WIC/Lonestar item that comes with a gift receipt, you can't initiate a return
How To Return a Product Bought From HEB
If you're underwhelmed with your latest purchase, you can initiate the return in person. Locate the nearest HEB store in your area and bring the item along with the original box and proof of purchase.
In case there's an issue with your product upon arrival, make sure to contact HEB's customer service immediately. You can reach their representatives by calling 1-800-432-3113.
Can You Return Your HEB Item Without a Receipt?
The HEB return policy requires you to present a receipt when returning an item. Electronic purchases are the exception, thanks to a special feature in their system. If you bought your item with a debit card, gift card, or personal check, HEB can trace your order even without proof of purchase.
If you wish to finalize a return without a receipt, you'll have to provide an ID. The identification document has to be valid and government-issued, or HEB won't accept it.
DoNotPay Lets You Start a Return With the Click of the Mouse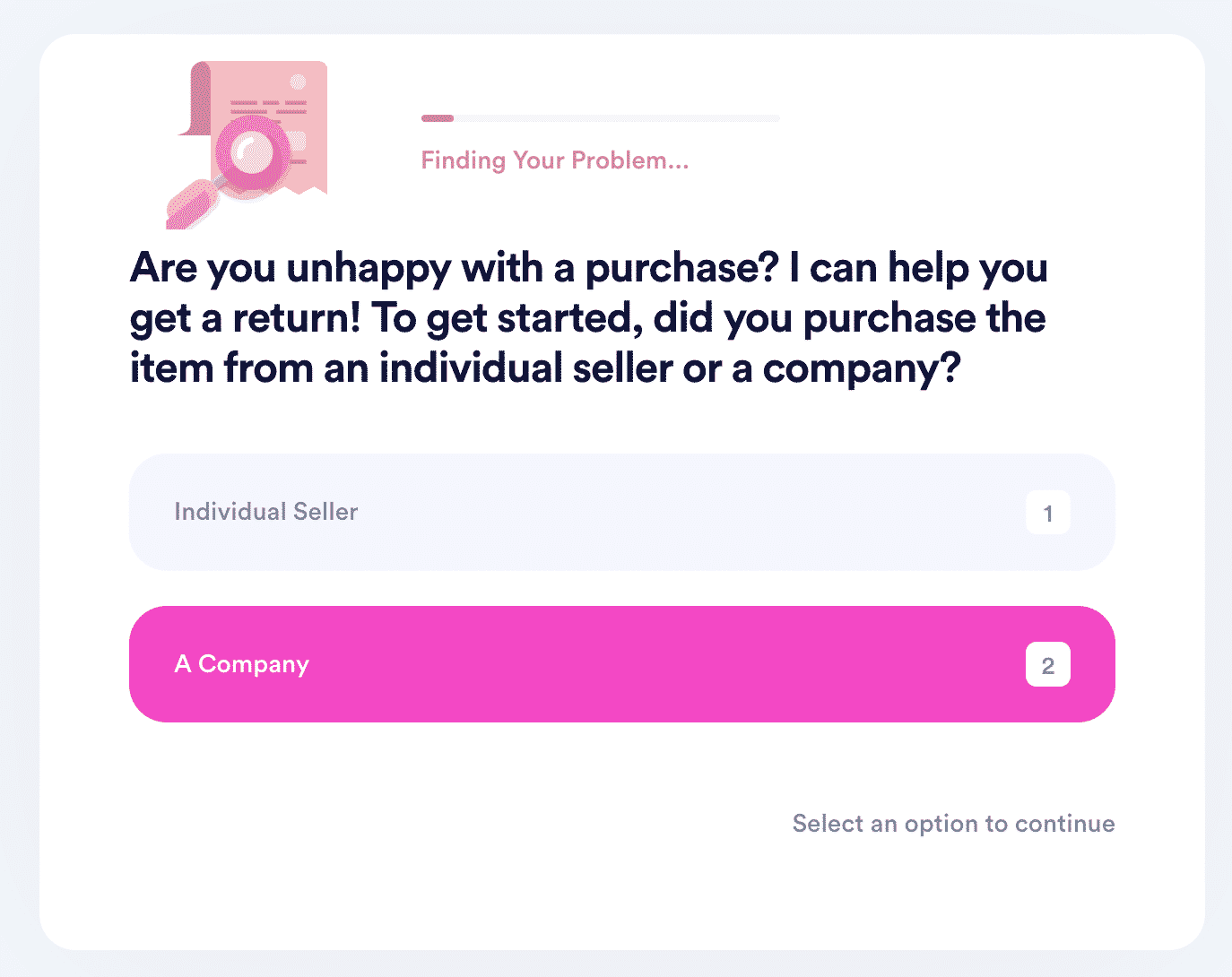 If going all the way to a local HEB store to start a return seems too troublesome, there's another way. DoNotPay has a super helpful feature that enables you to initiate the process online. With our Item Return Request product, you'll be able to contact HEB and submit all the necessary information with the click of the mouse.
Follow these quick and easy steps to get started:
Log in to your DoNotPay account using your browser
Find our Item Return Request tool and click on it
Answer the questions and attach photos of the product if asked
Click Submit
The AI-operated app will compose a return letter based on all your answers and send it to HEB directly. DoNotPay will also insist on setting a non-negotiable deadline for the evaluation process. You won't have to linger by the phone to find out whether your request has been approved.
If HEB fails to abide by the agreed terms, DoNotPay will keep them in check. The world's first robot lawyer can file a claim in your name and make sure you get the reimbursement you deserve.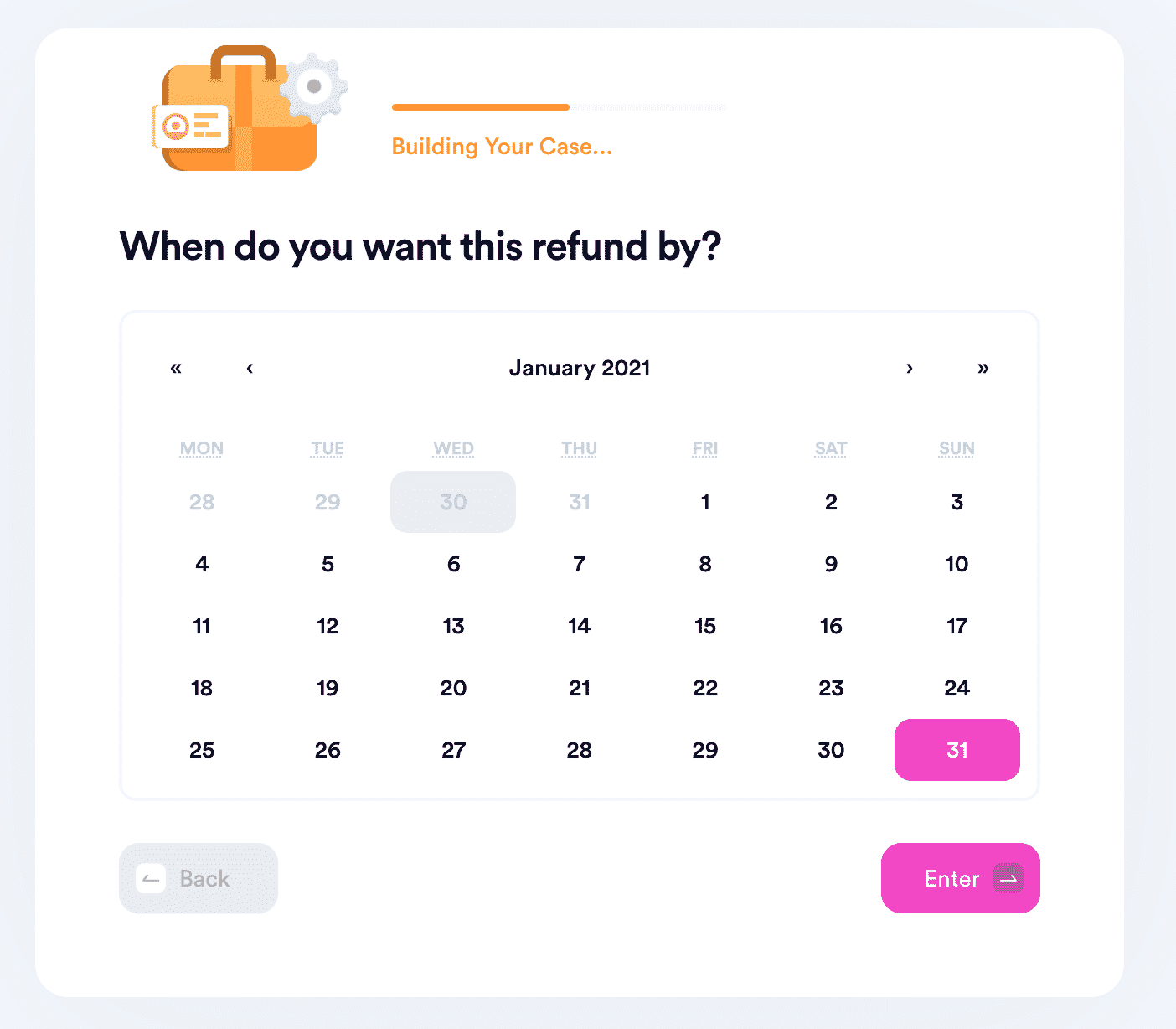 You can rely on our expertise when it comes to the return policies of some of the nation's leading merchants. To get a better understanding of the extent of DoNotPay's services, check out our overviews of the following companies:
Does HEB Offer Full Refunds for All Items?
The HEB return policy states that all refunds are conditional, meaning each case is processed individually. If you're deemed eligible for a refund, you will receive compensation in the form of the original payment method. The time it takes for HEB to process your refund is approximately 5–7 business days.
Some HEB items are considered a final sale and are therefore non-refundable. The ban mostly refers to prepaid and clearance items or services, such as:
Gift cards
Tickets
Permits and licenses
Phone cards
Mailing supplies (e.g., stamps)
If you bought the item using a discount, you won't get a full refund. HEB will charge you a deduction fee equal to the amount you saved during the initial order. For any return that includes a gift receipt, you will be reimbursed with a HEB gift card rather than the original payment method.
DoNotPay Can Help You Get a Refund for Your Faulty Product
If you feel overwhelmed by HEB's arbitrary refund policies, DoNotPay is in your corner. You can demand a refund by following these simple steps:
Go to DoNotPay and access the Chargeback Instantly feature
Select Get Protected
Answer the on-screen questions
Click Sign and Submit
Wasted Your Money on a Non-Returnable Purchase? There Are Other Methods To Earn It!
Don't feel down if the item you got isn't returnable—DoNotPay has many more tricks up its sleeve that will help you earn some money!
From helping you enter sweepstakes, decrease your property taxes, and lower your utility bills to assisting you in earning off email or text spammers and robocalls, waiving your college application fees, submitting a college financial aid appeal letter, and getting a refund from any company or airline, we can do it all!
DoNotPay Is Always at Your Disposal
Our app's mission is to take everyday admin and legal tasks off your plate so you don't have to waste any of your precious time. If you want to appeal your parking tickets, draw up a legal document, get any agreement notarized, get a tourist visa, keep a sex offender at bay, mail anything without waiting in line, or get in touch with a loved one in prison, DoNotPay will resolve any of these with ease.
Too busy to track your memberships? You don't need to worry about canceling your free trial on time before it turns into a paid subscription if you use our virtual credit card.
With DoNotPay, you can tackle any otherwise annoying chore stress-free.