DoNotPay's Step-by-Step Guide to the Clarks Return Policy
Remember the iconic Sex and the City quote, "Give a girl the right shoes, and she will conquer the world?" If you're not in the mood for world domination, then the Clarks shoe isn't fitting properly. We present the must-read "shoeaholic's" guide to the Clarks return policy.
The popular brand provides unhappy customers with compensation for lackluster items, but there's a catch. Sign up for DoNotPay to get a grasp of the Clarks Shoes return policy and prepare to conquer the world.
The Clarks Shoes Return Policy in Short
The Clarks return policy provides a 60-day window for initiating returns. If the new Chelsea boots turn out to be a toot, you can ask for a refund within that timespan.
Note that the Clarks return policy for worn shoes is slightly different. If the pair you wish to return shows visible signs of wear and tear, Clarks will deny your request.
To make sure you get a full refund and complete the return procedure, the shoes must be:
In entirely resellable condition. Only unworn and undamaged items are eligible for returns
Presented with the original receipt
If you missed the 60-day window, you can still start a return but won't get a refund in the original payment method. You will be reimbursed with store credit instead.
How To Return a Pair of Clarks Shoes
You can return a pair of Clarks shoes in one of two ways:
Via mail
In person
Both return procedures are cost-free and available regardless of the order type. For example, you can return items you bought online by bringing them to a Clarks store.
Mail Returns
The Clarks return policy doesn't charge any additional fees for the return shipment. Clarks includes a prepaid return label in the delivery for all online orders.
You're also free to choose the carrier service yourself. You can bring the package to the nearest USPS, UPS, or FedEx drop-off location. Leaving it in a USPS postal collection box or your mailbox is also an option.
If you've misplaced the return label, don't worry. You can print out a new one using the Clarks official website. Here's a breakdown of the process:
Go to the Clarks Order Lookup page
Provide the order number and enter your zip code
Click on the items you wish to return. If you're sending back more than one pair of shoes, enter a reason code for each one
Generate a new prepaid return label for the shipment
Print the label and attach it to the parcel
In-Store Returns
If you'd rather return your item(s) in person than arrange for a return shipment, here's what you should know:
You'll have to print out the order confirmation email and present it as proof of purchase
You need to carry the receipt along with the shoes
Klarna purchases can't be refunded on the spot. You have to start the return via mail and deliver the package to the Clarks warehouse
You can't return shoes bought in a Clarks Outlet store to a regular retail store and vice versa
Start a Return With DoNotPay's Ultra-Efficient AI-Operated Tool
The Clarks Shoes return policy is fairly decent, but not without a few twists and turns. If you want to increase your chances of getting a full refund, rely on DoNotPay. Our Item Return Request product will process all the information regarding your purchase and make a compelling case on your behalf.
Here's how to start a return with DoNotPay:
Select the Item Return Request feature
Answer some questions (upload photos of the shoes where needed)
Submit the letter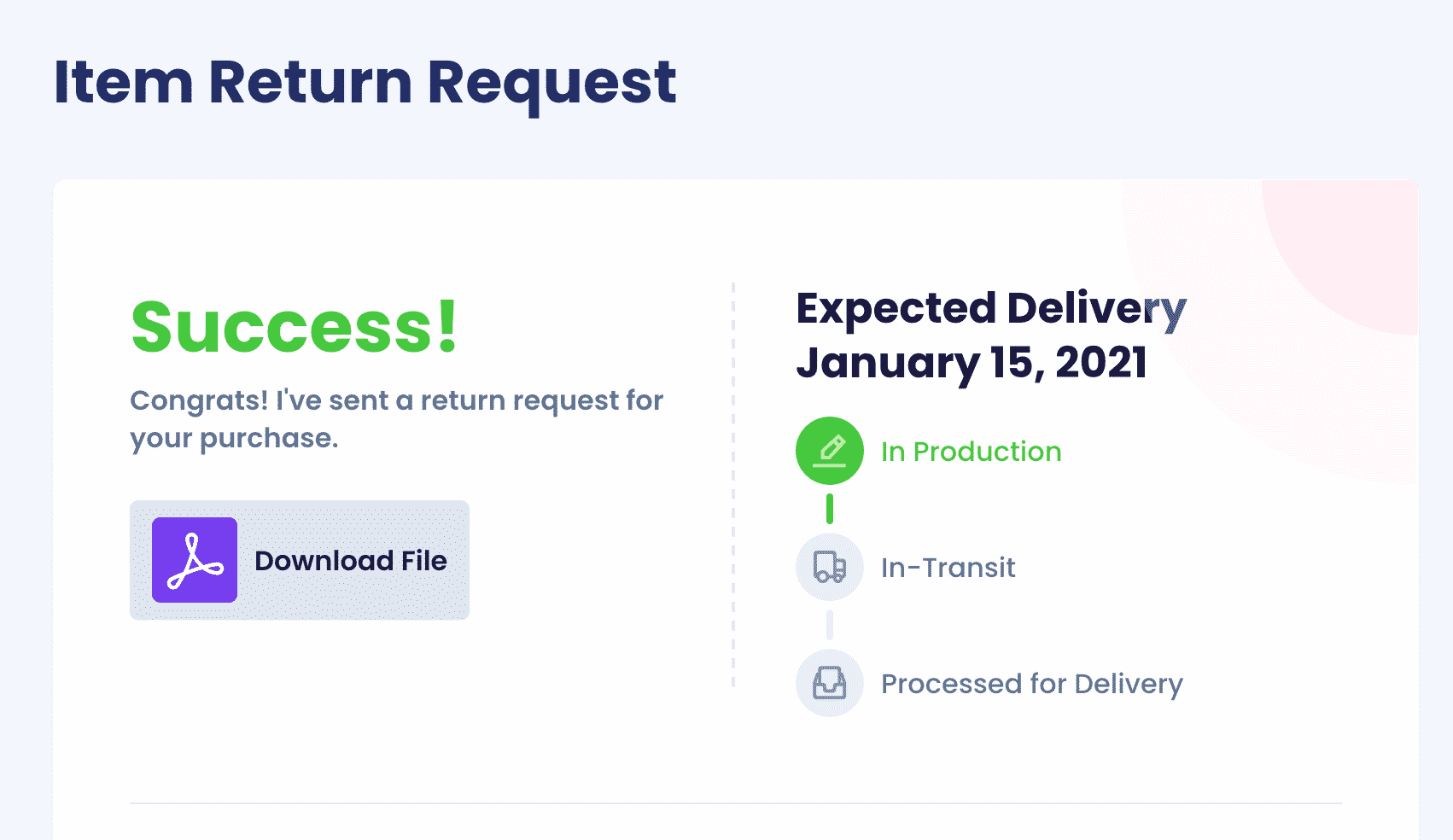 What Is the Clarks Shoes Refund and Exchange Policy?
The Clarks return policy includes a return/exchange option for unsatisfied customers. Here's a rundown of the procedures:
If you start a return by mail, Clarks will reimburse you for any return shipping costs and taxes
You can get a refund in the form of a gift card, store credit, or the original payment method
Clarks evaluates each return request individually
The refund sum will show up on your account approximately ten business days after you receive confirmation
It's possible to start an exchange in person or via mail. For the latter, send the unwanted item back and start a new order
You can contact the company's customer service if you have any further questions. The working hours are 9 am–6 pm EST (Monday through Friday), and you can reach them via:
Phone: 1-877-649-0277
Email: consumerservices@clarks.com
Get Your Money Back With DoNotPay
Since the Clarks Shoes return policy retains the right to deny you a refund, there's plenty of grey areas. DoNotPay can oversee the entire process and help you demand reimbursement for faulty products. All you have to do is:
Select the Chargeback Instantly feature
Click Get Protected
Answer a series of questions
Click Sign and Submit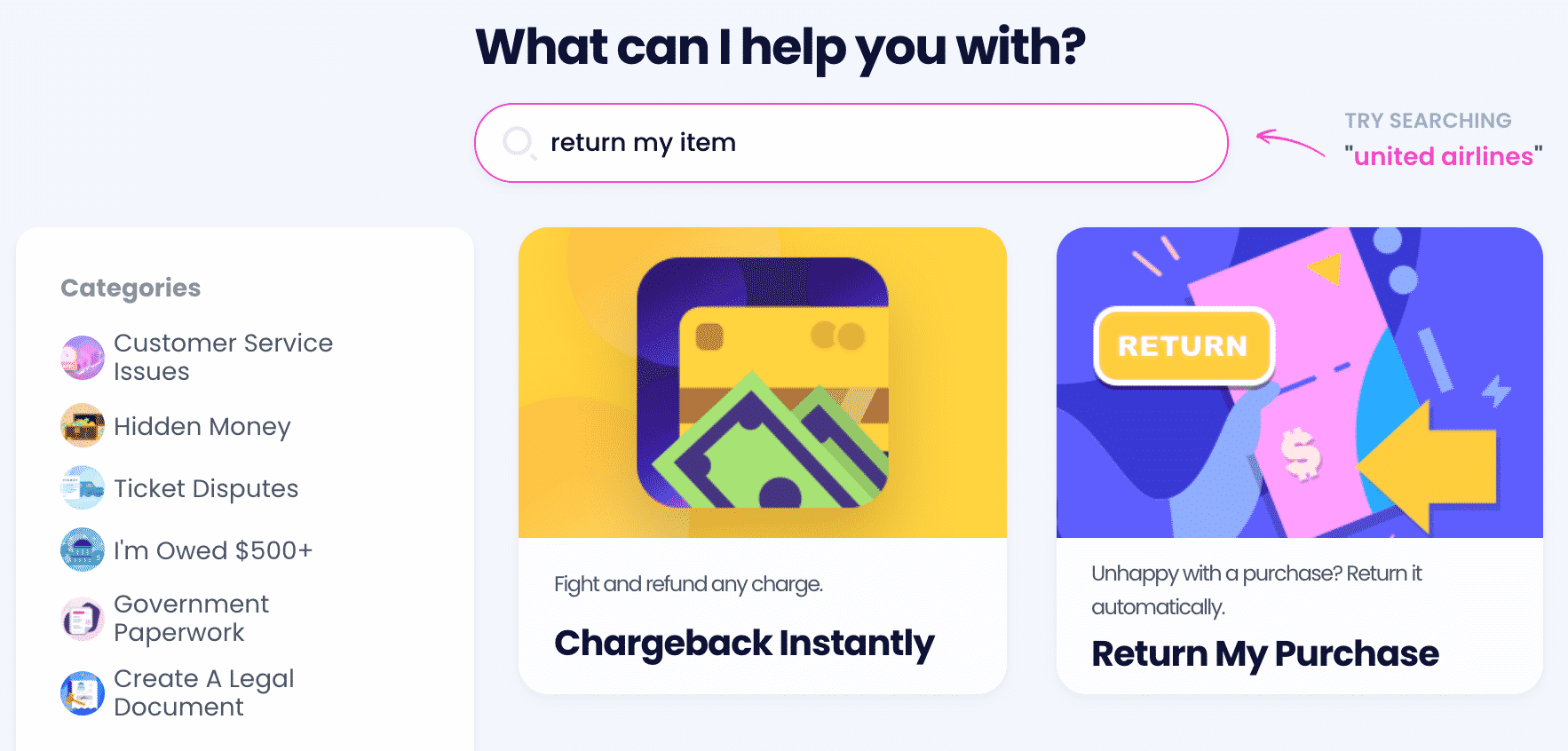 We can also guide you through the refund and exchange policies of other companies, such as:
Wasted Your Money on a Non-Returnable Purchase? There Are Other Methods To Earn It!
Don't feel down if the item you got isn't returnable—DoNotPay has many more tricks up its sleeve that will help you earn some money!
From helping you enter sweepstakes, decrease your property taxes, and lower your utility bills to assisting you in earning off email or text spammers and robocalls, waiving your college application fees, submitting a college financial aid appeal letter, and getting a refund from any company or airline, we can do it all!
DoNotPay Is Always at Your Disposal
Our app's mission is to take everyday admin and legal tasks off your plate so you don't have to waste any of your precious time. If you want to appeal your parking tickets, draw up a legal document, get any agreement notarized, get a tourist visa, keep a sex offender at bay, mail anything without waiting in line, or get in touch with a loved one in prison, DoNotPay will resolve any of these with ease.
Too busy to track your memberships? You don't need to worry about canceling your free trial on time before it turns into a paid subscription if you use our virtual credit card.
With DoNotPay, you can tackle any otherwise annoying chore stress-free.