The Fastest Way To Obtain Ohio State Scholarships
The cost of attendance for students at the Ohio State University can go close to $60,000 a year. Many students don't have that kind of money, which is why they have to turn to some sort of financial aid if they want to avoid ending up in debt.
Luckily, the University—along with the state of Ohio and various private companies—offers many scholarships and grants for their students to alleviate the financial strain tuition fees can cause.
If you want to secure one (or more) of Ohio State scholarships, you'll need to know:
What types of programs there are
We'll also show you how you can get a scholarship within minutes using DoNotPay.
Ohio State Scholarships—Categories
College students at Ohio State University have to pay different costs of attendance, regardless of whether they are undergraduates, graduates, or doctoral degree students. For instance, undergraduates need to pay the following amounts:
To help with these expenses, scholarship providers offer financial aid based on:
Merit
Need
Merit-Based Scholarships for Ohio State University
Merit-based programs reward Ohio State students who excel academically or achieve personal success related to their field of study.
With more than 200 majors and over 40,000 students at the undergraduate level, it's only normal for the OSU scholarships to focus on different types of students. Many factors are taken into account when determining eligibility, as shown in the table below:
Ohio State Merit Scholarships—Examples
The OSU offers five merit scholarships, all of which have the following characteristics:
They are competitive (a place is not guaranteed if students meet only the minimum requirements)
International students are ineligible
The deadline is November 1
Individuals cannot combine them (except for the Ohio State Buckeye Scholarship)
Check out this table to find out more about Ohio State University merit scholarships:
Scholarship Name
Eligibility Requirements
Award Amount
Ohio State Buckeye Scholarship (for non-Ohio residents)

Out-of-state U.S. citizens and permanent residents
Competitiveness determined by:

GPA level
ACT and SAT scores
Class rank

$13,500
Eminence Fellow Program and Scholarship

U.S. citizens and permanent residents
Applicants to the University Honors Program
Strong academic standing
Video introduction

$3,000
Land Grant Opportunity Scholarship (for Ohio residents)
All Ohio residents are automatically considered
The full cost of attendance
Morrill Scholarship Program (MSP)

U.S. citizens and permanent residents
High school seniors
Passionate about diversity, inclusion, and social justice
Strong academic standing

Varies
Maximus, Provost and Trustees Scholarships

U.S. citizens and permanent residents
Competitiveness determined by:

GPA level
ACT and SAT scores
Class rank

$1,000–$3,000
Need-Based Scholarships for Ohio State University
If a student's academic standing is not competitive enough for a merit-based award, there are financial aid programs that offer help based on financial need.
To qualify for them, students' Expected Family Contribution (EFC) has to be below a certain amount, depending on the limit each program has set. Students can determine their EFC by filling out the College Scholarship Service (CSS) profile or the Free Application for Federal Student Aid (FAFSA) form.
Many scholarships coming from private funds demand students to show both need and merit to be awarded.
Financial Aid Watch—Where To Find Ohio State Scholarships
Apart from the programs handled by the OSU (which you can find on the university's website), it's troublesome to find information about scholarships for Ohio State University. You have to spend weeks scouring the Internet to learn about different programs, and you might miss out on some in the meantime.
If you're stuck and don't know what the best approach is, here are a few tips on where you can conduct your search:
The OSU website
Your high school or Ohio State's financial aid office
DoNotPay
You can use DoNotPay to bypass the entire research process and get a list of personalized Ohio State scholarships you're eligible for in under five minutes.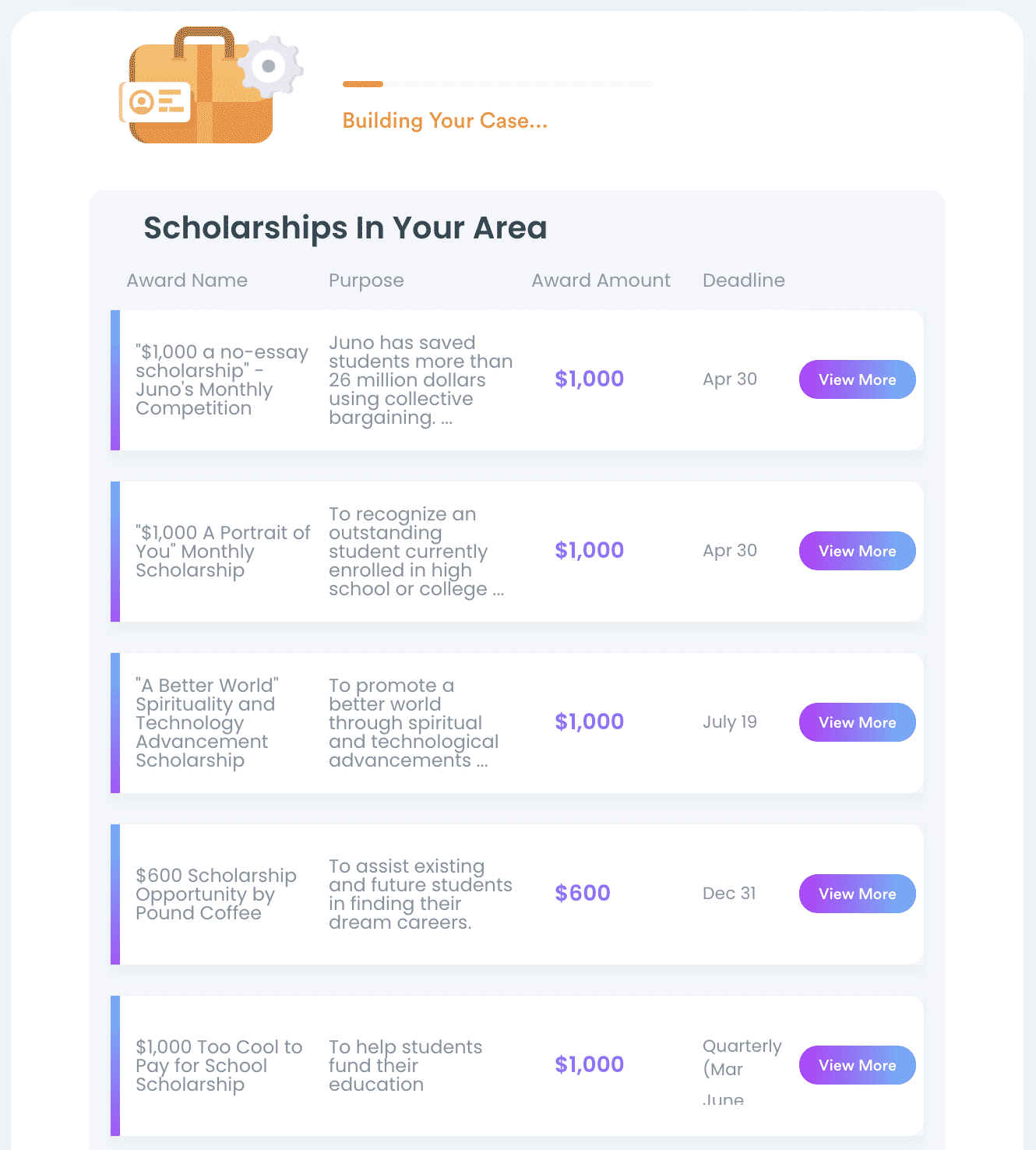 Applying for an Ohio State Scholarship
The application process is never the same as it depends on which program you're trying to get an award from. Regardless of that, you should always prepare by:
Making sure you're eligible
Applying before the deadline passes
Collecting all the necessary documents, including:

The FAFSA form
Essays
Transcripts
Get Your Ohio State Tuition Fee Covered With DoNotPay
Searching and applying for Ohio State scholarships can be a time-consuming affair. The good news is, you can do it all in a few moments, thanks to DoNotPay. Our app lets you learn about all available scholarships in no time, and all you need to do is:
Select the Apply for Scholarships tool
Answer a few questions about your academic and financial standing
Choose the type of scholarship you're interested in
With the info provided, our app will create a list of scholarships for which you're a good match, and you'll find out all about award amounts and necessary paperwork. If the list shows no-essay scholarships, you can use our app to apply for them without any hassle.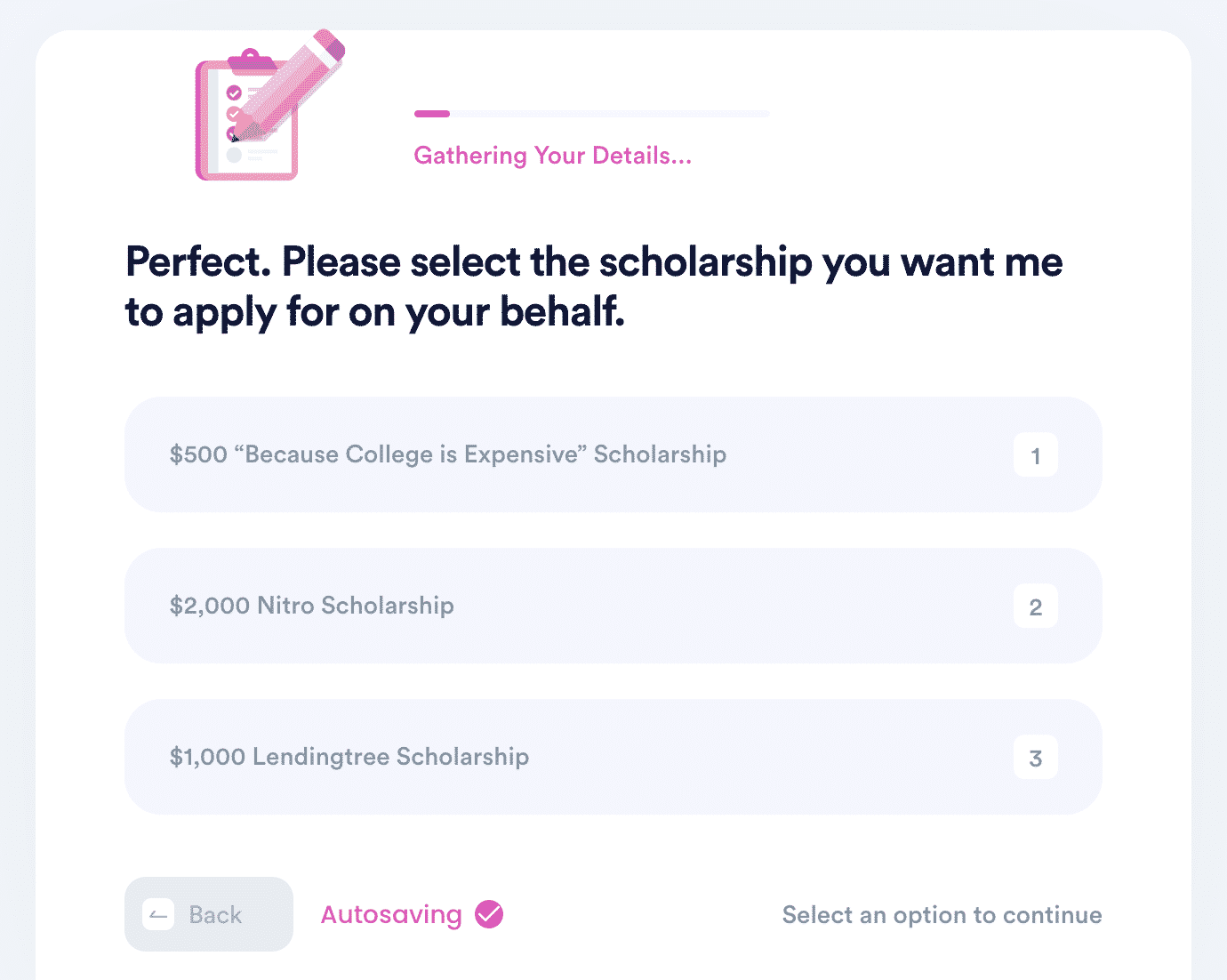 DoNotPay Turns Any Tiring Task Into a Piece of Cake
Are you tired of dealing with bureaucratic or legal matters on your own? You no longer have to—as soon as you subscribe to DoNotPay, we'll take any exhausting task off your plate.
Our app is capable of drawing up legal documents—including marital settlement agreements, child travel consent forms, powers of attorney, defamation demand letters, and affidavits to homeschool—getting them notarized remotely, filing complaints against companies, suing any individual or corporation in small claims court, sending FOIA requests, and so much more.
The World's First Robot Lawyer Offers So Much More
DoNotPay's capabilities don't end there—we can also: