What You Need To Know About the Ohio National Guard Scholarship
The Ohio National Guard Scholarship Program (ONGSP) supports the members of the Ohio Army and Air National Guard. It can help you get a degree without getting into loans, which is a big plus for all students-to-be.
The purpose of the financial assistance is to motivate Ohio residents to serve in the Ohio National Guard and get an education in this state. If you wish to join the ONG or are already a member, find out more about how much aid you can receive with the Ohio National Guard Scholarship and what it takes to get it.
Ohio National Guard Scholarship Program—The Essentials
The award will cover 100% of tuition and fees at any state university. If you attend a private institution, you'll receive the equivalent amount.
You can get the aid for a two- or four-year college or university and receive it for up to eight full-time semesters or 12 full-time quarters.
The scholarship is for undergraduate studies only. If you have a bachelor's degree, you can't apply for the aid but possessing prior credits or an associate's degree won't affect your eligibility. If you wish to obtain a graduate degree, you will need to find external aid solutions.
As a scholarship recipient, you must keep a good attendance score at your unit.
Who Is Eligible for the Ohio National Guard Scholarship?
To get a scholarship as a current, future, or former Ohio National Guard member, you need to meet the following qualification requirements:
Commit to a six-year enlistment in the Ohio Guard
Complete the basic training if you are a new enlistee
Serve in a six-year enlistment with the Ohio National Guard as an Active Guard/Reserve (ARG) member
Complete the six-year enlistment and be an active member in an extension of the enlistment as an ARG
Reenlist with the Ohio National Guard after completing the six-year enlistment
Provide proof of a three-year enlistment in the Ohio National Guard if you are a prior service member who was in the Active Duty service—the U.S. Armed Forces branch—for at least three years
Be a former Guard member who has been honorably discharged from the enlistment—you can continue your program benefit for the time you were prevented from attending college due to deployment
Be a part-time student and maintain three credit hours at minimum per academic term
Enroll in a bachelor's or associate's degree program at a participating school in Ohio
Additional Scholarship Opportunities for the Ohio National Guard Members
If you want to look beyond the Ohio National Guard Scholarship Program, you should know that you have other scholarship options specialized for the members of the Guard. The awards you can also apply for are:
Federal Tuition Assistance (FTA)
Military Tuition Assistance (TA)
GI Bill Program
Other college scholarships
Federal Tuition Assistance (FTA)—Ohio Army National Guard Scholarship
Only members of the Ohio Army National Guard can also receive Federal Tuition Assistance (FTA). The Department of Army will cover the tuition costs for NG members.
You should apply for the FTA before you receive funds from ONGSP. If you don't exhaust the annual award, the funds you should receive from the Guard's program will be reduced.
Military Tuition Assistance (TA)
You can receive the Military Tuition Assistance financial aid if you are in the following services:
Army and National Guard
Air Force
Coast Guard
Marines
Navy
The scholarship funds will be paid to the institution you are admitted to directly.
GI Bill Program
The military services and the Department of Veterans Affairs stand behind this federally funded program. It is designed to help veterans and their family members cover a portion of the school expenses or training.
The assistance you receive can go towards:
College degree programs
Certificate programs
Technical or vocational courses
Apprenticeships
Training programs—including:

Co-op training
On-the-job training
Hightech training
Entrepreneurship training
Flight training

Licensing
Certain entrance examinations
Correspondence courses
Other Scholarships
As the ONGSP covers the tuition and fees for public institutions, if you attend a costly private one, you can fall short of money. In that case, you can find scholarships dedicated to a unique category you belong to.
Check out the table below to review what types of specialized aid you can get:
Do you want to streamline this search? Subscribe to DoNotPay, and we will single out any scholarship you qualify for. You can maximize your financial aid opportunities in less than three minutes!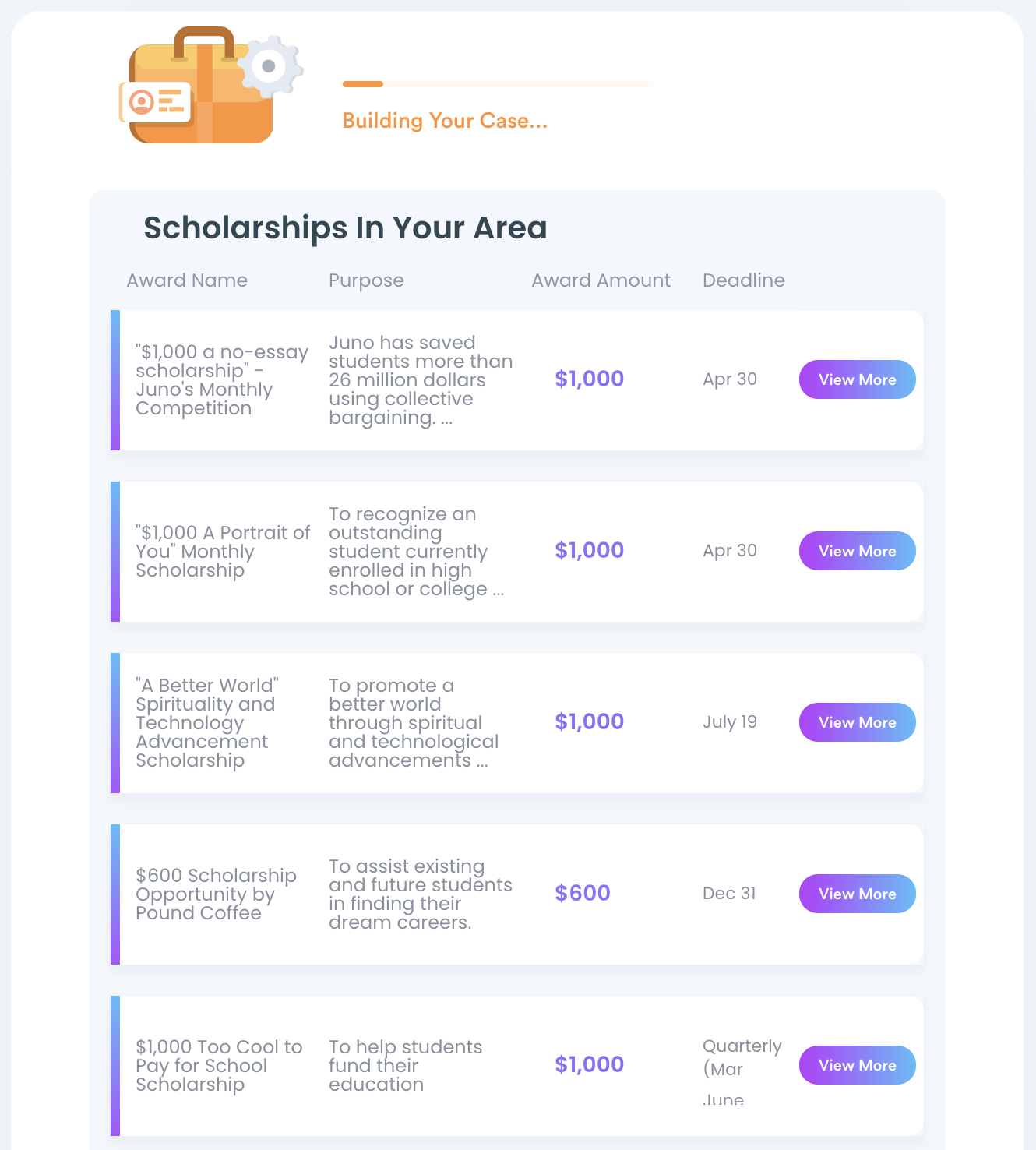 What Is the Ohio National Guard Scholarship Application Process?
To be considered for this scholarship, you need to initiate your profile on the Ohio National Guard Scholarship website. The way to do this is:
Prepare a Common Access Card (CAC) and a CAC reader
Register for an account
Open the activation code you receive via email
Go back to the website and select Activate Account
Verify it by entering the code
Click on the Start New Application button
Answer the questions
Provide information about your prospective school
Apply for one or multiple semesters at once
You can review your application status on the My Scholarship Applications page. Note that you must apply for each term you plan to attend.
If you are considering other programs besides the ONGSP, keep in mind that the procedures can differ. You will need to complete a form on their websites, and for some, you might need to write a scholarship essay and provide letters of recommendation.
When Is the Application Deadline?
You need to apply on time for the current term. If you miss the deadline, you will need to follow the chain of command to report your late submission and request acceptance through a written explanation. Even after doing that, your admission can be denied.
The deadlines you need to respect are as follows:
| Semester/Quarter | Application Deadline |
| --- | --- |
| Fall Semester/Quarter | July 1 |
| Spring Semester/Winter Quarter | November 1 |
| Spring Quarter | February 1 |
| Summer Semester/Quarter | April 1 |
Use DoNotPay and Apply for Scholarships in No Time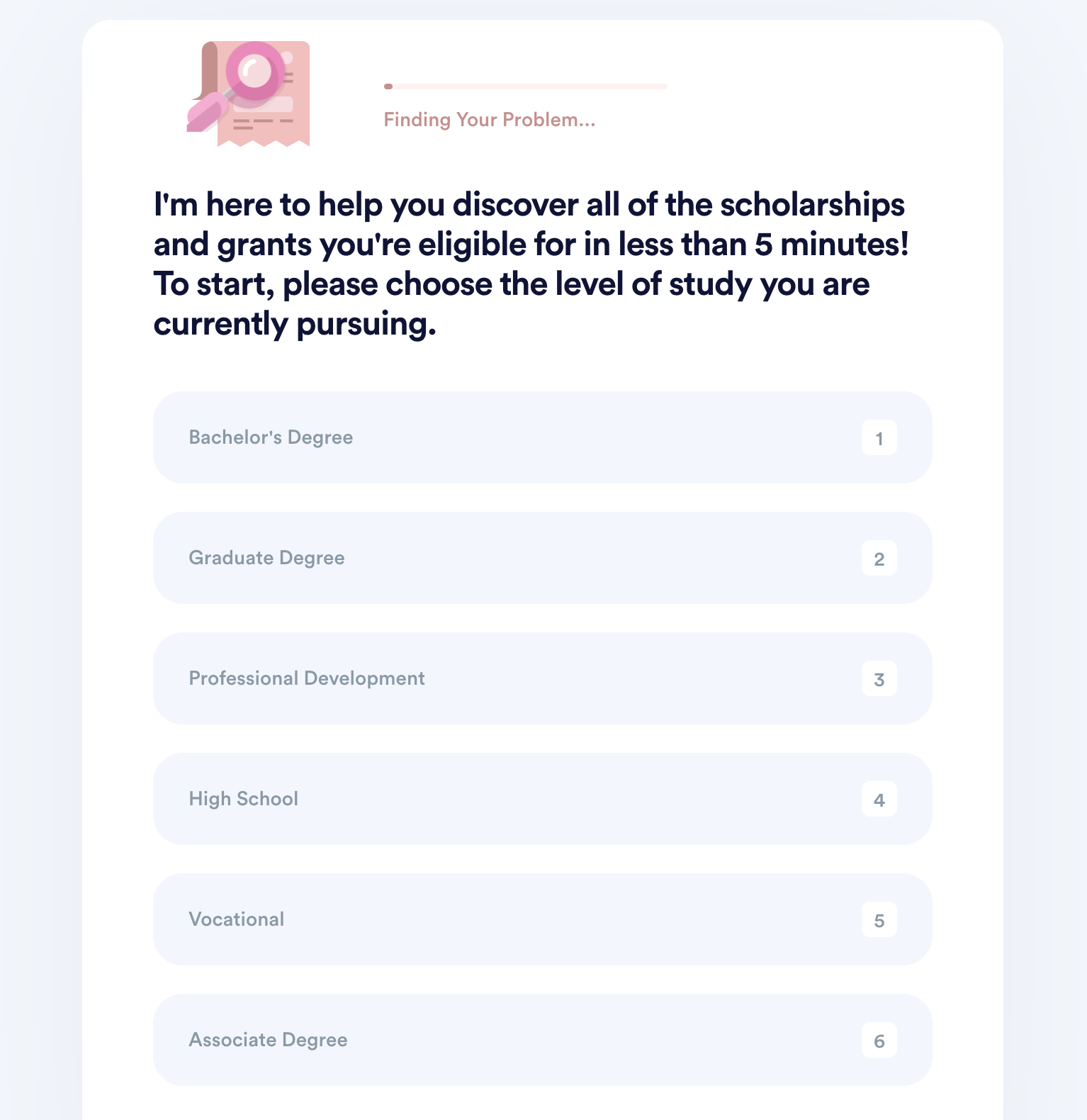 DoNotPay creates customized aid lists based on your interests, preferences, and student status—such as high school senior, international student, college freshman, and similar. If you want to get insight into all scholarships and grants you can apply for, follow these simple steps:
Choose the Apply for Scholarships product
Answer a few basic questions
Our AI-powered app will do the rest. Before you know it, you'll have your list ready for revision. If you wish to send a request for a no-essay scholarship, we can do it on your behalf!
Administrative Issues? We Don't Know Them!
Forget about getting frustrated and overwhelmed by the administrative tasks waiting for you to complete them! With DoNotPay's numerous tools, you can easily resolve such tasks in a heartbeat! All you need to do is sign up for our app, and you'll be able to:
Use DoNotPay To Protect Yourself at All Times
Are pesky robocalls and email spammers working your last nerve? Don't despair—we are happy to help you get rid of them! In a few clicks, you can also stop text spam and avoid the incessant phone buzzing!
You can use our app to protect your privacy by creating burner phone numbers and virtual credit cards. That way, you don't have to disclose personal info when subscribing to online services.
In case you're looking for a way to keep yourself safe from stalkers or work discrimination, we'll help you report the case and walk you through the entire process!
Protecting your work from copyright violation and asking for violent crime compensation in your stead is also something DoNotPay can do!