Learn How To Find a Notary in Yuma, AZ, With DoNotPay
Finding a notary is always a tedious task, but there are multiple ways you can get your documents notarized in Yuma, AZ. Our guide will show you various available notarization options and how to get your documents notarized in Yuma, AZ, in the easiest way possible.
What Does a Notary in Yuma, AZ, Do?
A notary's job is to witness the signing of documents, thus adding legal weight to them. To do so, a notary must:
Confirm the signers' identities by:

Checking their IDs

Asking them a couple of authorization questions

Make sure that all parties are signing the document willingly

Witness the signing

Add their

signature

and seal the document with a notary stamp
What Notarial Acts Can a Notary in Yuma Perform?
Notaries in Yuma, AZ, can provide you with various notary services, such as:
Which Types of Notaries Are Available in Yuma, AZ?
There are various types of notaries you can find in Yuma, AZ, including:
Traditional in-person notaries

Mobile notaries

Remote online notaries

Electronic notaries

Notary signing agents
In-Person Notaries
Traditional notaries work from their office and are the most common and available type. With other options on the table, and since there's a global pandemic going on, this method is not the most convenient one.
If you choose to get your documents notarized in person, you'll have to:
Find a notary either online or check if they're available at certain public places

Schedule an appointment

Inquire about the cost of the notary service

Prepare your documents and ID in advance

Visit the notary in person
Mobile Notaries
A mobile notary has the same duties as a traditional notary, except that they can come to your preferred location, whether it be your office or your home. This option is more convenient, but it's also more expensive due to the additional fees, such as travel ones.
Remote Online Notaries
Remote online notaries perform their duties via audio-video calls and are the best option for you if you don't want to leave the comfort of your home. They have to add a digital signature and seal as they notarize documents in digital form.
Electronic Notaries
If you need your electronic documents notarized, an electronic notary is the one you'll want to look for. The notarization is done in person, but the document should be in electronic form and signed digitally.
Notary Signing Agents
Notary signing agents are the ones you want to go to if you need your loan documents notarized. They can also print and deliver them to you.
How To Find a Notary in Yuma, AZ, by Yourself
Finding a notary has always been a tedious task. To find one in Yuma, AZ, you'll either have to look for one online or check if certain public places offer notary services:
Websites
Public Places

Tax preparation firms

Police departments

Real estate

agencies
To find a notary without having to spend hours looking for one, ! Our app can find you a notary and help you set up a remote appointment in no time!
Remote Online Notarization in Yuma, AZ
Due to the COVID-19 outbreak, the state of Arizona has allowed remote online notarization as of April 10, 2020. To get your documents notarized online in Yuma, AZ, some requirements must be met:
The signer and the notary need to be on an audio-video call on an authorized platform

The signers' identities need to be verified via:

Knowledge-based authentication and credential analysis

Signers' IDs

The notary needs to screen the signers for awareness and make sure they're signing the document of their own will

The document is to be signed with an electronic notary seal and a digital certificate

The online notarization is to be recorded in an electronic journal

The video recording of the session is to be stored for a set number of years
Which Notarial Acts Can Be Done Online?
The state of Arizona allows remote online notarization for the following acts:
Taking acknowledgments and giving certificates of the acknowledgments endorsed or attached to the instrument

Administering oaths and affirmations

Performing jurats

Performing copy certifications
Get Your Documents Notarized Online in Yuma, AZ, With the Help of DoNotPay
Finding a notary on your own can be a hassle, but DoNotPay can help you do it the easy way! Our app will match you with a notary, and you'll be able to schedule an appointment in a matter of clicks. All you have to do is and follow a few easy steps:
Navigate to the

Notarize Any Document

product

Upload the document that you need notarized

Enter your email address

Follow the link you receive from us via email
Our AI-driven app can also help you with notarization in places other than Yuma, AZ, such as:
Once you sign up for DoNotPay, you'll get access to all of its other products, including Standardized Legal Documents and Online Fax!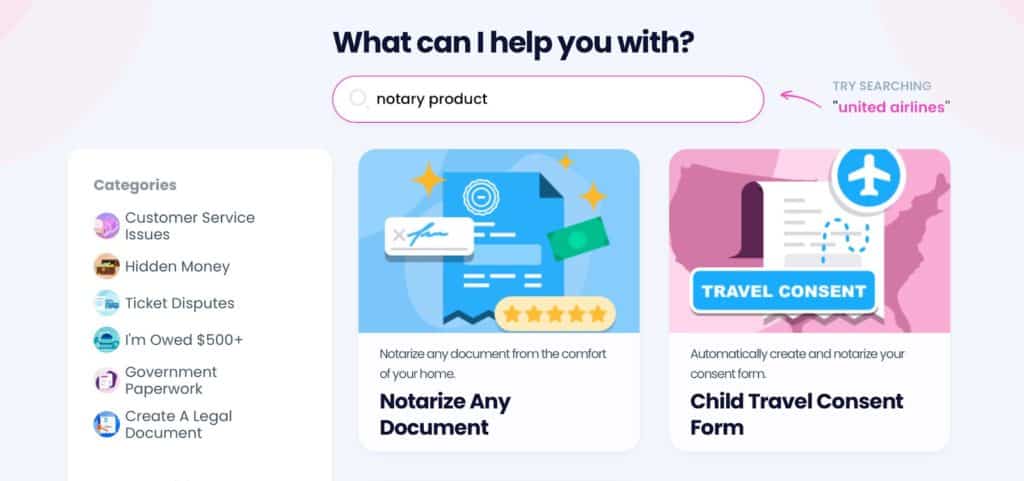 Free Yourself From Boring Tasks With DoNotPay's Help
Our AI-driven app comes in handy for numerous bureaucratic or administrative chores that usually take up a lot of time. With DoNotPay's speedy service, even the most tiresome task will be complete in a flash!
You can forget all about waiting in line at the DMV and being on hold with customer service—we will get you to the finish line in a few clicks. Tired of the old snail mail? Use DoNotPay to mail letters fast. Better yet—fax your documents using our app. If your document requires a notary's signature, we can assist you in scheduling a virtual appointment.
No Lawyer—No Problem! Rely on the World's First Robot Lawyer
When you're in a bind but you can't afford a lawyer, there is still something you can do—sign up for DoNotPay and let our award-winning app give you a hand. With our expertise, the following tasks will be a piece of cake: