DoNotPay Can Help You Skip a Trip to a Notary in Mira Mesa
You don't have to search for local notaries to get your documents notarized. In this article, you'll find out how to avoid going to a notary in Mira Mesa and how to find an online notary in a few easy steps!
How Can You Get a Document Notarized in Mira Mesa?
If you want to add legal weight to a document and get it notarized in Mira Mesa, you will have a few options to do so. San Diego and all of its neighborhoods follow the notary rules set by the state of California. Here are your options:
| | |
| --- | --- |
| Notarization Type | Brief Explanation |
| Standard notarization | The signer must go to the notary to get a document notarized |
| Mobile notarization | The notary visits the signer at the set location (house, office, prison, hospital, etc.) to perform notarial acts |
| Out-of-state remote notarization | Notarization is done by an online notary from another state over a live video call on an approved platform |
What's the Deal With California and Online Notarization?
The Golden State might be labeled as progressive, but when it comes to online notarization, it is falling behind. California does not allow its notaries to perform their duties online yet. Having the global COVID-19 pandemic in mind, it is likely the situation will change soon. In the meantime, you can look for help elsewhere.
Citizens of California have the right to find online notaries from the states that permit this type of notarization. Online notaries perform the required notarial acts during virtual meetings that have to fulfill all the requirements imposed by state law.
States That Allow Online Notarization Permanently
Even though California is not a state that allows online notarization, many others do. At the moment, the list of states where online notarization is permitted consists of 28 names. Here are some of the places where you can search for out-of-state online notary services:
Hawaii

Maryland

Ohio

Alaska

Nebraska

North Dakota

Missouri

Michigan

Iowa

Kentucky
You only need to find an online notary who is up for the task. DoNotPay can help you find one in no time!
DoNotPay Is the Way To Get Your Documents Notarized Fast
You can count on DoNotPay to find an online notary from another state in a matter of minutes. Here are the instructions you need to follow:
in a web browser you prefer

Find and choose the

Notarize Any Document

product

Upload a document that requires the notary's signature

Enter your email address
If you opt to get documents notarized with DoNotPay's help, you'll be able to work with notaries who are available whenever you need them. Forget about adjusting your schedule to the notary's working hours—pick the time and date that suits you!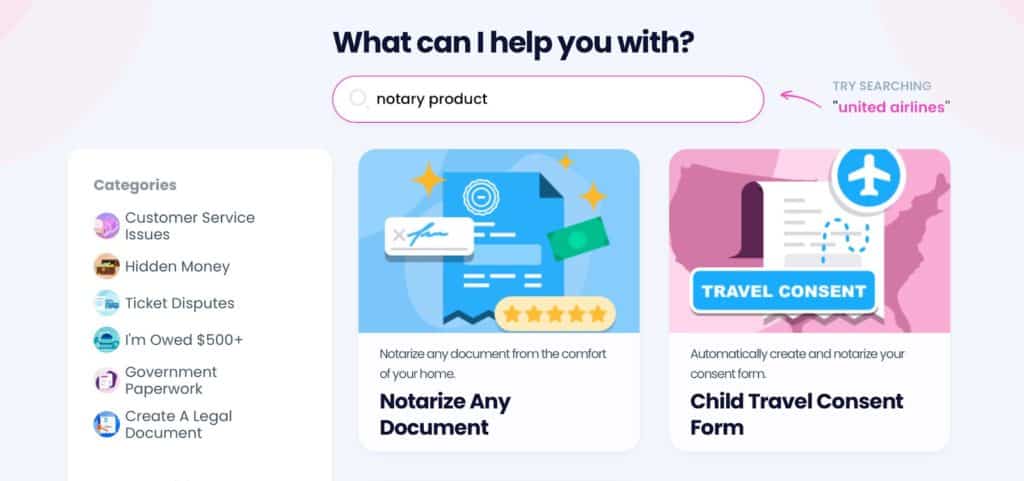 Why Is Online Notarization Better Than Other Options?
Online notarization comes with benefits that are not available with in-person notarization, be it standard or mobile. Finding an online notary is a good idea because you:
Don't have to pay for gas or bus tickets

Don't risk getting stuck in traffic

Can stay in your house and avoid catching COVID-19

Will deal with the task much faster

Don't have to pay sky-high travel expenses of mobile notaries
What Do You Need for a Virtual Meeting With a Notary?
Once you decide to get your documents notarized online, you should make sure you have everything that you need for your meeting. You will need:
A room with good lighting and a comfy chair

A laptop or a desktop computer with a web camera

A good internet connection that will ensure there are no interruptions

The document that you want to get notarized

Your ID or another proof of identity to show to the notary
The chances are that you already have all of the items listed, so no need to waste your time any longer!
What Documents Should You Get Notarized?
Legal documents are notarized to better protect your interests specified in the contract or the agreement you created. Some documents only need signatures of the signing parties, while others require a notary's signature as well. These rules often differ among states.
Here's a table you will find useful:
Documents That Should Be Notarized
Documents That Might Need To Get Notarized

Trusts

Real estate deeds

Loan documents

Business contracts

Employment contracts

Consent forms
DoNotPay Can Help You Create Legal Documents Easily
If you need to make a legal document before taking it to the notary, you can count on DoNotPay. Here's a list of documents we can help you draw up in a jiffy:
Bill of Sale

General Affidavit

Independent Contractor Agreement

Non-Disclosure Agreement

General Business Contract

Non-Compete Agreement

Parenting Plan (Child Custody Agreement)

Promissory Note

Prenuptial Agreement

Quitclaim Deed

Intent To Purchase Real Estate

Estoppel Certificate

Residential Lease Agreement

LLC Operating Agreement
Use DoNotPay's Features to Your Advantage!
DoNotPay offers a myriad of helpful services you can use to resolve your everyday hurdles.
Do you need help paying bills or finding and claiming missing money? Are you interested in applying for clinical trials in your area? We can help you solve these and many more issues in no time!
Here are some other problems you can handle effortlessly with our help:
Hiring a Lawyer Can Cost a Small Fortune—Rely on DoNotPay Instead
If you're on a tight budget and can't pay a lawyer to help you create legal documents, file a claim in small claims court, or handle stalking and harassment, DoNotPay has a solution for you.
Our app will help you create various documents, including child travel consent forms.
Are you a victim of a crime and need help applying for reimbursement of your crime-related expenses? You can sign up for DoNotPay and allow us to handle your crime victims compensation on your behalf.
DoNotPay can also connect you with an online notary and enable you to get your documents notarized from the comfort of your home.