No Need To Walk to a
Notary in Walker, LA
, if You Use DoNotPay
You don't need to bother with notarization procedures by taking legal documents to notaries in person. It is possible to handle the same task from the comfort of your home and skip a visit to a notary in Walker, LA. DoNotPay has the info on how to get documents notarized online without any fuss!
Use DoNotPay To Find Online Notaries Fast
You can let DoNotPay search for an online notary on your behalf and not bother with the task on your own. Our app will send you a link to confirm your appointment as soon as we find a proper match. You can pick any time and date that works with your schedule because the notaries we collaborate with are available 24/7.
To use this neat feature, you only have to follow these directions:
Find and open our

Notarize Any Document

product

Attach the document you want to get a

notary's signature

on

Enter your email address in the text box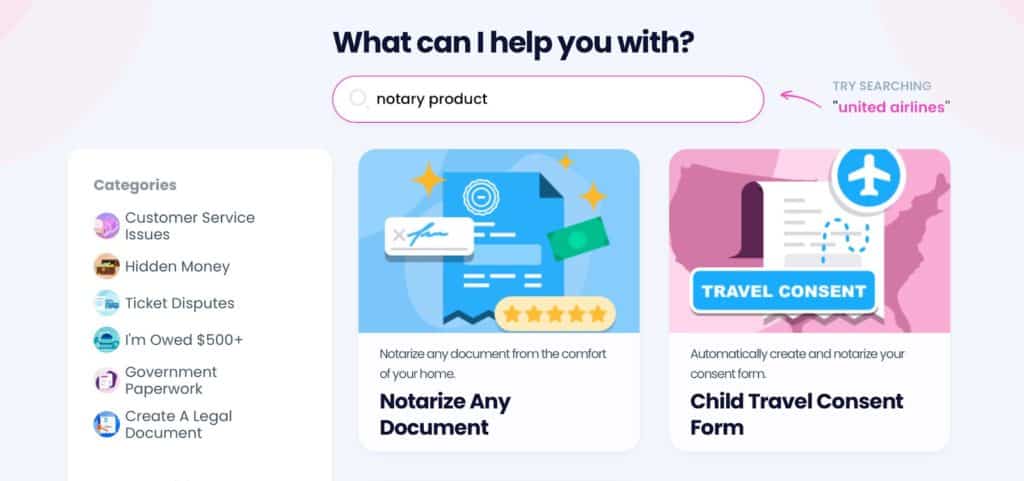 Create Legal Documents With DoNotPay in a Flash
You can also use DoNotPay to draw up legal documents quickly. Here are some of your options:
Promissory Note

Quitclaim Deed
Advantages and Disadvantages of Online Notarization
If you are reluctant about online notarization, take a look at the table below and see whether it is worth your time:
Online Notarization Pros
Online Notarization Cons

Dealing with a bureaucratic task from your home (forget about flying cars—this is the future we were looking forward to)

Not having to take a day off from work to visit a notary's office

Avoiding travel expenses

Not getting stuck in traffic due to bad weather

Keeping yourself safe from catching COVID-19

Finding an online notary on your own

Worrying about personal info security

Needing good internet connection
There are so many benefits of getting documents notarized online that you can conclude right away this is the best option. Potential downsides of online notarization all have solutions:
DoNotPay can help you deal with finding a notary without trouble

Online notaries follow strict data privacy protection rules that put the safety of information as a priority

Most people already have a good internet connection nowadays. If that is not the case, you can always find a spot where this is available
What Do You Need To Get Documents Notarized Online in Walker, LA?
The list of items you will need for online notary services is short. It is also easy to acquire everything on it. The requirements for online notarization include:
A working computer that will let you use the audiovisual technology without issues

A web camera, if it's not already integrated into your device

The document that needs to get notarized

Your ID or another proof of identification with a photo of you

A room with good lighting so that the notary can see you properly during the meeting
How Does Online Notarization Work?
In case you were wondering what steps you need to take to get a document notarized online, here is how the process goes—you:
Find an online notary

Set up a meeting with them

Set a reminder in your calendar so you don't miss it

Show up for the meeting

Go through the notarization process virtually
What's the Issue With Standard, In-Person Notarization?
In-person notarization follows outdated notarization methods and requirements. The main problem is that you need to go to the notary's office. This step involves numerous other issues, like potentially catching COVID-19, spending money on gas, or leaving work early to make it to the appointment with the notary.
None of these will be an issue if you opt for online notarization instead.
What Documents Should You Get Notarized?
You should find out whether a legal document you are dealing with should get notarized or not. In some cases, the signatures of the signing parties are enough. If you are dealing with a trust, affidavit, or employment contract, you should consider taking the document to a notary.
Some documents need to be notarized in certain states and not others. A power of attorney is a good example. You can check out the differences in our guides to notarized powers of attorney in California, Missouri, or Pennsylvania.
What States Permit Online Notarization?
Permanent online notarization is allowed in 28 states at the moment. The list keeps getting longer due to the global COVID-19 pandemic. Louisiana only started permitting online notaries in 2020 as a result of these unprecedented circumstances, but it looks like this new, convenient method is here to stay.
Here are some other states where you can find online notaries:
Explore DoNotPay's Products and Save Both Time and Money
Are you sick and tired of spending ages on the phone with customer support trying to get more info about how to return a faulty product and get a refund? Maybe you'd like to cancel memberships you don't use but can't find that unsubscribe button anywhere? DoNotPay can help you sort out all of these issues in a jiffy!
Contest parking tickets, claim your car warranty and insurance, schedule a meeting with the DMV, and handle your other problems through the same app on your tablet or smartphone. 
Getting access to public records or drawing up various legal documents with DoNotPay is child's play. 
That's Not All!
The first thing you'll notice when you open DoNotPay is that you can use our app for almost anything. 
Do you wish to enter raffles or sweepstakes? Are you interested in applying for paid clinical trials and earning some cash? Would you like to send mail without going to the post office? You're in the right place!
We will help you feel safe while browsing the Internet by assisting you in blocking and reporting spam emails, suspicious text messages, and pesky robocalls.