Find a Notary in West Seattle in Minutes
Before deciding to have your deed, affidavit, or car title notarized in West Seattle, you need to get familiar with the procedure. If you are asking yourself which notarization methods are available and where to find a notary, DoNotPay has the answers.
We will show you the fastest way to find a notary in West Seattle and help you schedule an appointment without delay!
The Role of a Notary Public in West Seattle
Notaries public in West Seattle are authorized by the state of Washington to:
Obtain

acknowledgments

Administer oaths and affirmations

Certify or attest

copies

Take verifications upon oath and affirmation

Witness or attest signatures on legal documents
To lawfully fulfill their duty, notaries public in West Seattle need to:
Get satisfactory proof of your identity (a valid ID card, passport, or driver's license)

Watch the signing of the document

Place their

signature

, stamp, and seal

Apply a short-form certificate unless it's already on the document

Record the notarization in the official journal of notarial acts
Notaries are not required to understand or possess knowledge of the document's content—their job is to determine whether the signers are who they claim they are.
If the signers show suspicious behavior, including intoxication or signs of coercion, a notary should refuse to proceed with the notarization.
Available Notary Services in West Seattle
Washington state offers many different ways to have your documents notarized. Before making a decision, check out the table below to understand what each available notary service entails:
Notary Service

Details

Regular notary

Regular notaries require you to schedule an appointment and visit their office at the agreed time. Since they can be overbooked, be prepared to wait for an opening in their schedule

Electronic notary

Electronic notaries notarize documents in digital format. The procedure of having your documents notarized digitally is the same as with regular notaries

Mobile notary

Mobile notaries will meet with you at any convenient place, such as:

Home

Office

Parking lot

Hospital

Coffee shop

Hotel

Scheduling an appointment will go a lot faster since they have more flexible business hours. Bear in mind that they charge extra for travel expenses

Notary signing agent

The notary signing agent's job is to make sure signatures on loan documents are authentic. Most of them will travel to you to complete the process

Online notary

Online notaries don't require your physical presence during the notarization. You can get your document notarized on a video call with the notary. Online notaries are available

24/7

, so you can schedule an appointment easily
How Does Online Notarization in West Seattle Work?
Washington is one of many U.S. states that has accepted remote online notarization (RON) as a permanent solution. To adequately perform remote online notarization, both the notary and the signer have to follow an established procedure.
The signer first has to log onto a RON platform. The notary will determine their identity by asking questions and analyzing their ID. Once the signer passes these steps, they will be allowed to meet the notary on camera.
After the signer e-signs the document, the notary will:
Check the document for blank spaces

Fill out the notarial certificate block

Attach the electronic seal and digital certificate containing the electronic signature
Once the notarization is finished, the notary will complete the electronic journal and save an audio-visual recording of the procedure.
Where To Find a Notary in West Seattle?
You don't have to flip through yellow pages or google "notaries in West Seattle" to get your answer. The most reliable ways to locate a notary in West Seattle is by:
Checking local businesses

Visiting notary search websites
Find a Notary in a Local Business
Many financial institutions and other local businesses offer notarial services to their clients and the general public.
You can check out the following places:
Large

banks

, such as:

UPS

stores

AAA

branches

Courthouses

Public libraries

Tax preparation firms

Real estate agencies
Before heading down to one of these places, remember to call ahead and check if the particular location has a notary on-site and whether they can notarize your specific document.
Check Out Notary Search Databases
Many websites are dedicated to finding notaries in any U.S. state. You can access all kinds of useful information, such as contact details, experience, business hours, and customer reviews. The most reliable websites are:
Make sure to apply filters and access only the types of notaries you are interested in.
If you choose online notarization, no search will be necessary— will connect you with an online notary in minutes!
DoNotPay Helps With Remote Online Notarization
Online notarization is by far the most practical way to get documents notarized. Why risk your health meeting the notary in public or overpay for the mobile notary's travel expenses? With our remote notarization product, you will be able to schedule an appointment in a few clicks
and complete the process from your computer, tablet, or even phone!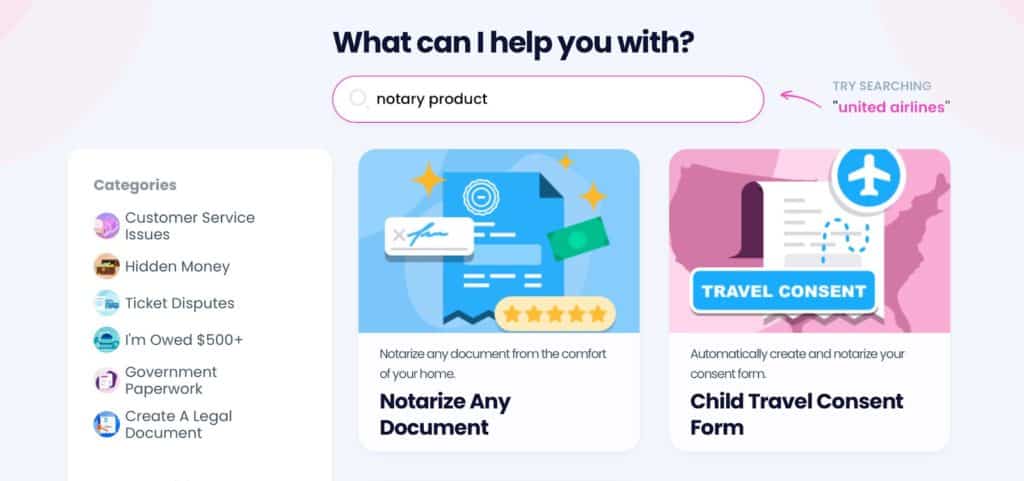 and follow these steps:
Find our

Notarize Any Document

product

Upload the document you wish to get notarized

Enter your email address
Follow the link we emailed you to confirm your appointment with an online notary. He or she will meet you at the agreed time to complete the process.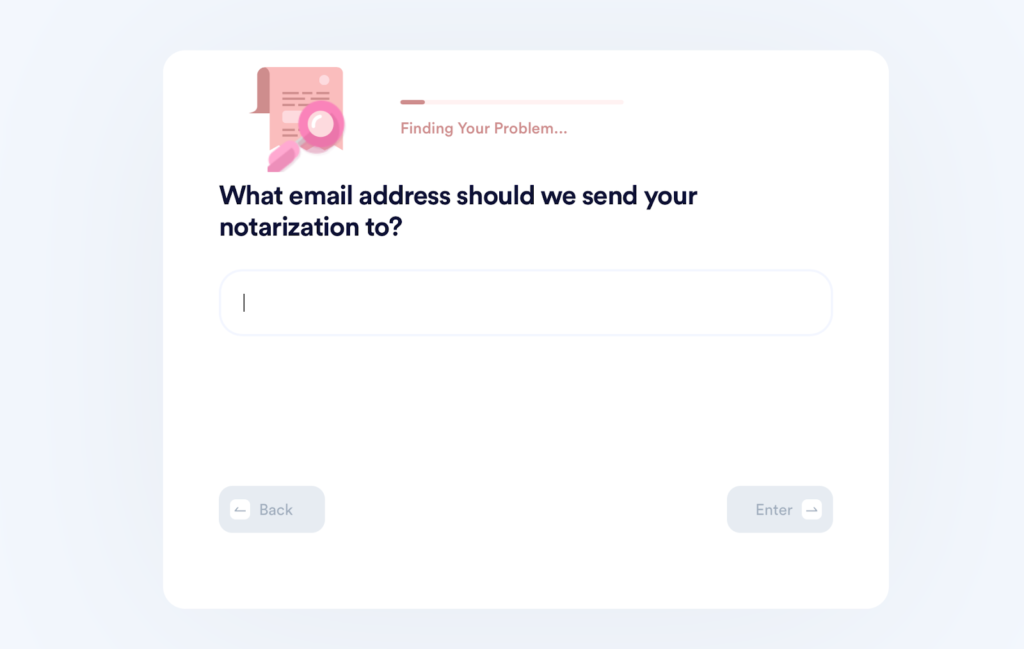 Learn About DoNotPay's Awesome Products!
DoNotPay is a multifunctional app that can solve numerous everyday challenges swiftly.
You can use our app to protect your work from copyright violations, schedule your driving exam or any other appointment with the DMV, reduce your property taxes in a few steps, and similar.
We have created many useful products to help our users take care of their issues through the same app. With us, you can:
DoNotPay Connects You With Your Loved Ones
Sending letters to inmates can be difficult since you have to follow certain rules to a T to avoid having your letter rejected. The situation is even more complicated if you don't know where your incarcerated loved one serves time. DoNotPay's app can help you locate prisoners and correspond with them without worrying whether you're breaking any rules.
Do you want to send a letter, but you don't feel like heading over to a post office? By using our mailing service, you can mail as many letters as you want from the comfort of your home. With DoNotPay, you can also send online faxes in under five minutes!
Email and text spam is something that everyone experiences at least once in their lives. DoNotPay has a solution for that too. Access your DoNotPay account and count on us to help you block spam and get compensation by reporting pesky robocalls.