How To Get Documents Notarized by a Notary in Rochester, NY
Finding a good and reliable notary in Rochester, NY, is the first step when you need to get your documents notarized in this town. Even though the notarization process seems like a tedious and time-consuming process, it doesn't always have to be. If you use DoNotPay for getting your documents notarized in Rochester, you will avoid all the hassle that comes with this bureaucratic procedure.
This article will also help you learn more about online document notarization of wills, trusts, affidavits, car titles, copies of a high school diploma, and more in mere seconds!
How To Find a Notary Public in Rochester, NY
There are a few approaches to finding a notary in Rochester:
Searching Google

Checking with the local institutions and businesses

Using online platforms

Asking a friend or a relative for a recommendation
What's Wrong With Using Google?
You can perform a search on Google by typing: "Find a notary near me." The downside to this approach is that you will get hundreds of results that you will have to comb through and waste a lot of time.
Contact an Institution or a Business To Find a Notary Public in Rochester
There are several institutions and businesses that offer notary services. You can check with some of your local banks (for example, Wells Fargo or Bank of America), AAA branches, or UPS offices if they have in-house notaries.
Some public libraries, law offices, and real estate companies also have notaries on staff.
What Are Some of the Online Platforms You Can Use?
You can use online platforms to search for local notaries.
Some of the specialized platforms are:
Asking a Friend or a Relative for a Recommendation
If your friends or relatives have experience with notaries, you can ask them for a recommendation. This approach is also a bit of a stretch because not everyone has experience with getting documents notarized.
Types of Notaries in Rochester
You can select one of the three types of notaries in Rochester to get the notary signature you need:
Type of Notary Public
What You Need To Do

Standard notary public

Schedule an appointment in advance

Gather all the paperwork

Spend money on commute or gas

Visit a notary public's office

Bring your ID

Wait for the signature and stamp

Mobile notary public

Schedule an appointment and pick the meeting spot

Pay extra for mobile notary's travel expenses

Pay surcharges for

24/7 notaries

Online notary public

Find an online notary

Schedule a live video call

Prove your identity

Get a notary signature immediately
How Much Can You Expect To Pay for Notary Services in Rochester, NY?
A notary public in Rochester is limited by the law of the State of New York when it comes to notary fees. For administering oaths or affirmations, taking acknowledgments, or proofs of execution, a Rochester Notary can charge up to $2.
What Does an Online Notarization Process in Rochester, NY, Look Like?
Remote online notarization (RON) is the most convenient way of notarizing documents, especially during the COVID pandemic. The state of New York allows RON under the following conditions:
You need to prove your identity with a valid government-issued photo ID during your online video meeting

Your video appointment must be in real-time—pre-recorded videos of a signing aren't allowed

You must prove that you're physically present in the State of New York

You'll need to send a legible copy of the signed document to the notary

electronically

or via

fax
If all these conditions are met, the notary will notarize the copy of your document and send it back to you.
DoNotPay Is the Most Convenient Way of Finding Online Notaries
If you want to skip the tiresome notarization process in person or want to avoid paying additional charges for mobile notary service, find an online notary.
To use our service, and follow these steps:
Type in

Notarize Any Document

into the search bar

Upload the document you want notarized

Provide us with your email address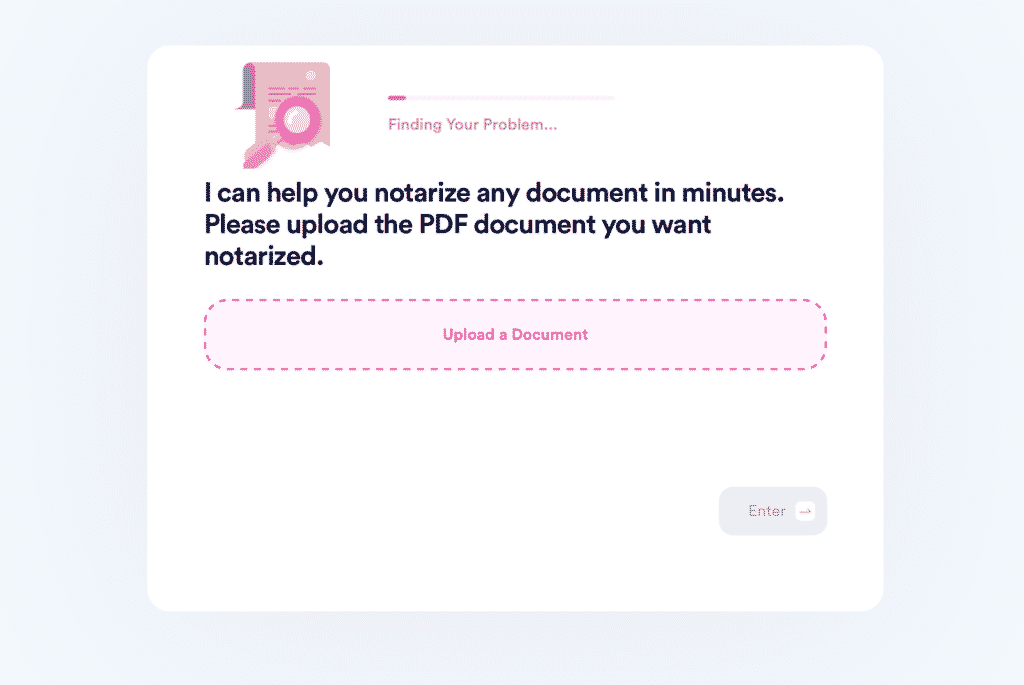 We will send you an email with a link that you can use to set up your online appointment with a notary. During your online video appointment, the notary will confirm your identity and notarize your document.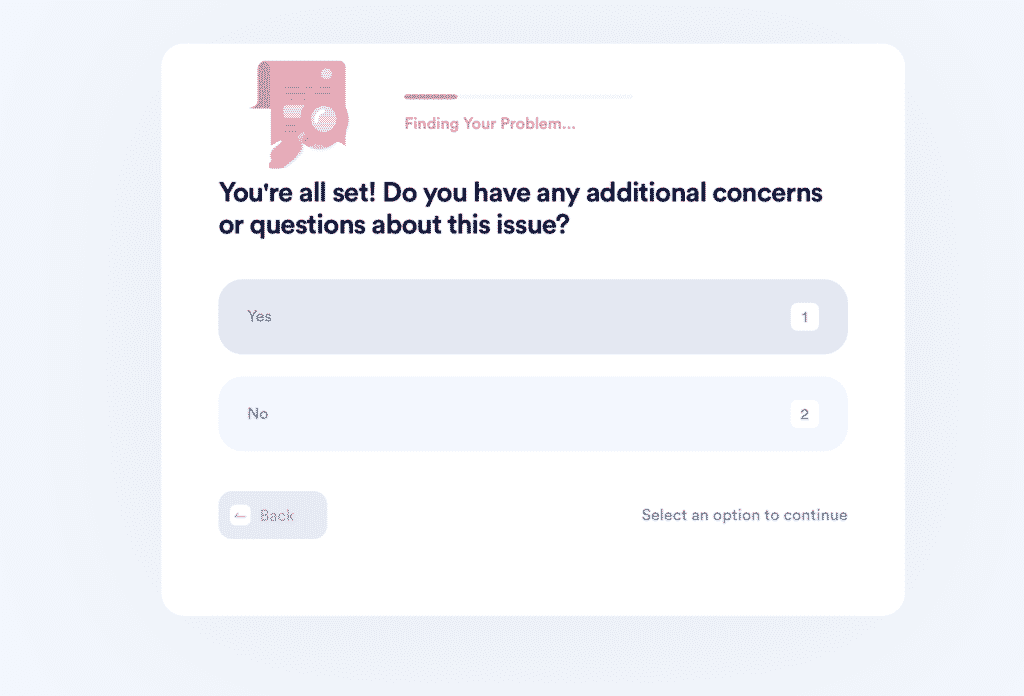 DoNotPay Can Help You Create Legal Documents Too
DoNotPay created a useful product that is integrated with our Notarize Any Document service—Standardized Legal Documents. This product allows you to draw up the following 15 legal documents with the help of DoNotPay:
Non-Disclosure Agreement

Bill of Sale

Independent Contractor Agreement

LLC Operating Rules Document

General Business Contract

Non-Compete Agreement

Quitclaim Deed

Lease Agreement

Estoppel Certificate

Intent To Purchase Real Estate

Prenuptial Agreement

Promissory Note

Parenting Plan

General Affidavit

Child Care Authorization Form
DoNotPay is constantly expanding the list of documents we can create for you, but if you can't find the contract template you need, you can to find out how to draw them up yourself.
Take Advantage of DoNotPay's Time-Saving Features!
DoNotPay comes with a wide array of useful features that will help you overcome any administrative issue in no time. As the world's first robot lawyer, DoNotPay can tackle just about any bureaucratic task that people dread.
You can do anything from reporting stalking and harassment, signing up for free trials, and scheduling a DMV appointment to jumping the customer service phone queue, dealing with high bills, and protecting your creative work from copyright infringement with our app's assistance.
If you want to connect with an inmate, sign up for a clinical trial, report spam emails, or sue any company or person in small claims court, you can count on DoNotPay to provide you with the necessary guidance.
Use Our App To Get Rid of Unwanted Admin Hurdles
Do you want to say goodbye to spam text messages or protect yourself from stalking and harassment? Are you looking for a way to end robocalls and earn off them? DoNotPay can help!
As soon as you sign up for our app, you'll be able to do anything from avoiding phone number verification with our handy burner numbers to acing government tests stress-free!