Notary Public in Nashville—To Visit or Not To Visit?
Do you need to get your legal document notarized? Traditional in-person notarization is a go-to option for most people, but is it really a smart way to go during the COVID-19 pandemic? There are plenty of other ways to book a notary public than visiting their office.
to book an online appointment with a notary public in Nashville! Our app also provides you with the deets on notary services in your state!
What Does a
Notary in Nashville
Do?
A notary public is a person authorized by the state of Texas to perform notarial acts. The obligations of notaries aren't the same in every state. This is what a notary in Nashville can do for you:
Visiting a
Notary in Nashville, TN
—How It Works
If you decide that you want to visit a notary in Nashville, you will need to know what to expect from the notarization process. Check out what steps you need to take to get your documents notarized by a traditional notary:
What To Do
Description

Find the notary office

Search online for the nearest notary office. You can use some of these websites to search:

You can also look in places in your vicinity, such as:

Local

UPS

branches

Local

AAA

stores

Insurance companies, credit unions, and different financial institutions

Police departments

Law offices

Banks

, including

Bank of America

or

Wells Fargo

Courthouses

Public libraries

Make an appointment

Once you find a suitable notary public, look for the phone number of a notary office as well.

Call and schedule an appointment at a time that's convenient for you

Gather your documents

Make sure to prepare the documents you want to have notarized. You should also bring one of the following to prove your identity:

ID

Driver's license

Passport

Visit the notary

Go to the notary office and meet with a notary at a time you agreed on

Prove your identity

Present the notary with your ID or the document you brought as a proof of your identity

Sign the documents

Finish signing the documents after your identity is proven while the notary witnesses the signing process. It is essential not to sign the documents prior to the visit

Pay for the service

Pay the fee that the notary sets for you. There is no fixed notary fee in Tennessee, which means that a notary can charge any amount they want
When you pay the notary's fee, he or she will sign the document and use an official stamp to notarize it.
The problem with visiting a notary is that every minor mistake can restart the notarizing process. For example, forgetting to bring your ID will result in the notary scheduling another appointment.
To prevent this administrative nightmare from dragging on forever, you can always choose to get your document notarized online. DoNotPay will provide you with the most practical and trouble-free online notarization experience!
Rely on DoNotPay for the Quickest Online Notary Service!
You can skip all the frustration when it comes to notarizing your documents if you use our app! DoNotPay jumps in and books your appointment with a remote notary super fast. Complete the following steps, and rest assured that your notary-related struggles will disappear!
Select the

Notarize Any Document

feature

Submit the documents you need to get notarized

Type in your email address
We will use the email address to send you a link. The link will redirect you to a notary's schedule, where you can book your meeting with a remote notary. You can have your document notarized from any location you choose, and the entire procedure will take no more than a few minutes!
You Can Both Draft and Notarize Legal Documents With DoNotPay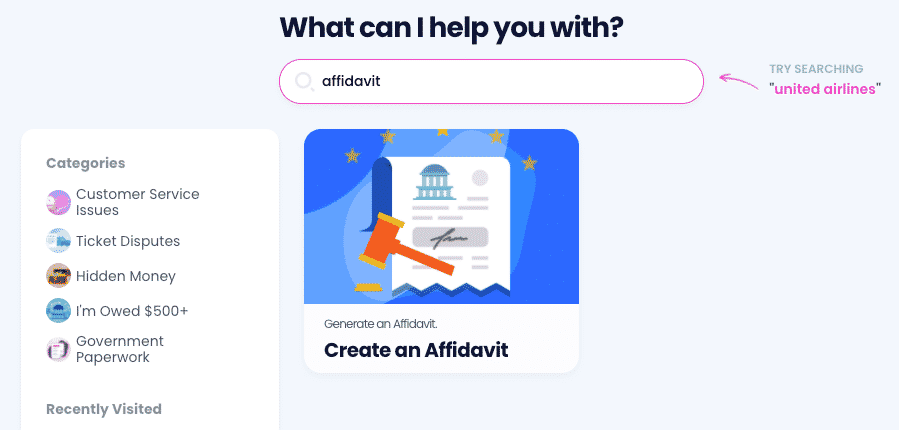 Aside from helping you get your legal documents notarized, we can also draw them up in your stead! If you need to write a contract but you're unsure of how to do it, we got you covered. From business contracts to lease agreements—we do it all.
Check out the list of other common docs we draw up for you:
Prenuptial Agreement

General Business Contract

LLC Operating Rules Document

Intent To Purchase Real Estate

Non-Compete Agreement

Independent Contractor Agreement

Quitclaim Deed

Non-Disclosure Agreement

Bill of Sale

Parenting Plan (Child Custody)
Looking for More Notary-Related Info? We Got You Covered!
Take a look at a list of the commonly asked notary-related questions and see if there is anything you need assistance with:
Enjoy Services Worry-Free With DoNotPay
Do you want to try out a new service but are worried about being charged if you forget to cancel it before it ends?
With DoNotPay, you can sign up for free trials without worrying about auto-charges. Our virtual credit card makes sure you enjoy your trial run of the service and prevents any company from taking money out of your real account.
This free-trial card also protects you from email spam because it generates an alternate email address for the free trial sign up.
If you want to keep your phone number private and deter robocallers and text spammers, use DoNotPay's Burner Phone feature when subscribing to services.
In case the company does charge you, initiate a chargeback on your credit card transactions quickly with our app.
Discover DoNotPay's Amazing Features
DoNotPay is a virtual lawyer app that can take over annoying bureaucratic tasks from you.
We can cover anything you may need help with—dealing with customer service reps, booking appointments with the DMV, securing refunds and compensation from airlines, disputing your parking tickets, or getting you an extension on bill payments.
Our app can help you draft any legal document in minutes or access public records from state and federal databases.