Living Spaces Return Policy Deciphered
Decided your piece of furniture is not exactly what you wanted? Furniture returns can get complicated, but don't be discouraged by wordy return policies—DoNotPay can help you!
The Living Spaces return policy might seem too complex, but we have made an outline and will guide you through the basics. We will also show you the easy way to request a product return with our app.
All About the Living Spaces Return Policy
Returns are handled differently depending on which of the categories your order belongs to—whether it is from regular stock or you ordered custom-made furniture manufactured as per your requirements.
Regular Stock Items
The Living Spaces return policy for regular stock items states the company accepts returns within seven days of product receipt. All returns have to be in the original packaging and disassembled (if applicable). If you are returning a regular stock item, a 10% restocking fee applies.
Restrictions
Based on the Living Spaces return policy, the following restrictions apply:
Returns Not Accepted
Non-Refundable Items

Special orders (manufactured on customer's request) or as-is items
Bedding products (pillows, comforter sets, or other, except for mattresses and box springs)

Items damaged by the customer
Return pickups from customers' home
Shipping, delivery, and handling charges
As-is items without warranties
How To Return Living Spaces Products
If you would like to return a product to Living Spaces, you will have to contact the Guest Services Team at (877) 266-7300, obtain a Return Material Authorization (RMA) number, and follow their instructions.
You can send the item back on your own, but Living Spaces schedules pickups from customers' homes, too, in which case you will pay a pickup fee. You must call within seven days after your item was delivered.
If you are sending the order at your expense with a parcel carrier, do the following:
Prepare the Sales Order number from your receipt
Call Guest Services Team at (877) 266-7300 and ask for the RMA number
Complete the return form and include your RMA number
Repack your item in the original packaging, but make sure to keep the original packing slip
Use a traceable parcel service and include your RMA number on the shipping label
Ship the item to Living Spaces Return, 14400 Arminta St, Panorama City, CA 91402
Alternatively, you can return an item to any Living Spaces location.
Return a Piece of Furniture With No Bother—Use Our App!
If you would like to skip going through all those bothersome steps, opt for our app. DoNotPay can request a purchase return from Living Spaces and help you claim your refund without delays!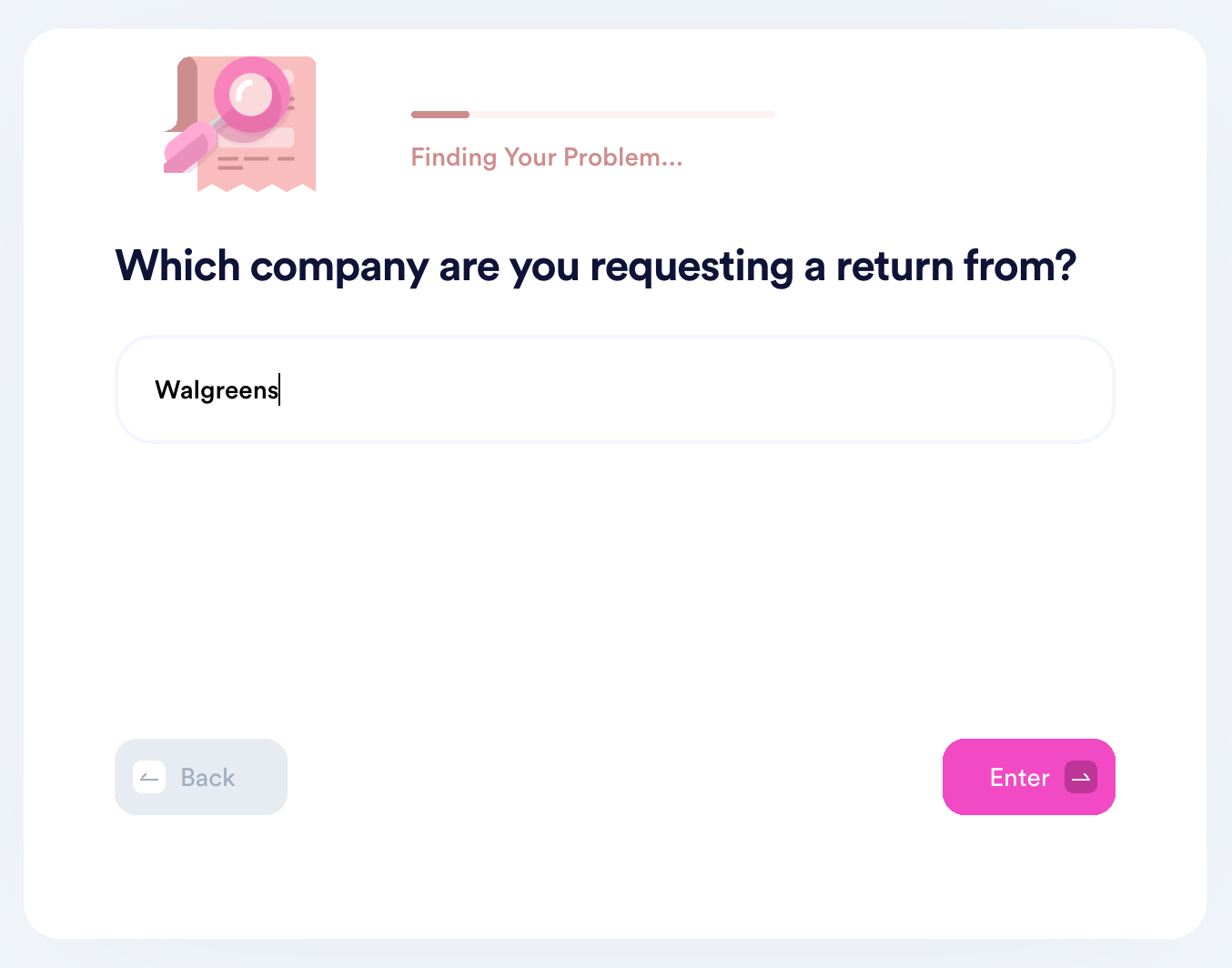 Here's what you should do:
Look up the Return My Purchase product
Answer a couple of questions about your purchase
Add any relevant photos as proof
DoNotPay will let Living Spaces know whether you want a refund or an exchange and forward a custom return request letter to the company. We will also let them know about the deadline for processing your return request.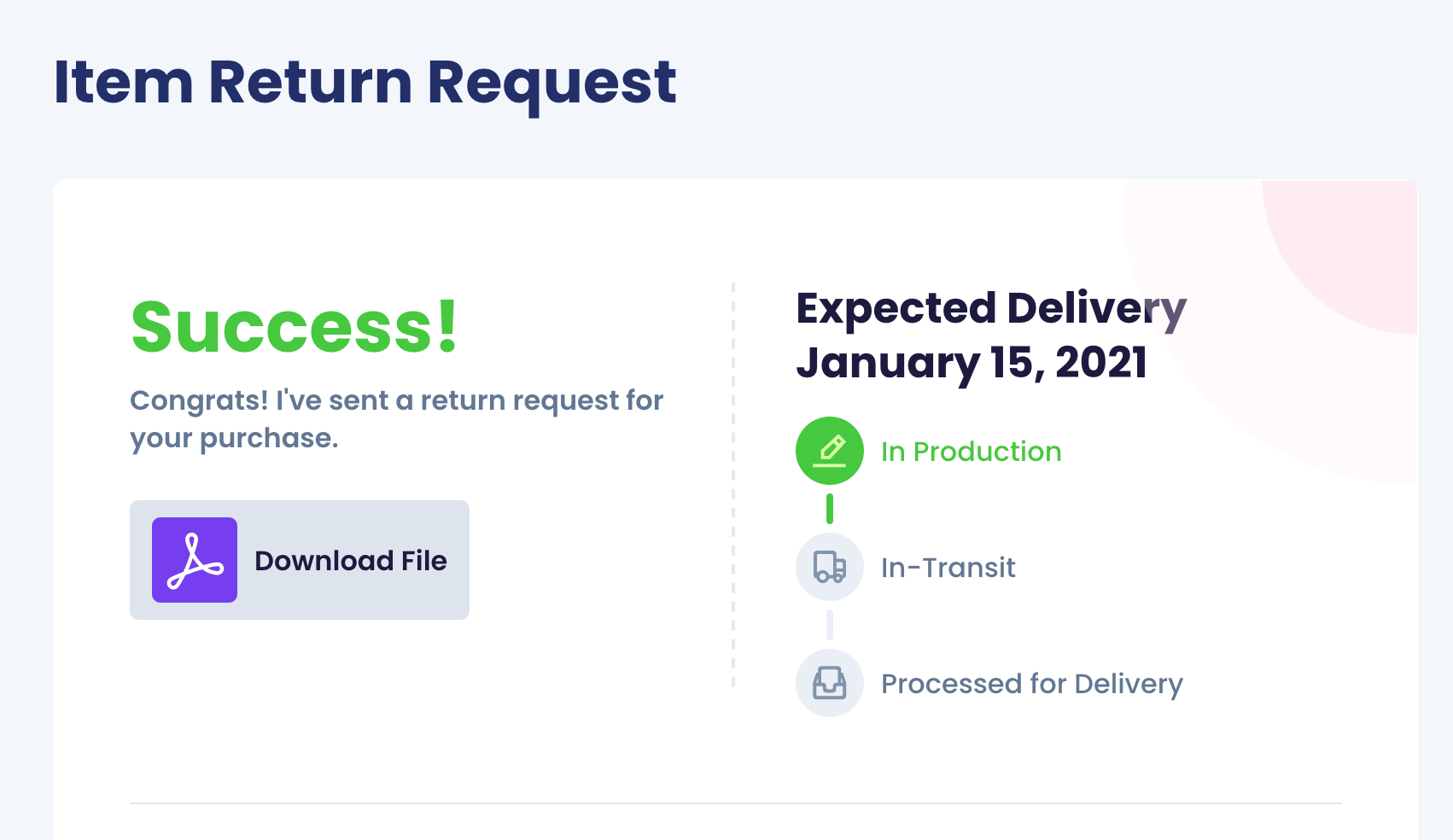 How Long Until Living Spaces Reviews Your Return Request Letter?
The Living Spaces return policy isn't specific on this. If you opt for DoNotPay, you won't need to worry about this as we'll include a deadline by which the company needs to respond to your request.
What Is the Living Spaces Refund/Exchange Policy?
Based on the Living Spaces return policy, the company accepts replacements of regular stock items exclusively.
Exchange is acceptable within seven days of the delivery date and is possible at any retail store. Alternatively, you can reach out to Guest Services at 877-266-7300 and get more information about the matter.
No restocking fee will be applied if you opt for another item of equal or greater value (you will only pay the delivery fee). If you opt for a cheaper item, a 10% restocking fee applies, as well as the redelivery fee.
Exchanges are not possible for orders manufactured on the customer's request or as-is items.
In case a pickup of the product is necessary, a pickup fee applies (to be arranged within a 21-day window).
If you arrange the pickup after 21 days have passed or do not provide the item on the chosen date, you will be charged, and the company will cancel the exchange.
After the company receives and inspects the items, you should receive your refund within:
Ten business days for cash-paid returns (via mailed check)
Ten business days for payments via Synchrony bank
Three business days for credit card payments
Are You Returning an Item to Another Company? Let DoNotPay Help You With It!
DoNotPay can also guide you through many other company returns, such as those listed below:
Is Living Spaces Being Difficult To Handle? Sue It in Small Claims Court With DoNotPay's Help!
In case the company keeps refusing you a refund or acts unlawfully in any other way, you can take it to small claims court with the help of our app. Once you , we can write a demand letter for you, fill out the necessary forms, collect the paperwork required, get you arguments to use in court, and much more. Accessing services has never been easier!
Say No to Bad Purchases—DoNotPay Will Help You Get Back What's Rightfully Yours
Have you finally returned that damaged item thanks to DoNotPay's nifty product? Our app's capabilities don't stop there—we can assist you in doing so much more!
Do you believe you have some missing money? Use the world's first robot lawyer before the government claims your assets! Are you feeling lucky and want to enter sweepstakes without purchasing anything? DoNotPay will sign you up for them automatically! Looking for ways to save on property taxes or utility bills? We'll show you the way. Don't want to get charged for free trials that auto-renew into paid subscriptions? We'll help you cancel them on time.
No matter the issue you're facing, DoNotPay is here to resolve it in a split second.
Need Help With Anything Else? Your Robot Lawyer Will Provide!
Aside from sending return request letters to a myriad of companies in your stead, we can also help you get refunds from airlines, earn off robocalls, appeal parking tickets, protect your intellectual property, claim insurance and warranty, and so much more!
Are you dealing with rude neighbors or mean coworkers that discriminate against you? DoNotPay will help you fight for your rights!