What's Kohl's Return Policy if No Tags Are Attached to My Item?
Are you unsatisfied with your Kohl's item, but you don't know what Kohl's return policy is? No tags are attached to your item anymore, and you're doubtful that you can get a refund? Can you even get an exchange?
Before you head to a Kohl's store, there are a few important rules you should know about. In case you aren't up for dealing with returns, we'll give you a go-to solution—DoNotPay.
How To Return Kohl's Items Without Tags
Thanks to Kohl's customer-friendly return policy, you can return items even if none of the tags are still attached. The question that remains is how to initiate the return.
You can do that in different ways:
| | |
| --- | --- |
| Can I Initiate a Kohl's Return Via | Yes/No |
| DoNotPay | Yes |
| Email | No |
| Phone | No |
| Mail | Yes |
| In person | Yes |
The return policy for items without tags doesn't differ from Kohl's typical return policy. You can choose to initiate the return:
If you bought the item online, you can return it both by mail and to one of the Kohl's stores. Keep in mind that store-bought products can only be returned to a retail location.
Returning Kohl's Items Without Tags to a Store
In case you want to head to a store to give the item back, make sure that you have a valid ID with you. Once you return the product, you can get:
A refund
An exchange
Store credit in the amount of the purchase
If you still have the receipt and you want your money back, you will get the refund to the same payment method you used upon your purchase. The receipt has the information about the purchase date and the price, so items without tags are no obstacle.
In case you had paid with a card and lost your proof of purchase, Kohl's can look it up, and you can still get a full refund.
If you don't have a receipt and you show up with an item without a tag, you won't get a refund. You'll need to settle for store credit for the lowest discounted 13-week sale price. For example, if you paid $60 for the item, but it was on sale a couple of months ago for $40, you'll get store credit in that same value.
Returning Kohl's Items Without Tags by Mail
For mail-in returns, you have a single option—to get a refund. Since you can get your hands on the packing slip through Kohl's Order History, returning an item without a tag won't be an issue.
Do the following:
Sign in to your online account
Go to your Order History
Locate and print the packing slip
Fill out the return form
Pack the item and return form in a box, and attach the packing slip to it
Send the box to the address on the return form
The refund will be issued to the card you paid with or any other payment method you used.
Keep in mind that Kohl's won't cover the shipping costs. The retailer might make an exception for faulty items that are its own fault, but this isn't the case with items without tags.
What's Kohl's Return Policy for Worn Clothes?
The store's return policy has no limitations when it comes to worn or washed clothes. If you've taken off the tag, worn the clothes, and decided that you didn't like them, you still have the option to send them back.
The return procedure is the same as described above.
What's Kohl's Return Policy for Returning Gifts Without Tags?
Gifts usually come without tags, so Kohl's has prepared for such returns. If you want to send an unsuccessful gift with no tag on back to Kohl's, bring your receipt to complete the procedure.
Kohl's offers you two possibilities for gift returns:
Store credit
Exchange
What's the Time Limit for Returning Kohl's Products?
You have 180 days to return a product you purchased. This applies to the products without tags as well.
Premium electronics purchases are the exception as you have 30 days from the purchase date to make the return.
Let DoNotPay Help You Return Your Item Within Minutes
If the thought of going to the store or dealing with mail-in returns troubles you, you should check out our app's neat product!. Thanks to the nifty Item Return Request tool, you skip the long lines and time-consuming mail-in return procedures.
DoNotPay will only ask you to do the following:
Find your way to Item Return Request
Answer a few basic questions about your return
Click Submit
With DoNotPay, you are only four simple steps away from initiating a return. After that, we will create a return request letter that includes all the necessary information for the processing of your return. To ensure that the company doesn't prolong the procedure, we will give it a deadline to solve your request.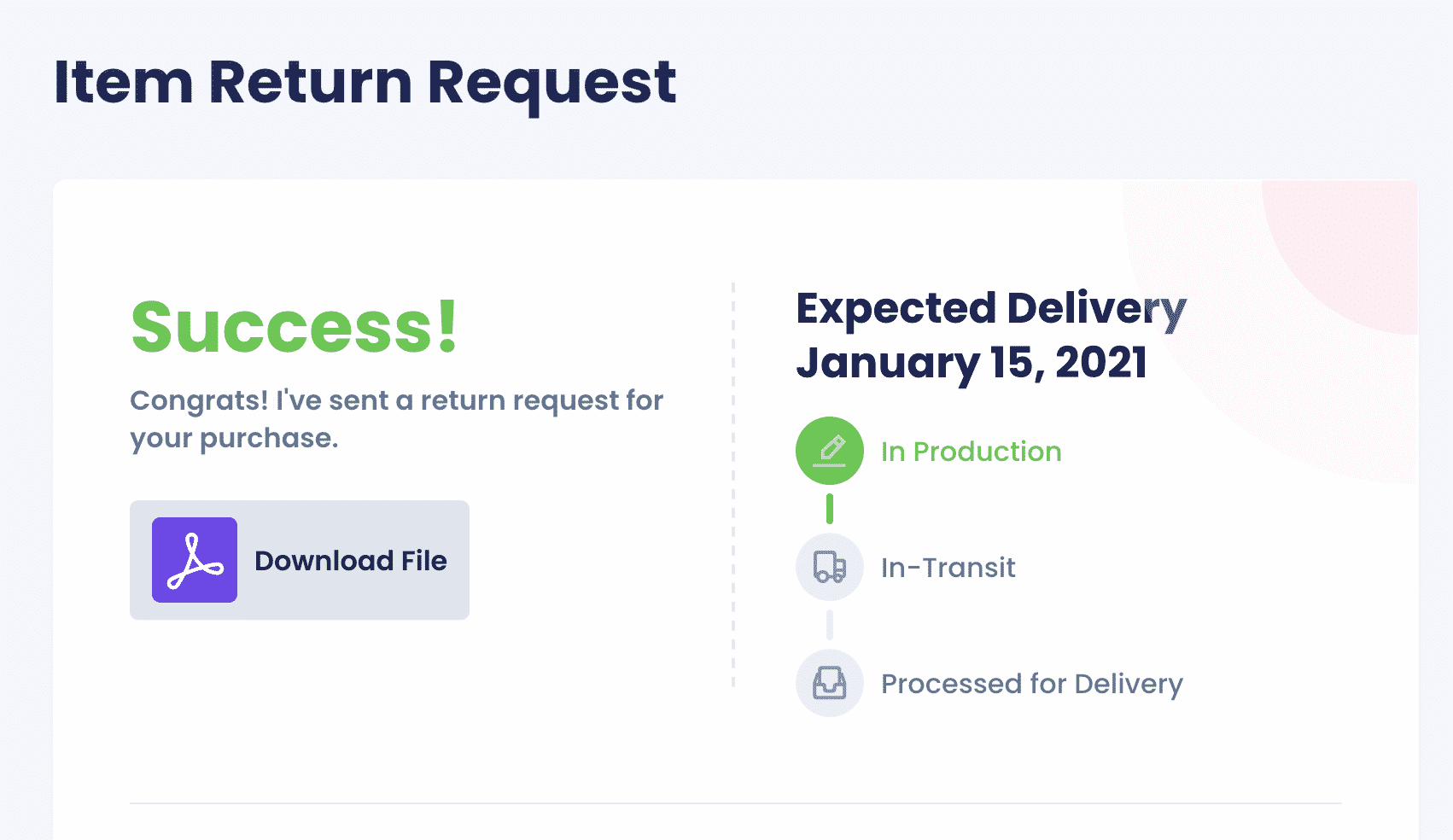 DoNotPay Can Take Over Your Returns
You can use our AI-powered app for all your returns. The best part about it is that it can demand returns from numerous popular retailers, such as: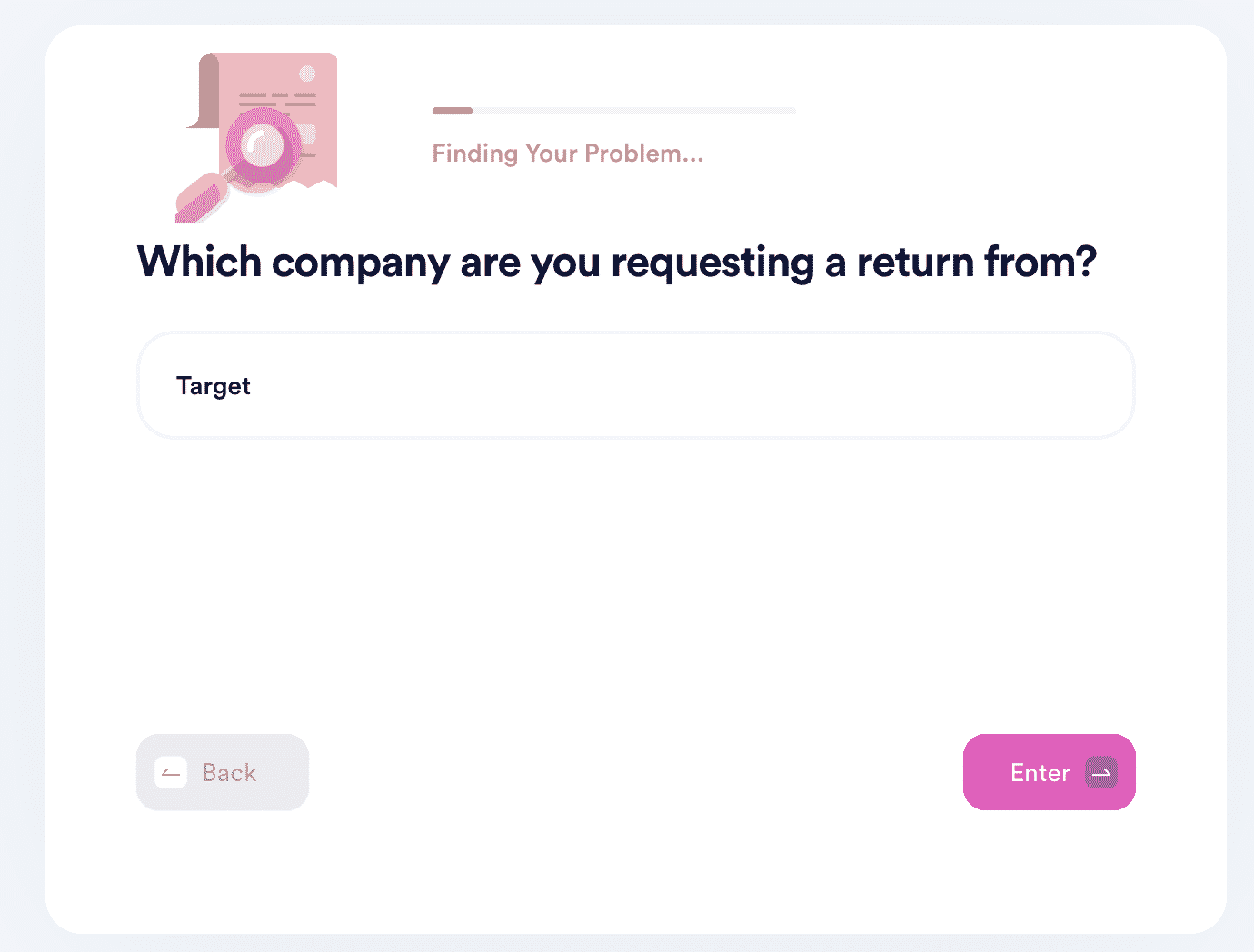 If you want to streamline your returns using a single app, now!
Want To Save Money and Avoid Bad Purchases? Look No Further!
Aside from helping you send a return request to any company, DoNotPay can also assist you in getting a refund in a flash! We can also help you request a refund for any late, missing, or damaged delivery.
Do you want to stop wasting your money on useless services? Our app can help you cancel them and provide you with a virtual credit card that terminates free trials before companies get to charge you!
If you want to discover some forgotten assets you may have, we can help you find them in just a couple of minutes. With DoNotPay, you can both save money and earn it!
Once you sign up, you can report text and email spammers, annoying robocalls, and real-life stalkers and harassers and earn off them. We can also help you sue any company or individual in small claims court if you feel like they did you dirty.
Getting Rid of Bureaucratic Procedures Has Never Been Easier
The process of composing a return request letter is tiring, which is why you should turn to DoNotPay for help. Our app will assist you if you want to avoid similar bureaucratic hassles, such as:
Sign up for DoNotPay to utilize all of our nifty products!