How To Conduct a Juvenile Sex Offenders Search Online
A large portion of the sex offenders listed on registries throughout the nation committed their crimes while they were underage.
The law treats juvenile sex offenders the same way as adults when it comes to sentencing and registration requirements.
DoNotPay explains how you can identify whether you are living in the vicinity of a juvenile sex offender and what you can do to protect yourself and your family.
What Is the Law on Youth Sex Offenders?
In 2006, Congress passed the Adam Walsh Child Protection and Safety Act (Public Law 109-248), which makes it mandatory for convicted underage offenders to be placed on the sex offender registry if:
The perpetrator was at least 14 years old at the time of the crime
Registration is mandatory as soon as sex offenders re-enter society after their sentence, and the period they must remain on the register is as follows:
| | |
| --- | --- |
| Tier or Level | Time on Registry |
| Tier or level I | 15 years |
| Tier or level II | 25 years |
| Tier or level III | Until death |
Federal law sets out minimum requirements for what information is placed on the registry, as follows:
Name
Home, work, and school address
A recent photo
The offender's criminal convictions
Many states go further than this, recording:
Finger and palm prints
Driver's license details
Car particulars
Other personal information such as social media profiles, handles, and aliases
The Adam Walsh Act also states that local authorities such as schools, public facilities, housing associations, and law enforcement services must be informed of sex offenders' whereabouts. Under the terms of this act and Megan's Law, the general public must have access to state and national registries.
This means that registered sex offenders are identified wherever they may be.
About What Percentage of Sexual Abuse Is Committed by Juvenile Offenders?
Around 780,000 offenders are registered on one or more of the 51 registries across the country. Of these, roughly 200,000 committed their offenses while underage.
This indicates that approximately 25% of sexual crimes are committed by juvenile offenders.
The percentage may be higher as only 39 states require that underage offenders register themselves. The states that do not require registration are:
How Dangerous Are Juvenile Sex Offenders?
The danger posed by someone who has been convicted of a sexual offense in their youth can be measured by the:
Violence of the crime
Chance of recidivism
Violence of the Crime
Juvenile sex offenders tend to perpetrate fewer violent crimes than adults.
Juvenile offenders are responsible for only around 6% of all arrests for sex crime killings, 12% of rape reports, and 19% of non-rape sex crime arrests.
This suggests that a tier III crime is considerably less likely to be perpetrated by a juvenile offender than by an adult.
Chance of Recidivism
The chance of recidivism (or re-offending) by juvenile sex offenders is significantly lower than among adult sex criminals.
Statistics suggest that a juvenile sex offender has between a four and 14 percent chance of re-offending, compared to a recidivism rate of between eight and 58% for adults.
The chance of you or one of your loved ones falling prey to a sex offender of whatever age remains, so you should take steps to protect yourself.
What Are the Consequences of Registration for a Juvenile Sex Offender?
As a result of the state and federal laws on registration and public notification, juvenile sex offenders may face major challenges in the following areas:
Finding employment—Most employers perform routine background checks before hiring someone
Securing accommodation—Public and private housing organizations check the criminal records of all potential tenants
Living in certain areas—Juvenile sex offenders are prohibited from living near areas where children congregate in most states
Traveling freely—Some states require sex offenders to register in their destination state within a few days of traveling across the border
Accessing credit—Most lenders are reticent about offering credit to people with a criminal record
Many juvenile offenders attempt to escape the stigma of their registration by not updating their details when they move. Unregistered offenders—when caught—face stiff penalties of up to 30 years imprisonment and lifelong restrictions on even more aspects of their life.
What Can You Do To Keep Yourself Safe From Sex Offenders?
Sex offenders who committed their crimes while underage may be statistically less likely to cause you harm, but any risk to your safety is too great.
If you are worried about a juvenile offender living in your neighborhood or are concerned about a specific person's whereabouts, you can search your state registry or the national database.
This only gives you an overview of today's situation, though. To be completely secure, you need to know when things change.
This is where DoNotPay comes in. We can perform a once-off search for you and even give you weekly updates to make sure you stay up-to-date!
DoNotPay Helps Protect You and Your Loved Ones From Juvenile Sex Offenders!

If you want to keep a safe distance between yourself and a sex offender, DoNotPay is here to help!
Our Sex Offender Search product is your best resource for:
Checking your neighborhood for registered sex offenders
Tracking the whereabouts of a specific offender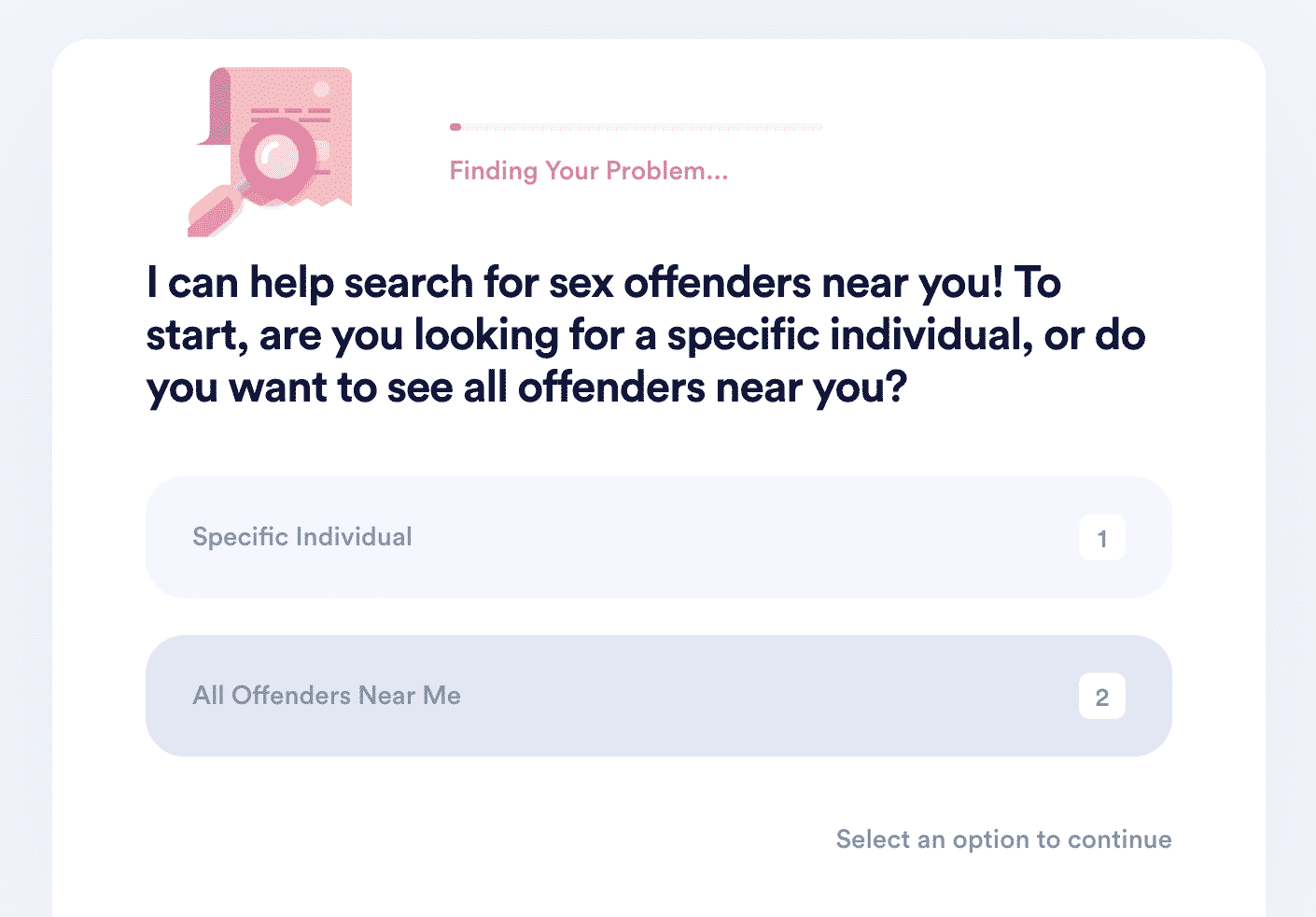 All you have to do to protect yourself is:
Sign up with DoNotPay in your web browser
Click on our Sex Offender Search feature
Choose whether you want to search for

A particular person
Sex offenders in your vicinity
Once we know your parameters, we will give you the results in an instant. If you want to stay in the loop, we can send you weekly search result updates to give you permanent peace of mind.
What About State-Specific Laws on Sex Offenders?
If you are looking for information on the law in your state, DoNotPay can help. Here are a few of the states we can give you detailed information on:
Drowning in Paperwork? DoNotPay Comes to the Rescue!
Dealing with administrative procedures is never a fun experience. Not only is it time-consuming, but it's also extremely inconvenient and impractical. Luckily, we have a practical solution!
Use DoNotPay to cut through the red tape and handle any bureaucratic issue that comes to your way stress-free! Check out the list below to see a fragment of tasks you can tackle with our help:
Explore DoNotPay's Other Services
DoNotPay provides you with a ton of other services you can find useful when completing your everyday tasks.
You can contact customer service support without waiting for hours, request refunds from various companies, file a missing package claim, and get compensation for missed or delayed flights in a few clicks!
If you want to earn some money, we can help you with: