Keep the Record Spinning—How To Get the 7-Day Free Trial on Spotify Risk-Free
Spotify is the most popular music streaming and media services platform globally. It is supported on mobile phones, Apple devices, and PCs. Spotify has around 113 million premium subscribers, and they get to listen to over 50 million tracks.
Spotify offers two options—free and premium.
The free version has limitations—ads are frequent, you can listen to playlists on shuffle only, and there's no option to select a particular track, but the choice is made for you by Spotify.
The premium version has no limitations, but it's a paid subscription. Luckily they offer a free trial, and it's not only for seven days! The Spotify free trial lasts 30 days!
Can You Get a
Seven-Day Free Trial on Spotify
?
Spotify used to offer a seven-day free trial for the premium plan, but they've decided to offer more. Now, the free trial for this music service is 30 days long, unless you're a student—in that case, you get the free trial for three months.
How To Sign Up for a
Spotify 30-day Free Trial
?

Spotify is supported on mobile devices, MAC computers, and PCs, but the signing up process is slightly different for phones and computers.
Getting a Spotify 30-Day Free Trial on Your Computer
To start your Spotify free trial on your computer, do the following:
Go to Spotify's website

Click on

Premium

in the upper right corner of the page

Choose one of the plans offered

Tap on

Get Started

Create an account

Enter your credit card information

Select

Start My Spotify Premium

button
Starting a Spotify Free Trial on Your Mobile Device
In order to start your free trial on a mobile device, you'll have to download the Spotify app. Once you have it, follow these steps:
Open the Spotify app

Create your account or log in if you already have one

Click on

Go Premium

Input your credit card info

Click on

Start My Spotify Premium
Does Spotify Automatically Upgrade Your Membership Into a Paid One?

Spotify will automatically charge you after your 30-day free trial is up. You should cancel Spotify before the charges occur. This is how you can do it:
Sign in to your account

Go to

Your Plan

Select

Change Plan

Click on

Cancel Premium

Continue to the confirmation page
DoNotPay helps you cancel other music services—Tidal, Pandora, SoundCloud, Amazon Music, Google Play, and Youtube Premium.
You can avoid all these unnecessary processes before you even start your free trial because, let's face it—having 30 days of free trial for any service is generous, but also clever. Think about all the things that happen in a month and see if you'd remember to cancel a subscription in time—most people wouldn't. This might be how some companies bait their free trial users into becoming paying subscribers.
Luckily, DoNotPay has an ingenious solution for stopping unwanted charges and saving your money—virtual credit cards.
What Can DoNotPay's Virtual Credit Cards Do?

DoNotPay's free virtual credit card is a unique, randomly generated credit card number that hides your real identity from the vendor but can gain instant approval because it comes off as authentic. The number is not linked to your actual credit card account, so no one can come near your money.
On the same note, our free virtual credit card contains no deposit, so no company will be able to bill you after your free trial expires ever again. This will also make the service cancel your subscription automatically.
How Can DoNotPay's Virtual Credit Card Help You After Your Spotify Free Trial?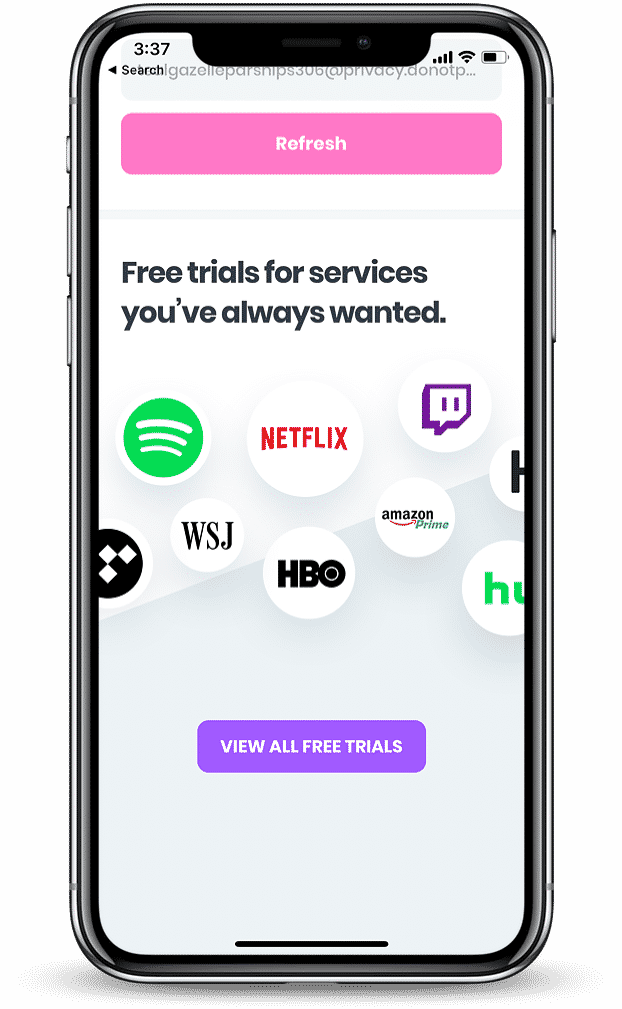 Get DoNotPay's virtual credit card for free through the virtual credit card generator by opening our app in any .
DoNotPay's virtual credit cards can help you by:
Creating a random name and email address for you, and a fake number and expiry date for your credit card

Stopping the automatic renewal

Making the company cancel your subscription
How Much Is Spotify After the Free Trial?
Spotify Premium has four premium plans, and they are all paid for monthly. The benefits that all four plans have in common are:
Ad-free music

Offline use of the service

On-demand playback
As for the prices and benefits that are unique to a specific plan, refer to the table below:
Plan

Price

Benefits

Individual

$9.99/month

Duo

$12.99/month

Supports two accounts

Duo Mix—a customized playlist for two

Family

$19.99/month

Supports up to six accounts

Family mix—a customized playlist for your family

Option to block explicit music

Spotify Kids—separate app for children

Student

$4.99/month
The student plan is available only for people who are enrolled in an accredited higher education institution, which means you'll have to provide proof of your status.
DoNotPay Finds Your Hidden Subscriptions and Helps You Save Money

What's not to love about subscription services—it's no wonder that 84% of Americans spend about $240 a month on them. Most of them don't know about all the subscriptions they have. If you think you might be one of the people who don't know, DoNotPay can help you out!
Connect your email or bank account to DoNotPay and let our clever app find your hidden subscriptions. This is what we'll do for you:
List all the active subscriptions you pay for

Mark the ones that you didn't use for a long time

Suggest you cancel them
Did Spotify Wrong You? Make Them Sing a Different Tune in Small Claims Court
If you're not satisfied with your Spotify membership, DoNotPay can help you get a Spotify refund. If Spotify ignores your refund request and you feel they've breached your consumer rights for refunds, DoNotPay can help you sue them in small claims court.
Our app was honored with the American Bar Association Brown Award for Legal Access, and we can provide you with quality services. DoNotPay will:
Collect all information about your case and create a demand letter

Fill out your legal claim

Generate a script, which you'll use when you stand in front of the judge
What Else Can DoNotPay Help You With?

Apart from helping you get free trials for other music services, such as Tidal, Pandora, Apple Music, and Youtube Premium, DoNotPay can also help you get a refund from iTunes, Amazon Music, and many other companies—even those that have a no-refunds policy. This is only the tip of the iceberg when it comes to what DoNotPay can do. Open our app in your and we will help you:
Fight speeding citations

Dispute your traffic tickets
How Will Spotify Charges Show Up on Your Statement?
The charges made by Spotify might look like this on your statement:
ADY*SPOTIFY 646-8375380 NY

ADY*Spotify-8375380, NY #00000

DEBIT CARD PURCHASE – ADY*SPOTIFY P00 646-8375380 NY

DEBIT CARD PURCHASE – PAYPAL *SPOTIFYUSAI xxx-xxx-7733 NY

ACH WEB-SINGLE SPOTIFYUSAI PAYPAL INST XFER

ADY*Spotify P009

ADY*SPOTIFY 188

DEBIT CARD PURCHASE – Spotify USA 6xx-xxx5380

ADY*SPOTIFY

Debit Card Purchase – SPOTIFY USA 877 778 1161 NY

DEBIT CARD PURCHASE Spotify USA 646-8375380 NY

Debit Card Purchase – PAYPAL SPOTIFYUSAI 4029357733 NY

DEBIT CARD PURCHASE – Spotify USA 646-8375380 NY

Debit Card Purchase – SPOTIFY US

12/24/2015 ADY*SPOTIFY 646-8375380 NY

ADY*Spotify-646-8375380 NY

Debit Card Purchase – ADY SPOTIFY USA 646 8375380 NY

ADY*Spotify 646-8375380 NY 11/09

ADY*Spotify P008

DEBIT CARD PURCHASE – ADY*SPOTIFY P00 xxx-xxx5380 NY

10/30/2015 PAYPAL *SPOTIFYUSAI 402-935-7733 NY

ACH Electronic Debit – PAYPAL INST XFER SPOTIFYUSAI

DEBIT CARD DEBIT Spotify USA 646-8375380 NY

ADY*SPOTIFY P00 #1000

: 06/26/2015 Spotify USA 877-778-1161 NY

ACH Electronic Debit PAYPAL INST XFER SPOTIFYUSAI

DEBIT CARD PURCHASE – ADY*SPOTIFY P00 HTTPS: WWW.SNY

ADY*SPOTIFY P00

ACH Electronic Debit – PAYPAL RETRY PYMT SPOTIFYUSAI

ADY*Spotify 646-8375380 NY 12/24

ADY*Spotify P007

ADY*Spotify P006

ACH WEB-SINGLE SPOTIFYUSAIÂ PAYPAL INST XFER

ADY*Spotify-

ADY*SPOTIFY 209

ADY*SPOTIFY 176 646-8375380 NY

ADY*SPOTIFY 178

ADY*SPOTIFY 208

ADY*SPOTIFY 193

ADY*SPOTIFY 210

ADY*SPOTIFY 197

ELECTRONIC/ACH DEBIT PAYPAL INST XFER SPOTIFYUSAI

ORIG CO NAME:PAYPAL CO ENTRY DESCR:INST XFER SEC:WEB IND ID:SPOTIFYUSAI ORIG ID:PAYPALSI77

Recur Debit Card Purchase Spotify USA 877-778-1161 NY

Recur Debit Card Purchase Spotify USA New York NY

RETURNED ITEM FEE FOR AN UNPAID $9.99 ITEM – DETAILS: PAYPAL INST XFER SPOTIFYUSAI WEB ID: PAYPALSI77

Spotify USA 646-8375380 NY 10011 USA 6468375380