How to Get an Amazon Music Refund in a Couple of Steps
Amazon Music is Amazon's music streaming platform and online music store. Amazon Prime members have access to over two million songs from over 180,000 artists and 20,000 labels, all ad-free. The public beta was released on September 25, 2007, and in January 2008, the platform became the first music store to sell music without digital rights management from major music labels. Amazon Music is available on macOS, iOS, Windows, Android, FireOS, Alexa devices, certain cars, and smart TVs.
How to Get an Amazon Music Refund With DoNotPay?

Getting an Amazon Music refund is much easier with DoNotPay, and it takes only a couple of minutes. It is important for us that you get an Amazon Music refund with minimal hassle — without going through tons of rules and policies. All you have to do is log in to your DoNotPay account on your and:
Scroll down and find Chargeback Instantly under the Protection Products section

Click on Get Protected

Fill in the necessary information and answer the chatbot's questions

Click Sign and Submit
The four steps above will take you only a couple of minutes. After you've gone through the steps, DoNotPay will fax a request to your bank. You will also receive a letter with all the rules and policies surrounding VISA and MasterCard. This information will prove to be useful in building a solid case for your refund.
How to Get an Amazon Music Refund on Your Own?

| | |
| --- | --- |
| Can You Request a Refund Via | Yes / No |
| DoNotPay | Yes |
| Email | No |
| Phone | No |
| Letter | No |
| Website | No |
| In-person | No |
Amazon does not offer refunds for used services included in the Prime package. Since Amazon Music and Amazon Music Unlimited are a part of the Amazon Prime membership, you can only get a refund if you cancel the Prime membership. You are eligible for a full Amazon Prime refund if you have not placed an order using the benefits of Amazon Prime. If you've only used Amazon Prime delivery benefits, you are eligible for a partial refund. You are not eligible for a refund if you've used other benefits, such as Twitch, Prime Video, or Prime Music.
You can cancel your Amazon Music Unlimited plan at any time by contacting Amazon customer service or by using any available cancelation method. There are no refunds, even if you haven't used the service.
How to Cancel Your Amazon Prime Membership?

First of all, it is important to remember that Amazon Prime has a free trial that lasts 30 days. When the free trial expires, you are charged for a full, upcoming month. If you do not want to use the perks of a Prime membership, you can always cancel your Amazon Prime subscription. Here's how it's done:
Log in to your account

Select Your Prime Membership from the Account & Lists drop-down menu

Select End Membership and Benefits

Confirm the cancelation
You can only get a refund within three days of signing up or converting from a free trial to a paid membership. Remember that you will be charged for the value of Prime benefits you used during those three days.
If you signed up for Amazon Prime through a third party, you will have to contact the third party to cancel your membership.
Amazon Music Cancelation Policy
As stated in the Amazon Music Terms of Use under Changes; Suspension and Termination, Amazon is entitled to change, suspend or discontinue its services, or any part of the services at any time. You are entitled to a prorated refund if Amazon discontinues your Unlimited Plan. Your account may be terminated if you fail to comply with the terms. If you violate the agreement in terms of fraud or misuse of the service or you harm Amazon's interests or those of other users, your membership will be terminated.
If you've signed up directly through Amazon, you can cancel your membership at any time by:
If you've made any payments, they are non-refundable, even if you haven't used the services.
Amazon Music Refund Policy
The Amazon Music Terms of Use, under the Digital Music Store section, states that all purchases on the Store are final and that it does not accept returns of the purchased music. The same applies for . When you buy music content on the Store, you acknowledge and agree to the terms of purchase, and you cannot cancel your purchase once the delivery process has started. Remember that Amazon does not refund purchases made by promotional certificates.
When it comes to Gift Returns, the refund depends on how the gift was purchased and how it was returned.
There are also partial refunds and restocking fees. If the item was not returned in the return window, your refund is 80% of the item price. For CDs, DVDs, VHS tapes, or vinyl records that have been opened, the refund is 50% of the item price, and the same goes for damaged items or items with missing parts.
How Long Does it Take to Get an Amazon Refund?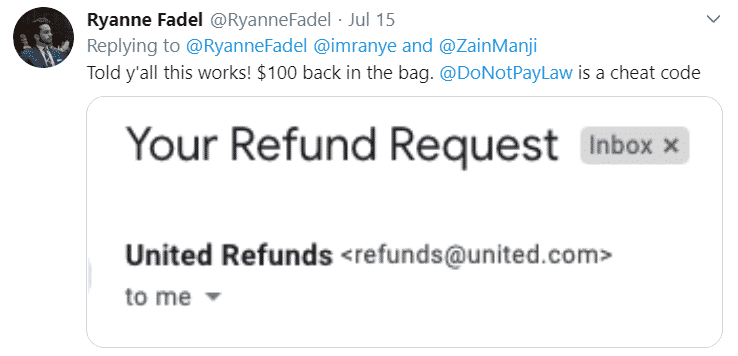 When applying for a full refund with Amazon, you are able to choose your preferred refund method in the Returns Center. The time window for refunds differs depending on the bank and the method of refund:
| | |
| --- | --- |
| Refund Method | Refund Time After Refund Is Processed |
| Credit Card | Three to five business days |
| Amazon.com Gift Card | Two to three hours |
| Debit card | Up to 10 business days |
| Checking account | Up to 10 business days |
| SNAP EBT card | Within 24 hours |
| Gift Card balance | Two to three hours |
| Promotional Certificate | No refund issued |
| Prepaid credit card | Up to 30 days |
| Shop with Reward Points | Up to five business days |
What Else Can DoNotPay Help You With?

DoNotPay can make your life easier by providing you with services that will help you save money, cancel unwanted subscriptions, and even sue big corporations in small claims court.DoNotPay uses advanced artificial intelligence that assists you in filing your case against any corporation you have a grievance with. You will be able to focus on your claim, while DoNotPay deals with filing your court forms. All you have to do is let the app know who you're filing a suit against, what type of claim you are filing, and what your personal information is. The world's first robot lawyer will take care of the rest. We can even help you with your unpaid bills.
One of our most popular products is the Virtual Credit Card. You can use the card to get free online trials without being charged for the next month. The card has a unique credit card number, which is randomly generated. When used for a transaction, it does not reveal your personal information, — your real credit card number, expiration date, and name are safe from fraudulent activities. All you have to do is go to your and log in. Here's what DoNotPay has to offer:
Disputing traffic tickets

Fighting speeding tickets