Sick of SoundCloud Rappers? Cancel SoundCloud Paid Subscriptions With No Sweat
SoundCloud is a music sharing website and an online audio distribution platform from Berlin, Germany. It is one of the biggest music streaming services, with more than 76 million monthly users globally.
SoundCloud is available for desktop and mobile devices. The company created two separate smartphone apps, both available for iOS and Android users—the standard SoundCloud app focused on streaming, and SoundCloud Pulse targeting content creators.
Main Differences Between the Free and Paid SoundCloud Services
If you're not sure which subscription plans for SoundCloud are available, you can consult the table below:
Subscription Plan

Price

Features

SoundCloud Basic

Free

Upload 3 hours of any type of audio

Embed player customization

SoundCloud Go

$4.99 per month (web, Android) / $5.99 (iOS)

Save unlimited tracks for offline use

Ad-free

SoundCloud Go+

$9.99 per month (web, Android) / $12.99 (iOS)

Access full catalog, no previews

High quality audio

Other SoundCloud Go benefits
SoundCloud also offers a Pro Unlimited plan for $12 a month, billed yearly, or $16 a month, billed monthly. This plan is aimed at content creators such as artists, podcasters, or music labels.
How to Cancel SoundCloud With DoNotPay?

Maybe you've decided to switch to Spotify or don't see the point in paying more just because you're using an iPhone. DoNotPay doesn't ask for the reasons why you want to cancel your SoundCloud subscription. Our app was created to provide a fast and hassle-free tool to cancel all unwanted memberships and subscriptions. You will only need to follow three simple steps:
Open DoNotPay in a

Hit

Find Hidden Money

when you log in

Enter SoundCloud as the subscription you want to get rid of
DoNotPay will handle the cancelation on your behalf and inform you when it's done.
If you want to track other monthly charges and get rid of them in a heartbeat, you can connect your email address or bank account with our app.
Cancel Your SoundCloud Subscription Using Other Methods
The only other option to cancel SoundCloud's paid subscriptions is on its website. Cancelations through SoundCloud apps are not possible, and, just like with pricing, canceling your subscription will be different for Apple users compared to others:
| | |
| --- | --- |
| Can you cancel with | Yes / No |
| DoNotPay | Yes |
| Email | No |
| Phone | No |
| Letter | No |
| In-person | No |
| Company website (web/Android users) | Yes |
| App Store/iTunes (Apple users) | Yes |
How to Cancel SoundCloud if You Use Apple?
Those who purchased their SoundCloud subscription via the Apple App Store have to use this method for cancelations:
Open the

Settings

app on your iOS smart device

Tap your name

Hit

Subscriptions

or

iTunes & App Store

(log in with your Apple ID if necessary)

Locate the SoundCloud subscription you want to cancel

Tap on

Cancel Subscription
How to Cancel SoundCloud for Web and Android Users?
If you access SoundCloud from a web browser or your Android smart device, you can cancel your paid subscription as follows:
Open SoundCloud in a web browser and log in

Click on the three dots in the upper right corner and select

Subscriptions

Hit the

Edit

button next to your current plan

Select

Opt-out of your subscription renewal

Choose

Confirm & cancel plan

when prompted

Finish by clicking on the orange

Ok, got it

button
Once you go through this process, you will be reverted to the Basic plan which you can use for free.
Use SoundCloud's Free Trial Without Worrying About Charges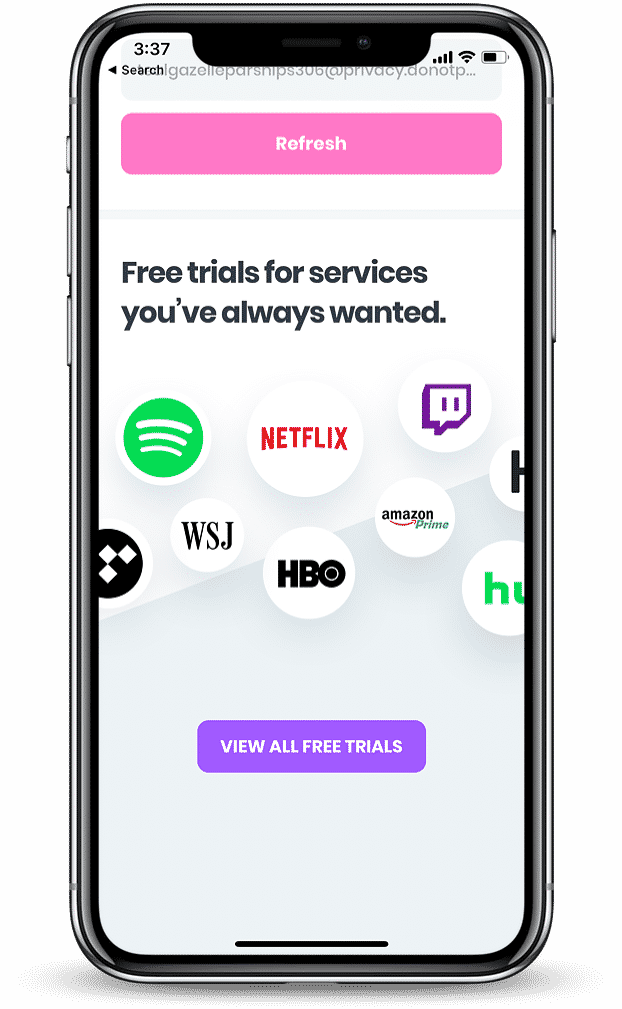 SoundCloud offers a 30-day free trial for its Go+ subscription and a 7-day free trial for the Go plan. Regardless of which option you choose, you will have to provide payment information to subscribe. The free trial will turn into a monthly recurring charge if you don't cancel the service before it expires.
If you want to enjoy your free SoundCloud trial without setting up reminders or worrying about unwanted charges, you can take advantage of DoNotPay's virtual credit cards.
Our app will create random credit card information that you can use to sign up for the free trial. Once it goes through, you won't have to remember to cancel on time. Since our Free Trial Card is not linked to your actual bank account, there is no fear of charges, and your free trial will end with no harm done to your finances!
Does SoundCloud Give Refunds After Cancelations?
Since SoundCloud charges for paid subscriptions monthly, they do not offer prorated refunds if you cancel before the current billing cycle ends, as per the FAQ page. While you can cancel anytime you want, cancelation will be effective starting from the next billing period. You will be able to use your paid subscription with no limitations until then.
SoundCloud Codes on Your Bank Statement
If you're not sure whether you're still being charged for SoundCloud, you can check your bank statements for some of the codes often used by SoundCloud:
| | | |
| --- | --- | --- |
| SOUNDCLOUD 35314369001 GB | SOUNDCLOUD 0F7 | SOUNDCLOUD BERLIN DEU |
| SOUNDCLOUD C6D 35314369001 DEU | SOUNDCLOUD, D5E, 35314369001 GB | SOUNDCLOUD, D24, 35314369001 GB |
| SOUNDCLOUD, 35314369001 | SOUNDCLOUD, E03, 35314369001 GB | SOUNDCLOUD 171 |
| SOUNDCLOUD, BERLIN DE | SOUNDCLOUD, EB9, 35314369001 GB | SOUNDCLOUD, DAF, 35314369001 GB |
| SOUNDCLOUD 1A9 35314369001 DEU | SOUNDCLOUD 618 35314369001 DEU | SOUNDCLOUD 21A |
| SOUNDCLOUD 09CC6 35314369001 | SOUNDCLOUD, 35314369001 GB | SOUNDCLOUD, E7D, 35314369001 GB |
| SOUNDCLOUD, EBD, 35314369001 GB | SOUNDCLOUD 74B 35314369001 DEU | SOUNDC |
| SOUNDCLOUD, BERLIN | SOUNDCLOUDCON MONTHLY G BERLIN | SOUNDCLOUD BERLIN |
How Else Can DoNotPay Be Useful?

Our service can help you cancel any other subscription or membership, like Netflix, Spotify, Retro Fitness, or Candy Club.
Besides cancelations, we can assist with stopping spam emails, preventing cyberstalking, requesting refunds for plane tickets, or any other products and services you're not satisfied with.
You can check out numerous useful features if you access DoNotPay in a . With our help, you can:
Dispute traffic tickets

Fight speeding tickets