How Much Time Can a Sex Offender Get for Not Registering? Find Out Now!
The punishment for being convicted as a sex offender doesn't end when the criminal finishes their custodial sentence or probation period.
For most sex offenders, their sentence includes placing themselves on their state's sex offender registry. This can have wide-ranging implications on their lives, so some criminals attempt to dodge the system by not registering.
This is illegal, and authorities punish unregistered sex offenders heavily. How much time can a sex offender get for not registering? DoNotPay is here to answer your questions!
What Are the Laws on Registration of Sex Offenders?
Sex offender registries have been around since the 1940s, but most states began compiling lists of sex offenders during the 90s.
In 2006, Congress passed the Adam Walsh Child Protection and Safety Act, Title I of which encompasses the Sex Offender Registration and Notification Act (SORNA).
The SORNA sets the minimum standards for sex offender registration in every state and clarifies the following:
Crimes that require registration
Information to be collected
Registration periods
Public access to information
Crimes That Require Registration
The SORNA classifies sex crimes in three tiers, as follows:
Tier I—non-violent and non-penetrative sex offenses
Tier II—crimes involving pubescent minors
Tier III—all sex felonies involving violence or forced penetration
Information To Be Collected
The minimum data that each state must collect on its sex offenders is:
Name, aliases, and handles
Date of birth
Photo
Physical description of the offender
Home address and phone number
Driver's license, passport, and visa details
Employment or school information
Fingerprints
Criminal conviction history
Registration Periods
Under the SORNA, sex offenders have to remain on the registry for the following periods:
| | |
| --- | --- |
| Tier or Level | Time on Registry |
| Tier or level I | 15 years |
| Tier or level II | 25 years |
| Tier or level III | Until death |
Public Access to Information
The SORNA reinforces the 1996 Megan's Law and insists that the public should have access to all information contained in each state's registry.
How Do Sex Offenders Register?
In most states, sex offenders are obligated to register either a few days before or within five days of their release from any custodial sentence.
If they are given a term of probation and released into the community, they must normally register within five days.
Sex criminals are responsible for their own registration, and they must report in person to the correct authority—usually a probation and parole office or local law enforcement.
Registered sex offenders have to keep their registry details up to date. Any changes of address, employment, phone number, or similar must be reported immediately, and periodic verification of the offender's details is required as follows:
Tier I—annually
Tier II—every 180 days
Tier III—every 90 days
If a sex offender relocates to a different state, they must register in the new state within three to five days of their arrival. Their state of original registration may choose to keep them registered or allow their registration to lapse.
Why Do Criminals Avoid Registration?
Being on a sex offender registry can involve serious restrictions on the offender's:
With all these limitations and the fact that their whereabouts are easily traceable, some sex offenders attempt to avoid registration or allow their details to become outdated by not reporting address changes. Others become untraceable as difficulties in finding accommodation render them homeless.
Law enforcement authorities are constantly on the lookout for unregistered sex offenders, and most states have ways by which you can report suspected unregistered sex offenders online.
When they are caught, unregistered sex offenders face harsh penalties.
What Is the Punishment for Failure To Register as a Sex Offender?
Convicted sex offenders who are unregistered are guilty of a federal crime.
Under section 141(a) of the SORNA, offenders who fail to register or to update their registration within the correct time frame are guilty of absconding and can face the following punishments:
Up to ten years in prison
Up to thirty years in jail if they commit a violent crime after absconding
Some states allow a degree of latitude for tier I offenders and classify the first abscondment as a misdemeanor, punishable with a fine. Any further attempts to evade registration are punishable with jail terms of between one and ten years.
How Can You Protect Yourself From Unregistered Sex Offenders?
If you suspect that an unregistered sex offender may be in your neighborhood, you need to act quickly to protect yourself and your loved ones.
You should immediately:
Report suspicious behavior to law enforcement authorities
Contact your local parole board
Search the state and national sex offender registries
The more information you can provide, the better chances the authorities have of apprehending unregistered sex offenders. The name or a photo of the suspect can make their job considerably easier, but you should not put yourself at any risk.
If you have a name, checking your state sex offender registry can give you the best information. This can be a laborious process, though—particularly if the sex offender is not originally from your state.
This is where DoNotPay can help. We can search and even give you weekly updates if you choose!
How Can DoNotPay Help You Steer Clear of Sex Offenders?

We understand how much you value your and your family's safety, and DoNotPay is here to help! Our Sex Offender Search product can trawl state and national registries for a specific name or check your neighborhood for registered sex offenders. If you opt in, we can even send you weekly updates to make sure you don't miss any changes!
Here's how to use our feature:
in your web browser
Click on our Sex Offender Search feature
Choose whether you want to search for

A particular person
Sex offenders in your vicinity
Once we have the details of your search, we will send you your report in a flash and update you weekly!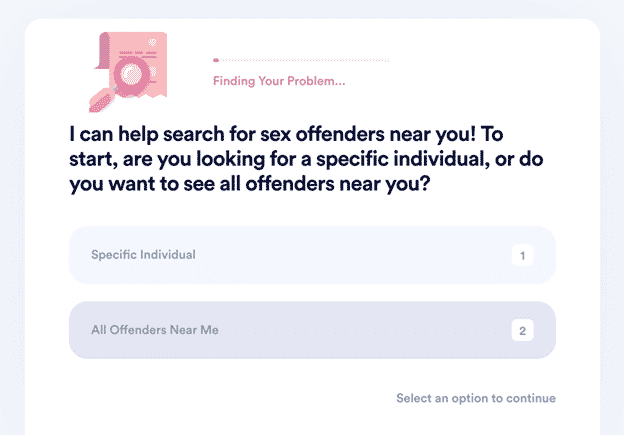 What Are the Registration Laws in Each State?
DoNotPay can help you if you're looking for information specific to your state.
Here are a few examples of states we can help you with:
Why Waste Money on Lawyers When You Have DoNotPay?
Although certain tasks require you to get a lawyer's assistance, you don't have to spend hundreds of dollars for their service. With DoNotPay, you can avoid figuring out the legal jargon and have peace of mind dealing with bureaucratic tasks the easy way.
Need help preparing for a small claims court appearance or composing a neighbor's complaint letter? Looking for an easy but efficient way to draft a power of attorney or divorce settlement agreement? Use DoNotPay's features to draft legal documents, sue companies, request refunds, claim warranties, and file insurance claims while still saving a pretty penny!
Communication Is the Key
The best way to resolve issues is through clear communication, but companies don't always make it easy to do so. That's why DoNotPay came up with various features that help make communicating and solving problems a piece of cake. Sign up for our app and forget about waiting in lines for hours to speak to a customer service rep!
Here's what you can do with our app: