The Guide to the H&M Return Policy With No Receipt
Do you wish to return an H&M item that you have no receipt for but don't know how to proceed with it? Our guide to the H&M return policy with no receipt has got your back!
We also look into different H&M return options and ways .
The Basics of the H&M Return Policy With No Tag
If you want to return an H&M item that you have no receipt for, the way you proceed will depend on how you bought the item:
In-store
Online
You can only exchange the item for in-store returns without a receipt for the last sale price or current selling price.
For online returns, H&M also offers in-store exchanges only at the current selling price. If you wish to exchange the item for the same one in another color or size, return your item to the H&M retail store and place a new order on the website.
What About H&M's Return Policy With Receipts?
H&M's return policy for items with a receipt also differs depending on where you purchased the item.
H&M's Store Purchase Returns
You can return the following H&M items for exchange or refund:
Garments
Swimwear
Beauty products
You can get a refund for these items if you return them within 30 days. After 30 days, you can only exchange them for another item.
For all H&M designer items you bought in-store, the vendor accepts refund claims within seven days of purchase only if you return them unworn, unwashed, and undamaged.
H&M's Online Purchase Returns
The items you bought online can be returned in two ways:
In-store
Via carrier services
With in-store returns, you can return H&M garments, swimwear, and beauty products for a refund or exchange within 30 days of purchase. Due to the COVID-19 pandemic, the company introduced extended shipping times for online purchases—45 days.
As for carrier service returns, the return shipping fee of $5.99 will be deducted from your refund. If you want to return items from multiple deliveries in a single package, make sure to include the corresponding return forms inside the package.
In case you have lost the original Return Form that was sent to you, you can print a new one from H&M's website.
How To Return an H&M Item via a Carrier Service
To properly return your H&M item to the company via mail, follow these steps:
Fill out the Return Form and explain your reason for the return
Place the Return Form with the item in a suitable box
Attach the self-adhesive return label that was included with your order
Take the package to USPS, UPS, or FedEx
Which H&M Items Are Not Eligible for a Return?
Certain items either cannot be returned at all or cannot be returned via certain methods. These include:
Final sale items like H&M Gift Cards and undergarments cannot be returned
H&M Home items can only be returned via mail
In-store purchases cannot be returned via mail
| Can You Initiate a Return With H&M Via | Yes/No |
| --- | --- |
| DoNotPay | Yes |
| Email | No |
| Phone | No |
| Mail | Yes |
| In person | Yes |
Still Confused by the H&M Return Policy? Let DoNotPay Help You!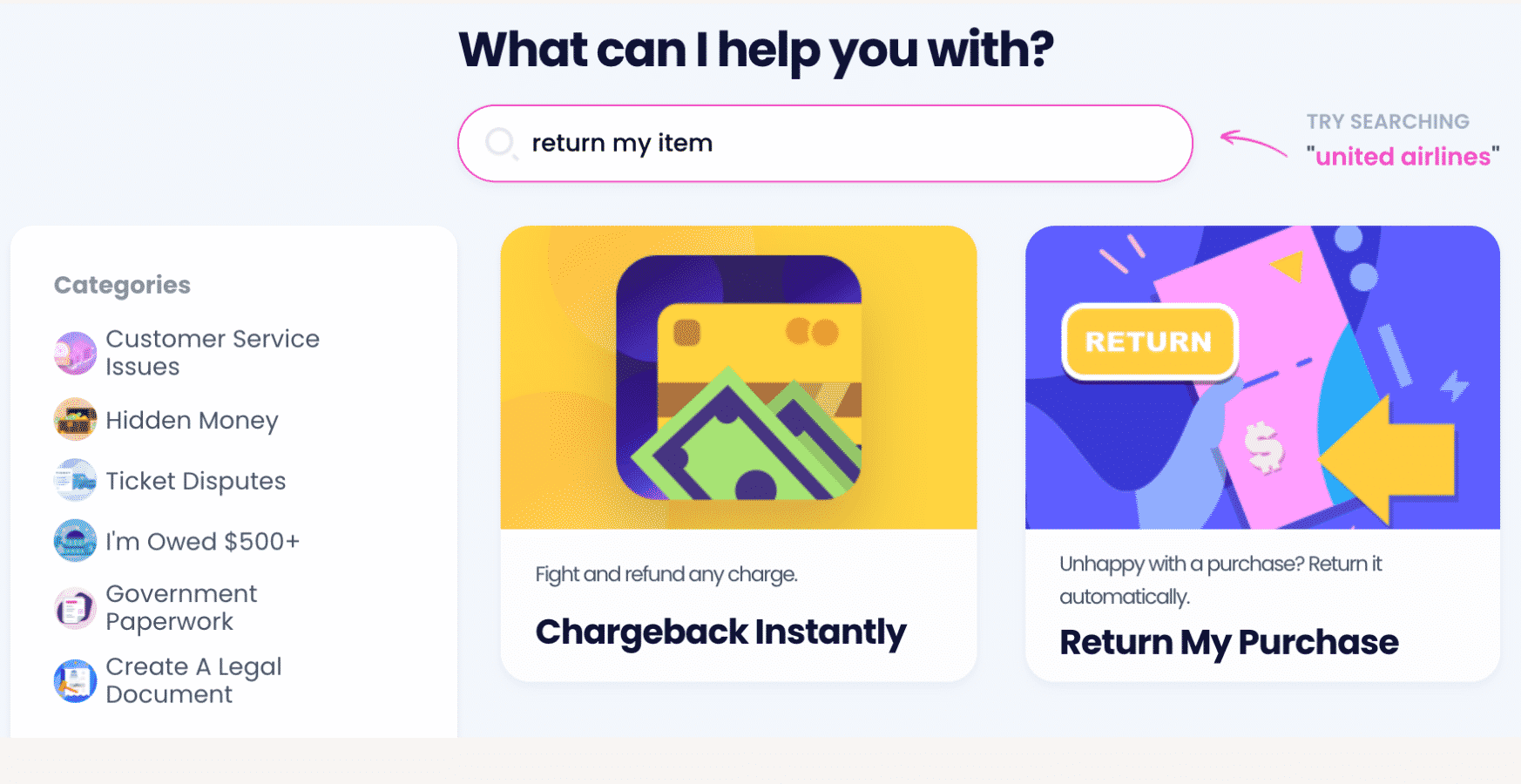 Why not let DoNotPay handle the H&M return request for you? You can submit a return request with the vendor using our nifty app in mere seconds.
Here is how it works:
Choose the Return My Purchase feature
Answer a couple of questions about the item you're returning
Click Submit
With DoNotPay, you can file an item return request with any of these vendors and numerous others:
Is the Situation With the Merchant Getting Messy? Take Them to Small Claims Court!
If you feel like the merchant has wronged you, our AI-driven app recognized by the ABA Brown Award will help you sue them in small claims court! You don't need to worry about filling out lengthy court forms or collecting evidence for your case—we'll step in and do it for you!
You can use DoNotPay to generate any legal document you may need for the lawsuit, add legal weight to it through online notarization, and fax it to the court—all in a matter of mere minutes.
Facing any other legal issues? Check out how our app can assist you in:
We Can Help in Many Other Ways!
No matter what kind of assistance you need DoNotPay to provide, you can rely on it to solve any admin or legal issues you may have.
You can use our app to jump the phone queue when contacting any support team, skip the line at the DMV, get cash back on gift cards, create a valid passport photo, appeal any banned account, file an insurance or warranty claim, and get in touch with a loved one in prison in a snap.