Is There a Grasshopper Send Fax Feature?
If you're wondering whether you can send faxes through Grasshopper, you wouldn't be the only one that does.
With the practice of online faxing getting more popular, many companies offer third-party fax services that enable you to send documents without a fax machine—but is Grasshopper among them?
Find out whether Grasshopper—a virtual phone system—allows you to install fax apps or send faxes from your phone.
will also show you how faxing works and offer the best alternative to faxing without a phone line.
Does Grasshopper Offer Faxing Services?
The answer to this question is both yes and no. You can receive faxes if you are subscribed to Grasshopper, but you can't send them.
If you would like to cancel your Grasshopper account because of that or any other reason, we can help you with it.
How Does Receiving Faxes Through Grasshopper Work?
Grasshopper offers virtual fax services, but they are limited to inbound faxing. This means that, by using Grasshopper, you can only get faxes delivered to you—not send ones yourself.
The benefit of Grasshopper is that you don't need to buy a fax machine to receive faxes or go to a third-party service provider that charges fees, such as the UPS fax service.
The inbound fax service that Grasshopper offers works by allowing you to receive faxes through email, and you can review them online or in your email as a form of attachment.
Here's how the process works—you need to:
Sign up for a Grasshopper account

Register your current or vanity number

Install the Grasshopper app

Send your Grasshopper number to whoever you want to receive faxes from
The faxes you receive will be in PDF format.
Do You Need To Use a Fax Machine To Send Your Faxes?
While the first solution that comes to mind may be investing in a neat fax machine, you should think twice about it. Fax machines are obsolete and notoriously unsustainable.
You'll not only need to spend tons of money on the initial purchase, but you'll also find that the fax machine requires regular maintenance that is costly. For a fax machine to be running, you need to spend money on:
Paper

Copiers

Cartridges

Repairs

General maintenance
Not to mention that fax machines have to be connected to landlines, so installing one incurs additional expenses, besides being a general nuisance.
Since fax machines are slow, expensive, and environmentally hazardous, sending faxes without them is a much better idea.
You don't need a fax machine to fax documents to your business partners, but what are your alternatives?
One alternative is to send faxes through email. It should be plain and simple, but you are risking a security breach. Most people use fax services to send files that contain sensitive information related to:
Medical matters

Legal matters

Government data
You Don't Need Any Third-Party Services When You Fax With DoNotPay
Luckily, DoNotPay has your back. We have created a feature that helps you fax up to 100 files per month. The process is fast, easy, and secure. The best part is that the service doesn't cost you anywhere near as much as other fax services do. If you opt for those, you should be ready to pay hundreds of dollars a year.
You can choose to upload your file to fax it or snap a photo of it, making the process of faxing instant. You only need to have an account on DoNotPay and get the fax number you want to send documents to.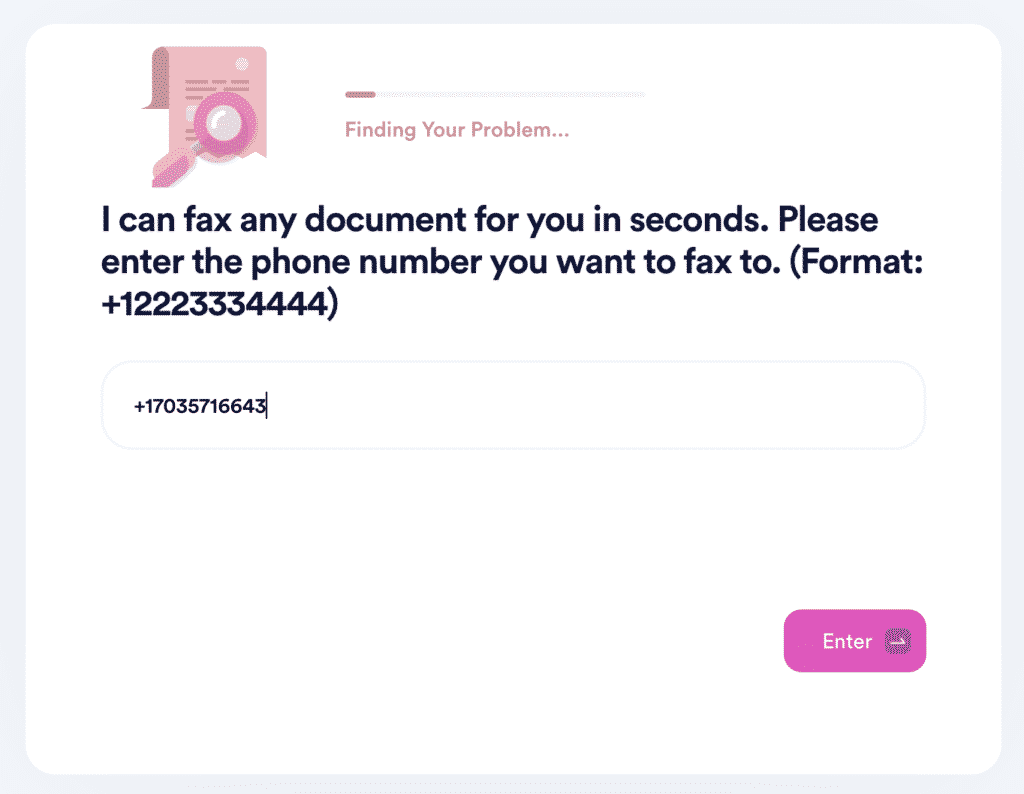 Since faxing often involves sending and receiving legal documents, you can also use DoNotPay's Standardized Legal Documents feature to create them! Our app will help you generate a personalized contract, sign it electronically, and fax it in under a few minutes.
Sending Faxes With the Help of DoNotPay Takes Only Three Steps
Once you've accessed your DoNotPay account from any , it only takes a few seconds to fax your document.
Here are the short steps to follow:
Snap a photo or upload your file

Enter the fax number of your recipient

Read our confirmation email to see if your fax has been sent
Are There Any Other Ways To Send Faxes?
If you're looking for more alternative ways to send and receive faxes, you should check out how these options work:
No matter which one of these options you decide to try out, you won't find it any easier, more efficient, or more affordable than DoNotPay's Online Fax feature.
The biggest advantage of our platform is that you can use all of its features for one low monthly price! Check out our learning center to find out how else our AI-driven app can help!
DoNotPay Helps You Scam Scammers
DoNotPay helps you stay safe from scammers and fraudsters!
We have developed a Virtual Credit Card product that helps you sign up for free trials without revealing your real banking information to any suspicious company. We've joined our most popular feature with a Burner Phone functionality that allows you to verify online accounts with a temporary phone number.
That way, you'll be free to enjoy services while they're free of charge, eliminate the possibility of robocalls, robo texts, and spam emails from the shady companies, and forget about canceling the subscriptions altogether—our product does it for you!
DoNot Pay can even shield you from cyberstalking and online harassment and get you compensation for the crime you've suffered. We'll even help you take individuals or businesses to small claims court by drafting the relevant paperwork for you, accessing any public records that might bolster your case, and supplying you with a court script that you can read to the judge on the day of the hearing.
DoNotPay Is Helping You Out Left and Right
Not only can DoNotPay handle bureaucratic nuisances on your behalf, but we can make your daily life easier too!
No more waiting in endless phone queues to make a warranty claim for a faulty product or wasting the day away in mile-long DMV lines—our app will do the hard work for you! We'll call the reps of any company—even major airlines—and schedule appointments on your behalf in a matter of minutes!