How Does Faxing Work? The Mystery Unraveled
The invention of fax machines revolutionized the way messages and documents are transferred. Today, faxing is still alive and kicking because no other method is safer and more reliable.
While we mostly use the internet to fax documents, some companies still rely on fax machines to send important files. If you want to learn how to fax, come along! We will answer the "How does faxing work" question and present the most practical way to fax any document!
What Is a Fax Machine?
A fax machine is a device for transferring documents between locations, electronically or via a telephone line. The files that you send via a fax machine are called faxes. The files can be transferred:
Between two fax machines

From a computer to a fax machine
Fax machines today primarily serve to send classified information, such as medical or legal files. The generations that grew up with fax machines still prefer faxing to other means of document exchange.
Today, fax machines are mostly available as parts of multi-functional units that provide faxing, copying, scanning, and printing services.
How Do Fax Machines Work?
Fax machines scan an image or a document and transfer that scan to the receiving device, where it is printed. Fax machines communicate with one another via a telephone line.
Before sending a document, both machines have to confirm they're ready for the process. They need to communicate so that the receiving device can expect the document transfer. The confirmation process is called a handshake, and it sounds like a dial tone.
Here are the key elements that make transferring documents via a fax machine feasible:
Sensor that reads the paper

System for encoding the black and white spots on the paper so they can travel via a telephone line

Mechanism that marks the paper with black dots
What Does a Fax Machine Do?
Fax machines split up a document into a grid of squares, similar to pixels. The sending fax machine does the following:
Reads one line of squares at a time

Beeps a message to the receiving fax machine if the squares are black or white (in the form of ones and zeroes)
The receiving fax machine accepts the message and works simultaneously to convert the document and print it out.
The key to successfully sending a fax via a fax machine is to have separate phone lines. If you use the same phone line while faxing a document, you are at risk of someone calling you during transmission. That can interrupt the communication between two devices and cause you to repeat the process all over again.
What Is the Internet Fax?
The internet has changed the way we fax documents. While fax machines still serve their purpose, there are far too many disadvantages to using them rather than faxing online.
Online faxing involves a simple procedure:
The rest is as simple as sending an email. You only need to attach the document, enter the online fax number in the required field, and send it.
Simplicity is only one reason why you should consider online faxing. Take a look at the table below to discover its other advantages:
Benefits of Online Faxing
Details

Safety

Fax travels straight to the receiver's inbox. There is less chance of an unauthorized person picking up the fax from the fax machine

Price

Fax machines are expensive to maintain. You will have to pay for paper, repairs, ink cartridges, etc.

Practicality

You can fax from anywhere, anytime, and using any digital device—including a PC,

Mac

, laptop,

iPhone

, or

Android phone
You Don't Have To Use a Fax Machine—Use DoNotPay Instead
Our app has developed a nifty feature for sending faxes. You won't have to bother with fax machines ever again! We provide an exceptional faxing service at an affordable price. By accessing our app from your , you will be able to:
Send up to 100 pages every month

Fax automatically from any digital device

Snap a photo or upload a file and fax it quickly

Avoid scanning by taking photos of your checks and bills
If you need to send a classified legal document, we got your back! Our Fax feature integrates with the Legal Documents feature. You can create, e-sign, and fax a document safely to the receiver in record time!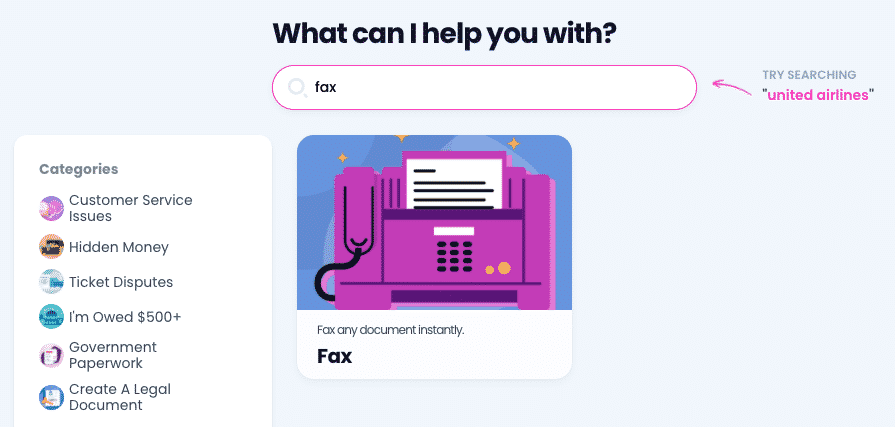 How Does Sending a Fax Online With DoNotPay Work?
Faxing with DoNotPay is no more difficult than texting! You only need to do the following:
Navigate to our app in your

Access the

DoNotPay Fax

feature

Choose the option for sending faxes

Upload a file or snap a photo you wish to fax

Enter the receiving fax number
All you need to do after sending is wait for DoNotPay's confirmation that the file is on its way.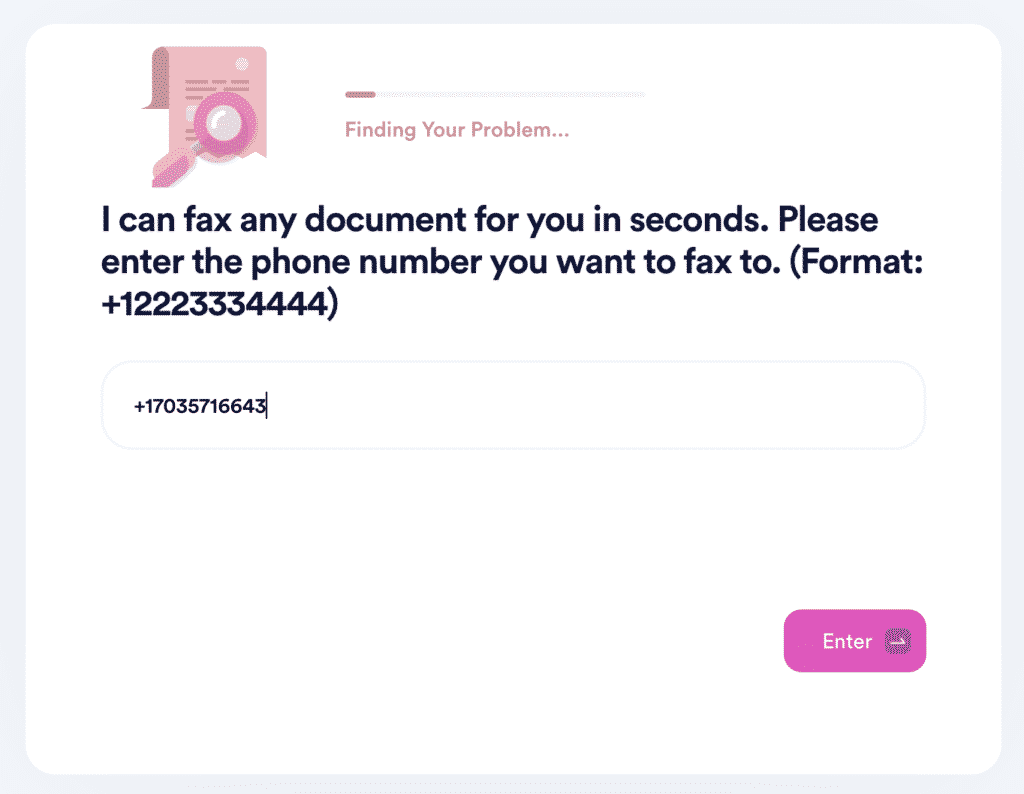 Forget About Bureaucracy With DoNotPay
There's no end to what our app can help you do. From drafting legal documents and asking for bill extensions and reducing property taxes to connecting with an inmate in a federal prison and contesting parking citations, DoNotPay can handle it all and cut through the red tape.
Need to pass a government test? Use our practice tests database to nail it. Looking to file an insurance claim? You've come to the right place. College applications drained your accounts? Request college fee waivers with our assistance.
The DoNotPay app is so versatile that it can easily locate any unclaimed funds under your name or any clinical trials that you're eligible to participate in. We can also schedule DMV appointments and take care of your small claims court documents.
Check Out What Else DoNotPay Has in Store
DoNotPay never stops upping the game. You can explore some of our latest features and see how you can access public records, receive free online fax, submit a warranty claim, or get compensation if you were a victim of a crime.
Alternatively, check out some of our most popular products that aim to reclaim your funds—from getting airline flight compensation and submitting refund and chargeback claims to canceling your unused subscriptions and getting class action cash from email, text, and robocall scammers.