The Breakdown of the RingCentral Fax App

These days, there's an app for everything, and you can do and get everything online. Faxing is another task you can do over the internet without the need for a phone line or an actual fax machine. Online fax services and fax apps have flooded the market, and one of them is the RingCentral fax app.
You'll find answers to your questions about RingCentral in this article, and we'll also recommend other convenient and affordable ways of faxing over Wi-Fi.
Why Use RingCentral and Similar Fax Services Instead of a Fax Machine
Fax machines were a revelation in their heyday. The ability to send documents in a matter of minutes without mailing them was the machines' advantage compared to the slow post office service.
To fax using a fax machine, you need to:
Own or purchase a phone line—Fax machines operate over a phone connection

Configure your fax machine—Set it up, connect it to your landline, and adjust the settings

Have hard copies of the documents you wish to fax—Original docs are the best option since the resolution quality is questionable
How Does Online Faxing Work?
Online faxing is much simpler than faxing with a fax machine as it only requires an internet connection and one device—your phone, tablet, laptop, or desktop computer. Once you sign up for an online fax service, you can:
Send and receive faxes in different ways, depending on the provider:
Mobile fax app

Desktop fax app

Fax service website
Pros and Cons of the RingCentral Fax App
RingCentral is a company providing different cloud-based communication services, including online faxing. Check out the benefits and drawbacks of using RingCentral for your faxing needs:
Pros
Cons

Supports large file attachments

Has an integration with Outlook and Dropbox

Uses SSL security (though it's not HIPAA-compliant)

Doesn't have a digital signature tool

Has high prices

Delays notifications of received faxes
How To Fax With RingCentral
You can use RingCentral to send and receive faxes in various ways. We'll guide you through all the processes below.
How To Fax From RingCentral
If you choose RingCentral as your online fax service, you'll be able to send faxes in the following ways:
Methods
Description of the Process

RingCentral website

Sign in to your account on the website

Click on the fax icon in the top right corner

Enter the recipient fax number

Create your cover page if you wish

Attach a document

Click

Send Now

Email

Open your email account

Tap on

Compose

Enter the receiving fax number followed by @rcfax.com

Type in the subject line, which will be your cover page

Attach documents for faxing

Click on

Send

Desktop and mobile app

Open the app

Click on the

Compose Fax

icon

Type in a fax number in the

To

field

Create your fax

Tap on

Send Now
Where Does RingCentral Receive a Fax?
If you purchase a RingCentral subscription, you can receive faxes in your:
Email

Mobile app

Desktop app

Online account
Save Time and Money by Faxing With DoNotPay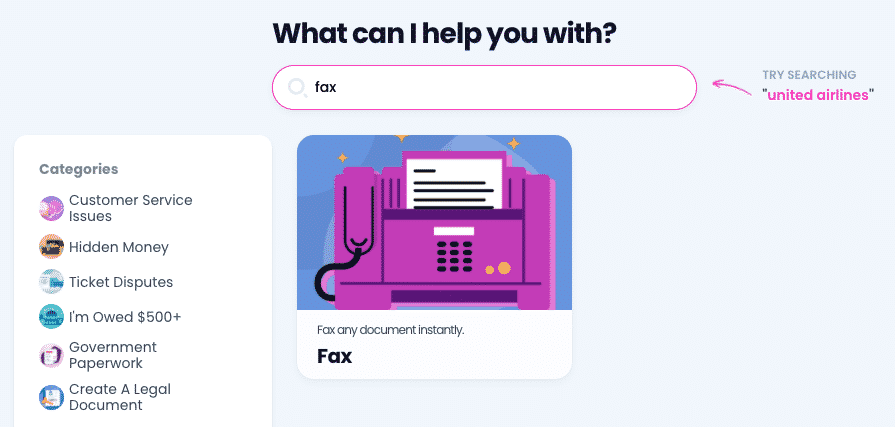 While RingCentral is a valid option for online faxing, it comes with various drawbacks, and it's pricey for both the occasional user and the regular faxer.
is flexible and affordable, and it comes with great perks, such as:
Fast file upload

Easy faxing from any device

Convenient option to take a photo and fax it

100 pages per month to send and receive

Useful integration with our

Legal Documents

feature (generate a contract, e-sign it, and fax it)
Use DoNotPay To Send Faxes in a Jiffy
Sending faxes using our app is straightforward. All you have to do is follow these instructions:
Open DoNotPay in any

Navigate to our

Fax

feature

Choose the sending faxes option

Take a photo (e.g., of a bill or check) or upload a file you wish to fax

Type in the recipient's fax number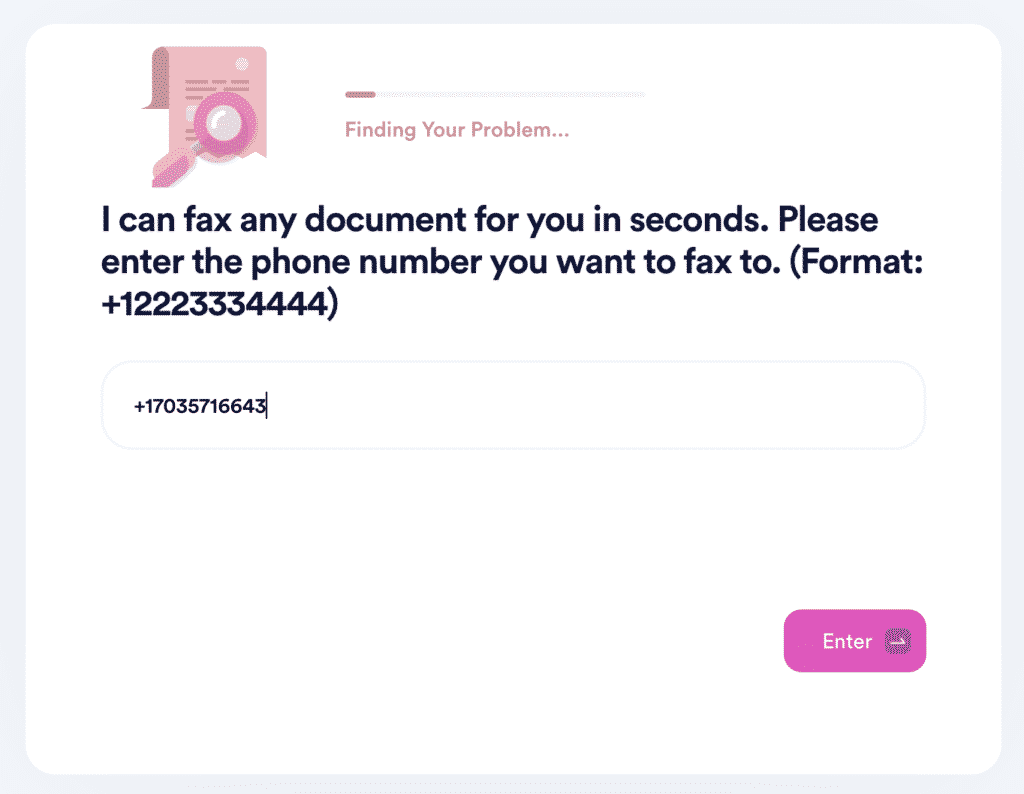 The app sends your fax right away. We'll notify you that we have sent your fax successfully.
How Else Can I Fax?
Online fax services and apps are not the only methods of sending faxes. You can turn to our articles breaking down different faxing options:
If you're left with any more questions about faxing, turn to our learning center, and you'll find your answers. Here are a few questions we can clear up for you:
Fighting Administration Is Easier With DoNotPay
Bureaucracy is a disease of the modern world, and we finally have a cure. Thanks to artificial intelligence, DoNotPay knows how to handle numerous rules and regulations and make your life so much easier.
Our bots ask you a few questions, gather the necessary info, and off they go! Filing warranty and insurance claims, requesting property tax reductions, getting access to public records, or claiming unclaimed funds under your name—you can deal with these bothersome tasks from the comfort of your home and within minutes!
If you need to get in touch with customer service representatives to ask for refunds or contact airline companies regarding compensation, our platform will make the process painless and care-free.
Don't hesitate to put our app into service if you need to contest parking tickets or avoid long lines at your local DMV!
How Else Can We Help?
Not only does DoNotPay handle bureaucracy, but it also saves you money in the process. Whether you're looking for the best learning materials for government tests or planning to comb through and cancel streaming subscriptions you don't use, DoNotPay can give a helping hand.
Our platform grows every day and comes with user-friendly features that will help you manage unpaid bills, stop copyright violation, or solve problems with credit cards faster than ever!