Are Fax Machines Obsolete? Find Out With DoNotPay!

There is an ongoing debate about the use of fax machines. Are they necessary? Do people still use them? Is online faxing a reliable option? Is internet faxing better than traditional?
In this article, you will find every important piece of information about this topic and the answer to the question—are fax machines obsolete?
Why Are Fax Machines Inconvenient?
Fax machines used to be a great invention, once upon a time. Now that everything is fast-paced, we can't depend on machines that don't comply with that. There are many reasons why fax machines stopped being people's first choice when it comes to sending files, including:
Being too slow

Requiring phone lines to work

Taking up too much storage

Producing poor quality photos and documents

Not being cost-efficient

Wasting paper and toner

Causing unexpected expenses due to maintenance issues and fails

Requiring spare parts that are not easy to find anymore
Some banks, companies, and financial and healthcare sectors still prefer faxing over any other method of exchanging confidential documents. Since we can now use the internet to send faxes, are fax machines becoming obsolete?
How Does Internet Faxing Work?
Technology is constantly developing. We have new apps, gadgets, and online services coming out every day. We can use our smartphones in any situation and get anything we want in a couple of clicks. The internet has allowed us to live our whole lives and do day-to-day tasks in virtual spaces, so why would anything be different with faxing?
Online faxing uses the same principles as the traditional facsimile transmission. The difference is that internet faxing uses a Web interface instead of a fax machine and phone line, and you can use a laptop or smartphone.
There are many fax apps and services on the Web. They differ in price range and quality, but the processes look similar.
Here's how to fax online:
Attach a document to an email

Insert the recipient's fax number

Add the name of the used service on the recipient's fax number
After you complete the steps, here's how your fax is being processed:
The service translates the attachment for a fax machine

The service sends data across the phone line

The fax machine of the recipient decodes the data and prints the document
The receiving process is fairly similar in terms of processing documents. What is different is that the user of a fax service gets a fax phone number that others can send faxes to.
What Are the Alternatives to Traditional Faxing?
Fax machines may be outdated, but faxing is still necessary for some. There are many alternatives to choose from when it comes to faxing documents, but they are not all issue-free. Check the table below to see some faxing alternatives and their features:
Method
Pros and Cons

Fax apps

Useful

Can be expensive

Can have system bugs

No guarantee of quality

Doesn't require a phone line

Requires a fax machine

Unreliable

Possible transmission failures due to scrambled fax signals

Comes free with any version of Windows, from Vista to Windows 10

Easy to use

Requires a landline phone line and a dial-up modem
DoNotPay Has the Most Useful Online Faxing Service
If you need to send documents, but you don't want to buy a fax machine, DoNotPay has a service for you! With our Fax feature, you can:
Send faxes in a flash

Snap and fax photos quickly

Send up to 100 pages every month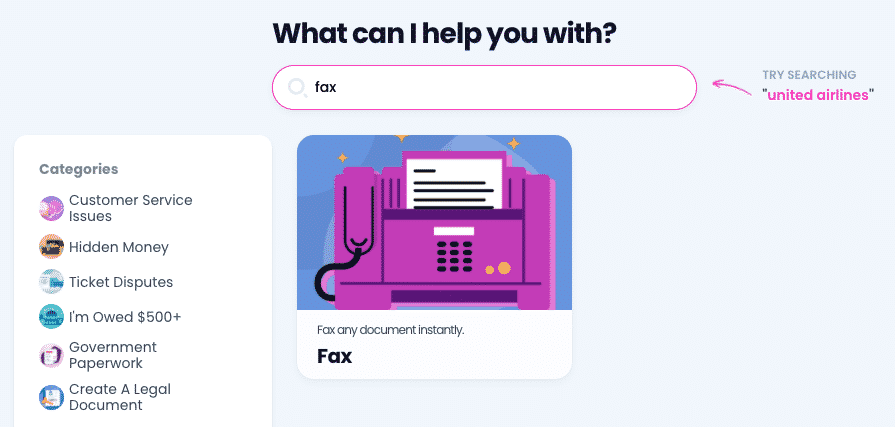 DoNotPay created the Fax service to help anyone not willing to pay an arm and a leg for poor service that some fax apps provide. With our feature, you can fax without a machine or phone line.
How Does DoNotPay Stand Out?
With a variety of available options, it can be hard to choose the best one. We can assure you that opting for DoNotPay is a no brainer! We are not an online fax service—faxing is just one of the numerous convenient features of our platform.
Besides faxing, DoNotPay helps you to dispute parking tickets, request public records, file insurance, and warranty claims, locate unclaimed money, and handle other day-to-day tasks hassle-free. You can create a contract or legal document with our Legal Documents service and then fax it quickly to the other party to sign it.
How To Send Faxes Using DoNotPay
DoNotPay strives to offer the best quality services that are fast, practical, and easy to use. The same applies to our Fax feature.
Here's how to use DoNotPay for sending faxes:
Access our app from any

Choose the

Fax

feature

Select the

Send a Fax

option

Add a photo or document

Insert the recipient's fax phone number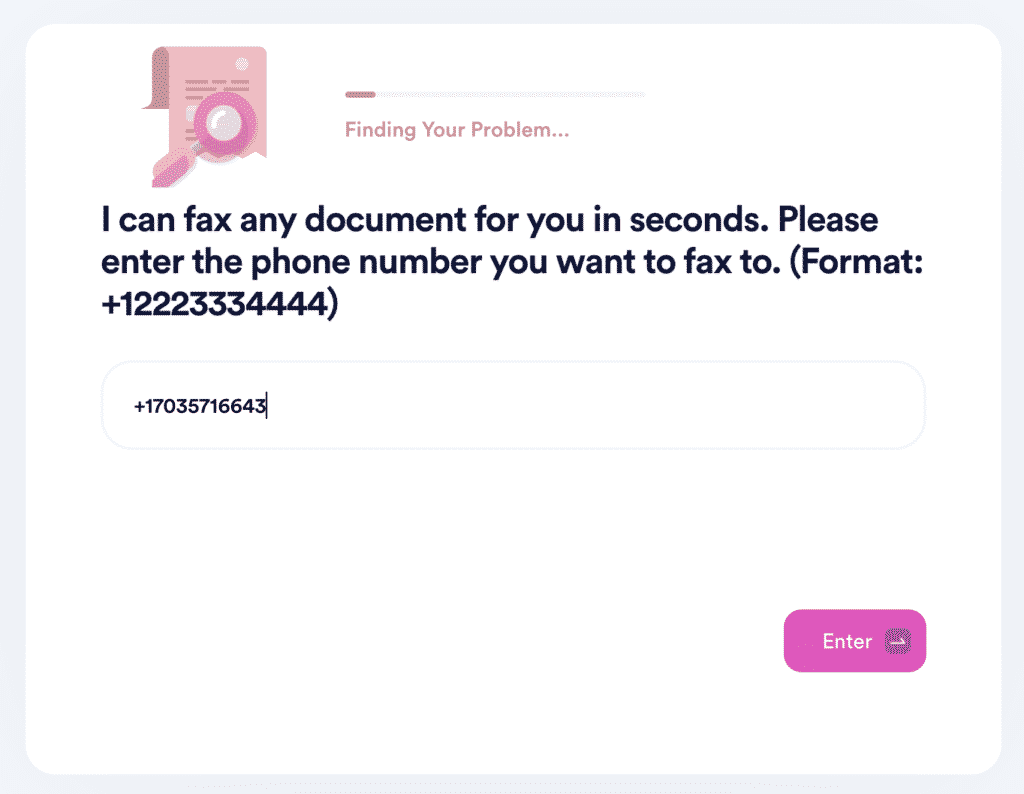 DoNotPay will send a fax on your behalf and notify you with a confirmation message once the process is complete.
Your Online Safety Is Our Priority
The benefits of the internet are numerous, but so are the opportunities for scams of all kinds. DoNotPay can help you fight scammers left and right with easy-to-use features, highly customizable to match your needs.
Our app can provide invaluable resources for fighting:
If you're an avid online shopper, we have your back. In case something goes wrong, we will help you contact customer service without holding, request a refund, or even sue the company in small claims court.
Diversity Is Our Middle Name
DoNotPay doesn't stop at online safety. Do you need to set up an appointment at the local DMV, but keep procrastinating because you know how awful the lines are? Are you a prospective college student trying to save on application fees? Have you lost track of all unnecessary subscriptions and memberships that keep draining your bank account?
If the answer is yes, DoNotPay is the right platform for you. Whether you're preparing for government-issued tests or looking for ways to lower your bills, our app will be of assistance.