How Much Does UPS Charge To Fax, and Are There More Affordable Alternatives?
It's reasonable to assume that faxing is an outdated practice, and it's no wonder that the majority of people don't have a fax machine in their homes or know how to fax.
Many high-profile companies prefer faxes over emails, though. If you're looking for neat and affordable fax services near you and wondering how much it costs to send a fax, we can help you.
United Parcel Service (UPS) offers fax services, so it's an option worth considering. But how much does UPS charge for it? We will give you all the answers to your UPS-fax-related questions.
You'll also learn that offers a safer, more affordable, and much more convenient alternative to traditional faxing.
About the UPS Fax Service
UPS is best known for their package delivery services, but the company offers other ones as well—faxing being one of them. At any UPS store, you can:
Send and receive faxes

Get assistance from customer service if you don't know how to use a fax machine

Use self-service multi-function printers

Get

cover sheets

from the counter
How Much Does UPS Charge To Fax?
The prices for the UPS fax service vary by store and area.
In the table below, you can see the approximate costs of the UPS fax service:
| | | |
| --- | --- | --- |
| Fax by Area | Price per Page | Price per Additional Page |
| Local | $1 | $1 |
| National | $2 | $1 |
| International | $3 | $3 |
Since these are only approximate prices, don't be surprised if UPS charges you up to $5 for one page you want to fax. The price can also go as low as 0.50 cents per additional page.
How To Fax Signatures or Documents in a UPS Store
If you've never faxed a document in a UPS store, you may be at a loss to know how the process works.
Here's what you should do:
Go to the nearest UPS store in your area

Give your document to a staff member that's available to assist you

Show the associate the fax number (you can write it for them, or they can read it from a cover sheet if you're using one)

Add

1

before the area code in the fax number if it's a long-distance fax

Wait for the connection to be established and your documents to be scanned
In a UPS store, you can also receive faxes. If you need to get a fax, you have to tell the person who is sending it to you to include a cover sheet with your name and phone number on it.
You may need to go to the UPS store to check whether your fax has been received. In other instances, the company will call you. Check what the practice is at your local store.
If you are using the USP services a lot, you should also learn how to:
Is UPS a Convenient Way To Fax Documents?
If you only need to send a fax once in your life, taking the trouble to go to the UPS store may be a forgettable experience. What's more likely, though, is that you'll have to fax documents more than once in your lifetime.
Not only is it inconvenient to take a trip to the UPS store each time you want to fax a document, but you also need to:
Work with a fax machine, which takes way longer to send faxes than the online alternative

Pay per page, which is costly if you need

to fax multiple pages
All this doesn't mean that buying a fax machine is any better than going to a UPS store. Fax machines are tricky because they:
Require a connection with a landline, which is another outdated device

Incur additional costs, such as paper, cartridge, electricity, and maintenance

Negatively affect the environment

Are inconvenient when you're away from them and need to send a fax quickly

Are not safe because other people can see the documents you're faxing
Send a Fax From the Comfort of Your Home With the Help of DoNotPay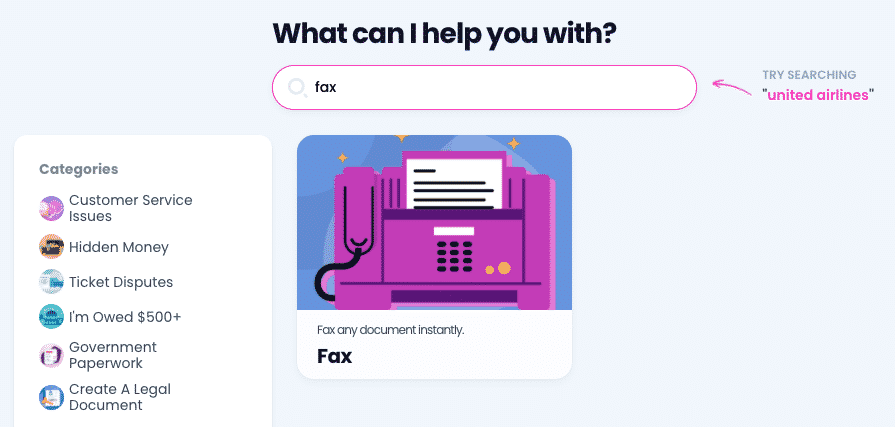 Since the traditional methods of faxing put a strain on your patience and finances, online faxing is the way to go.
Even if you only need this service occasionally, using fax apps to fax files from your phone is the best course of action. You get to:
Fax documents at any time without having to pay extra based on the area of the recipient

Protect the privacy of your documents as they are stored electronically

Send files quickly from your phone, laptop, or PC
These are the exact benefits you'll get if you fax your files with the help of DoNotPay. If you opt for our AI-powered app, you will need to take only three steps to fax documents:
Access DoNotPay from any

Upload your document or snap a photo to make the process even faster

Enter the fax number you're sending the file to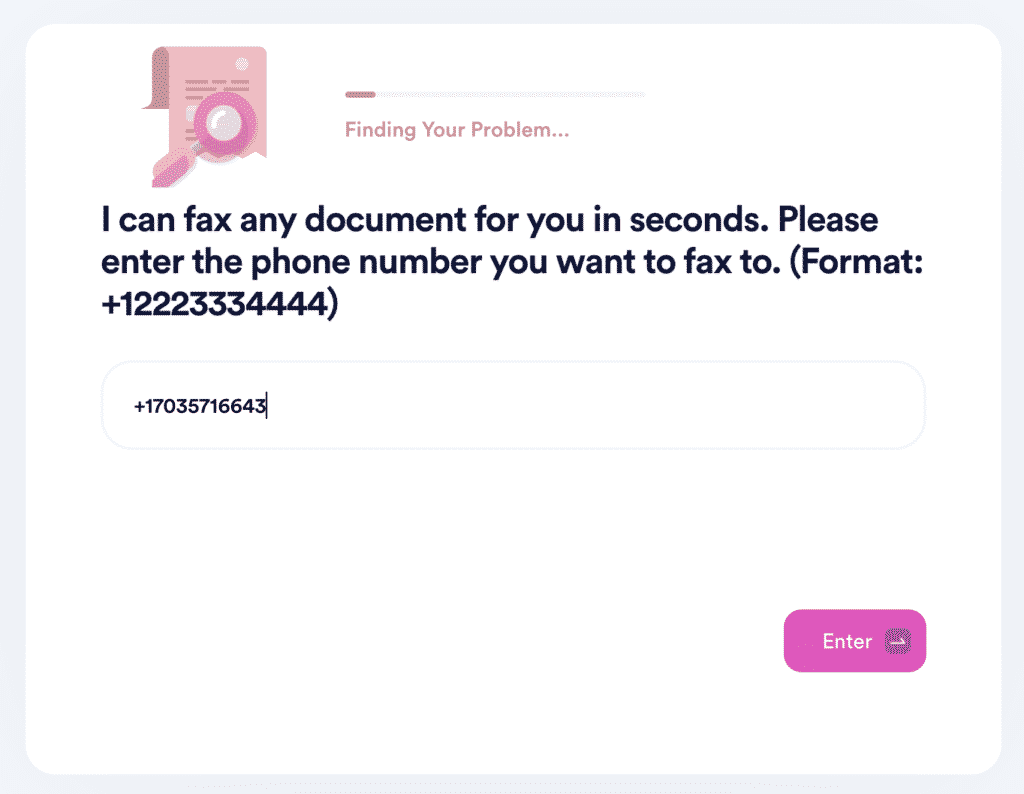 DoNotPay will send you a confirmation message that your fax has been received.
That's it! You no longer have to look for third-party services that use obsolete technology and charge you more than necessary.
Do You Know What Else You Are Eligible For?
DoNotPay is a handy virtual assistant that can reveal a world of possibilities that you may not have even been aware of. We've perfected our algorithms to identify opportunities for you to save up and take charge of your rights.
Here's a fraction of what we can do for you:
What Else Is New With DoNotPay?
DoNotPay boasts several new features that can help make your everyday life so much easier.
Have you been wondering how to file an insurance claim but weren't sure where or who to turn to? We'll gladly do it for you.
Are you tired of outdated faxing practices and manual documentation? Our app can provide you with an online fax solution and draft all your legal paperwork in no time at all.
Do you need a safe place to prepare for your upcoming government test? DoNotPay will give you all the prep tests you need.
We can help out with locating an imprisoned loved one and keeping correspondence with them via our virtual mailbox.
See what else DoNotPay has in store by accessing our web app in any browser.