How To Send Files Using a GotFreeFax Online Service Easily
Faxing confidential documents to business partners or medical and government institutions is still the safest and most efficient communication method. Lots of companies use fax as a preferred way of business correspondence because it's way more reliable than email.
GotFreeFax is one of the online fax services you can use for your private or business communication. The beauty of online fax services and available fax apps is that you don't need to buy a fax machine. DoNotPay provides information on how to get a fax number, send faxes, or fax from your phone.
What Is GotFreeFax?
GotFreeFax is an online fax provider you can use to send faxes. You can upload ten files per fax and opt for a prepaid account, but you can't receive any faxes.
Plenty of fax services and apps place branding or ads on the fax cover page, which isn't acceptable for business documents. GotFreeFax doesn't do this even when sending free faxes, which is an advantage.
This service supports the following file formats:
PDF

Microsoft Word, i.e., files with

.doc

or

.docx

extensions

Rich text, i.e., documents with

.rtf

extensions
Payment Options With GotFreeFax
GotFreeFax offers different pricing options ranging from free to pay-per-fax and premium prepaid fax services. The amount depends on the number of pages you'd like to send.
To give you a better idea, here's an example of one-time online fax services:
Rates from the USA to:
Up To
USA and Canada
Mexico
India

Free

∕

∕

Three pages per fax

Two faxes a day

$0.98

$3.90

$9.30

10 pages

$1.98

$7.50

$18.30

20 pages

$2.98

$11.10

$27.30

30 pages
For premium prepaid faxing service within the U.S. and to Canada, you need to pay $9.95 for 100 pages, $19.95 for 300 pages, or $49.95 for 1,000 pages.
These prices increase significantly for the GotFreeFax international prepaid service. You can opt for a $49.95, $99.95, or $199.95 prepaid fax credit option for international fax services. To get more data, take a look at prices per country on the GotFreeFax website.
What's Wrong With Fax Machines?
Despite modern technology, faxing is still required in certain circumstances. Lots of organizations deem faxing a more secure way to send documents, especially sensitive ones like contracts.
Should you use a fax machine to dispatch your files, you're wasting tons of paper, which negatively affects the environment as well as your budget. A standard fax machine requires you to print out a file to fax it. The same document is printed out again on the other end.
Using fax machines isn't a convenient or accessible option sometimes. What if you have to fax something urgently and you can't go to the office at that moment? DoNotPay can help you solve that problem easily! We offer a convenient and cost-effective online fax service you can use on the go.
How To Fax From My Computer for Free
You can fax files from your computer by accessing an online fax service.
Although emailing is the most common option for sending files nowadays, some organizations require documentation to be sent via regular mail or fax because of security issues.
Individuals and business widely use online faxing as it's:
Faster than mailing letters

Integrated with the internet and efficient

A more secure option of sending official documentation

Required for lots of government, medical, and official institutions
Use DoNotPay to send faxes from your laptop or phone. We also provide the specifics of sending faxes via Windows10 and Google, or from Mac and iPhone.
Opt for DoNotPay To Fax From Any Place at Any Time!
With lots of online fax providers, you need to sign up for paid services if you'd like to send and receive faxes regularly. This can be a hefty sum, ranging from $10 to $50 a month.
Apart from a high price, some providers, like GotFreeFax, only offer an option of sending faxes, so you'll have to find another way to receive documents.
DoNotPay allows you to at a reasonable price.
When choosing DoNotPay as your affordable fax provider, you will be able to:
Send up to 100 pages a month from your phone or laptop

Send instant fax the moment you take a photo with your phone or upload a file

View your faxes from your email

Generate a document, e-sign it, and fax it automatically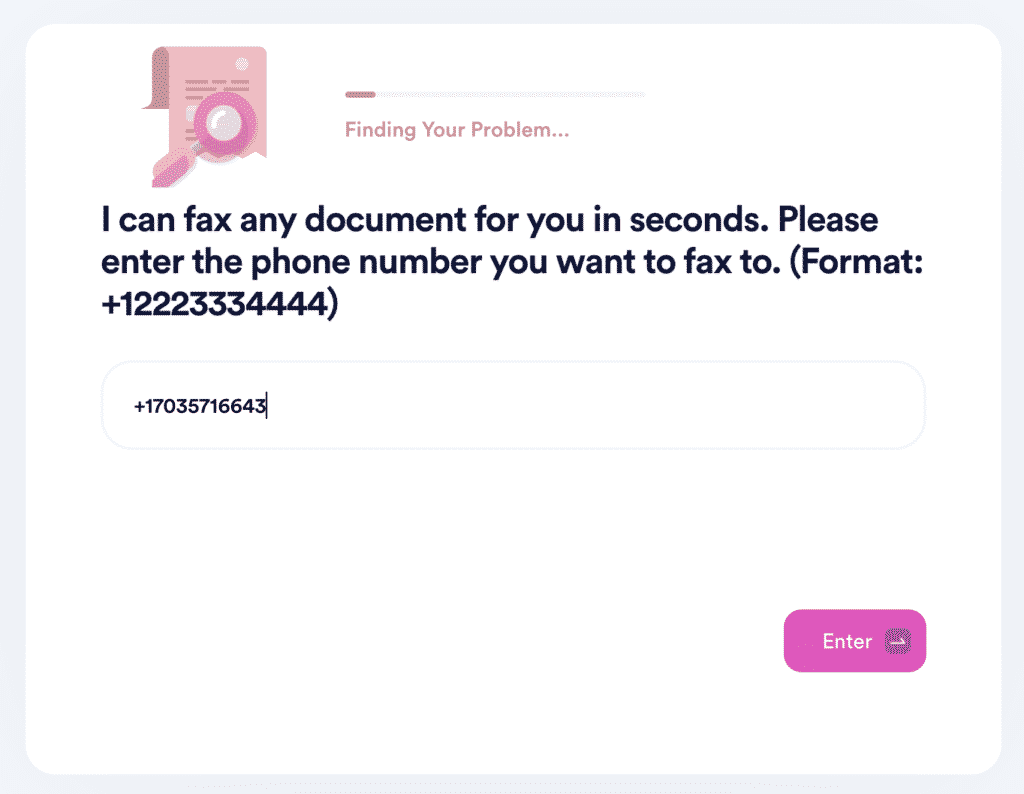 We've considered your business needs and integrated various useful features within our fax service.
Use DoNotPay To Fax in the Blink of an Eye
DoNotPay offers an affordable and convenient option to send all your documentation safely.
Here's what you should do:
Open DoNotPay in a

Access the

DoNotPay Fax Product

Upload the document you would like to fax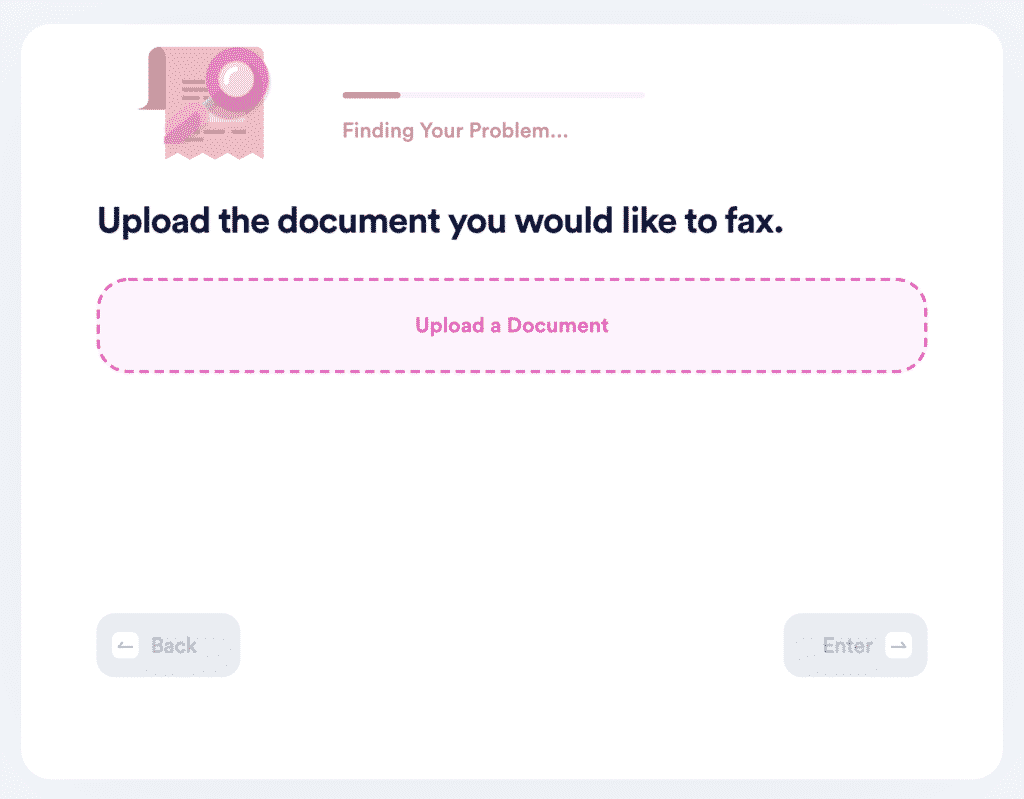 With DoNotPay, you can fax with minimum effort while relaxing in your favorite cafe or sitting on a beach.
How Else Can DoNotPay Help You Find and Save Cash
Our Missing Money feature helps you find any unclaimed assets in your name in any state. An additional perk is that you can claim your money right in the app—no need for further research!
We can also make sure you don't pay for any unfair parking citations and get the rightful compensation from airlines for any canceled or delayed flight.
Don't let big companies scare you into not claiming your warranties or insurance. DoNotPay helps you file these claims and appeal any rejections in minutes, which brings you closer to getting your money.
We can also delay your bill payments, get your college fees waived, or sign you up for paid clinical trials to earn some extra cash!
DoNotPay Keeps the Spammers Away
Whether you're dealing with email spam, text scammers, robocalls, or severe harassment, DoNotPay can help.
Use our virtual credit card or the Burner Phone feature to sign up for free trials safely—without revealing your real info. DoNotPay will make sure that no company can reach you when you use our tools.
We provide a fake email address, credit card info, and phone number that are in no way connected to your real data.
We can also help you cancel services or request a refund without you having to contact the company directly.