How To Fax With the Verizon Fax Service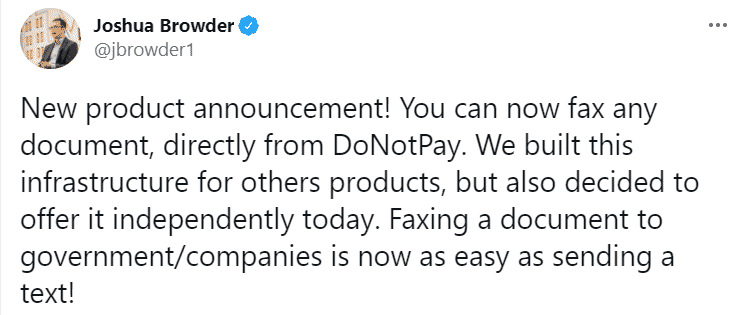 One of the most reliable methods of sending contracts and other confidential documents is faxing. Fax machines used to be popular back in the day. With the internet constantly developing, there is little to no use for outdated appliances, such as a fax machine.
Instead of fax machines, banks, companies, and medical centers now use the internet to send important files.
In this article, you can find all about the Verizon fax service, one of the more popular fax services out there.
Everything There Is To Know About Verizon Wireless Faxing
Verizon Wireless, a division of Verizon Communications, is an American telecommunication company. Verizon Wireless has many features, and a faxing service is one of them.
By using the Fios Digital Voice product, you should be able to send faxes with almost any fax machine on the market.
The other option is to use your smartphone for faxing. You can find some of the fax apps that work with Verizon fax service in the table below:
Fax App
Features
Price Range

Files Anywhere

Allows faxing, syncing, storing, and sharing documents

Has a traditional cover sheet

Has an On-Premise subscription plan (pricing on request)

From $9.98 to $39.96 a month

CamScanner

Allows scanning, sharing, and editing documents

Starts with 200Mb of storage

From $4.99 to $49.99 a month

Breezy—Print and Fax

Allows faxing and printing documents

Works with any printer from the Breezy Partner Network

From $1.99 to $19.99 a month
If you don't want to pay this much money to send a document, you can use Verizon's Fios Digital Voice.
How To Use the Verizon Wireless Fax Service
To send a fax using the Fios Digital Voice, you are going to need a fax machine connected to a working jack. Before starting the process, make sure call forwarding is turned off. Here's how to send a fax:
Connect a fax machine to an electric outlet

Turn it on

Dial the number you want to send a fax to, using a

Fios Digital Voice
What Are the Alternatives to Verizon Fax Services?

Verizon Wireless might not be for everyone—it most certainly isn't the cheapest option. Here are some alternatives to Verizon Wireless that you should check out:
How To Send Documents With Traditional Fax Machines
Fax machines used to be an ingenious invention before the internet, and many people still use them. They lost their popularity because of the poor document quality, high requirements, maintenance issues, and many other reasons. Here's how they work:
Plug the machine into a power source

Connect the phone line

Put the documents in

Fill out the cover sheet

Dial the phone number of the recipient

Start the process
How To Send Documents With Windows' Fax and Scan
Fax and Scan is a useful feature that comes free with every Windows, from Vista to Windows 10. The major disadvantage is that it requires a working phone line. Here's how Fax and Scan works:
Open

Control Panel

on your computer

Go to

Programs and Features

Choose

Fax and Scan

Press

OK
How To Send Documents With Fax Apps
Online fax apps are widely popular nowadays. They all work on similar principles but have different price ranges. Many fax apps attract customers with the promise of free faxing but end up charging them after a couple of pages. Each app has a different procedure, and to send a document, you must follow the specific instructions.
DoNotPay Is the Most Convenient Service for Online Faxing
Do you want to send documents without a phone line and fax machine? It's not a problem for us!
DoNotPay developed the Fax feature, an online faxing service that meets everyone's needs! With our service, you can:
Send up to 100 pages

Fax quickly with the snap of a photo

Send files in a flash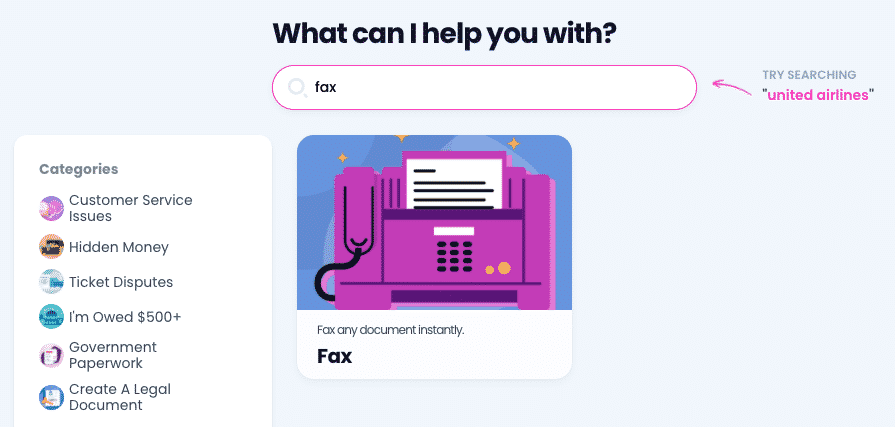 How does DoNotPay stand out from other online fax services? While we do have excellent faxing service, we are not exclusively focused on sending faxes. DoNotPay is a virtual assistant—with a low monthly subscription, you can enjoy every single one of our services, including getting refunds from airlines, requesting public records, ending text spam, and so much more!
By combining our Fax and Legal Documents services, you can create any legal document you need, sign it electronically, and fax it to other parties with zero hassle!
How To Send Faxes Using DoNotPay
When you choose DoNotPay, you are choosing speed, quality, usefulness, and cost-efficiency. We're constantly improving and making sure our clients get the best service.
Here's how to fax with our service:
Access our app from a

Choose the

Fax

feature

Select

Send a Fax

option

Upload a picture or file

Add the recipient's fax number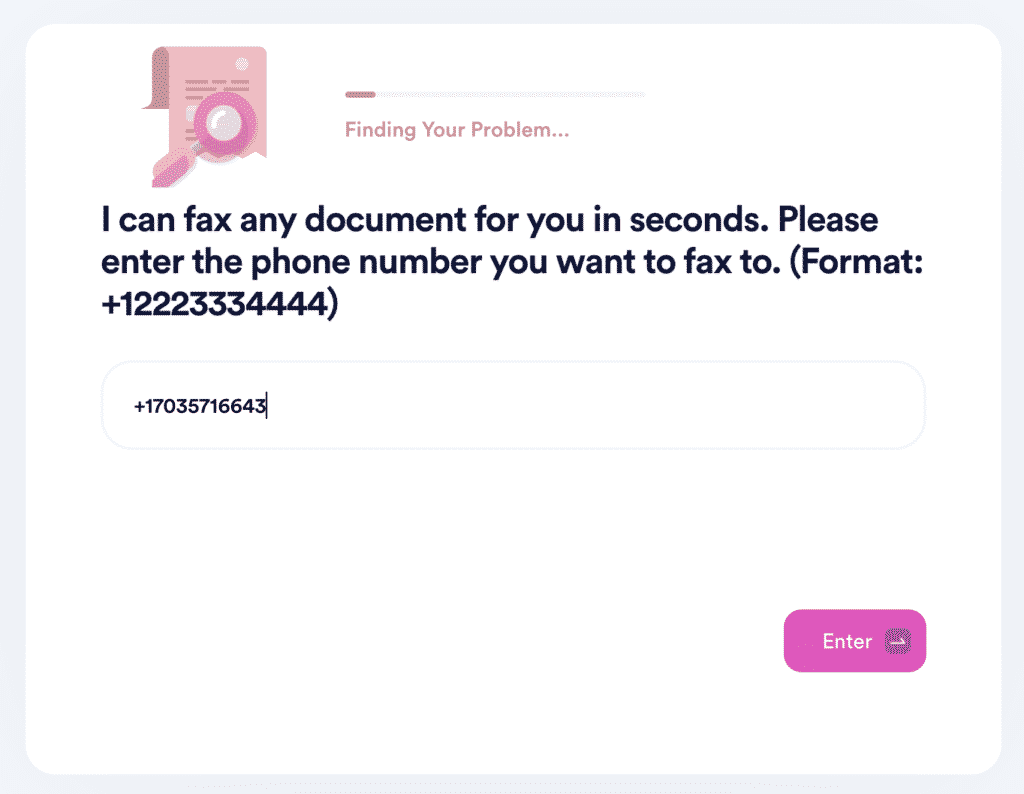 We will send a fax to the provided number and inform you once the process is complete.
DoNotPay Is an Ultimate Money-Saving Assistant
Our app can help you manage bills that are too high to pay, but there are plenty of other money-saving possibilities out there we can help you with.
Want to challenge a parking ticket? DoNotPay can dispute parking citations in any city! Is someone getting revenue from your creative work? Cut the thieves off with DoNotPay!
We can also help you get your college application fees waived, file any insurance or warranty claims, locate unclaimed funds in your name, or earn some extra cash from paid clinical trials in your area.
No More Risky Free Trials With DoNotPay
Do you love free trials but tend to forget to cancel your subscription before the trial ends? If this is the case, check out DoNotPay's virtual credit card for a risk-free experience.
With our virtual credit card, you can sign up for any service without worrying about unwanted charges. DoNotPay will even provide you with a random email address, which will help keep your inbox clean from spammy emails from the company.
Our app can also get in touch with the company's customer service, request a refund from them, or even escalate your issue to small claims court if the company is challenging to communicate with.