Georgia Commercial Driver's License Practice Test—From A to Z
Passing a CDL test in Georgia will bring you one step closer to operating commercial motor vehicles (CMV). If you'd like to ace the written CDL test as effortlessly as possible, you should take a few practice tests. DoNotPay has a large database of numerous government prep tests, including CDL exams in Texas, Florida, Illinois, and any other state.
Everything You Should Know About the
Georgia CDL Test
The Georgia Department of Driver Services is dedicated to testing individuals who want to obtain commercial and non-commercial driver's licenses. Prospective CMV drivers need to be 18 years old to apply for the CDL in Georgia. If you obtain the license before you turn 21, you'll be allowed to drive intrastate only. Drivers that are 21 years old can drive to any American state. Another condition to apply is to be a Class C driver's license carrier.
To obtain the GA CDL, you should complete the following steps on your driving test checklist:
Upon applying for the CDL test in Georgia, you need to provide documentation showing your:
Identity

Proof of U.S. citizenship or lawful status in the United States

Residential address

Social Security number
Drivers who want to land better jobs can also pass various endorsement tests.
GA CDL Endorsements
You can obtain seven endorsements on your CDL by passing the required exams:
Why Should I Prepare for the
GA CDL Test?
The application fee for the CDL test in Georgia costs $35. The total price of multiple written and skill tests can quickly add up and become too expensive:
| | |
| --- | --- |
| Test Type | Fee |
| Knowledge test | $10 |
| CDL road skills test | $50 |
| CDL endorsements | $5 each |
| For-hire endorsement | $15 |
If you pass each exam on the first try, you will save a lot of money. To ace your test hassle-free and avoid paying for the fees more than once, you should consider preparing for the exam.
Well-prepared candidates are more confident with their knowledge, which helps them concentrate on the questions better. Preparation will also help you calm your nerves.
Best Ways To Prepare for the
CDL Permit Test in GA
While reading the official DMV manual should be your first step, there are other ways to prepare for the test:
Flashcards

Study guides

Online and offline courses

Practice tests
Preparing flashcards can be time-consuming, while courses and tutors are usually super expensive. If you want to save both time and money, taking practice tests should be your choice.
Learn All About the
Georgia CDL Practice Tests
Most people find the question and answer method of studying the most fun and efficient one. They simulate the real written exam by collecting questions from the topics in the manual and previous tests. Taking GA CDL practice tests is one of the best ways to prepare because you can:
Get familiar with the exam structure, which will make the real deal much easier to handle

Recap everything you learned from the manual

Notice areas that need more of your attention thanks to immediate feedback

Set the time like on the real exam and ensure you get used to the time limit

Get the same or similar questions on the real exam
You can take practice tests on multiple platforms, including , Driving Tests, and DMV Permit Test.
Take the
GA CDL Practice Tests
Hassle-Free Thanks to DoNotPay
DoNotPay offers the best way to prepare for the CDL written exam in Georgia, Idaho, and Connecticut. Our platform is easy to use, and it features a myriad of prep questions to help you prepare as effortlessly as possible. If you're interested in taking CDL GA practice tests with us, follow these steps:
Access DoNotPay from your

Type in the name of the test in the

Search

field

Choose the exam you want to practice

Pick how many questions should be on the prep test—10,20, or 30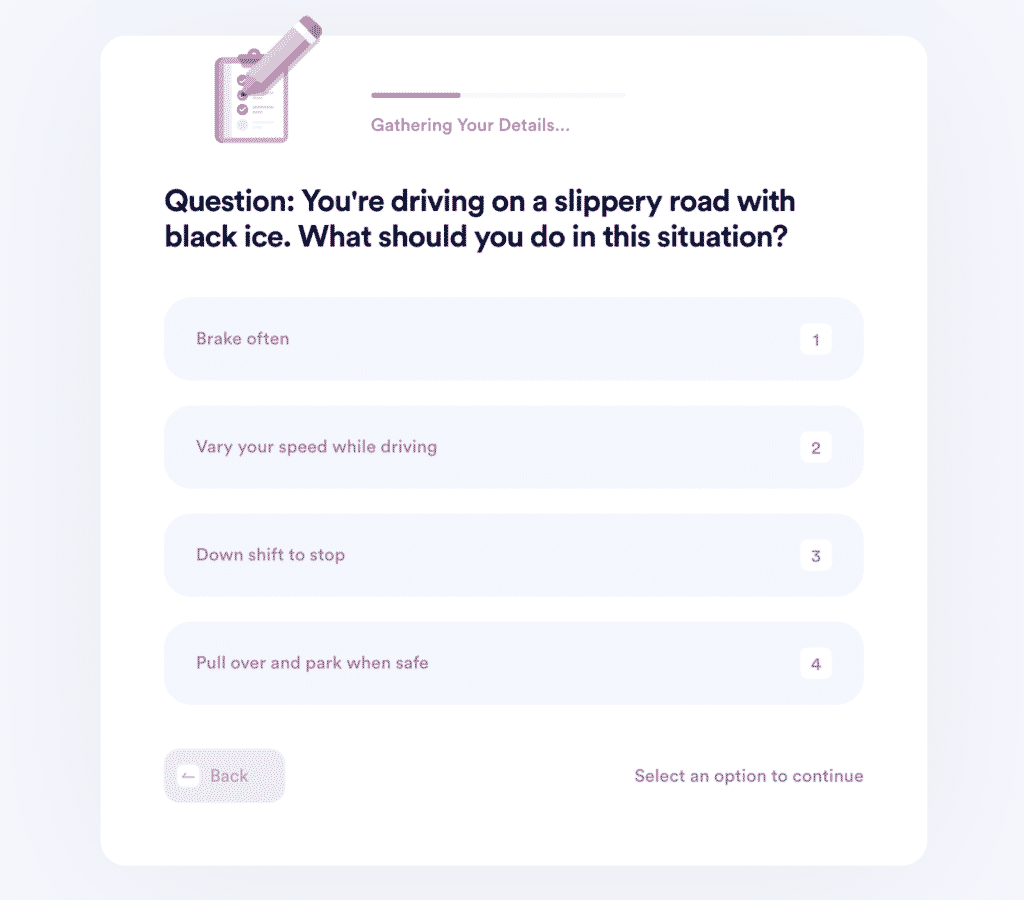 Concentrate and respond to each question carefully. If you make a mistake, you'll know it right away. You will have an opportunity to redo it on the spot. Should you decide to continue with the test instead, you can retake it once you get the score.
Ace Any Government Test Fast and Easily With DoNotPay
Besides assisting you in preparing for the CDL test in Georgia and any other state, our platform can help you pass other government tests, including:
Even though you can't fail the ASVAB exam, obtaining a good score will ensure you get your desired job in the military.
What Else Can Our Award-Winning App Do for You?
If you think that's impressive, wait until you've heard about other features we boast!
Our robot lawyer app can draft paperwork for you, locate unclaimed funds under your name, cancel subscriptions, sue robocallers, and protect you from stalkers and harassers—all in one nifty browser app!
Our services have been recognized by the esteemed ABA Brown award, serving as a testament to our abilities to assist you with your small claims issues, free trial auto-renewals, college fee waivers, public records, copyright protection, and much more!
More Benefits of DoNotPay
DoNotPay is a useful tool for handling many otherwise annoying life's trifles, including: