Take the Most Efficient
CDL Practice Test
in
CT
When taking a CDL test to launch your commercial driving career, it's crucial to prepare. Studying from the Connecticut Commercial Driver License Manual is of utmost importance, but without testing your knowledge and familiarizing yourself with the test format, it won't mean much. This is where practice tests come in.
DoNotPay's Government Test Prep feature brings you the best CDL practice tests together with handy tips to help you with the testing process.
A Breakdown of the
CT CDL Test
To operate commercial vehicles in Connecticut, you need to pass the CDL test. Here's what you can expect from it:
Test Segment
Details

General Knowledge Test

This is a written test with 50 questions

The passing score is 80% or 40 correct answers

Skills Test

Pre-trip inspection

Static course

On-the-Road/Skills test
You may need to take additional endorsement tests depending on the type of vehicle you'll be driving:
Why Should I Take CDL Practice Tests?
Practice makes perfect! Even if you study from the CDL manual for weeks on end, that doesn't guarantee you'll be ready to take the exam. You can try out different CDL courses, tutors, or study guides, but if you don't take practice tests, you won't know what to expect from the real deal.
Up-to-date practice tests are a great way to see what the actual test will look like. You can practice time management and see how many questions you can complete during the designated time frame.
The questions may also give you an insight into the areas you need to revise or pay more attention to.
Take DoNotPay's CDL Practice Tests To Elevate Your Results
Many CDL practice tests are available online, but that doesn't mean they are affordable, reliable, or up to date. DoNotPay's practice tests are based on the most recent CDL manuals and official guidelines. Our app also gives you the option to tweak the test length according to your preference and take the same test countless times.
Follow these instructions to access our CDL practice tests:
Open DoNotPay in any

web browser

Enter

CDL Test

in the search bar

Decide on the number of questions—10, 20, or 30

Start practicing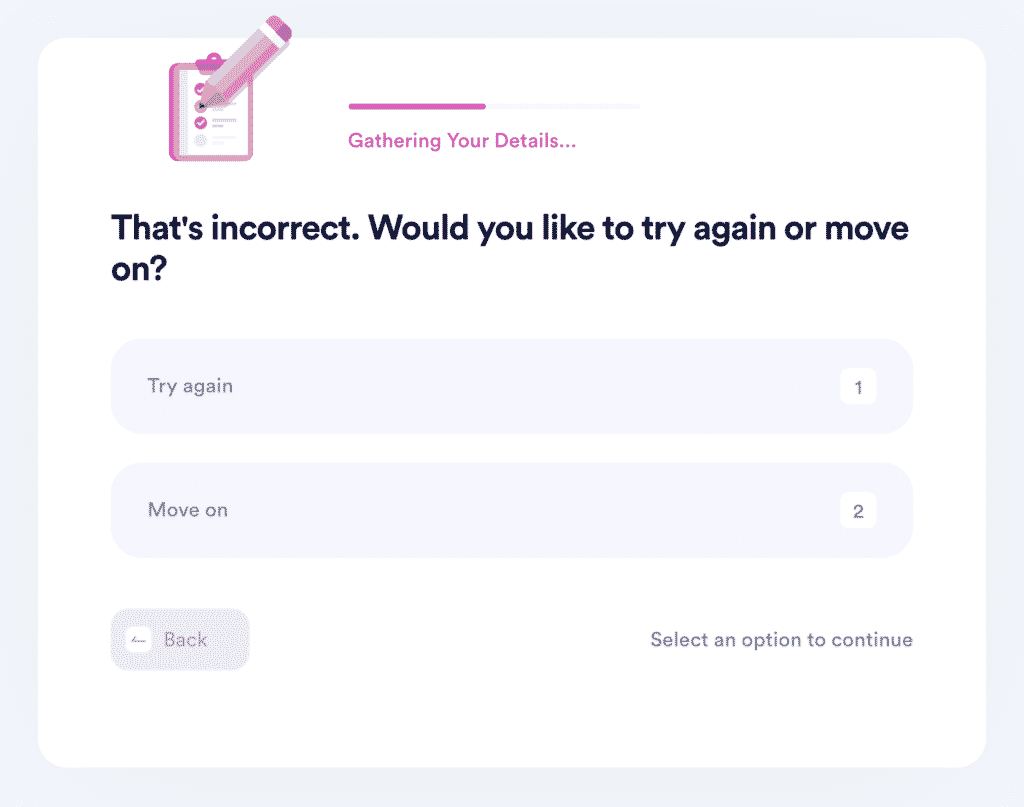 DoNotPay Helps You Prepare for More Government Tests
You can access DoNotPay from any browser and discover other government tests we can help you with.
Our database includes practice tests and guides for the Notary test, Postal exam, and the CompTIA A+ test. In case you're interested in practicing for the ASVAB test, we'll also explain the ASVAB test scores to you. 
If you're thinking of switching careers, taking the famous pre-employment CCAT test may be the best way to set you apart from other candidates.
Practice materials for the U.S. citizenship test are also at your disposal. Even if you're not planning on jumping ship (or truck), DoNotPay can assist you further. Let us alleviate your future DMV concerns by helping you:
How Do I Apply for the CDL in Connecticut?
Getting a CDL is a multi-step procedure, but don't let this fact discourage you—we'll break down every application and testing segment.
What Documentation Do I Need To Provide?
Since 2016, every CDL or commercial learner's permit (CLP) holder and new applicant must provide a self-certification document. The purpose of this document is to choose one of the following driving types:
Category 1—Non-excepted interstate

Category 2—Non-excepted intrastate

Category 3—Excepted interstate transportation

Category 4—Excepted intrastate transportation
When you complete the self-certification online, you will receive an email confirmation. You need to print it out and bring it with you when you apply for your CDL.
Other documentation you need to submit at your local DMV includes:
Valid Connecticut driver's license

Proof of identity

Social Security Card

Proof of Connecticut residence

Proof of legal presence in the U.S.

Name change documents (if it applies to you)

Valid employment authorization document (for non-U.S. citizens)

Medical certificate completed by a

certified medical examiner

Filled-out application for Commercial Driver's License (

DMV Form R-229a

)
How Do I Schedule a CDL Test in Connecticut?
CDL testing in Connecticut is available via appointment only.
You should book your written test appointment online. In case you run into any issues, call 860-263-5700 if you're within the Hartford area or outside Connecticut and if you're anywhere else in CT, dial 800-842-8222.
Don't forget to bring the required documentation with you when you visit the DMV to take the general knowledge test.
Once you pass the knowledge test, you may schedule a skills test by phoning the DMV Testing Unit at 860-263-5096.
Use Our Robot Lawyer To Eliminate Pesky Tasks
Administrative tasks are often time-consuming, which is why many people give up on them before even trying to tackle them. Requesting refunds, canceling services, signing up for clinical trials, reporting stalkers and robocalls, and trying to find unclaimed money are all processes that would usually take a long time to resolve.
With the help of DoNotPay, though, all of these admin hurdles become a piece of cake. In just a few minutes, our app can assist you in appealing parking tickets, getting in touch with your imprisoned loved one, getting an extended warranty, reporting copyright infringement, and so much more!
Don't Break the Bank—Sign Up for DoNotPay!
Our app can save you lots of money by helping you get a refund from any airline, sign up for a free trial without your credit card info, earn off persistent and illegal spam emails, and get an application fee waiver for a college you apply to.
With DoNotPay, you can even schedule a DMV appointment or jump the phone queue when getting in touch with a customer service representative without breaking a sweat!