Where To Find the Best Florida CDL Practice Test and Get Your Commercial Driver's License Fast
A commercial driver's license (CDL) is not the same as your regular driver's license. You can take a DMV test if you're 15 years old, but you need to be 18 to get a CDL. If you want to apply for a HazMat test, you need to be at least 21.
CDL enables drivers to operate commercial vehicles and transport up to 15 passengers, depending on the state's laws, rules, and regulations.
This article will take you through the DOs and DON'Ts of obtaining your Florida CDL. DoNotPay offers the best tips on how to pass the written driving test.
What Are the Requirements in Florida for Obtaining a CDL?
A Commercial Driver's License is a document that permits drivers to operate large and heavy vehicles such as a tractor-trailer, straight trucks, segmented buses, large passenger buses, and other vehicles for commercial use.
All drivers who want to obtain a CDL in Florida need to meet certain requirements like:
They need to be at least 18 years old

Drivers have to be at least 21 to drive a commercial motor vehicle across state lines and transport passengers or hazardous materials

They can't have more than one Commercial Driver's License

The driver's privileges can't be canceled, suspended, revoked, or disqualified in any state, including Florida

They need to meet the medical requirements set by the

Federal Motor Carrier Safety Regulations

The driver needs to pass a written general knowledge exam and a skill test

They need to prove that they are a resident of Florida or that they have permanent residency status along with the permit to work in the USA

Drivers have to be able to read and speak in English
What Can You Expect From the Florida CDL Test?
The Florida CDL testing isn't easy—you will be required to answer 50 multiple-choice questions that include comprehensive information from the Official CDL Florida Manual. To pass the test, you have to answer 40 questions correctly.
Check out detailed information about tests for classes A, B, and C in the table below:
Class
Tests

Class A

General knowledge test

Combination vehicles test

Air brakes test

Applicable exams for chosen endorsements

Pre-trip vehicle inspection

Basic vehicle control

On-Road test

Class B

General knowledge written test

Endorsements tests

Air brakes test

On-road test

Pre-trip vehicle inspection

Basic vehicle control

Class C

On-road test

Pre-trip motor vehicle inspection

General vehicle inspection

Applicable test for endorsements

General knowledge test

Air brakes test
Why Should You Do the Florida CDL Practice Test?
We all know that the only way to pass a test is by studying hard. Practice makes perfect, as they say, and this includes your CDL test as well. Given that CDL is difficult and you need to have a score of 80%, studying is a must.
Reading through the manuals could be tiring and overwhelming but practicing and redoing tests could be fun. Practicing will make you confident, and you'll be cool as a cucumber on your testing day.
If you do multiple practice tests, you will have higher chances of passing it the first time you take it. If you happen to fail your Florida CDL general knowledge exam, you can still retake it after 24 hours.
How Can You Prepare for Your Florida CDL Permit Test?
Everyone has their way of studying for tests and exams, but you can check out the list of most common tips you can use to prepare for your Florida CDL test:
Start studying on time

Read the official CDL Florida Manual

Look for some extra info online

Practice every day for at least half an hour

Use DoNotPay's practice tests

Don't procrastinate

Don't pull an all-nighter

Make sure you're well-rested on the day of your testing

Try to relax before the test
Use DoNotPay To Do an FL CDL Practice Test
With DoNotPay's Government Test Prep feature, you'll be able to practice various government tests as many times as you like. Our user-friendly platform will provide you with the necessary materials to memorize all the important points of the Florida CDL test.
If you happen to make a mistake, our app will notify you and let you correct the mistake if you want. After you finish the practice test, DoNotPay will suggest that you redo it so you'd learn the answers perfectly.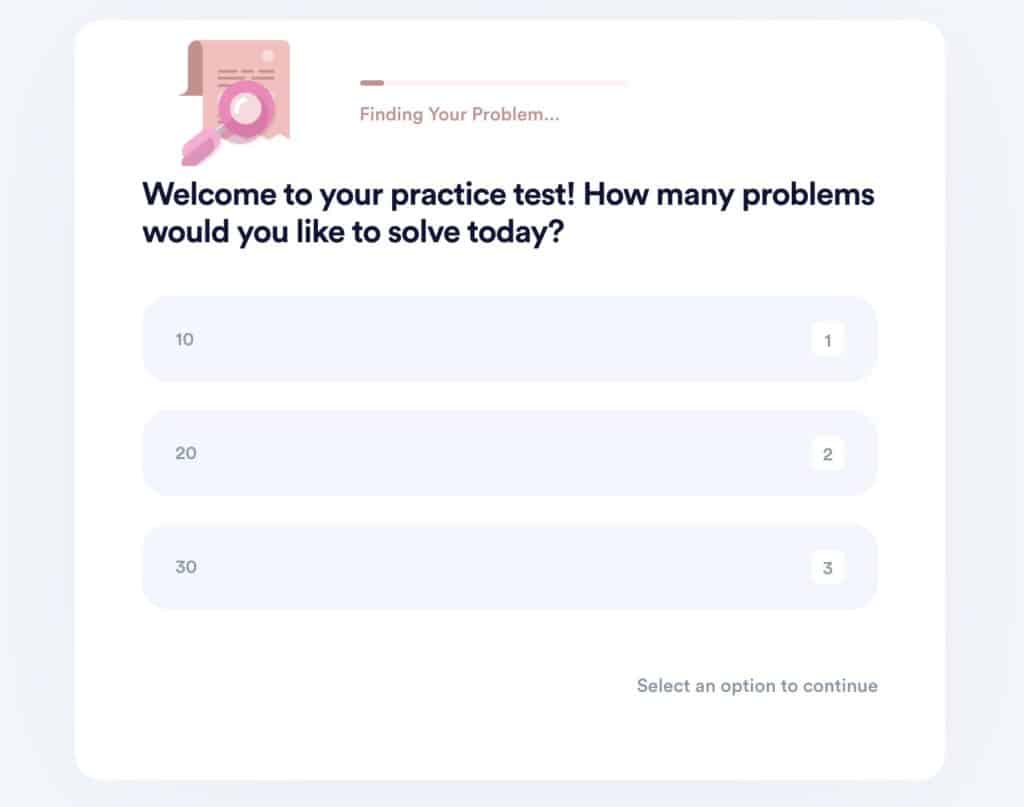 Open our app in any so you can start practicing immediately. Take the following steps to use our feature:
Log in to DoNotPay

Enter

Florida CDL Test

in our search field

Choose the test

Pick how many questions you want to do—10, 20, or 30

Start practicing and keep redoing the tests for the best result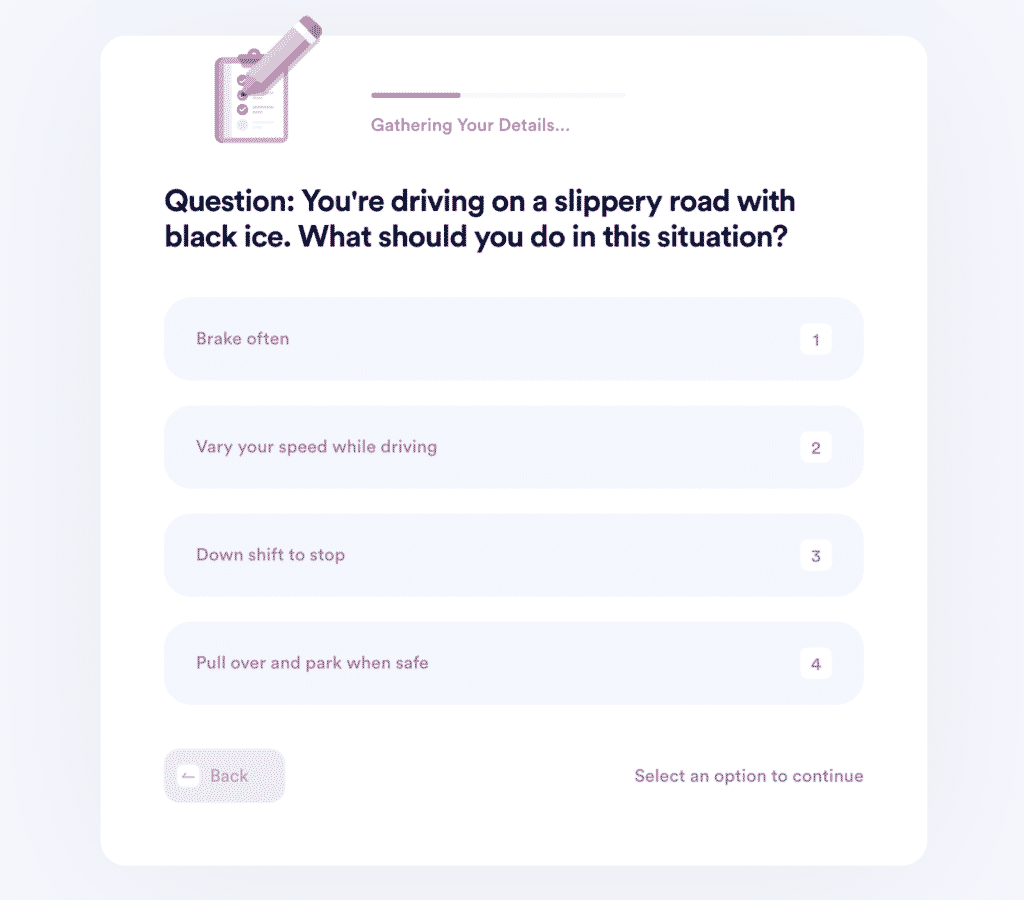 DoNotPay is the best choice when it comes to practicing for government exams because we've compiled everything in one place. Find the following practice tests on our platform: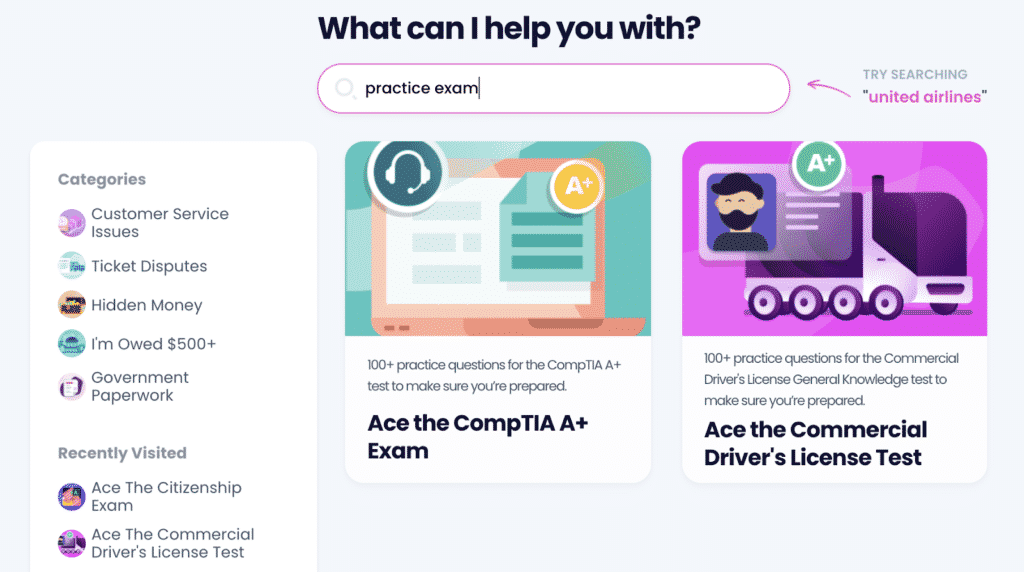 Where Can You Take Your CDL Test in Florida?
The next step you need to take after studying for your CDL test is finding the location where you'll do the test. In Florida, there are multiple places for CDL testing, and you can find them in the table below, along with contact information:
| | |
| --- | --- |
| Testing Location | Contact Information |
| S.M.G. Incorporated | 352-795-7170 |
| Walton County School Board | 850-892-1100 |
| Sage Technical Services | 772-462-4255 |
| CDL Technical & Motorcycle Driving School, Inc. | 305-822-0666 |
| Suncoast Trucking Academy, Inc. | 941-347-7445 |
| Metropolitan Trucking, Inc. | 305-756-4235 |
| Sunstate CDL, LLC | 863-677-7368 |
| Sheridan Technical College | 754-321-3900 |
| Pinellas Technical College | 727-893-2500, ext. 2555 |
| Jones Technical Institute | 904-328-5600 |
| Sage Technical Services | 813-757-2298 |
| South Florida Community College | 863-784-7033 |
| Lively Technical Center | 850-487-7555 |
| Indian River County School Board | 772-978-8820 |
| Southland Utility Services, Inc. | 850-307-1176 or 850-307-1184 |
| National Training, Inc. | 904-284-5785 |
| Waters Enterprise Leasing, Inc. | 813-545-4083 |
| All American Concrete, Inc | 727-798-1496 |
| Truck Driver Institute | 800-554-7364 |
| Charlotte County School Board | 941-575-5432 |
| Metropolitan Trucking, Inc. | 561-753-7667 |
| Suncoast Beverage Sales, Ltd. | 239-334-3520 |
| North Florida Technical College | 904-964-5932 |
| Flagler County Adult Education | 386-447-4345 |
| Tampa Truck Driving School | 813-405-0055 |
| American Trucking, LLC | 305-681-2025 |
| Buffalo Rock Pepsi | 850-910-5655 |
| Florida Panhandle Technical College | 850-638-1180 |
| Huss Drilling, Inc | 813-625-8899 |
| Gulf County School Board | 850-227-1204 |
| Classic Traffic School LLC | 239-303-4322 |
DoNotPay Resolves Other Issues on Your Behalf
Aside from providing you with the tools to ace your CDL or DMV and get high ASVAB test scores, you can use DoNotPay for all kinds of bureaucratic issues. With our app, you can easily schedule your DMV driving test appointment without waiting for ages.
We offer help with other matters, such as dealing with parking tickets in Florida, settling FPL bills, and finding the best clinical trials to earn some extra cash.
If you open our platform in any , you can learn what else we can do for you. We'll help you with:
Appealing speeding citations everywhere in America

Fighting traffic fines in various states