Take a Hazmat Practice Test To Ace Your Georgia Hazmat Test
If you're interested in gaining more job opportunities as a CDL driver, passing the Hazmat test is a good idea. Adding a Hazardous Materials Endorsement (HME) to your CDL will not only place you among the most wanted commercial drivers but also allow you to earn more money.
We will break down the Hazmat practice tests and suggest the best way to prepare for the real deal and get impressive results.
What Is a Hazmat Test?
A Hazmat test is an exam you have to pass to obtain a Hazardous Materials Endorsement (HME). It tests your knowledge of transporting hazardous materials, as stated in the commercial drivers manual by the Georgia Department of Driver Services (DDS).
The test includes 30 multiple-choice questions. If you want to pass, you have to answer at least 24 correctly.
A Hazmat test covers:
Who Can Obtain a Hazmat Endorsement?
Before studying and applying for a Hazmat test, you should check your eligibility. Aside from owning a CDL license, here are other eligibility factors:
Eligible

Ineligible

U.S. citizen

Naturalized citizen

Lawful permanent resident

Nonimmigrant alien, asylee, or refugee in lawful status

A person providing false or incomplete application information
Why Should I Practice for the GA CDL Hazmat Test?
Practicing for the Hazmat test isn't only about passing it to get a license. Dealing with hazardous materials is altogether risky. You should take it seriously to protect yourself, other people, and the environment.
If you fail the test, you can try again, but some time restrictions may apply. To avoid wasting time and money, it's crucial to study and practice since the test is not an easy one. Thorough preparations can calm your nerves and make you feel more confident in your knowledge.
How To Prepare for a GA Hazmat Test
A starting point in your Hazmat prep journey should be the commercial drivers manual, specifically the section on hazardous materials.
Only reading and learning from a manual can be ineffective and downright tedious. Check out your other options to ace a Hazmat test:
Where Can I Find Hazmat Practice Tests in GA?
Googling "Hazmat practice tests" will generate a myriad of results. While it's a good idea to take as many practice tests as possible, you should beware of outdated tests and sketchy websites. Some websites charge you extra if you want to access all the test examples. If you're not sure which practice test is reliable, turn to DoNotPay!
Take GA CDL Hazmat Practice Tests Using DoNotPay
One of DoNotPay's features provides the best Hazmat practice tests to bring you one step closer to getting your HME. Here's how it works:
Access DoNotPay from your

Enter

Hazmat Test

Choose the practice test length—10, 20, or 30 questions

Start practicing
Besides letting you choose the length of the test according to your preference and learning style, DoNotPay has other benefits.
You can retry any question you answered incorrectly right away or choose to retake the entire test once you see your score.
Our app also facilitates practicing for other government tests, including: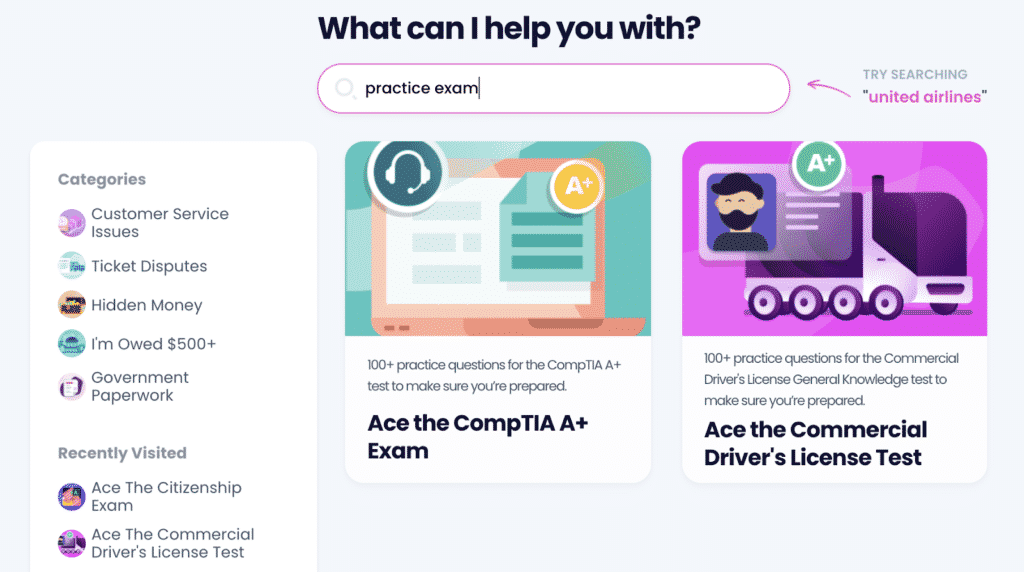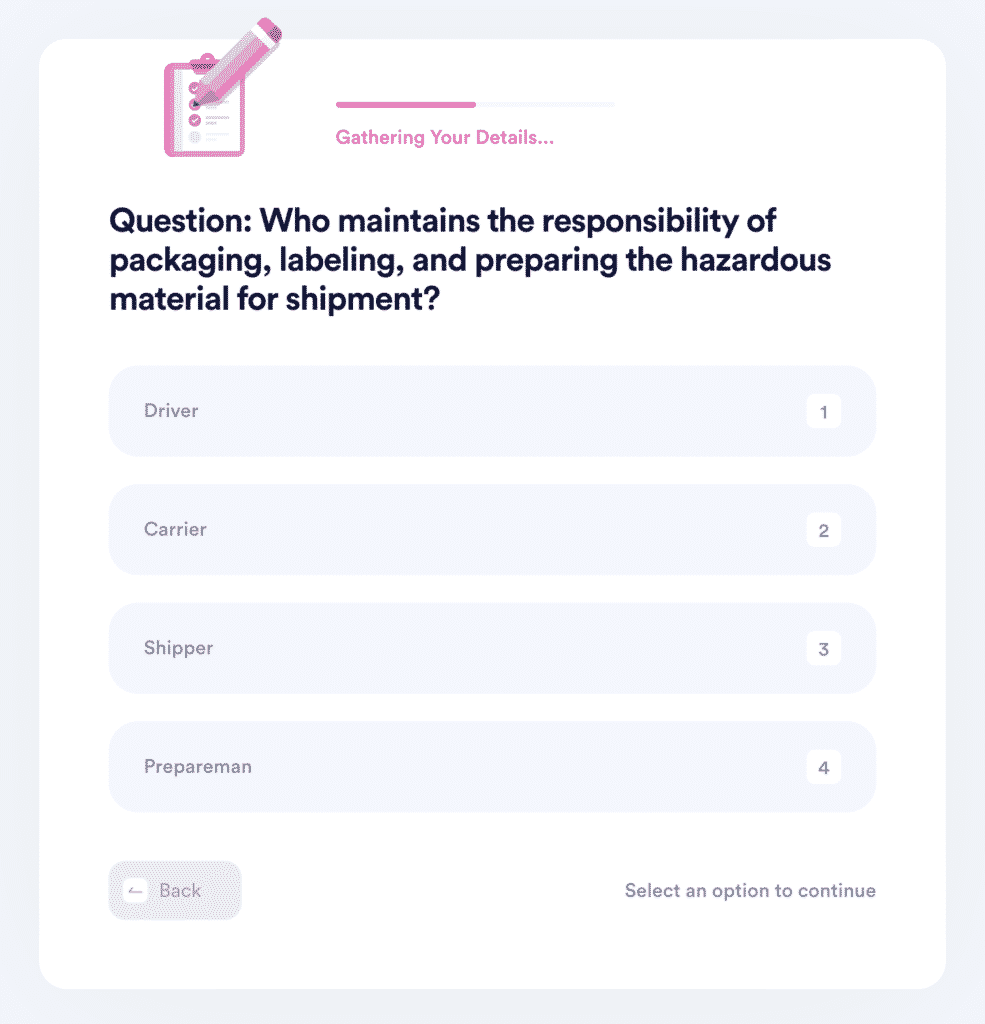 What Is a TSA Background Check for Hazmat?
Making a Hazmat test appointment is only one part of getting your HME. You also need to go through an extensive background check, provide certain paperwork, and pay fees. The entire process seems nightmarish, but we're here to walk you through it.
The Georgia Department of Driver Services (DDS) states that you should go through the Transportation Security Administration (TSA) check. Here are the steps you need to take:
Fill out an

online application

or do this in person

Book an appointment

online

or call (855) 347-8371

Visit an

application center
For your visit to an application center, you'll need to submit your fingerprints, bring the required documentation, passport or driver's license, and your birth certificate.
You also need to pay the Hazmat test fee of $86.50.
You can expect TSA to approve your application in 30 to 45 days. If you pass the background check, they will send a letter of clearance to you and the Georgia DDS.
Scheduling a Hazmat Test in Georgia
Once the TSA approves your application, you can make an appointment with the Georgia Department of Driver Services (DDS).
Check out how to do it:
Go to the DDS

Locations page

Check which center offers CDL tests

Click on the location of your choice
You'll see a map, the DDS center's address, and phone number. You can either call or visit to schedule an appointment.
To avoid going to the center twice, it's best to call. You can expect to wait on hold for some time before they patch you through. Don't despair—DoNotPay can help you out! Use our app so that you can relax while we wait in your stead. Once we get ahold of an agent, you'll get a notification to join the call.
Check out how we fast-tracked contacting customer service of various companies, such as Amazon, Walmart, and Delta Airlines.
How Long Does My Hazmat Endorsement Last?
Once you add an HME to your CDL license, it will be valid for five years. To renew your endorsement, you must pass the TSA background check and the Hazmat knowledge test again.
DoNotPay Can Do Much More for You!
DoNotPay is a helpful assistant with any DMV troubles. Whether you need to make a driving test appointment or get the best resources to pass the written driving test, we know what to do.
That's not all we do! You can use our app to get light bill assistance, dispute parking tickets in Atlanta or Savannah, send inmate packages to any GA prison, or cancel the Atlanta Journal-Constitution.
Visit DoNotPay in any to gain access to tips and hacks that will make your life easier. You can count on our app for help with: