eBay Seller Sent Wrong the Item? Get a Refund Fast and Easy
Patiently waiting for an online order to arrive only to find out that the eBay seller sent the wrong item is a nightmarish situation. If you don't know how to get a refund, worry not because DoNotPay is here to offer practical solutions!
We'll teach you how to submit a claim and get a refund swiftly. You don't have to deal with customer service because DoNotPay will do everything in your stead!
I Ordered From eBay but Received the Wrong Item—What Can I Do?
If you received the wrong item from eBay, you should first check the delivery details. They'll show you whether:
You received someone else's package, and your eBay package is still on its way to you. In that case, you'll have to return the wrong item and wait for yours
The eBay seller sent you an item that you didn't order. If so, you can:

Inform the seller
Return the item and request a refund
Use DoNotPay and file a claim in minutes
How To Track Your eBay Package
Tracking your eBay package entails:
Logging in to your eBay account
Going to Purchase History
Finding the item you ordered
Clicking on the tracking number
In case you use the eBay mobile app, the process is as follows:
Go to Purchases
Select the item you want to track
Find More Tracking Details and click on it
What To Do if eBay Seller Sends the Wrong Item
You tracked your package, and you've realized that the eBay seller sent you an item you didn't order—now what? The first step is to contact the seller. If they don't respond within three business days, eBay can step in with its money-back guarantee, enabling you to request a replacement.
The request should be filed within 21 days after you've reported the issue to the seller.
Requirements for eBay Money-Back Guarantee
Here's a table of the requirements you must meet to be eligible for eBay's money-back guarantee refund:
Requirements
Specifics
You used one of the eligible payment methods when you ordered the item
The payment methods approved by eBay are:

PayPal
Credit card
Debit card
eBay voucher
eBay gift card
PayPal Credit
eBay bucks
Apple Pay
Google Pay

The item you ordered is eligible for a refund
The items not eligible for a refund are:

Motor vehicles
Travel tickets
Vouchers
Services
Websites
Classified ads
Digital content
Intangible goods
Heavy machinery
Industrial equipment
Businesses for sale
Products sold via Sotheby's

It's your first claim for that specific purchase
eBay doesn't allow multiple claims for the same issue
You reported the issue to the seller on time
The issue needs to be reported within 30 calendar days from the date it arrived
How To File the Request on the eBay Website
In case you're eligible for eBay's money-back guarantee, here's how to file a return request through the eBay purchase history:
Sign in to your eBay account
Click on Return this item
Select the reason you're returning the item
Add any photos you have of the wrong package
Click on Send
Upon receiving the item back, the seller has six business days to issue a refund according to eBay's policy.
If you want to file a refund request hassle-free, sign up for DoNotPay and do it in minutes! Our app will file a claim in your stead, saving you time and a potential headache.
How Can DoNotPay Help You Get a Refund in a Snap?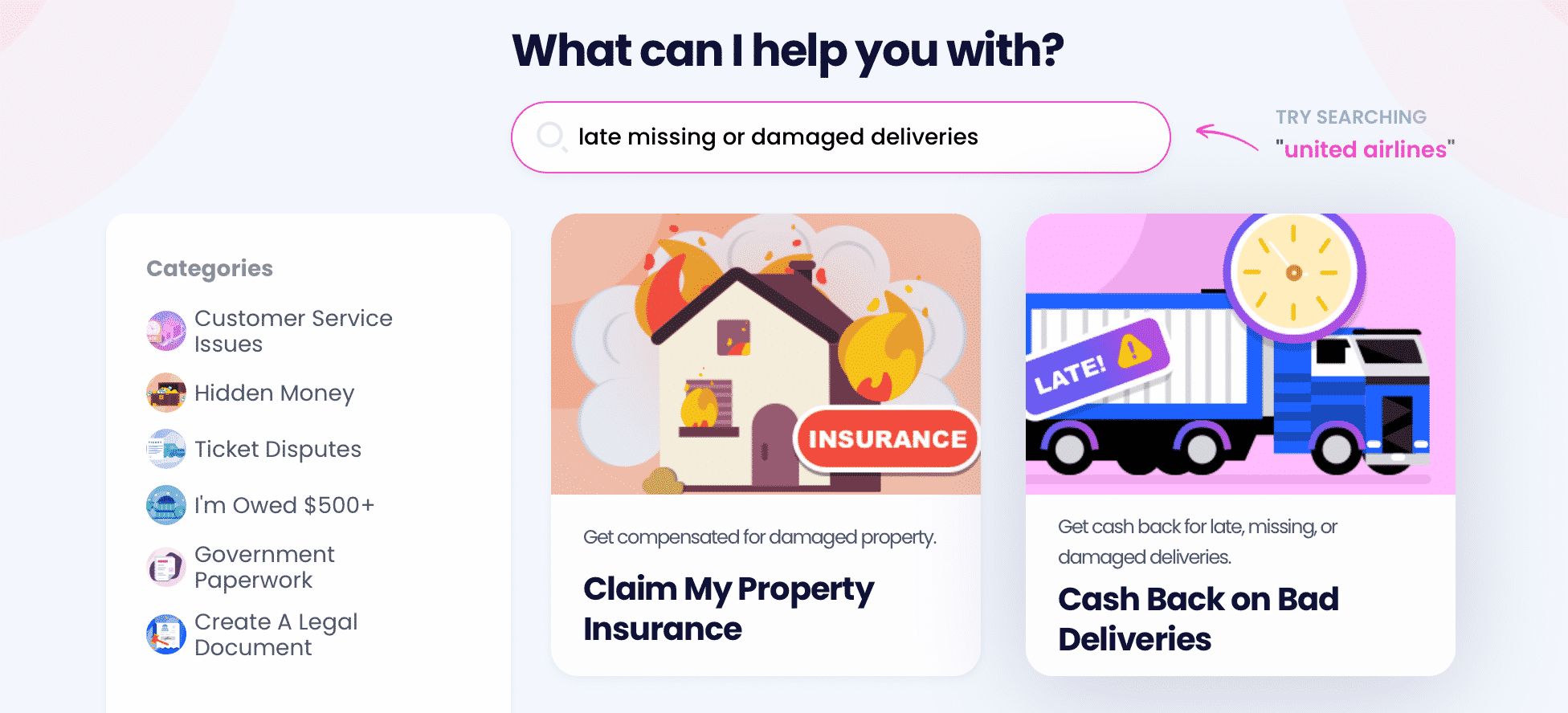 If you received the wrong item and it's the courier's fault, requesting a refund is easy with DoNotPay! Our Late Delivery Refund product allows you to report a late, missing, or wrong item in a few clicks.
It's simple and effective, and it works like this:
Select the Late Delivery Refund product
Choose the courier responsible for shipping
Add some necessary details and pictures of the item (if any)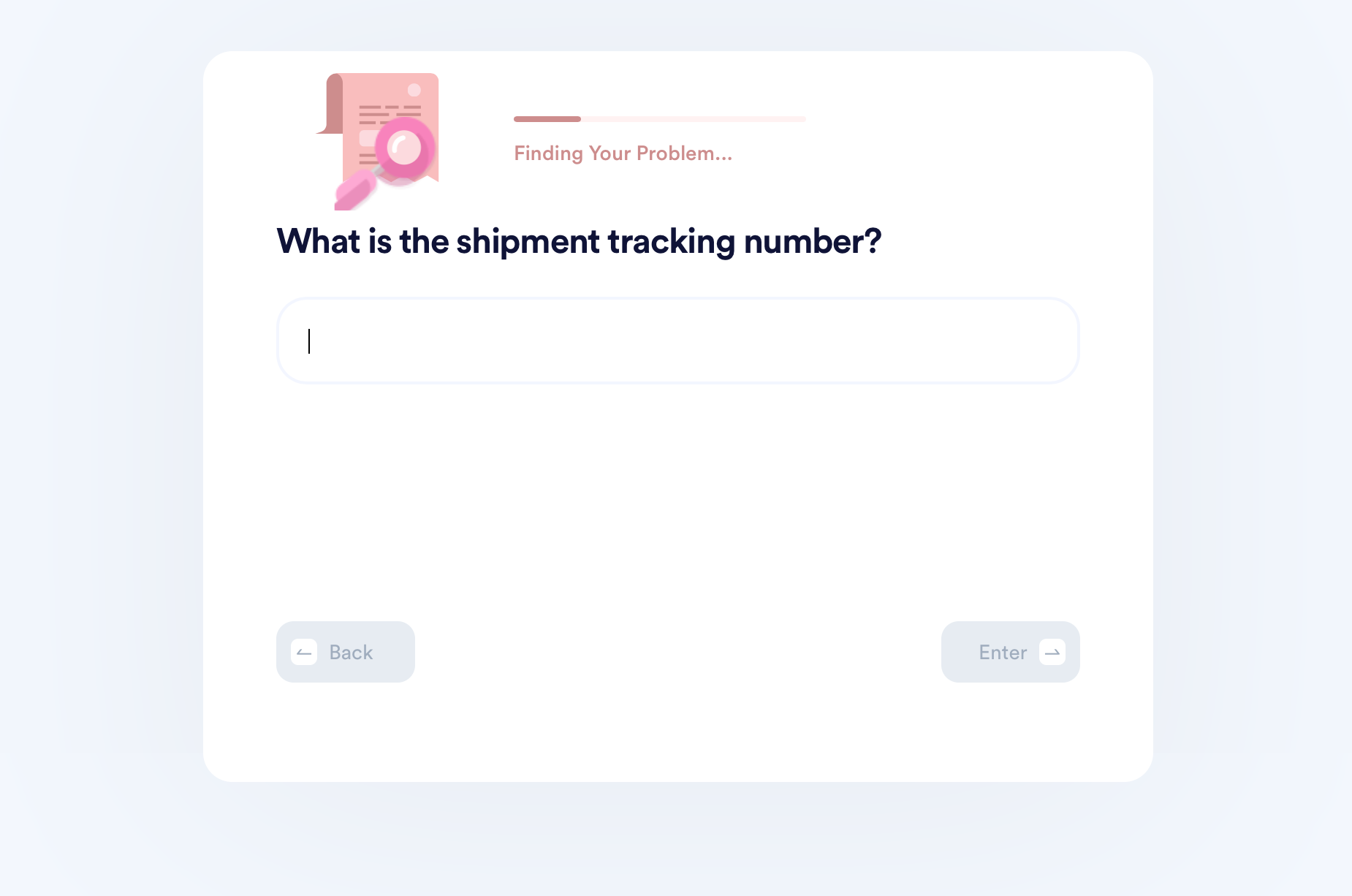 We will automatically process your request and send the claim to the courier's claim department.
Other Delivery-Related Issues DoNotPay Can Assist With
If you need help with other delivery-related problems, DoNotPay offers numerous helpful articles on the topic. No matter which courier service you choose, the world's first robot lawyer will be able to help you out!
Check out how we can assist you in handling the following:
DoNotPay Has Your Back Every Step of Your Customer Journey
Helping you apply for a late, damaged, or missed delivery refund is only a fragment of what we can do for you. If you aren't satisfied with the service you've received or an item you've purchased, all you need to do is fire up your DoNotPay app.
We can bypass any company's customer service, draft a refund demand letter, or initiate a chargeback process in your stead. Our app can also digest the company's return policy and help you send the faulty product back. You won't have to lift a finger as our app does everything automatically after you answer several essential questions related to your purchase. If you decide to mail a letter to the company yourself, we'll tell you how you need to draft it to get exactly what you need.
It doesn't matter whether you bought a package for an incarcerated loved one, expected an insured mail delivery, or made a purchase to redeem a gift card but still have a few bucks left on it—we'll help you make the most of the situation. Our app can get your gift card cash back, file an insurance claim, and connect you with the loved one in jail.
How Far Do DoNotPay's Services Go?
Our app can prove handy in a variety of other situations, such as:
Visit our learning center for a full range of our services.