The Top
Driving Test Tips
To Help You Prep for the Real Thing
No matter whether you want to get a commercial or noncommercial license, you will need to pass the driving test. Many people find it difficult to pass the test the first time they take it. Before you set the DMV driving test appointment, you should prepare well for it.
DoNotPay is here to give you the best driving test tips and DMV practice tests so that you can pass with flying colors!
What Does a Driving Test Involve?
A driving test consists of several parts that assess your knowledge of traffic laws and your ability to operate the vehicle safely. To get a driver's license, you will have to pass the following:
Vision test

General knowledge test

Endorsement tests for the CDL 

Driving skills test
What Do They Ask on a Driving Test?
In the written part of your driving test, you will need to answer questions related to traffic and road signs. If you are taking the CDL test, you might get questions about the specific vehicles and cargo. To pass the written test, you need to get 80% of the questions right.
The driving skills test involves the road test and different maneuvers.
You might get questions and tasks related to the following, depending on the type of license:
Test
Questions
Commercial Licence—Yes/No
Noncommercial Licence—Yes/No

General Knowledge Test

Road signs

Traffic controls

Safety measures

Emergencies

Other vehicles on the road

Cargo transport

Yes

Yes

Endorsement tests

Tank

Passenger

School bus

Double and triple trailer

Yes

No

Maintenance

Inspection

Usage

Yes

No

Driving skills

Road test

Passing

Parallel parking

Straight-in parking

Railroad crossing

Stopping at intersections

Following at a safe distance

Yes

Yes
How To Pass a Driving Test
Taking a driving test can be nerve-wracking. To make it less stressful, you should prepare well. You can use the following for your preparation:
The state-specific driving test manuals

Practice tests
Driving test manuals contain almost all the information you will need for your written test. The manuals are usually long, and it will take you time to go over all the topics. You can underline the important parts so that you can find them easily when you revise.
When you get familiar with the topics in the driver's manuals, you should do practice tests to see what you have learned. Practice tests can reveal the gaps in your knowledge, so you will see what topics you need to revise. You can use DoNotPay to find a bunch of driving practice tests—all in one place!
DoNotPay—The Best Source of Driving Practice Tests
DoNotPay offers a large database of driving practice tests for different states, including the following: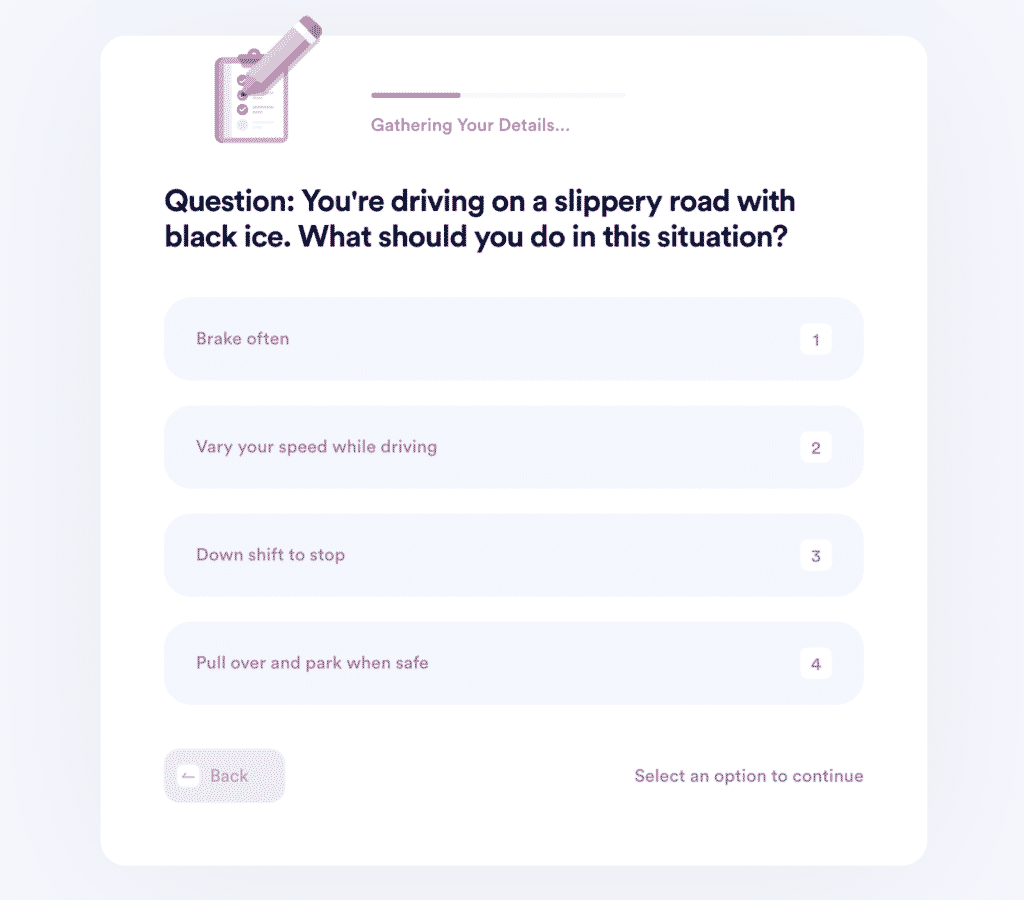 With our AI-powered app, you can retake the practice tests as many times as you want! To start practicing, do the following:
Use any

web browser

to set up your DoNotPay account

Enter the name of the test you want to prepare for

Select the test you want to complete

Indicate how many questions you want to get

Start your preparation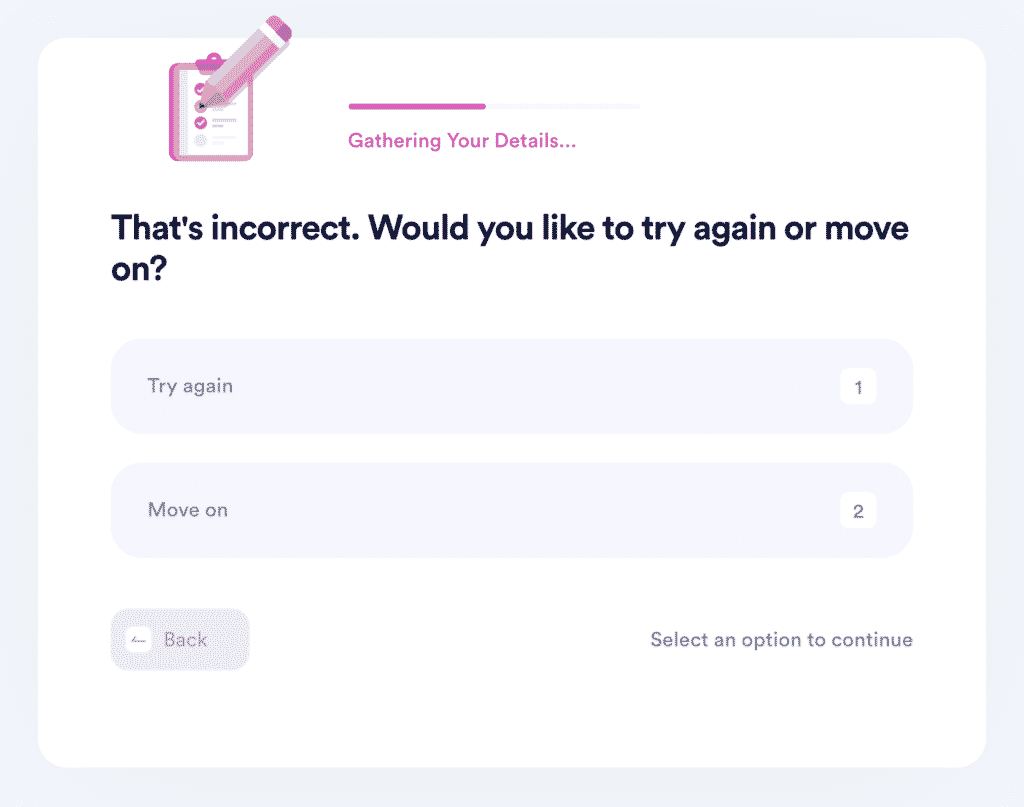 You can choose whether you want to have 10, 20, or 30 questions on your test. Whenever you make a mistake, you can correct it immediately. If you prefer, you can also do the whole test and check your mistakes in the end. 
Other
Driving License Test Tips
Apart from studying the manuals and doing practice tests, you should also try to avoid some common mistakes so that you don't fail your driving test. Here are some mistakes people usually make when taking the driving test:
Not reading the questions properly

Crossing the intersection on a red light

Going over the speed limit
Here are some other helpful tips:
Don't rush with taking the test—do the test when you feel ready

Find a good instructor

Practice driving as much as you can

Don't be late for the test

Practice driving on complicated roundabouts

Use the wipers if it starts raining

Check whether your vehicle is in good condition for driving before the test

Stay within the speed limit

Don't forget to check your mirrors

Be gentle with the brakes

Forget about what your examiner might be writing about—focus on the road

Don't get nervous if you make a mistake—not all mistakes are fatal

Eat well and get enough sleep before the test. 
You can compose a driving test checklist to make sure you have everything that you need on the test day. 
Prepare for Other Government Exams With DoNotPay
With our award-winning app, you can ace other government tests too! Log in to DoNotPay in any web browser and find the following practice tests:
We can also help you understand your ASVAB scores. 
DoNotPay Is Helping You Out Left and Right
Not only can DoNotPay handle bureaucratic nuisances on your behalf, but we can make your daily life easier too!
No more waiting in endless phone queues to make a warranty claim for a faulty product or wasting the day away in mile-long DMV lines—our app will do the hard work for you! We'll call the reps of any company—even major airlines—and schedule appointments on your behalf in a matter of minutes! 
DoNotPay Helps You Scam Scammers
DoNotPay helps you stay safe from scammers and fraudsters! 
We have developed a Virtual Credit Card product that helps you sign up for free trials without revealing your real banking information to any suspicious company. We've joined our most popular feature with a Burner Phone functionality that allows you to verify online accounts with a temporary phone number. 
That way, you'll be free to enjoy services while they're free of charge, eliminate the possibility of robocalls, robo texts, and spam emails from the shady companies, and forget about canceling the subscriptions altogether—our product does it for you!
DoNot Pay can even shield you from cyberstalking and online harassment and get you compensation for the crime you've suffered. We'll even help you take individuals or businesses to small claims court by drafting the relevant paperwork for you, accessing any public records that might bolster your case, and supplying you with a court script that you can read to the judge on the day of the hearing.