Get the Best Preparation for the
Florida Driving Test
Are you excited about hitting the road in Florida but nervous about the driving test? Taking the driving test can be nerve-wracking because of the fear of failing. If you want to reduce your performance anxiety, you should prepare well for the test.
DoNotPay is here to help you learn all the details about the Florida driving test and give you the best practice tests!
What Does the
Driving Test in Florida
Consist Of?
To obtain a driver's license in Florida, you will have to pass the vision, hearing, knowledge, and skills tests. If you have never owned a driver's license before, you should also attend the Traffic Law & Substance Abuse Education Course (TLSAE) to be able to take the driving test. 
If you are under 18, you have to have a learner's permit for at least a year before getting a driver's license in Florida. 
The knowledge and skills test are called:
Class E Knowledge Exam

Class E Driving Skills Test
What Is the Class E Knowledge Exam?
In the Class E Knowledge Exam, you will find the questions related to Florida traffic laws, safe driving practices, and traffic controls identification. The exam has 50 multiple-choice questions. You need to answer at least 40 questions correctly or get a score of 80% to pass the test.
If you want to take the exam in person, you should make an appointment at some of the Florida Highway Safety and Motor Vehicles (FLHSMV) service centers. Some third-party administrators also offer online Class E Knowledge exams. 
If you are underage, your guardian needs to fill in the Parent Proctoring Form for online testing. You can also take the Class E Knowledge exam in high school through the Driver Education Licensing Assistance Program (DELAP).
The Class E Knowledge exam is available in the following languages:
English

Arabic

Chinese

Haitian Creole

Spanish

Russian
What Should You Know About the Class E Skills Test?
When doing the Class E Skills Test, you will have to demonstrate your car driving ability. Make sure you get enough sleep before the skills test because you will need to be focused on the tasks. The test involves the following skills:
Three-point turn

Approach of crossing

Yield right-of-way

Straight-in parking 

Parking on a grade

Backing

Stop quickly

Obey traffic signals

Obey stop signs

Stay in the proper lane

Signal and turn

Passing

Follow at a safe distance

Use proper posture
How To Pass the Florida Driving Test
To make sure you pass the Florida driving test, you should prepare thoroughly for it. You need to study the Florida traffic laws and other topics that can show up on your written test.  The following materials can help you with your preparation:
Material
Content

Learn about:

Vehicle parts and systems

Driver behavior

Traffic controls

Safety measures

Different driving situations

Other vehicles on the road

Emergencies

Driver's privileges

The Florida driver's license

Class E Knowledge Practice Test

 

A test with 20 multiple-choice questions
You can create your driving test checklist to make sure you are ready to take the exam. 
The Handbook gives you the knowledge necessary for passing the Florida driving test, but you won't be fully prepared if you don't take practice tests. If you are looking for Florida driving practice tests, use DoNotPay to find a bunch of them!
DoNotPay Has the Best
Florida Driver's License Practice Tests
If you want to pass the written part of the Florida driving test successfully, use DoNotPay to practice! With our app, you can practice for the driving test as much as you like. We have a large database of questions, and we update it regularly!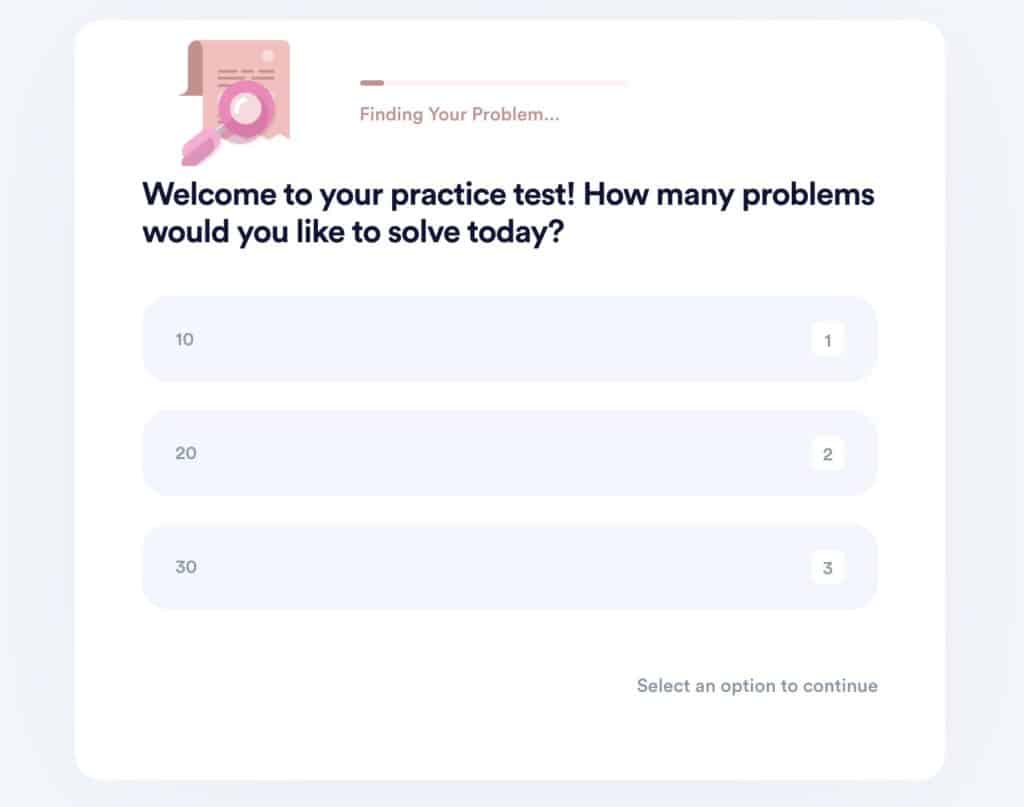 To access the written practice tests for driver's license in Florida via DoNotPay, do the following:
Open DoNotPay in any

web browser

Type in the name of the test

Select the test you want to prepare for

Choose how many questions you want to have

Start your preparation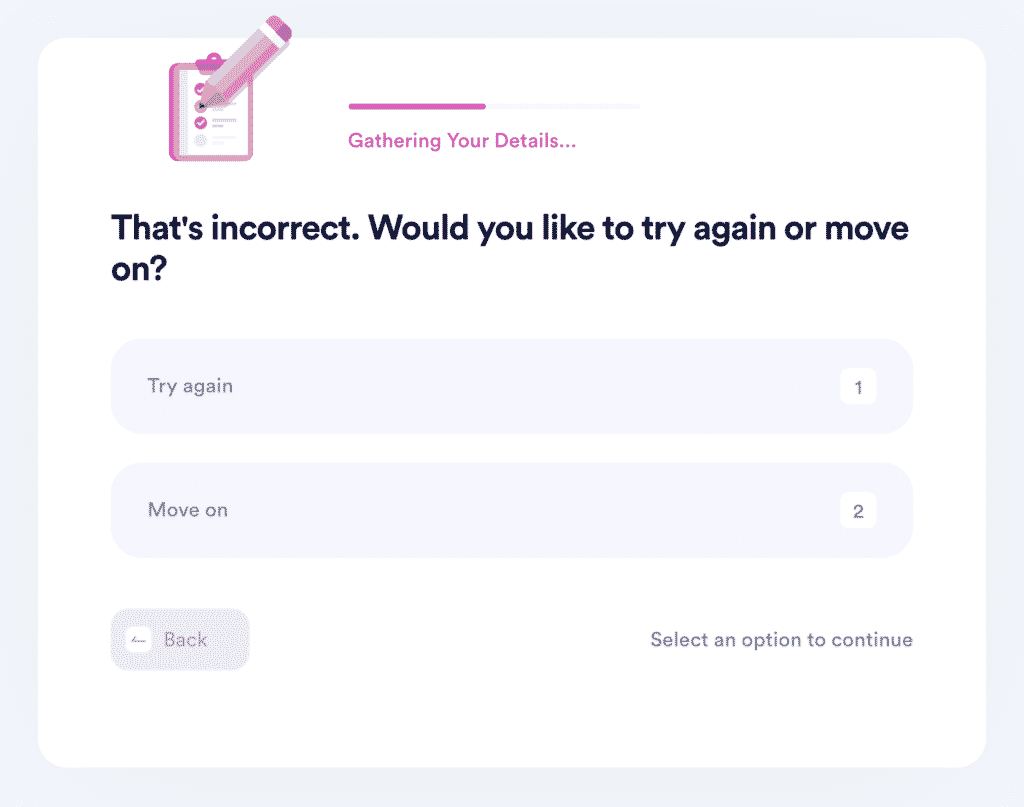 If you get some questions wrong, you can answer them again right away. Another option is to do the whole test to see your scores and retake it. Get down to practice and ace your Florida driving test with DoNotPay!
Preparing for Other Government Tests? DoNotPay Has Your Back
Do you plan to take some other government tests? DoNotPay can assist you in preparing for other tests, including: 
We can also help you learn more about ASVAB test scores! To access the tests, set up your DoNotPay account in any web browser and find the test you want to get ready for. Our robot lawyer will help you ace it in no time.
Use DoNotPay to get the best preparation for government tests and pass with flying colors!
What Else Is New With DoNotPay?
DoNotPay boasts several new features that can help make your everyday life so much easier. 
Have you been wondering how to file an insurance claim but weren't sure where or who to turn to? We'll gladly do it for you. 
Are you tired of outdated faxing practices and manual documentation? Our app can provide you with an online fax solution and draft all your legal paperwork in no time at all.
Do you need a safe place to prepare for your upcoming government test? DoNotPay will give you all the prep tests you need.
We can help out with locating an imprisoned loved one and keeping correspondence with them via our virtual mailbox.
See what else DoNotPay has in store by accessing our web app in any browser.
Do You Know What Else You Are Eligible For?
DoNotPay is a handy virtual assistant that can reveal a world of possibilities that you may not have even been aware of. We've perfected our algorithms to identify opportunities for you to save up and take charge of your rights. 
Here's a fraction of what we can do for you: