Find the CDL Practice Test for MS Drivers in a Few Clicks
If you want to drive a vehicle over 26,000 pounds, you will need to get a commercial driver's license (CDL). You get this license by passing a CDL test that assesses your general knowledge and skills.
DoNotPay assists you in practicing for your CDL test by providing you with practice tests that come with a host of benefits!
What Is a Mississippi CDL Test?
Mississippi commercial driver's license test includes a set of 50 multiple-choice questions on the General Knowledge test. You will have one hour to take the test, and you must score at least 80% (40 correct answers) to pass. If you score less and fail the test, you will not be able to take it again until the next day.
How To Apply for the Mississippi CDL Test
If you want to make your CDL test appointment online, go to the Mississippi Department of Public Safety website. Fill out and submit the Mississippi CDL driver's application with the license and endorsement fees.
The table below shows the current Mississippi Department of Public Safety license fees:
| | |
| --- | --- |
| Mississippi Driver's Services | Fee |
| Commercial (CDL) Original/Renewal Class | $29.00 |
| CDL Application Fee | $25.00 |
| CDL Learner's Permit (valid for 6 months) | $16.00 |
| CDL – 17 Years Old | $44.00 |
| CDL Restriction "U" | $9.00 |
| CDL S – School Bus | $26.00 |
| CDL Drivers License | $55.00 |
| CDL Endorsement | $5.00 |
| HazMat Endorsement | $5.00 |
| Tanker Endorsement | $5.00 |
| Doubles/Triples Endorsement | $5.00 |
| Passenger Endorsement | $5.00 |
| School Bus Endorsement | $5.00 |
What Are the Mississippi CDL Requirements?
To get your CDL, you will first have to get the commercial learner's permit (CLP). You have to be a Mississippi resident and at least 17 years old, hold a Mississippi driver's license, and pass all the tests to receive a CLP. Your traffic record will also be reviewed for any offenses. The CLP can be used for operating a specific CMV under the supervision of a commercial driver with a license.
You can face some CDL restrictions if you are a driver with health issues or you have insufficient experience. For example, any driver under 21 years old isn't allowed to haul hazardous materials or operate outside of the state.
To get your CDL in Mississippi, you have to:
Pass all written exams to get your Mississippi Commercial Learner's Permit (CLP). You can study for these exams using the High Road CDL Training Program

Provide evidence that you're a citizen of the state of Mississippi and that you have permission to work in the United States—a Social Security Card, a Birth Certificate, or a Green Card will do

Speak and read the English language

Meet the medical criteria for the Federal Motor Carrier Safety Regulations

Prove that you are not subject to any of the CDL disqualifications for drivers (listed below)

Have more than one driver's license, and your driving privileges can't be suspended, revoked, canceled, or disqualified in Mississippi or any other state

Be 21 years of age to operate commercial motor vehicles across Mississippi state lines, carry hazardous materials, or transport any passengers

Be over 18 years of age to obtain a Mississippi CDL and drive a commercial vehicle in Mississippi
How Can You Get Ready for the Mississippi CDL Test?
First, leave enough time to go through all the study materials at a slower pace—you don't want to rush and panic for not having enough time to prepare adequately!
Find the Mississippi CDL Manual and read through it—that's where most of the questions on the exam come from.
Once you're done cramming for the test—practice, practice, practice! Remember that practice tests are the most efficient way to prepare yourself for any exam!
Take the Mississippi CDL Practice Test With DoNotPay
DoNotPay presents you with practice tests for nine different government exams, including Criteria Cognitive Aptitude Test (CCAT), CompTIA A+, and The Postal Service Exam!
You can take your Mississippi practice test in five simple steps and avoid endlessly searching for online tests! If you make a mistake when answering a question, you can try it again on the spot easily, or you can wait to see your test results and take the practice test again.
Follow the next steps to take your Mississippi CDL practice test with our app:
Visit DoNotPay in any

Find the

CDL practice tests

Click on the test that you want to practice

State the number of the practice test questions that you would like to have (pick from 10, 20, or 30 questions)

Start practicing for your CDL test!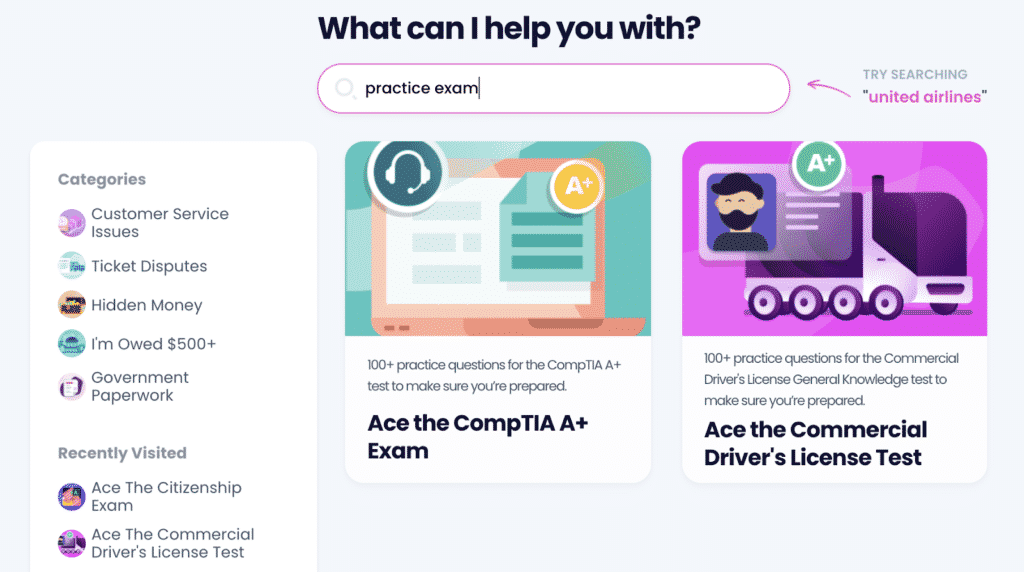 DoNotPay can help you take various other practice tests, such as:
Learn also how to take the California CDL test, CRIST CDL test, Texas CDL test, and more.
Get Back at Greedy Corporations With DoNotPay
How many times have you tried reaching out to an airline regarding your canceled flight? Did you ever spend hours trying to contact customer service reps only to be refused your refund request?
Big companies tend to make certain processes complicated for their customer in hopes they would give up on pursuing their goals.
This is why your warranty claims often get denied the first time or why canceling a gym membership can be an administrative hell.
Our AI-powered app is here to help you sort these problems out.
Whether you're trying to file an insurance claim, schedule your driving test, start a free trial without disclosing your payment info or a phone number, or get access to public records, we've got you covered.
DoNotPay Is the Virtual Assistant You Need
DoNotPay is the first robot lawyer in the world created to simplify complex tasks. We can help you with anything from appealing your parking citations to filing lawsuits in small claims court.
In case you need to save up some money, our app will show you how to get an extension on your bill payments, sign up for paid clinical trials, or avoid paying your college application fees.
DoNotPay can also report robocallers, text spammers, and email phishing attempts, and real-life stalkers with a few clicks.