Denver Sex Offenders in Your Vicinity—Stay Alert With DoNotPay
Denver has a high number of registered sex offenders compared to the total population, with nearly 320 offenders per 100,000 inhabitants.
This doesn't mean you need to feel threatened, though.
With DoNotPay's help, you can understand how the Denver sex offender registry works and what you can do to keep yourself and your loved ones safe!
Who Is Classified as a Sex Offender in Denver, CO?
The state of Colorado subscribes to the federal guidelines on sex offenses, recognizing three tiers of crime:
Sex Offense Tier
Explanation
Tier I
Tier I offenses do not involve sexual acts with younger minors or the use of violence but can include:

Possession of child pornography
Acts of public indecency
Sexual acts with minors aged 15–17

Tier II
Offenses classified as Tier II involve:

Distribution or production of illegal pornography
Coercion, enticement, or similar acts perpetrated on minors between the ages of 15 and 17

Tier III
Any sexual act involving violence or minors under the age of 14 is automatically classified as a tier or level III offense
Colorado also conducts risk assessments on convicted sex criminals, the results of which are used to classify offenders as:
Regular sex offenders
Sexually violent predators (SVPs)
Regular Sex Offenders
Offenders with no previous convictions are generally categorized as regular sex offenders.
Their personal information is captured on the state sex offenders' registry but is not proactively passed on to the general public.
Sexually Violent Predators
Serial offenders or criminals whose crimes have been particularly brutal are classified as sexually violent predators.
Law enforcement authorities in Denver pass details of SVPs to schools, housing associations, and residents' organizations to make sure they are aware of the presence of a potential threat in the neighborhood.
SVPs are closely monitored and must report their whereabouts regularly.
How Are Sex Offenders and SVPs Punished in Denver?
Colorado has a reputation for punishing sex offenders harshly.
A Denver sex offender can expect a custodial sentence for even their first offense, and life sentences can be handed down to:
Habitual violent sex offenders
Child rapists and sexual abusers
HIV-positive criminals who knowingly spread the infection
Convicted sex criminals in Denver can also expect close surveillance after they have served their custodial sentence. Their monitoring may include:
Daily check-ins with law enforcement authorities
Enforced payment of victim compensation
Curfews and controls on alcohol or drug use
Restrictions on their movements
How Does the Sex Offender Registry Work in Denver?
Every convicted sex offender in Denver must place themselves on the state registry.
The time they must remain registered depends on the severity of their conviction, as follows:
| | |
| --- | --- |
| Tier of Offense | Period on Registry |
| Tier I | 15 years |
| Tier II | 25 years |
| Tier III | Until death |
The registry is a comprehensive profile of the offender and aims to allow authorities to map the whereabouts of sex criminals in Denver. The information entered into the registry includes:
Name, aliases, and online handles
Home address
Place of employment or school
Photo as well as a physical description, including any identifying features such as tattoos or scars
Email addresses and phone numbers
Vehicle details
Details of the sex crime and any other criminal convictions
The 1996 Megan's Law stipulates that the registry should be accessible to the public, but the state of Colorado does not actively notify local communities about tier I or tier II offenders.
What Does Registration Mean for Denver Sex Offenders?
Colorado believes that sex offenders are best controlled by close surveillance, so the restrictions placed on Denver sex criminals are not as harsh as in other states.
The strictest measures are reserved for SVPs, who face limitations on:
Employment—SVPs are not allowed to take up employment that brings them into contact with children
Travel and movement—SVPs may not enter buildings where children congregate or loiter in areas near child facilities
The close surveillance practiced on SVPs means that they are not able to leave Denver without notifying the authorities in advance and registering in their destination county on arrival. Failure to do so means that an offender can be classified as unregistered, incurring severe additional penalties.
Regular sex offenders do not face any restrictions on where they can live.
How Can the Denver Sex Offenders' Registry Help You?
Sex offenders can live anywhere in Denver—possibly even in your building.
The only way you will know if you are living near a sex offender is by searching the Denver registry for criminals in your neighborhood.
While this is a great service, criminals can move in overnight—you would have to check the registry regularly to make sure nothing has changed.
DoNotPay has the solution to your worries. We can !
How Can DoNotPay Help Keep You Safe From Denver Sex Offenders?

DoNotPay has the solution to give you peace of mind!
With our Sex Offender Search feature, you can check your neighborhood or look nationwide for a specific sex offender by name.
Here's what you need to do to use the product:
in your web browser
Click on our Sex Offender Search feature
Type in the name of the offender or your address, and set the search parameters
Once we know what you are searching for, your report will arrive in an instant. If you want, we can even send you weekly updates to make sure you don't miss any changes!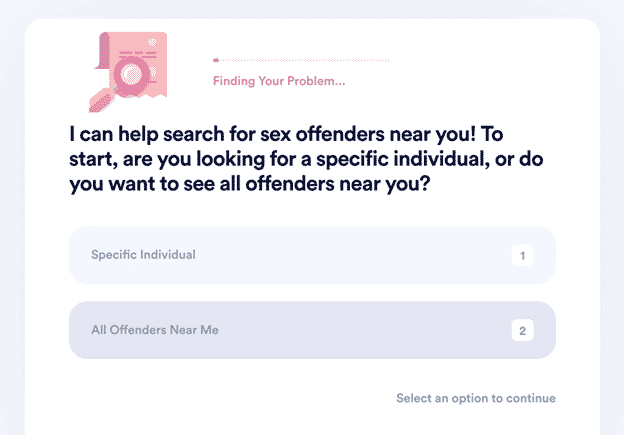 Does DoNotPay Have Info on Other Areas?
Sex offenders are everywhere, and we understand you may need information about other parts of the country.
Here are some of the other states we can help you with:
Drowning in Paperwork? DoNotPay Comes to the Rescue!
Dealing with administrative procedures is never a fun experience. Not only is it time-consuming, but it's also extremely inconvenient and impractical. Luckily, we have a practical solution!
Use DoNotPay to cut through the red tape and handle any bureaucratic issue that comes your way stress-free! Check out the list below to see a fragment of tasks you can tackle with our help:
Explore DoNotPay's Other Services
DoNotPay provides you with a ton of other services you can find useful when completing your everyday tasks.
You can contact customer service support without waiting for hours, request refunds from various companies, file a missing package claim, and get compensation for missed or delayed flights in a few clicks!
If you want to earn some money, we can help you with: