Celebrity Sex Offenders Put Into Context by DoNotPay
Celebrity sex scandals are the stuff of journalists' dreams.
The exposure of a household name as a sex offender may be a double-edged sword, though. While celebrities may grab the week's headlines if convicted of a sex crime, our fascination with their story may make us forget that they are criminals and deserve punishment.
DoNotPay is here to make sure that the scandal of celebrity sex offenders remains in perspective!
Who Are the Most Famous Sex Offenders?
Recent years have seen the rise of the Me Too movement and the exposure of many celebrities as serial sex offenders.
The phenomenon is not new, though—examples of well-known personalities who have committed sex crimes have been common for decades.
Some of the less recent celeb sex offenders are:
Bill Cosby—Comedian Bill Cosby was convicted of aggravated sexual assault in 2018 and sentenced to between three and ten years in jail plus a substantial fine
Mike Tyson—Mike Tyson's boxing career derailed when he was convicted of the rape of a beauty pageant contestant in 1992. He served three years of his six-year sentence before being released on parole
Jeffrey Jones—Famous for acting roles in Ferris Bueller's Day Off and Beetlejuice, Jones was convicted of soliciting a minor for sexual acts in 2002 and sentenced to five years' probation
Lawrence Taylor—In 2011, N.Y. Giants linebacker Taylor was convicted of having sex with a minor and sentenced to six years' probation
Richard Finch—Richard Finch, one of the founder members of KC and the Sunshine Band, pleaded guilty in 2010 to having had sexual contact with an underage male and received a sentence of seven years in prison
What all these—and many other—celebrities have in common is that they are all on their respective state's sex offender registry.
How Does the Sex Offender Registry Work?
Anybody convicted of a sex offense in the U.S. must register themselves as sex offenders.
While there are slight variations in the way each state's registry works, most of them classify sex offenders in three tiers according to the severity of their crimes:
Sex Offense Classification
Explanation
Tier or level I
Tier I crimes are usually non-violent and non-penetrative, such as:

Public indecency
Possession of illegal pornography
Unwanted sexual contact with an adult

Tier or level II
Crimes classified as tier II involve pubescent minors or the production and distribution of illegal pornography
Tier or level III
The most serious sex offenses are classified tier III and involve violence or pre-pubescent minors. Tier III crimes can include:

Rape
Aggravated sexual assault
Child trafficking for sexual purposes
Kidnapping for sexual purposes
Convicted offenders must remain on the registry for the following periods in most states:
Tier I—15 years
Tier II—25 years
Tier III—until death
What Restrictions Do Registered Celebrities Face?
Similar to any other sex offender, celebrities convicted of sex crimes face several limitations on their lives as a result of being on the registry. The most important restrictions are:
Travel—Many celebrities find themselves unable to travel interstate or internationally without permission from their local law enforcement authorities
Residence—Many states impose regulations on where convicted sex offenders can live, stipulating that they must be a minimum distance away from any area where children congregate
Employment—As convicted sex offenders, many celebrities are forbidden from working with children or entering buildings where children are likely to be
Social media presence—Some states prohibit sex offenders from maintaining their social media presence, and some platforms—notably Facebook—ban sex offenders outright
All these factors can have a significant impact on the life—and livelihood—of a celebrity sex offender.
In having to adhere to the rules of registration, they are treated the same as their not-so-famous sex offender counterparts.
Should You Be Scared of Celebrity Sex Offenders?
Celebrity sex offenders achieve instant notoriety and generally pose no threat to the general public after they have been convicted. Media scrutiny ensures that their whereabouts are mapped diligently, and hiding by remaining unregistered is not an option.
Non-celebrity sex offenders are a different matter, though. They can lead lives of relative anonymity in the same building as your family and may re-offend at any time.
Under the terms of the 1996 Megan's Law, sex offender registries are openly accessible to the public, and the best way to ensure your safety could be to search your local registry.
Most state registries allow you to perform a search for:
Sex offenders within a radius around your house
Specific names across the country
While this is an excellent way to check your safety today, it doesn't help you know when things change—a sex offender could move into your building overnight, and you may not find out about it for months.
DoNotPay has the answer! With our help, you can —you can even sign up for weekly updates to keep you in the loop!
DoNotPay Protects You From Red Carpet and Stairwell Carpet Sex Offenders!

Whether you are worried about famous or infamous sex offenders, DoNotPay is here to help!
Our Sex Offender Search product is the best way to ensure you and your family can keep well away from sex offenders wherever they are.
To use our feature, all you need to do is:
in your web browser
Click on our Sex Offender Search feature
Choose whether you want to search for

A particular person
Sex offenders in your vicinity
We will deliver your report in a flash—as well as weekly updates if you choose!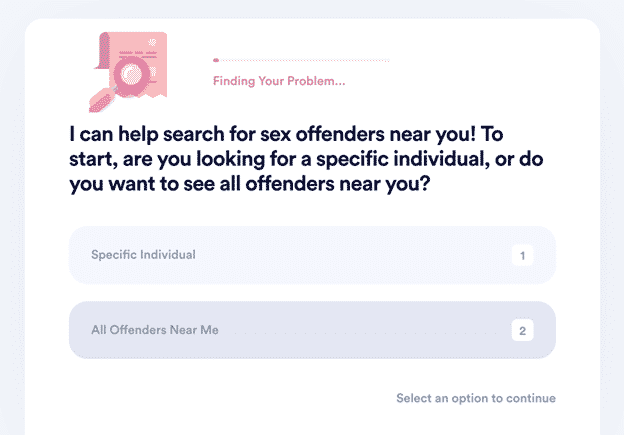 Can DoNotPay Help With State-Specific Information?
If you're looking for specific details about the sex offender registry in your state, look no further than DoNotPay—here are a few examples of states we can help you with:
DoNotPay Makes Administrative Hurdles a Piece of Cake
If you ever needed to deal with an administrative task, such as drafting a valid legal document or paying property taxes, you know that it's a struggle. The good news is—it doesn't have to be!
With a bit of assistance, you can draft a POA document and learn how to reduce your property taxes in a jiffy!
DoNotPay will also show you how to tackle any of the following tasks like a pro:
We Offer More Helpful Tools!
Helping you deal with bureaucratic hurdles isn't everything we got in store for you! DoNotPay boasts various other nifty tools that you can use to deal with everyday tasks. You can: