A Guide To Performing a Casey's Gift Card Balance Check Without a Hassle
Are you thinking about throwing away a used Casey's gift card but want to check the remaining balance before you do it? Why throw away a used gift card if you can convert the remaining balance to cash?
In this text, we will explain everything you need to know about the Casey's gift card balance check. to find out how to exchange gift cards for cash no matter the state you live in.
The Basics of a Casey's Gift Card
Casey's gift cards are redeemable for store merchandise and fuel purchase at all Casey locations. If you have any balance left after your purchase, you can use it during your next visit.
Casey's gift cards range from $5 to $200. It is important to store your gift card in a safe place because if you lose or damage it, you will not get a refund or a replacement card.
Casey's gift card doesn't have an expiration date. If you don't use your card for 12 months, a two-dollar inactivity fee will be deducted from your remaining balance every month.
How To Check Your Casey's Gift Card Balance?
If you haven't used your card in a while and want to see if there's some money left on it, we can show you how to check your balance. You can then spend the remaining funds on a new purchase or try to get your cash back. Anything is better than paying pointless inactivity fees!
How To Check Your Balance
What Steps To Take
At a Casey's location

Go to a Casey's store near you
Hand your gift card to the cashier
Ask them to check the remaining balance on your card

On the website

Go to the Casey's Gift Cards page and click on Gift Card Balance Lookup
Enter your gift card number and security code. If your card does not have a security code, leave the field blank
Click on Get Card History

Over the phone

Dial 1-800-522-7159
Ask the customer support representative to check the remaining balance on your gift card
Provide your name, gift card number, and security code
What Should You Do if You Have Some Remaining Balance on Your Gift Card?
If you have checked the balance on your gift card and have some dollars remaining on it, here's how you can use it:
Spend every last cent—Visit a Casey's store and get yourself some food and groceries. If you're concerned that your purchase amount is higher than the balance on your card, don't worry! You can use your debit or credit card as an additional method of payment
Sell the card—If you've stopped shopping at Casey's and the card is useless to you, consider selling it online on Facebook marketplace or eBay. Although it seems like a legitimate option, you also need to consider the risks involved with online selling, like people scamming you with fake payments
Trade your gift card—Some marketplaces allow you to trade your gift card with another one that is more suitable for your needs
Exchange it for cash— Casey's does not allow you to return your gift card for cash unless stated by law. This means that if you live in a state with a cash back policy, you can request your money back
If you want to get your money back but don't know how to do it, let DoNotPay be your champion!
DoNotPay Can Help You Exchange Your Gift Card for Cash in a Snap!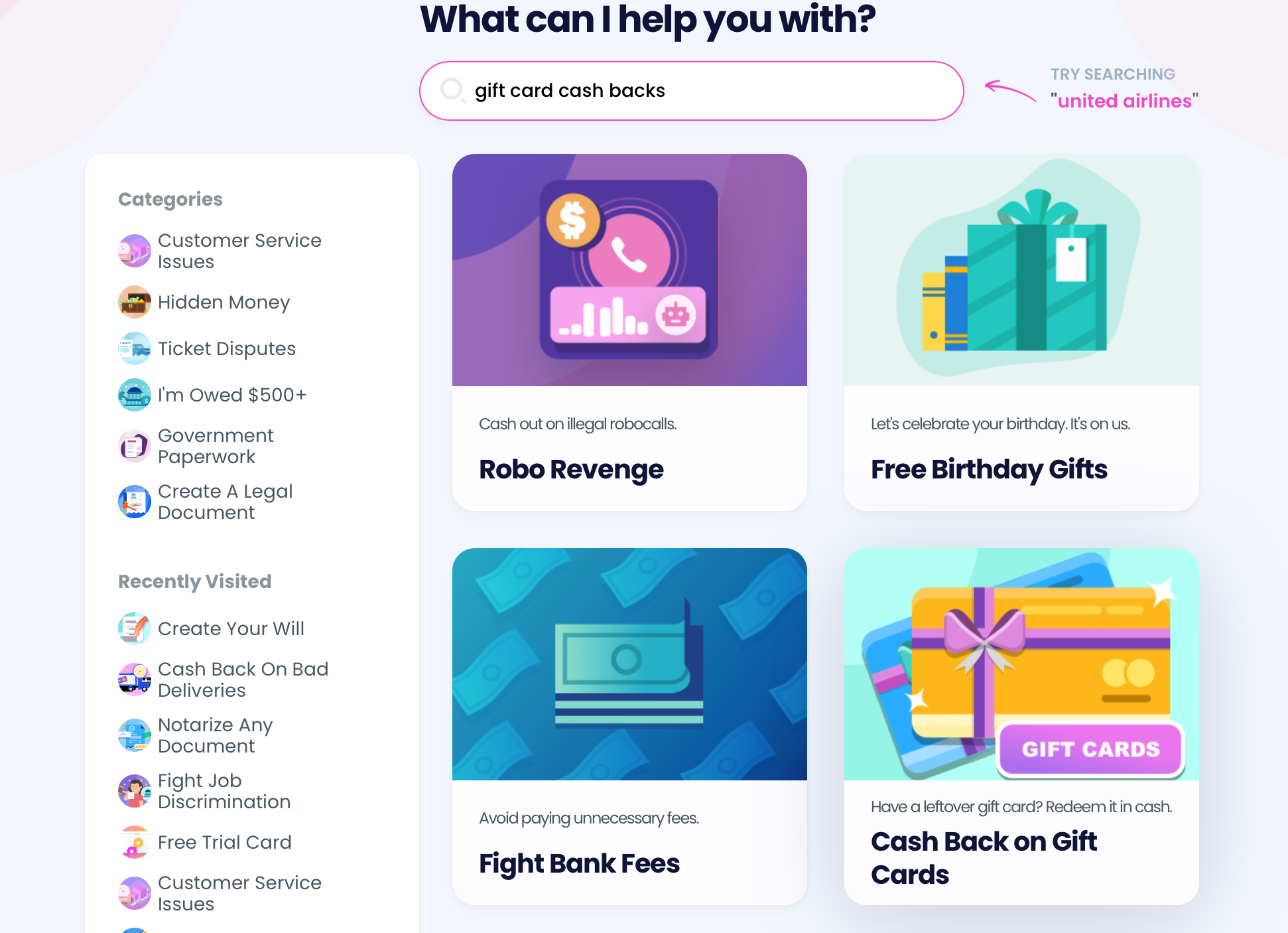 Do you want to turn your gift card into cash without a hassle? Use DoNotPay to get your cash back without breaking a sweat. Here is the list of steps you need to follow:
in your web browser
Select the Gift Card Cash Back feature
Enter the necessary information about the gift card, including the company name, card number, and the remaining balance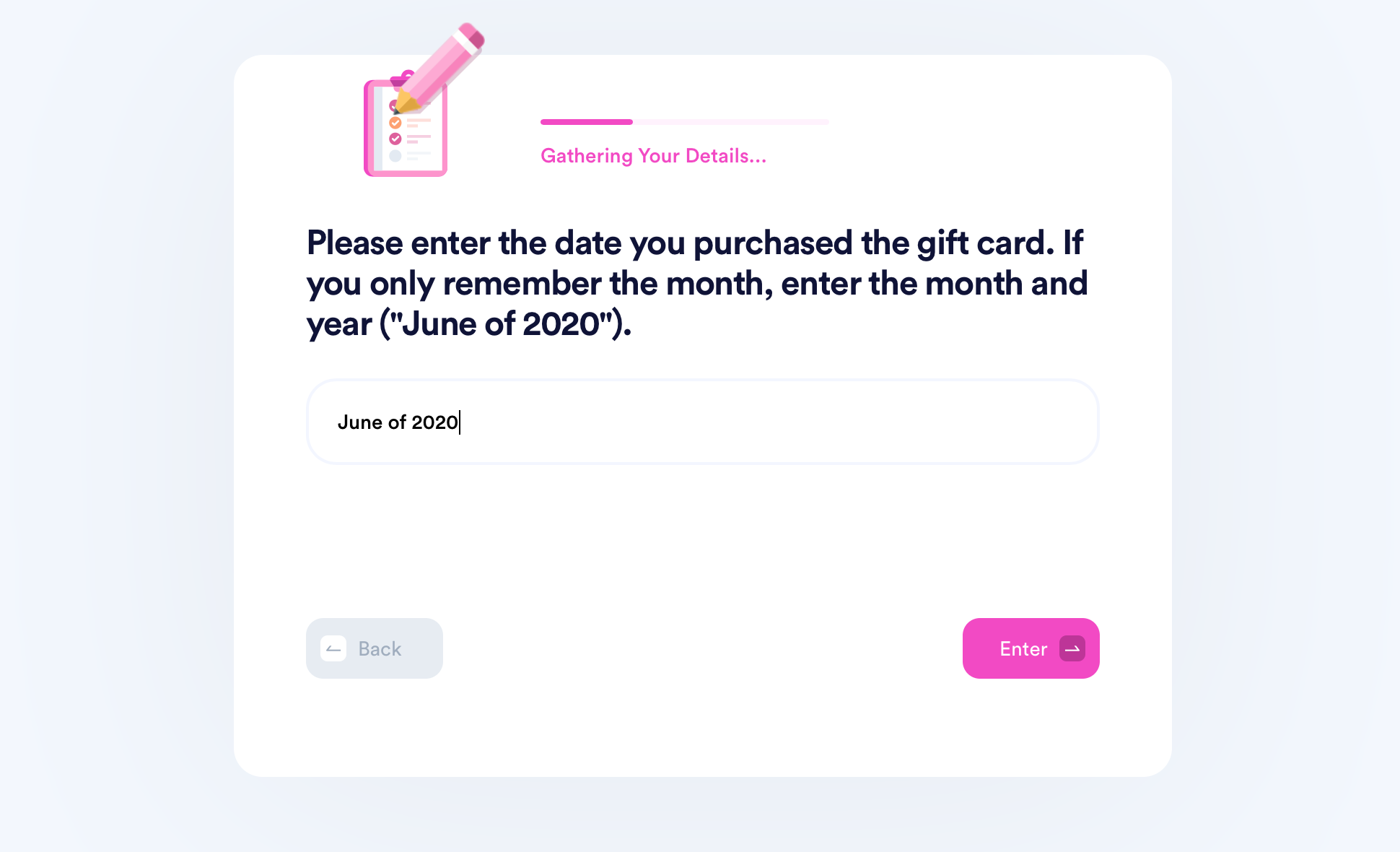 We will process the information. If your state has a cash back policy, we will send a request to the company's office. In case it doesn't, we will try to locate the company's office in a state that does and send the request there. You should receive your cash or check by mail within 14 business days.
Bear in mind that the cash back policy works if you have a few dollars remaining on your card—usually up to $5. The policy does not work on amounts larger than that in most states.
Have Other Used Gift Cards? DoNotPay Can Help!
Our work doesn't end here—if you have more used gift cards stashed in your drawers, it's time to take them out. 's learning center can help you get your cash back from various companies, including:
Easy-Breezy Ways To Deal With Not So Breezy Issues
Administrative and similar tasks don't have to be as complicated as we've known them to be. With DoNotPay, dealing with paperwork and companies is done in a few clicks. Let the world's first robot lawyer help you:
Money Troubles? I Don't Know Her!
As our app's name says, DoNotPay's mission is to put a stop to losing money and overpaying. We will help you get your hands on free trials and snatch free raffle tickets. DoNotPay can also provide solutions for you to get help covering bills and reduce your property taxes.
If you want to get some additional funds, use our app to sign up for clinical trials. You may also take our practice tests to ace a government test and land a better-paying job.
It doesn't hurt to check whether you are owed some unclaimed money, and we can help you with the application.