Get Your Lost Items From Carnival Cruises Lost and Found With DoNotPay
Searching for something you lost is always a painful task, especially if you've forgotten your item on vacation. In such cases, lost and found bins and departments are usually your best bet.
That's why DoNotPay has prepared a guide to explain everything you need to know about retrieving lost items from the Carnival Cruises Lost and Found office. We'll provide all the details and show you the most efficient way of finding a lost item, whether it's your wallet, car keys, or phone. Sign up and retrieve your items in a matter of clicks!
How Does the Carnival Cruise Lost and Found Policy Work?
If you've left something behind on your trip with Carnival Cruise Line, you will have to file a claim with the company. You can do so in four ways:
Online
Over the phone
Via email
With DoNotPay
Filing an Online Claim With Carnival Cruise Lost and Found
To file an online claim with the Carnival Cruise Lost and Found department, you have to visit their official website and do the following:
Scroll down to the bottom of the home page
Click on the Post-Cruise Inquiries section
Find Questions About Lost Items tab
Hit Contact Us
Complete the Lost and Found form by entering the following info:

The type of your lost item
Sail date
Date of loss
Ship that you lost the item on
Your booking number
The location where your item was last seen
Your name and surname
Your contact information (e.g., email address and phone number)
Carnival Cruises will send you regular updates via email regarding your lost item. If it's found, you'll be able to pick it up or receive it via delivery. Keep in mind that—due to the COVID-19 pandemic—there are delays in returning lost items, so you might have to wait for a while.
Filing a Carnival Cruise Lost Item Claim via Phone
Want to file a Carnival Cruise lost item claim via phone? You can do so by calling the company's customer service at (800) 845-2599 and:
Explaining your problem to the customer care rep
Giving a detailed description of your lost item
Providing the customer service rep with your contact information
Note that the Carnival Cruise customer service team works from 9:00 a.m to 10:00 p.m on weekdays and from 9:00 a.m. to 6:00 p.m. on weekends.
Filing a Carnival Cruise Lost Item Claim via Email
Don't feel like spending hours on the phone trying to reach Carnival Cruise customer service agents? You can send them an email at guestcare@carnival.com to deal with any issues or file a lost item claim.
Make sure to include all the specifics of your lost item. State when and where you lost it, and provide pictures of it (if you have any) as they can help the Carnival Cruise team identify the item they should keep an eye on.
Bear in mind that the Carnival Cruise customer service support is working with reduced capacity due to the ongoing pandemic and may take some time to respond to your email.
Using DoNotPay To File a Claim With the Carnival Cruise Lost and Found Office
If you don't want to waste time filing claims, talking to customer service representatives, or writing emails, and let our AI-powered app automatize the process for you. You only need to describe the item or add photos of it and leave everything else to us. We'll contact Carnival Cruise Line in your stead and then inform you if the item is found.
DoNotPay can also provide assistance with contacting lost and found departments of other companies, such as:
DoNotPay Helps You File a Claim With the Carnival Cruise Lost and Found Department in a Flash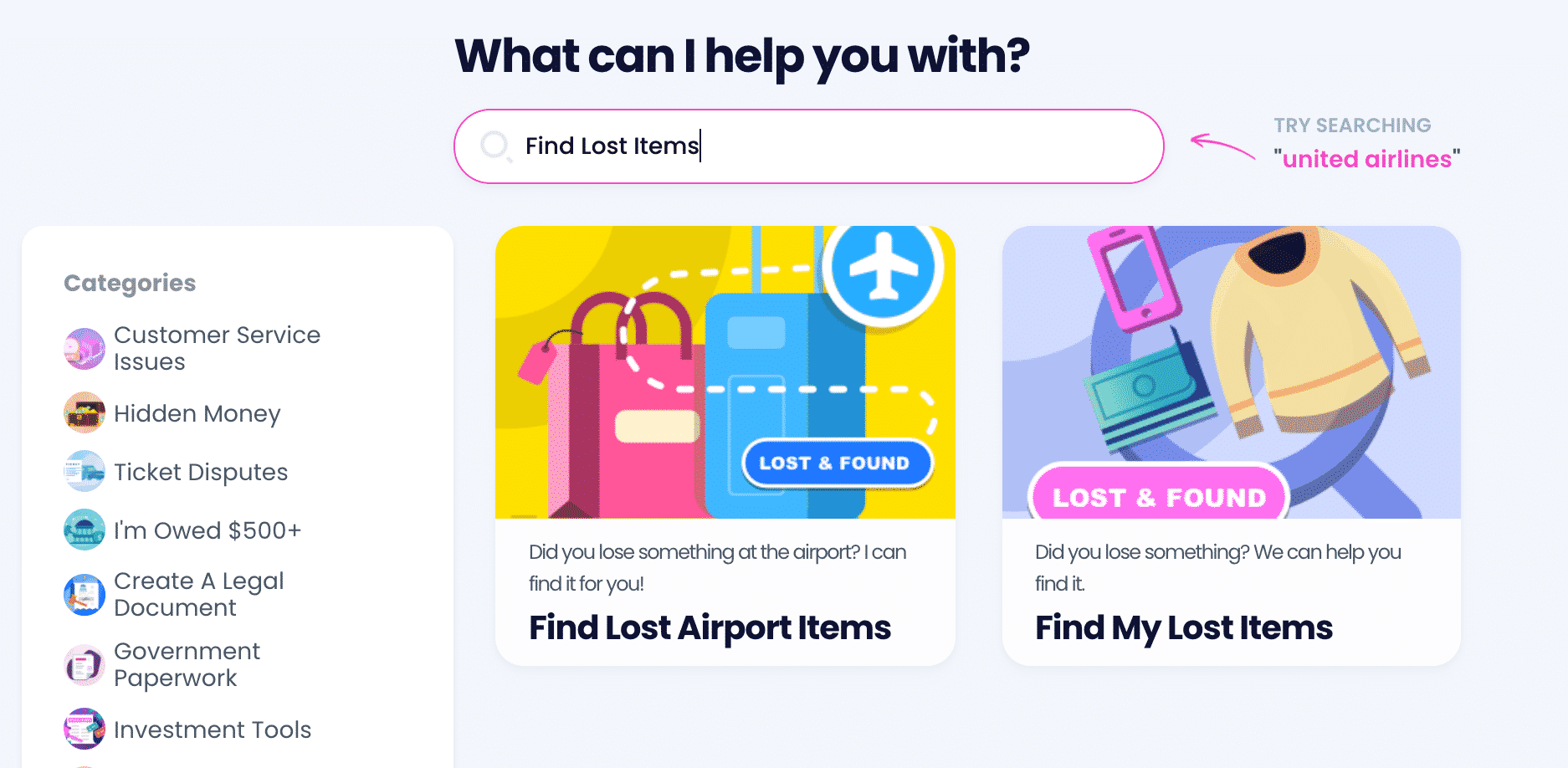 Retrieving a lost item doesn't have to be a tedious task, provided that you have the right tools! DoNotPay will help you contact Carnival Cruise Line and inquire about your lost item on your behalf. Our app is efficient and simple to use as you only have to follow a few steps:
from your preferred browser
Locate our Find My Lost Items tool
Answer our chatbot's questions about your item
Attach pictures (if possible)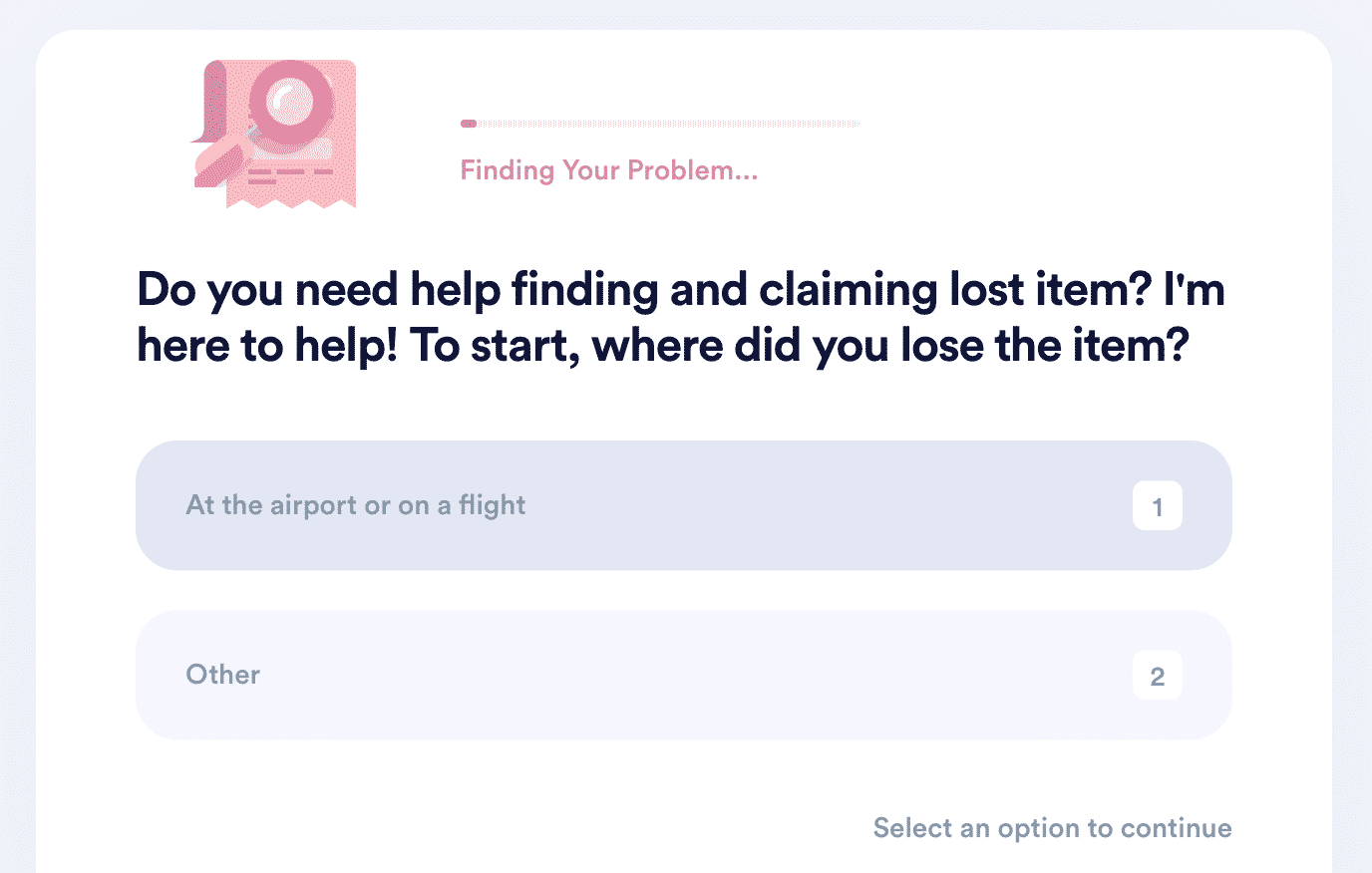 We'll process your request swiftly and contact Carnival Cruise for you. In case your item is found, we'll reach out to you, and you can pick it up or choose to have it delivered.
DoNotPay can also help you locate a cell phone that's turned off or a lost iPhone that is dead. We can assist you in finding phones from various carriers (e.g., Verizon or T-Mobile) and at numerous places, such as:
Struggling Financially? DoNotPay Can Help You Out!
If you're on a tight budget and have trouble covering your bills, there are a few things we can do for you. DoNotPay is a great tool to both earn and save money.
If you or a family member is a student, you can use our app to search and apply for scholarships and request a college fee waiver. In case your financial aid application is rejected or the university offers little, we can help you file an appeal. Education can be expensive on all levels, so you may consider homeschooling your child.
Is your property tax bill through the roof? Discover ways to lower your property taxes with DoNotPay.
When you're strapped for cash, you can enter sweepstakes, get gift card cash back, or sign up for clinical trials in your area.
What Else Can You Expect From DoNotPay?
DoNotPay is a versatile app, helping users handle tasks and issues while saving time and money.
With our help, you can prepare for various government tests, contact embassies and consulates, appeal banned accounts, and send online faxes within minutes.
Count on DoNotPay when you need to mail letters, apply for tourist visas, or file anonymous HR complaints.
Fighting workplace discrimination and dealing with annoying neighbors will also be much easier with the world's first robot lawyer by your side.