DoNotPay Shows You How To Find a SafeLink Lost Phone Stress-Free
Did you lose your SafeLink phone, and you don't know which steps to take to find it? DoNotPay is here to change that! We'll help you find your SafeLink lost phone in no time by showing you how to conduct the search and provide you with the most efficient and effortless solution.
Our AI-powered app can also help you find your wallet, car key, ring, or any other items you can't locate on your own. Whether you've lost your belongings in an Uber or Metro Transit, we'll help you find them hassle-free.
How To Find Your Lost SafeLink Phone
To find your lost SafeLink phone, you can:
Use GPS tracking apps
Contact the locations you visited
Use GPS Tracking Apps
Most companies install GPS tracking apps into their phones, which helps you locate the missing device. The steps you have to follow to use them depend on whether your lost phone is an:
iPhone—To find a lost iPhone, you need to go to icloud.com/find from the browser of your choice. Once you are there, log in with your Apple ID and open the Find My app. For this solution to work, the Location Services on your iPhone must be enabled
Android—Finding a lost Android phone requires you to do the following:

Go to Settings
Select Security & Location
Click on Find My Device
Contact the Locations You Visited
Try to remember the places you've last used your phone at. The chances are that you forgot it at a restaurant or a shop and that someone has found it. Once you remember the locations you visited recently, you can either:
Call their customer support
Visit them in person
Various locations have lost and found departments and bins that you can check out (e.g., MTA, Disneyland, DC Metro, NJ Transit, and others). If you don't want to go through the hassle of searching for lost items on your own, you should turn to DoNotPay for help! We'll contact the locations in your stead and make the situation less stressful.
How To Use DoNotPay and Find Your Lost SafeLink Phone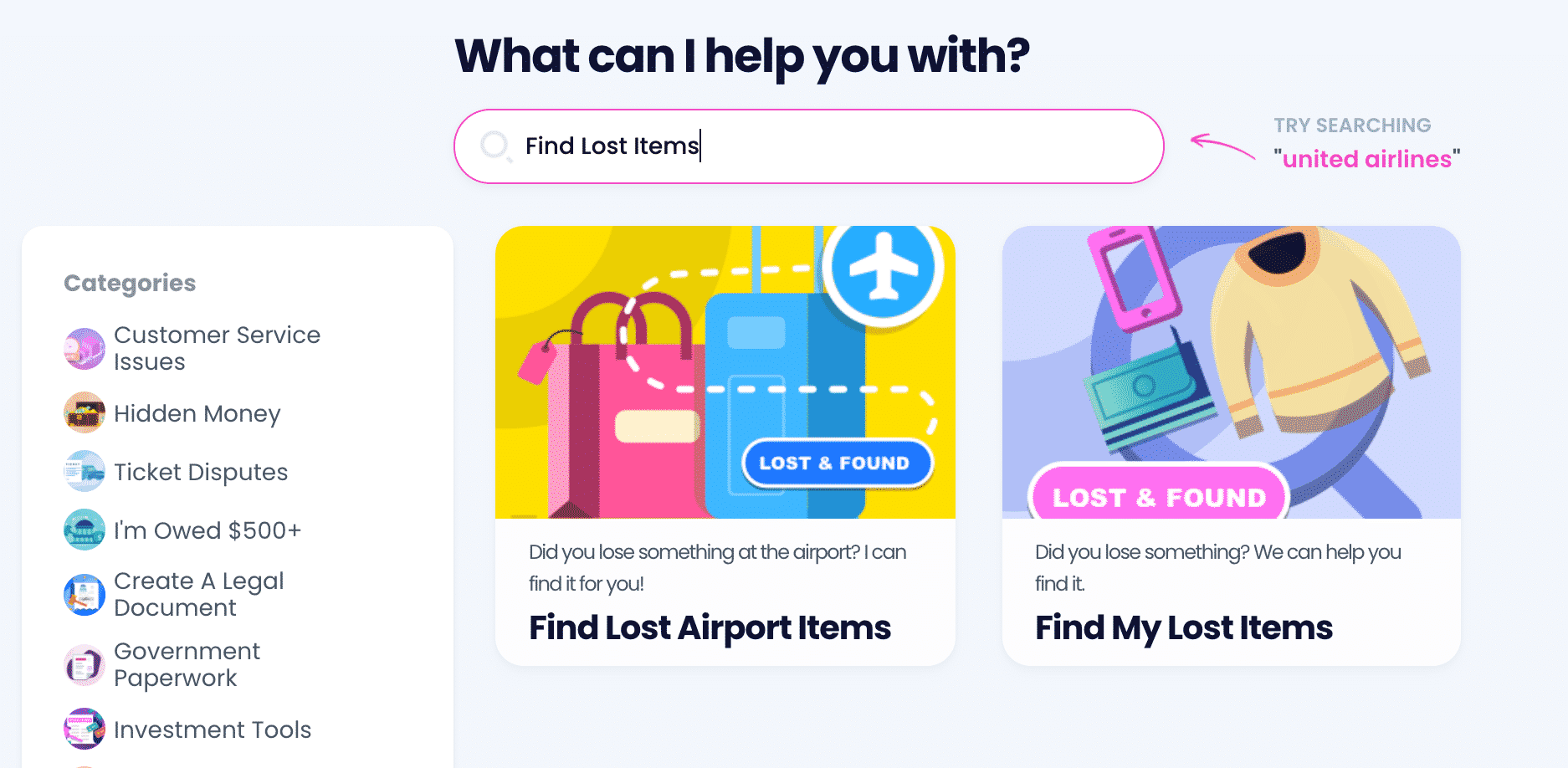 The easiest and most effective way to reach out to locations where you might have lost your SafeLink phone is to use DoNotPay. Our AI-powered app will save you both time and effort as we can manage the whole search process for you. To use our app, you need to:
Tell us when and where you lost your SafeLink phone
Describe the phone in detail
Add photos (if you have any)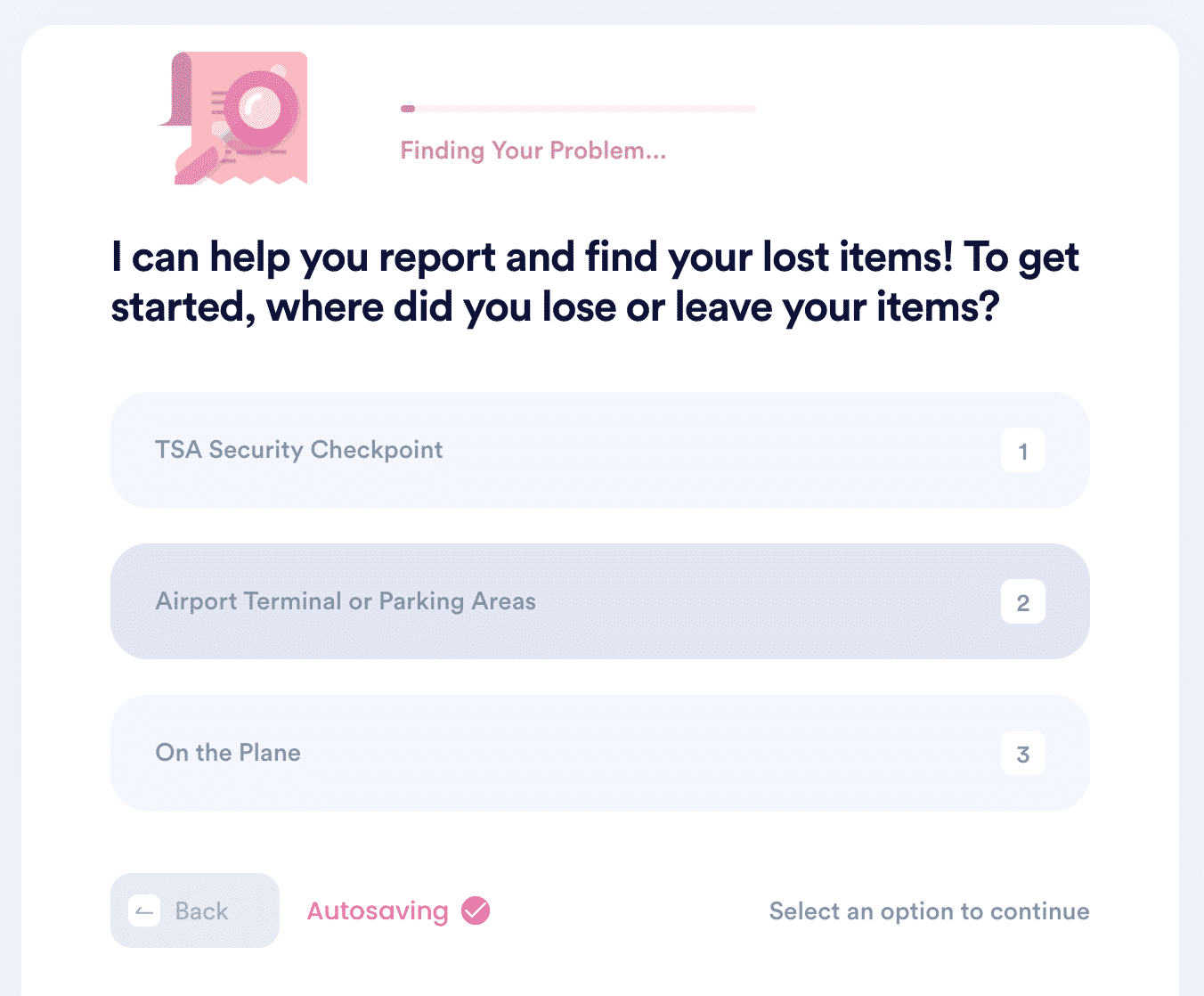 We'll contact the locations you specify in the questionnaire and notify you if your phone is found. In case it is, you can receive it by delivery or pick it up yourself.
DoNotPay can also help you with other phone companies and carrier services, such as:
Can You Replace a Lost SafeLink Phone?
Even if you can't find your SafeLink phone, don't worry—the situation isn't as dire as it seems. You should reach out to the company's customer service and explain your problem as they will give you a replacement. When you receive the new device, you need to:
Call them so they can have it activated
Provide the sim card code (found at the back of the sim)
Tell them the serial number found on the activation card
Once the SafeLink customer service activates your phone, you will receive the remaining airtime from your lost device.
How To Contact SafeLink Customer Service
You have two methods of reaching out to SafeLink customer service—by email or over the phone. Check out the table below for details:
By Email
Over the Phone
You need to visit the SafeLink Wireless support page, and:

Enter your ZIP code
Hit Go
Type in your:

First name
Last name
Company name (optional)
State
Phone number
Email address

Add a subject
Write down your issue and explain it in details
Complete the Captcha
Click on Submit

SafeLink's customer service operates from 8 a.m. to 12 a.m., seven days a week (for technical support). You should call them at 1-800-378-1684 and:

Explain your issue once the customer service representative picks up
Provide the following info:

Your name
Your phone number
Serial number of the lost phone

Choose whether you want to keep your current phone number or get a new one
Requirements for Getting a Replacement for a Lost Safelink Phone
SafeLink has clear rules for giving out replacement phones, as follows:
The replacement phone is a refurbished device
You can only get one free replacement phone, meaning that you won't get another one if you lose the second phone as well
All extra airtime you might have had won't be replaced, and you will obtain 10 minutes of lost airtime for the ongoing month
Struggling Financially? DoNotPay Can Help You Out!
If you're on a tight budget and have trouble covering your bills, there are a few things we can do for you. DoNotPay is a great tool to both earn and save money.
If you or a family member is a student, you can use our app to search and apply for scholarships and request a college fee waiver. In case your financial aid application is rejected or the university offers little, we can help you file an appeal. Education can be expensive on all levels, so you may consider homeschooling your child.
Is your property tax bill through the roof? Discover ways to lower your property taxes with DoNotPay.
When you're strapped for cash, you can enter sweepstakes, get gift card cash back, or sign up for clinical trials in your area.
What Else Can You Expect From DoNotPay?
DoNotPay is a versatile app, helping users handle tasks and issues while saving time and money.
With our help, you can prepare for various government tests, contact embassies and consulates, appeal banned accounts, and send online faxes within minutes.
Count on DoNotPay when you need to mail letters, apply for tourist visas, or file anonymous HR complaints.
Fighting workplace discrimination and dealing with annoying neighbors will also be much easier with the world's first robot lawyer by your side.