Finding Lost Keys Doesn't Have To Be Difficult—Use DoNotPay
Losing any item can be pretty frustrating, but realizing your keys are nowhere to be found is probably one of the worst feelings ever. Have you lost the keys to your car, apartment, or similar, and now you don't know where to start looking or how to conduct the search? Don't worry—DoNotPay has the right tool for you!
We'll list all the solutions you can opt for when looking for your lost keys and show you the most efficient one! Finding something you lost with our tool is super easy and time-efficient. Whether you lost your key or any other item, such as a class ring, Apple Watch, iPhone, AirPods, or Fitbit, we'll show you how to find it fast!
How To Find Lost Keys
The way you'll conduct your search for lost keys depends on whether you lost them:
In the house
Outside the house
How To Find Lost Keys in the House
If you think you lost your keys somewhere inside your home, start your search by checking the places where keys can get misplaced easily, such as:
The living room area—You should look underneath your couch, tables, chairs, and other spots around your living room
The kitchen—Check the kitchen drawers, on top of the fridge, and similar
Small spaces—Be sure to check the shelves where you place a lot of small items or any drawers around the house
How To Find Lost Keys Outside the House
If you think you lost your keys outside your house, you should do the following:
Check your car—There's a chance you forgot your keys in the car, so you should check between the seats, under the floor mats, inside the glove compartment, and around the stick
Retrace your steps—Try to remember the places you visited since you last saw your keys and then either visit or contact them. You should also inquire with the lost and found departments of those places since most locations have them (check our guides on MTA, Metro Transit, NJ Transit, or Carnival Cruise Line lost and found, for example). Keep in mind that it can be time-consuming to go to all the places you visited or to wait on hold to reach customer support agents to help you find your keys
Contact the authorities—Although the police won't go on a search for your lost keys, you should go to the local station and ask them whether someone had found the keys and turned them in. You should also leave your contact information so the police can reach you in case your item is found in the future
Use DoNotPay—If you can't find your keys anywhere but don't have time to visit or contact various places to look for them, use DoNotPay instead! Our AI-powered app is not only time-efficient but also easy to use and will do all the work for you in no time. Tell us all the locations you suspect losing the keys at, and we'll do the search in your stead
How To Use DoNotPay and Find Lost Keys Fast and Easy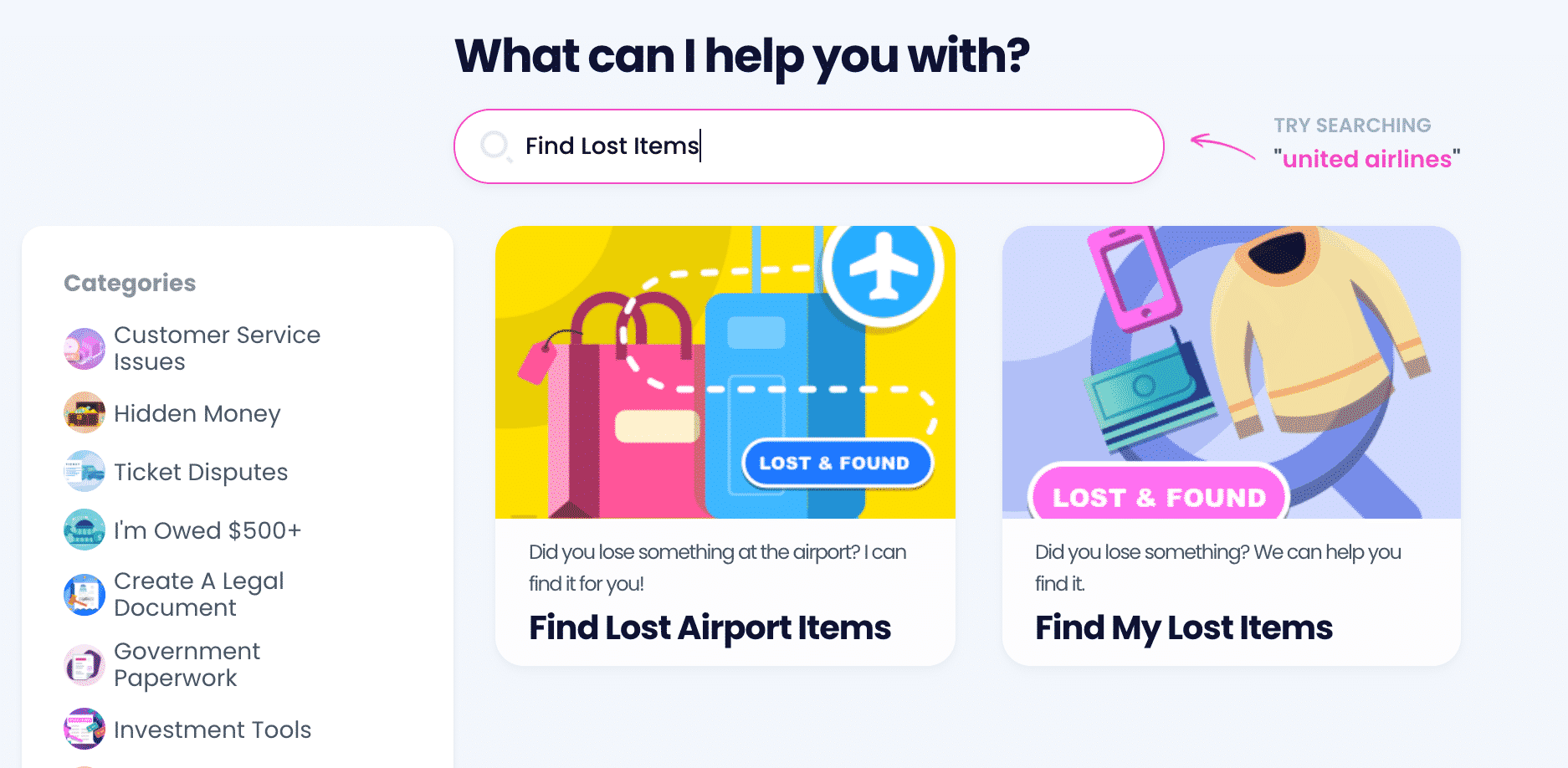 Retrieving your lost keys is a piece of cake with DoNotPay's easy-to-use tool! Don't waste time looking for them on your own. Complete a few simple steps, and let us do the rest of the work. All you need to do is:
Select our Find My Lost Items tool
Answer our chatbot's questions
Tell us when and where you lost the keys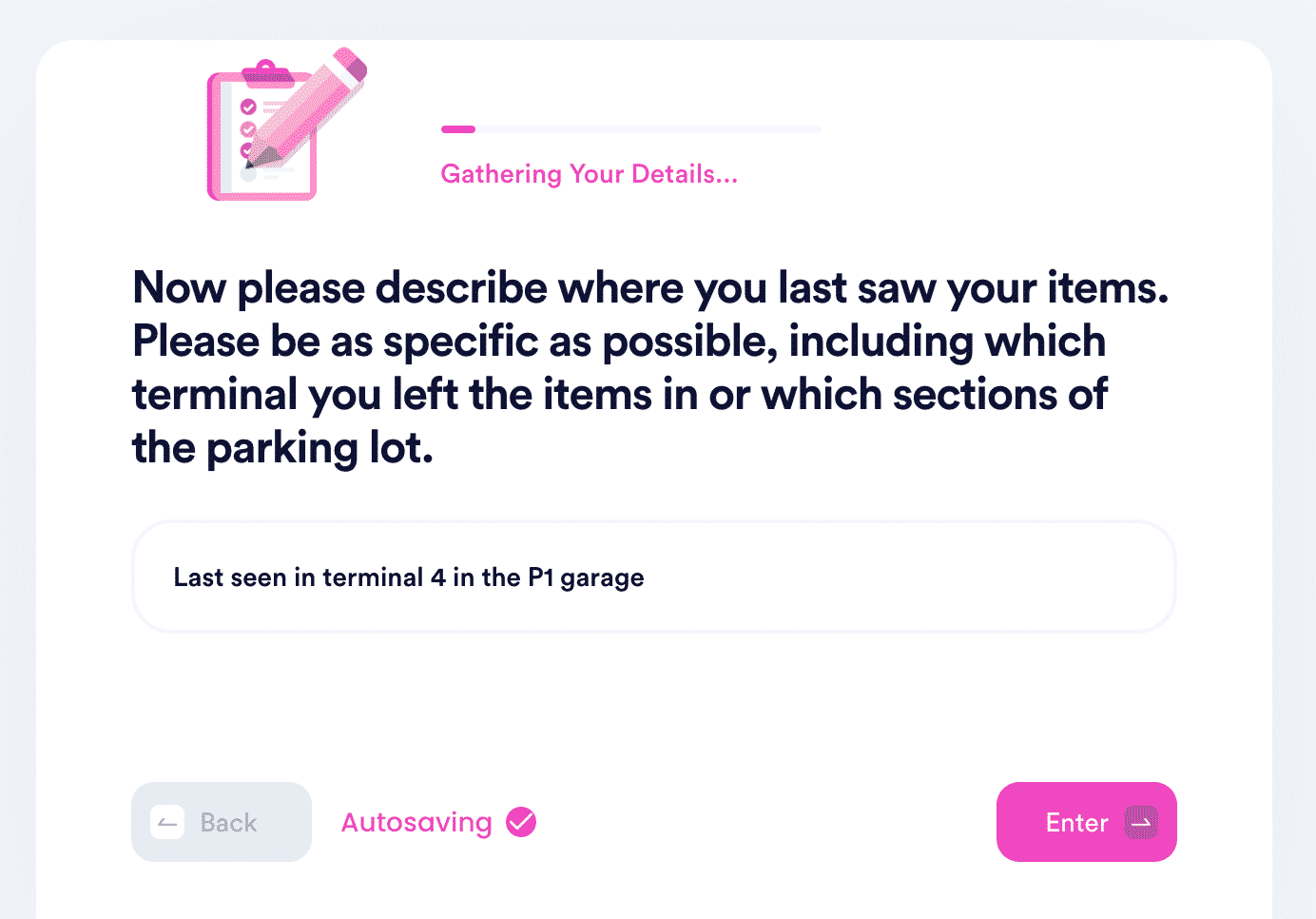 We will contact the locations where you last saw your keys and update you accordingly. If they are found, you can then either go pick them up or choose to have them delivered.
DoNotPay's help doesn't end here! We can also assist you in searching for various other lost items, including your wallet or phone (we can help you contact numerous phone carriers, such as Verizon, T-Mobile, and more). Have you lost your phone in an Uber or Lyft? You can count on us for help!
How To Avoid Losing Your Keys Again
To save you from losing your keys again, DoNotPay has prepared some helpful tips. Check out the table below for details:
| Tip | Details |
| --- | --- |
| Get a key finder app | There are various key finder apps that you can use to track your keys or fobs |
| Use a keychain | An easily noticeable keychain can help you avoid losing your keys. Getting one and keeping your keys together will make them easier to find. They'll also make noise if they fall out of your pocket or bag |
| Have a dedicated spot for your keys | If you don't have a spot where you keep your keys at home, you should get one as having them all in one place will minimize the chances of losing them |
| Check your pockets multiple times | Consider getting into a habit of checking your pockets twice before leaving any place |
Struggling Financially? DoNotPay Can Help You Out!
If you're on a tight budget and have trouble covering your bills, there are a few things we can do for you. DoNotPay is a great tool to both earn and save money.
If you or a family member is a student, you can use our app to search and apply for scholarships and request a college fee waiver. In case your financial aid application is rejected or the university offers little, we can help you file an appeal. Education can be expensive on all levels, so you may consider homeschooling your child.
Is your property tax bill through the roof? Discover ways to lower your property taxes with DoNotPay.
When you're strapped for cash, you can enter sweepstakes, get gift card cash back, or sign up for clinical trials in your area.
What Else Can You Expect From DoNotPay?
DoNotPay is a versatile app, helping users handle tasks and issues while saving time and money.
With our help, you can prepare for various government tests, contact embassies and consulates, appeal banned accounts, and send online faxes within minutes.
Count on DoNotPay when you need to mail letters, apply for tourist visas, or file anonymous HR complaints.
Fighting workplace discrimination and dealing with annoying neighbors will also be much easier with the world's first robot lawyer by your side.