Contact Enterprise Lost and Found With Ease
Losing your home or car keys, phone, glasses, or wallet can be a major headache. You need to find the lost item fast since you need it for your everyday activities.
What should you do if you've left your belongings, such as your phone, in an Uber, Lyft, cab, bus, or rental car? This article presents methods of reporting lost items to the Enterprise Lost and Found Department so that you can get on with your day peacefully.
When To Contact the Enterprise Car Rental Lost and Found Department
You should get in touch with the Enterprise Rent-A-Car Lost and Found as soon as you realize your item is missing. If you've retraced your steps and believe that you've last seen the lost object in the rented vehicle, you need to report it to Enterprise. This way, you might be able to recover the item before another customer rents the same car.
While most car rental companies check their vehicles upon return, they might not notice the item you lost unless you alert them on time.
How To Get in Touch With Enterprise Rent-A-Car Lost and Found
If you dropped off the rented car a short time ago and are still near the Enterprise Rent-A-Car location where you returned the vehicle, you should:
Head back there if you can
Call the office to let them know and inspect the car carefully
Report a Lost Item at an Enterprise Lost and Found Location
You've got the best chance of retrieving a lost item by contacting the Enterprise Rent-A-Car Lost and Found office at the location where you left the vehicle.
To get in touch with one of the Enterprise locations, you should:
Open the Enterprise Lost and Found page
Click on the link of the location where you dropped off your rental car
Go through the Found Items Listing to check if your object is listed there
If you don't see your lost item on the Found Items Listing of the Enterprise Rent-A-Car location you selected, you could report it missing online by following these steps:
Click on the Report Now button in the Report A Lost Item box
Type in your first and last name
Enter your address(es)—street, city, state, and ZIP code
Provide contact information—phone number and email address
Hit Next
Specify the date you lost your item
Enter the last eight digits of the rented car VIN—You can find it on your receipt
Click on the Next button
Choose the category your lost item belongs
Provide additional necessary information and description of the object
Press the Submit button on the right
Once you've filed the report, you could track its status by entering your name and reference or phone number in the Check the Status box.
If you don't hear back from an Enterprise Rent-A-Car Lost and Found representative, you should get in touch with them.
How To Contact Enterprise Rent-A-Car—Alternative Options
While submitting an online report is what Enterprise prefers, you could also notify the company of your lost item in the following ways:
How To Get Hold of Enterprise Rent-A-Car
Details
Visit a car rental office
You can:

Head to the location where you dropped off your rental car
Find the address and work hours on the page of the chosen Enterprise location

Call Enterprise Rent-A-Car
You could call:

Enterprise Lost and Found Department at 1-855-400-0862
Enterprise customer service at 1-855-266-9565

Fill out the general form online
If you cannot find the location where you left the rented vehicle on the Lost and Found page, you should:

Open the Customer Support page
Select Lost Item in the Topic drop-down menu
Type in the rental location
Enter your message with as many details about the lost object as possible
Provide your contact data
Hit Submit
to avoid waiting for a representative to reply to your submitted report or answer your call. We can get in touch with the Enterprise Lost and Found Department for you in a flash!
DoNotPay Deals With Lost and Found Departments Smoothly
If you don't have time or energy to go searching for your lost belongings on your own, you're in luck! Our AI-powered app can automatically contact different organizations, companies, and locations where you might have left your item.
We can get in touch with Enterprise Rent-A-Car, Metro, MTA, or any other company on your behalf and report a lost object in a matter of minutes!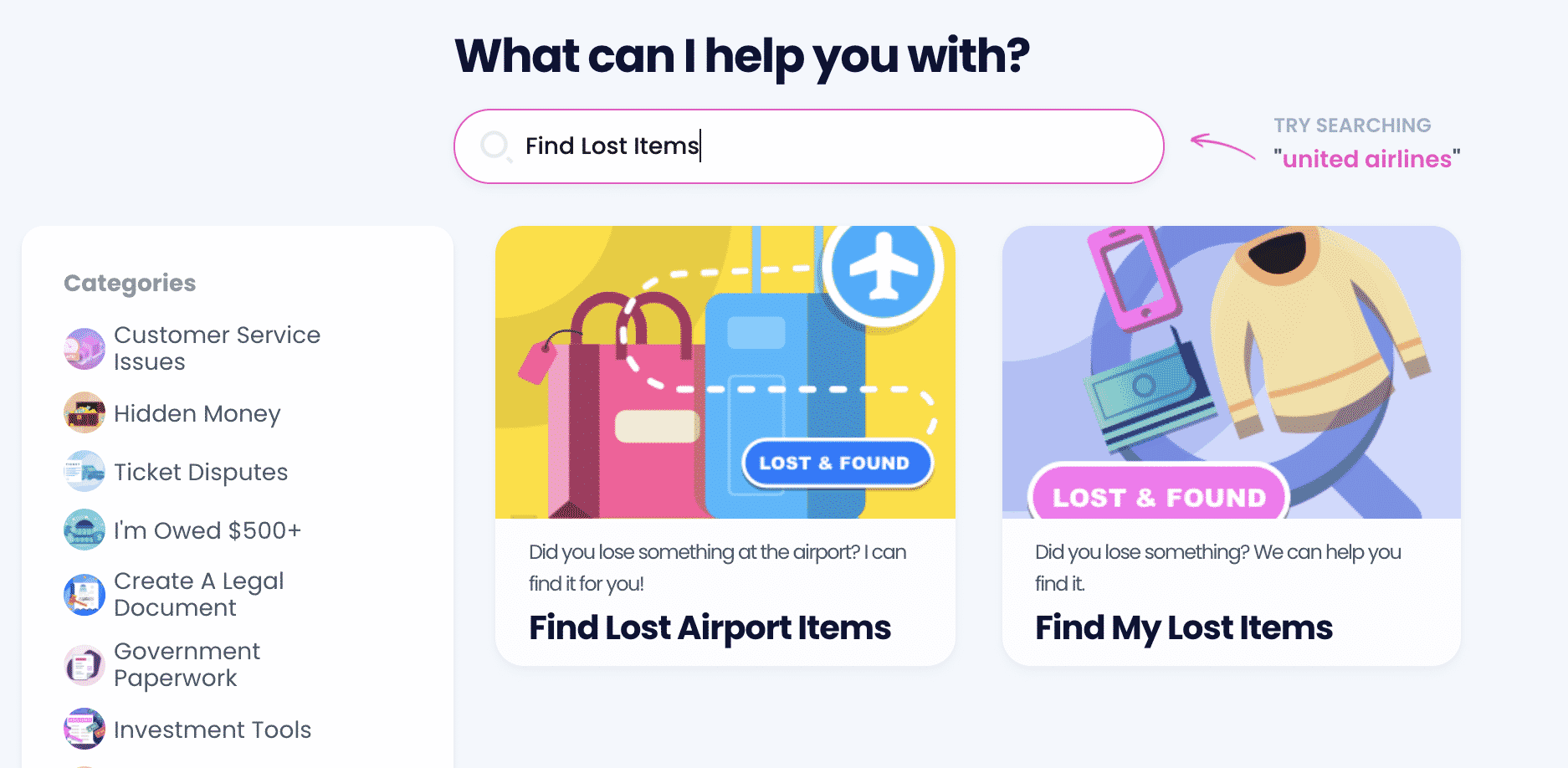 Would you like to collect the missing item swiftly? and:
Type in Find My Lost Items
Tell us where you believe you lost the item—provide the name of the restaurant, store, or park
Provide the description of the item and, if possible, upload a photo
Choose the date and (approximate) time you last had the object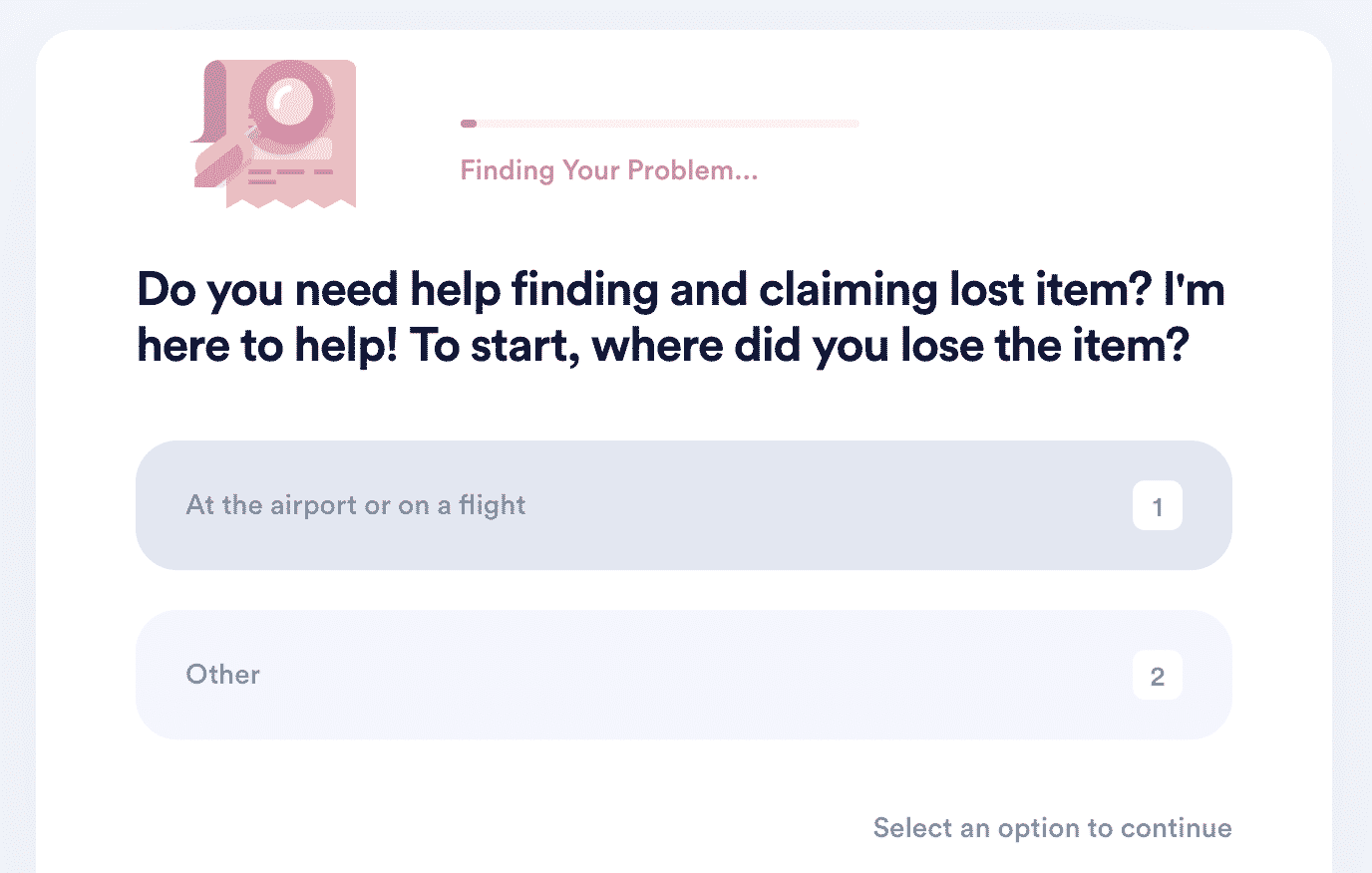 Once you complete the steps, DoNotPay will get hold of the company and department in your stead. If the item is found, we'll also notify you of how to claim it.
Let Our App Assist You With Paperwork
You don't have to deal with bureaucratic tasks on your own! DoNotPay is here to help you cancel your memberships, appeal parking tickets, discover unclaimed funds, and get any document notarized online.
If you need help covering your bills or you'd like to get extra cash by signing up for clinical trials, we are your go-to!
We can also assist you in drawing up and sending out the following documents:
Keep Your Online Safety Intact
Staying anonymous is almost impossible these days, but with DoNotPay's help, your contact and payment details will remain private.
Thanks to our Burner Phone product, you'll be able to keep your phone number to yourself and get a temporary one you can use when you register on various platforms.
If you want to avoid getting charged and revealing your personal info when signing up for free trials, we can help you kill two birds with one stone. Get our multifunctional virtual credit card and skip submitting your name, email address, and payment details.
With our app, you can also handle stalkers and harassers, fight workplace discrimination, and block spam.