When and How To Claim Your Belongings From the Budget Lost and Found Department
Don't stress over leaving your brand new iPhone in a rental vehicle because DoNotPay has a quick solution.
and get in touch with the Budget Lost and Found department. You'll be able to claim your lost item without a hitch.
The Budget Lost and Found Policy in Short
Budget employees are quite used to finding forgotten items in rental vehicles. If your AirPods fell out of your pocket while you were busy driving, you'll have the opportunity to retrieve them.
Here's what you should know about the Budget Rental Car lost and found policy:
All lost items are delivered to the Budget Lost and Found departments throughout the U.S.
You can check if your item was recently discovered by reading the list on the Budget Lost Returns page
Even if you can't find the item on the list, the Budget Lost and Found department might still have it
If you don't collect your belongings within 30 days after the rental, Budget employees will dispose of them accordingly
You'll need to provide proof of ownership and some form of ID when coming to claim the item
The Budget Lost and Found staff might ask you to provide a detailed description of the item before they hand it over
What To Do After Leaving an Item in a Budget Rental Vehicle
If you've left your phone, earphones, or wallet in a rental vehicle, you need to reach out to the Budget Lost and Found department. You can start the search for your lost item in two ways:
By filling out an online lost and found items report
By contacting the Budget customer service team directly
It's also possible to inquire about a lost item in person. If you prefer to speak to the Budget Lost and Found staff face-to-face, visit the nearest return location in your area.
File a Budget Lost and Found Report
The Budget Lost and Found department prefers customers to file their lost item reports online. You can generate your slip by completing the following steps:
Sign in to your Budget Account using your preferred browser
Access the Lost Returns portal
Specify your rental location by:

Choosing the country of residence
Selecting the state and city. Apart from the contiguous U.S., Budget also has rental locations in Alaska and Hawaii
Clicking the exact rental address

After being redirected to a new page, go to the Report a Lost Item section to file your report
Fill out the fields marked with an asterisk and submit the slip
Check out the table below to see what kind of data you'll have to include in your Budget Lost and Found report:
Information type
Specification
Personal data
You'll have to state the following:

First and last name
Country and state of residence
City and ZIP code

Contact information
Enter an active phone number and email address in the corresponding field.

The Budget Lost and Found staff will contact you if they find your missing item

Time and place where you lost the item
List the date and time when you lost the item. If you can't remember the exact hour, provide an approximation.

Put down the number of the rental vehicle as well

Item description
You'll have to give an excruciatingly detailed description of your item. Think about any identifying characteristics that can help the Budget Lost and Found the staff to find it.

If you've lost your car keys, for example, describe the key chain and the shape of the blade
Get in Touch With the Budget Customer Support Team
If you'd rather have an employee walk you through the lost item claim procedure, contact Budget customer support.
You can reach the customer service representative at 800-214-6094 between 7:30 a.m. and 7:30 p.m. on weekdays. If you want to call them during the weekend, their business hours are from 8:00 p.m. to 6:30 p.m.
The budget also provides a separate line for their French-speaking customers. You can connect to it at 800-268-8991 during regular business hours.
How Long Until the Budget Rental Car Lost and Found Department Locates Your Item
The Budget Lost and Found department receives hundreds of items daily. It may take some time for them to process your slip and even longer to locate your belongings.
If the 30-day window is closing soon and Budget has yet to contact you, try checking the status of your report. Here's how to do it:
Go to the Budget Lost Returns web page using your browser
Select your rental location
In the Check the Status field, enter the following information:
Your last name
The reference number from your slip
If you don't know the report ID, you can use your phone number
Click Check Now
Sign Up With DoNotPay and Retrieve Lost Items Fast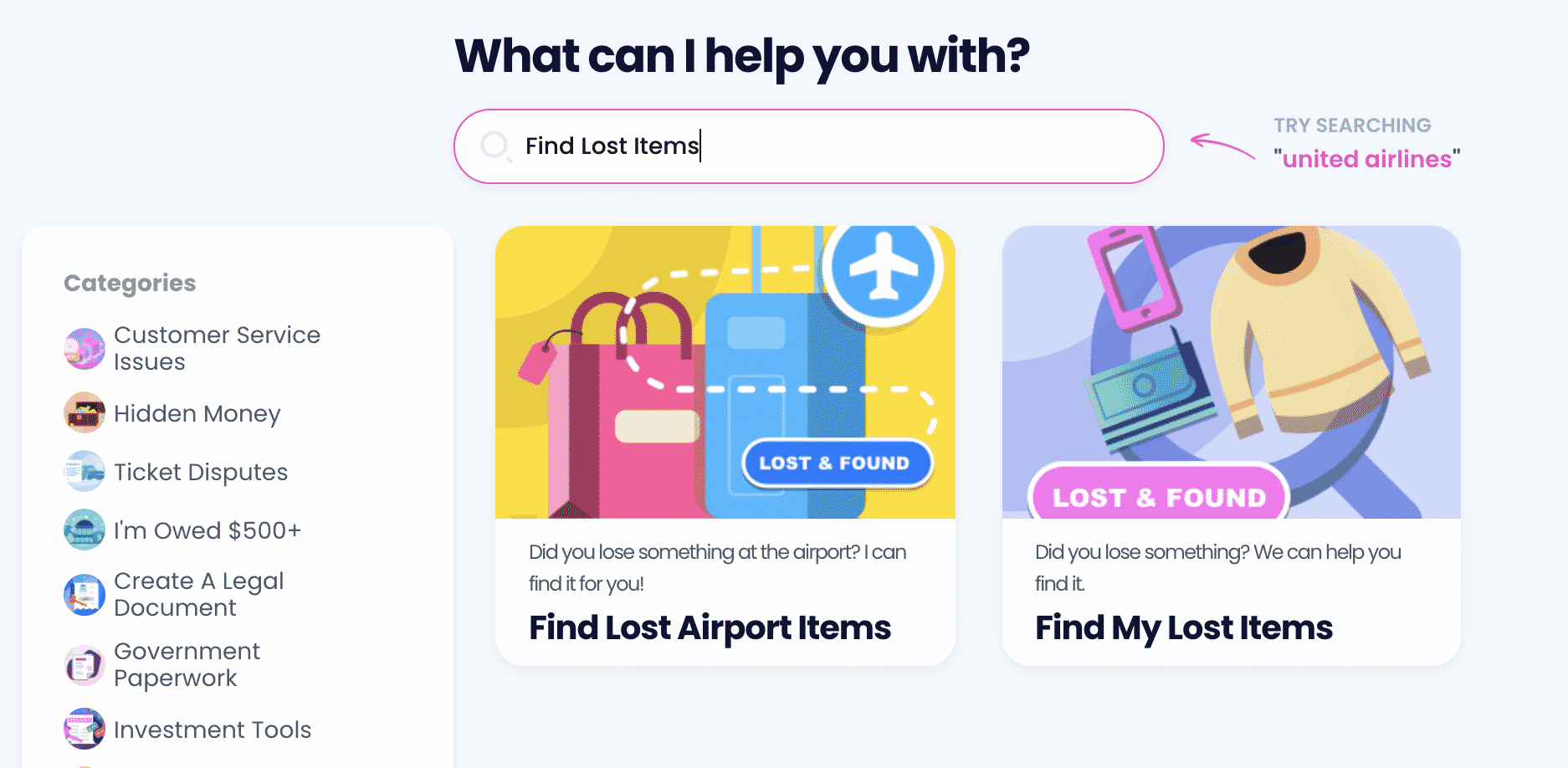 is the most efficient way to initiate the search for lost belongings. Our Find My Lost Items service will provide timely results with little to no effort on your part.
All you have to do is:
Go to DoNotPay and access the Find My Lost Items product
Specify where you lost the item
Give us a detailed description and upload photos if possible
Tell us the approximate time and date when you lost the item
Our AI-operated app will forward the information to the Budget Lost and Found department.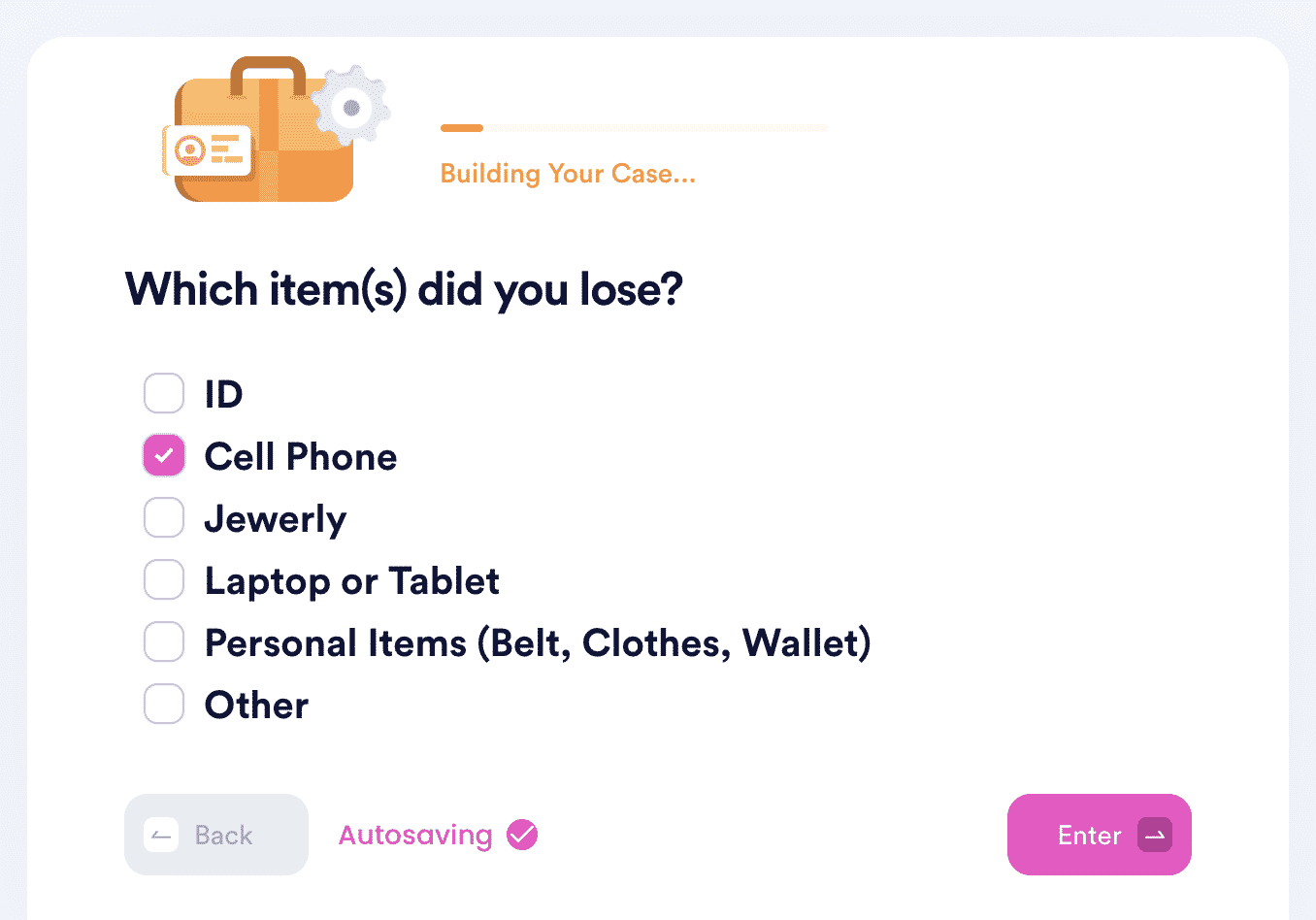 Apart from the New Jersey-based rental car service, we can also help you search for lost items in the following locations:
Rely on DoNotPay and Get Rid of Administrative Issues
Are you tired of returning items, canceling subscriptions, fighting parking tickets, and mailing letters? We can help you fast-track all these tasks and more! Do you need help reaching customer service, fighting workplace discrimination, submitting defamation demand letters, or filing HR complaints? Use DoNotPay and solve any issue without a hitch.
Feel free to also use our app to study for government tests, apply for scholarships, appeal low financial aid offers, and request college fee waivers.
Do you need help paying bills? DoNotPay can assist you in lowering your property taxes, getting gift card cash back, entering sweepstakes and giveaways, and getting refunds.
With us, you'll be able to both earn and save money!
Say Goodbye to Spammers With DoNotPay's Assistance
Getting spammed on the daily? Our app can put an end to this annoying issue! Block spam emails, text messages, and robocalls in a few clicks. We can even help you deal with stalking and harassment.
Thanks to our Burner Phone product, you'll get a temporary phone number that you can submit when registering on different platforms and protect your privacy.
Another way to keep your privacy intact is using DoNotPay's virtual credit card. Signing up for free trials without hidden charges and revealing your contact details has never been easier!