Lost Car Keys? Use DoNotPay To Handle the Situation Easily
If you've found yourself locked outside your car because of lost car keys, you are not alone. Losing valuable items is a nightmare, but it happens more often than you'd think, especially with small objects like keys.
DoNotPay is here to explain steps you should take after you've turned your entire house upside down to find the keys and failed.
What To Do if You Lost Your Car Keys—Options To Consider
Once you're over the first stage of losing keys and similar valuable items—panicking—it's time to become practical and solve the issue. If the keys are not where you normally keep them, you should proceed as follows:
Look thoroughly inside your house
Ask your spouse or family members if they've seen them
Check the pockets of all the other clothes you wore recently
List all the places you've been to recently
Use DoNotPay to locate the keys
Find Your Lost Car Keys With DoNotPay in a Flash
The fastest way to find your lost items is with DoNotPay. Our app can contact all the restaurants, shops, and other public places you've visited in your stead. You only need to answer a few questions and follow these steps:
Type Find Lost Items in the search box
Provide a detailed description of the item you lost or upload a photo of it
Inform us of the approximate date you lost the item
If the keys are found, our app will let you know whether you can claim them by pick-up or delivery.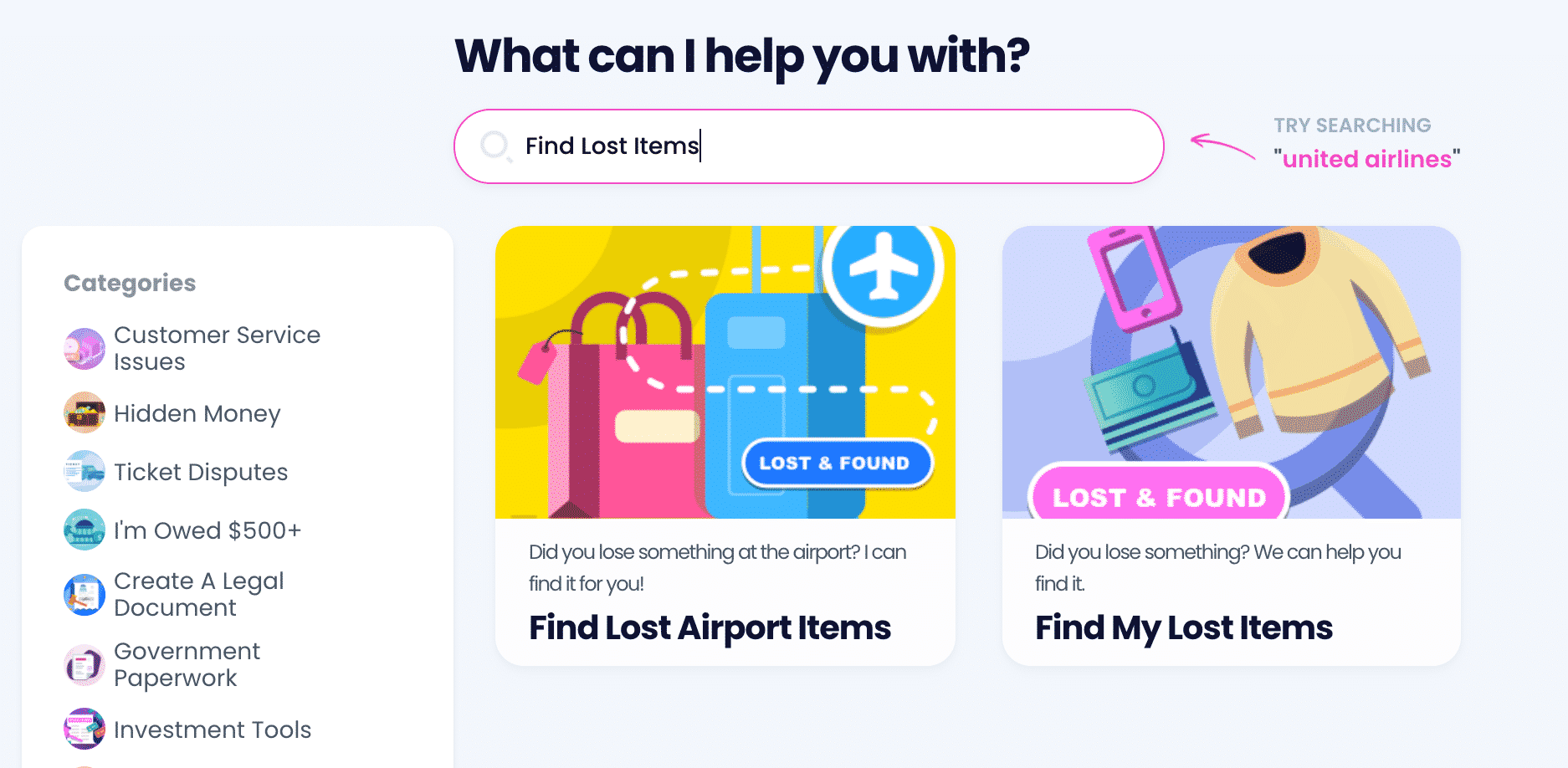 DoNotPay can act as your skilled tracker if you lose:
We also offer a guide to the Metropolitan Transportation Authority (MTA) lost and found procedure because people tend to lose their belongings there pretty often.
How To Replace Lost Car Keys
Once you accept that your car keys are nowhere to be found, it's time to get new ones. In the lost-car-keys-and-no-spare situation, you can choose between these options:
Going to the dealership
Calling a locksmith
Going to the Dealership
Getting your car to the dealership is the most expensive option. It is also not the best solution for emergencies since the process takes a lot of time, and you'll need to tow your car to the shop.
On top of it all, many dealers today outsource this service to locksmiths. You can avoid the extra cost by going straight to a key maker.
Calling a Locksmith To Get New Car Keys
Calling a locksmith is a better and cheaper option. Another great benefit of locksmiths is that they usually come to you instead of having to tow your car to them. They can also reprogram the locking system to render the old keys useless.
You will need to provide a locksmith with the following information:
Your current location
Personal identification
Vehicle model
Registration number
Vehicle identification number (VIN)
If the locksmith can help you make a new key, you should use this opportunity to create a spare one to avoid similar situations in the future.
Can You Replace Your Car Keys if You Don't Have an Original With You?
Don't worry if you don't have the original key with you because the locksmith will replace and reprogram the new key to match your vehicle. They will also make sure to deprogram the old one and make it useless, in case it has been stolen.
What Is the Lost Car Key Replacement Cost?
The cost of the replacement depends on the key type. You can find further details in the table below:
Type of Keys
Key Characteristics
Replacement Cost
Traditional key

A regular key used to unlock the doors and start the car

Up to $50
Car key fob

Has fobs as add-ons that lock and unlock your vehicle
You still need a traditional key to start the car

Less than $20
Car key fob with a switchblade key

Spring-loaded key that folds into it
Looks like a switchblade

Around $125
Transponder key

Ignition key with a plastic head embedded with a computer chip
Relies on the wireless connection between your car and the key

$200–$250
Smart key

Known as "keyless ignition"
Used for vehicles with a start button on the dash

More than $300
Everything Else DoNotPay Can Help You Find
DoNotPay is at your disposal for finding lost items in various places. You can check out our useful guides for locating missing objects in the table below:
| Locations or Businesses We Can Contact | Random Lost Objects | Lost Phones From Different Operators and Manufacturers |
| --- | --- | --- |
| | | |
Deal With Administrative Issues With Ease
Drafting contracts and agreements, getting your documents notarized, disputing parking tickets, and creating passport photos will become a breeze once you sign up for DoNotPay.
We can also help you:
DoNotPay Helps You Protect Your Consumer Rights
Don't let companies take advantage of you! With our help, you'll be able to cancel any subscription or membership and request a refund.
As a consumer, you may be overwhelmed with endless steps and piles of paperwork you need to go through to get what you're owed. This is where DoNotPay comes in—let us be your assistant and fast-track the following:
Have you forgotten about a free trial you signed up for? Avoid being charged by using our app! With DoNotPay's virtual credit card, you'll get unsubscribed automatically without the company taking any money from you.
Are you getting spammed via email or text? Get rid of spam for good with our nifty app!