The Ultimate Guide to Finding Lost Items
Conducting a search for lost items is never fun, whether you're looking for your keys, wallet, or any other object. That's why we've prepared a guide that will help you retrieve any misplaced possessions.
DoNotPay will show you how to find something you lost hassle-free! Use our time-efficient tool and locate your items in no time, whether you've lost a Samsung phone or an Apple watch, your glasses, or the car key fob.
Where To Search for a Lost Item
When looking for a lost item, make sure to cover all your bases by:
Checking the places you frequent
Retracing your steps
Asking friends for help
Contacting the police
Calling the last place you used the item at
Checking the Places You Frequent
Checking the messiest parts of your home, shifting objects around, and even cleaning up are the first steps you should take. For example, look under papers or any large items where phones, glasses, keys, and similar trinkets can be hidden.
You can also look for the lost item in:
Your car—Take a look in the trunk, under the floor mats, under the seats, and in the space between the seats and the console
Compact and messy storage places—Crowded shelves, baskets, or kitchen drawers are places where people misplace their items often
Places where you've lost this item before—If you lost the item in question before, try to remember where that was and check those places just in case
Retracing Your Steps
If you lost an item outside your home, check lost and found bins at places you've been to recently. There's a chance that your item was turned in and is waiting for you to pick it up
Asking Friends for Help
Ask your friends whether they've grabbed the item or put it in the wrong place by mistake. For example, your family member might have taken your wallet without noticing.
Contacting the Police
If you lost a valuable item or you think it's stolen, contacting the police is one of the courses of action you should consider taking. Go to your local police station and provide the authorities with a detailed description of your item. Don't forget to bring your ID with you. Bear in mind that you should act quickly—the police rarely find items if they're reported stolen late.
Calling the Last Place You Used the Item At
Think of the places where you've been the day you lost the item and write them down. Once you have the complete list, call the locations and check if your item's there. If you don't get lucky, leave your phone number so you can be informed in case someone finds the item.
As this option can prove lengthy and tedious, DoNotPay has developed a tool to make your search easier.
How To Find Your Lost Item Effortlessly With DoNotPay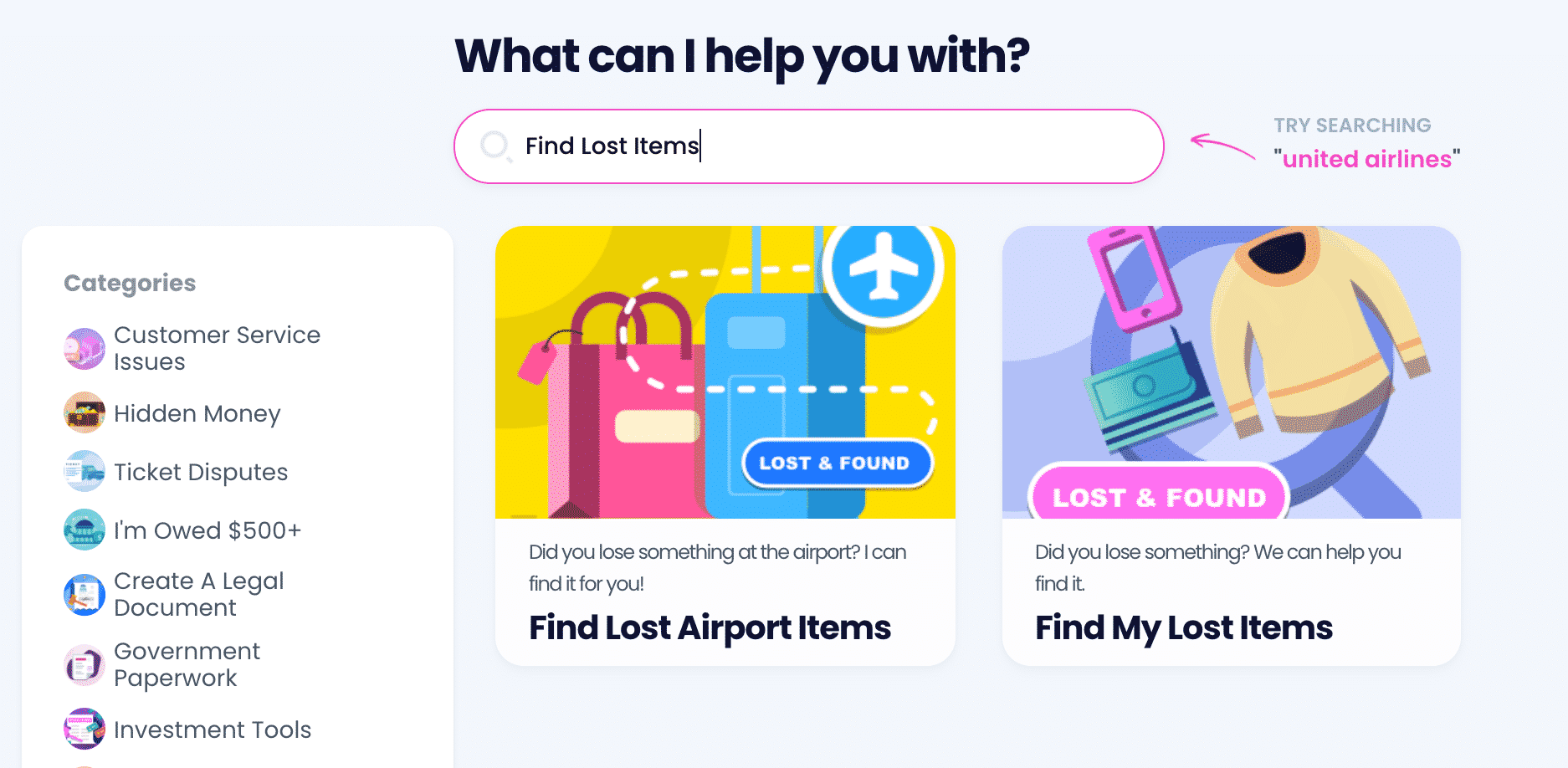 If you don't want to waste your time looking for the lost item on your own or contacting the police who might not even be able to help you, use DoNotPay! Our AI-powered app will turn your search for any lost items into a piece of cake by doing all the work for you. It's effective and easy to use as it requires you to complete only a few steps, as follows:
Sign up for DoNotPay in your preferred browser
Select the Find My Lost Items product
Provide details about the item and add a picture if you have any
Tell us when and where you think you lost your item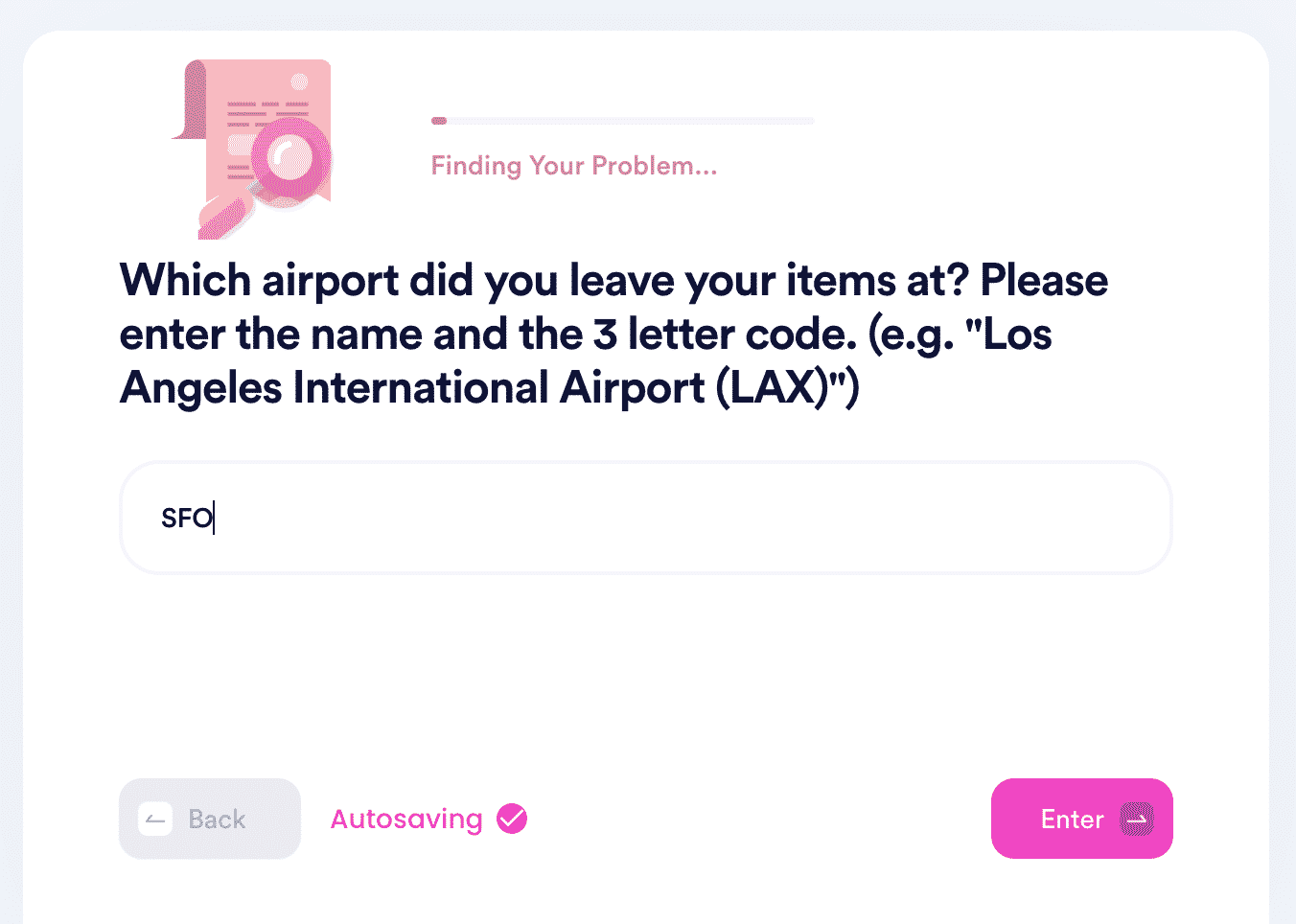 Once you submit the request, we'll contact the location in question. In case your item is found, you can either get it via delivery or pick it up yourself.
Need more help finding lost items? We can assist you in your search by contacting various places and organizations in your stead, such as:
What To Do When You Lose Your Items for Good
Did you make peace with the fact that your item is lost for good? DoNotPay has prepared some tips to help you. Consult the following table to find out what to do if you lost one of these items:
| Lost Item | What To Do |
| --- | --- |
| Car keys | The first step you want to take is to get the car towed and order new car keys from a car dealership or contact the locksmith to make new ones |
| Car key fob | Contact your local car mechanic or locksmith to come over to you if you're stuck as they can make a new fob on the spot |
| Wallet | You need to freeze credit cards and report that your wallet was stolen to ensure no one uses your cards or documents |
| Phone | Contact your phone carrier (e.g., Verizon or T-Mobile) and ask them to deactivate your number |
Fast-Track Different Tasks With DoNotPay
Are you trying to get a refund from a company and can't reach its customer service? Was your flight canceled or delayed, and you want to get compensated? Is hiring a lawyer out of the question because they're too expensive, but you have to draft some legal documents? Once you register for DoNotPay, we'll be able to help you with all of the above and more!
Rely on our app to finally put an end to text spam, annoying robocalls, and spam emails.
Do you need help canceling your forgotten subscriptions? We'll help you detect all your active memberships or subscriptions and get rid of the ones you no longer want.
In case you're studying for your driving test, you can use our Government Tests Prep product and ace this and many other exams. We can also schedule an appointment with the DMV on your behalf.
If you have to claim your car or any other insurance or warranty, rely on DoNotPay. Use our app to also contest parking tickets in a jiffy!
Protecting Your Privacy Is Easy Using Our App!
While staying anonymous online can be difficult, we can turn it into a breeze. Get a temporary number when you sign up for various platforms. Do you want to keep other personal info to yourself? Use our virtual credit card and avoid hidden charges for free trials.
We'll also help you stay safe from stalkers and harassers, sex offenders, defamation, and workplace discrimination.